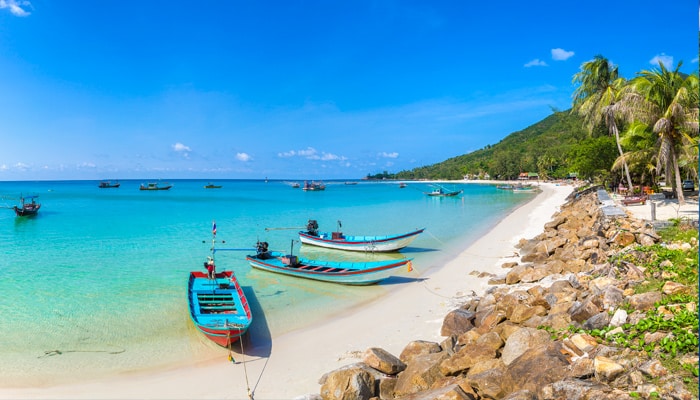 The journey from Bangkok to Koh Phangan is one that's been made by millions of backpackers, travelers, sun seekers, and partiers over the years. It whisks you away from the zooming tuk-tuks and skyscrapers of the capital for an island that's garnered a reputation as one of the most hedonistic in the world – it's the home of the infamous Full Moon Party, after all! On top of the all-night beach raves, there are also shimmering sands, snorkeling lagoons, yoga retreats, and dive sites, so it's easy to see why so many make the trip.
This guide runs through the top travel options for going between Bangkok and Koh Phangan, outlining the cheapest, the fastest, and the most comfortable on the 480-miles jaunt from city to isle.
Bangkok to Koh Phangan by plane and ferry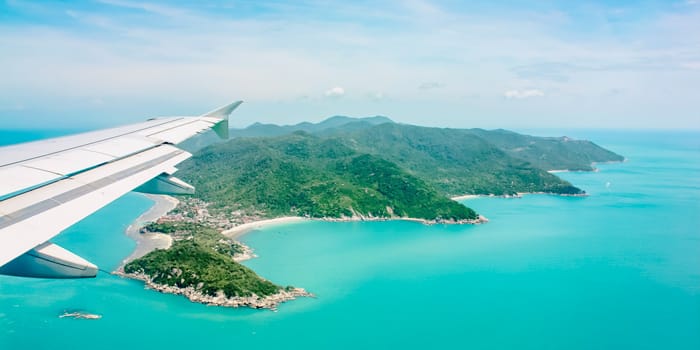 Time – 7 to 15 hours, depending on the connecting destination
Price – $50-150, with links via Koh Samui being the priciest
Comfort – 4/5
There are stacks of options for flying between Bangkok and Koh Phangan, even though the party-mad island doesn't actually have an airport of its own (yet – watch this space!). Going by air basically means choosing any number of nearby arrival points, either on the Thai mainland or another island in the Thai Gulf. Then, you'll transfer to Phangan by boat. Thankfully, 12Go.asia makes it really easy to score combo tickets for both legs, with a search tool that links flight arrivals with transfers to ferry ports.
Koh Samui Airport Is the Closest Airport to Koh Phangan
To land the closest to Koh Phangan and leave yourself the shortest ferry ride, be sure to search for flights to Koh Samui Airport. These are quite highly sought after in the high season (November-March). That means they might cost a little extra, but there should be plenty of options, with popular Bangkok Airways operating the bulk of the connections out of Suvarnabhumi Airport. Once at Koh Samui Airport, you'll need to go to on of the ferry piers (Big Buddha Pier, Lipa Noi Pier or Nathon Pier) to catch the boat across to Thong Sala Pier on Koh Phangan. At its shortest, the entire journey can be done in around seven hours total.
There are several connecting options for those who want to fly and ferry to Koh Phangan from Bangkok.
Surat Thani Airport Offers Several Flight Options
You can also make for the mainland city of Surat Thani. That's a major hub for onward travel to the Thai islands when coming from Bangkok, so there are lots of transfer options for Koh Phangan. It's also connected to the capital by wallet-friendly budget airlines like AirAsia and Nok Air, so might be cheaper.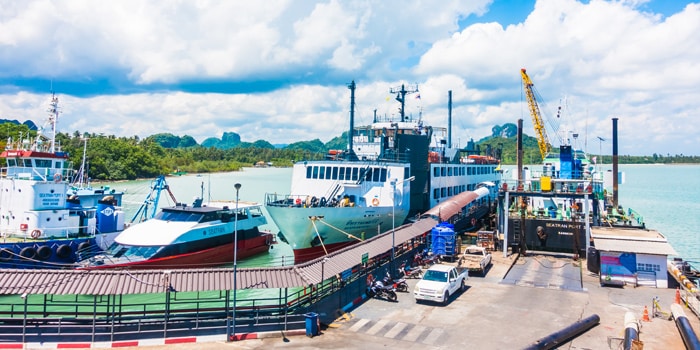 Another Koh Phangan Travel Route Is via Nakhon Si Thammarat Airport
You should organize combo tickets to be picked up right at the airport and travel by bus to the ferry port that's a little to the east. Alternatively, you could fly into Nakhon Si Thammarat and go north to the port. These options typically take anything from nine to 13 hours all in.
Ticket Prices Goes Up During High Season
Always try to book well in advance to get the best deals on short-haul flights. That's especially important after November, when the Full Moon Party season starts in earnest, and more people will be looking for tickets south to the balmy sun and palm-fringed beaches.
Bangkok to Koh Phangan by bus and ferry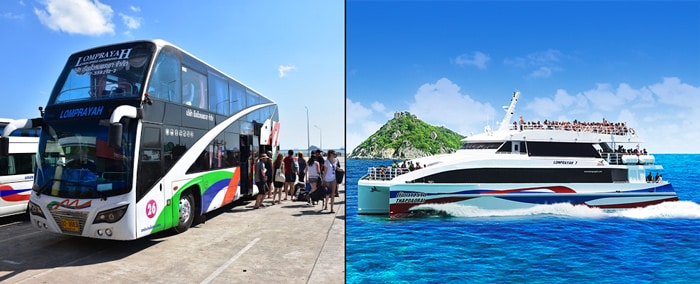 Time – 10 to 17 hours
Price – $28+
Comfort – 3/5
Convoys of buses still leave the bustle of Bangkok for the bright sands of the islands in the south. Koh Phangan is one of the main destinations, largely because it lacks its own airport. The upshot? You'll be spoiled for choice in terms of bus companies and operators, and can take your pick from any number of departure points in the capital.
Abundant bus links join Bangkok and Koh Phangan, and they remain the cheapest way to trade city for sea.
Catch a Night Bus From Southern Bus Terminal or Khao San Road
The bulk of the services go from the Bangkok Southern Bus Terminal (Sai Tai Mai), but you shouldn't even have to leave the street markets and sizzling noodle stalls of Khaosan Road to catch your ride. Lots of VIP coaches depart from that popular part of Bangkok, too, offering options in the morning, or overnighters that will save you cost of a hotel. Some of the highest-rated names in the business are Lomprayah, Songserm, Krungsiam Tour, and Raja Ferry.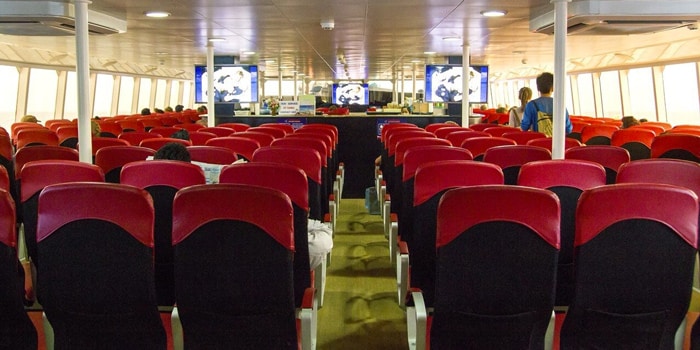 Buy a Combined Ticket for Bus and Ferry to Reach Koh Phangan
Of course, with Koh Phangan being an island, you'll need to change from road to water at some point. That's typically done in the city of Surat Thani. There, you'll be taken straight to Donsak Pier and then onto a boat to the arrival port at Thong Sala Pier. To make all that as simple as possible, it's worth going for a combo ticket from 12Go. It guarantees you every connection, packing all legs of the journey in a single booking.
Bangkok to Koh Phangan by train and ferry

Time – Around 16 hours, but usually night train
Price – $55-75
Comfort – 4/5
There's great news for rail lovers a-hunting for the stooping palm trees and boulder-speckled sands of Koh Phangan, because the city of Surat Thani lies on the mainline running south from Bangkok. It also happens to be the main changeover point for onward travel to the islands of the Thai Gulf, opening up the possibility of combo train and ferry trips straight to the home of the famous Full Moon Party.
Use the sleeper train connection to Surat Thani to ensure you get to Koh Phangan earlier in the day.
The adventure usually starts with one of the overnight connections from Hua Lamphong Station in the heart of the capital. They take about 12 hours, but offer some pretty views of the rugged karst-mountain coastline that defines southern Thailand come morning. From the train station, you're transferred directly to the boat in Donsak, arriving in Koh Phangan just in time for a midday lunch of sticky mango rice on the beach.
Combined Train Tickets and Ferry Tickets to the Beautiful Island of Koh Phangan
Perhaps the main benefit of opting for a night train is that you can choose sleeper compartments. They come in both first and second class, but are generally a much more comfortable way to travel down south than by a night bus ride. Because of that, it's always wise to book as far in advance as you can. The search tool on 12Go makes it a breeze. They also offer a ticket collection point that's conveniently right by the platforms at Hua Lamphong.
Bangkok to Koh Phangan by taxi transfer and ferry

Time – 13 to 15 hours
Price – $270-330
Comfort – 4/5
For added comfort on the road to the ferry port at Surat Thani, you could crank up the travel expenditure a tad and treat yourself to a private taxi. They're certainly not the cheapest option on the menu, but they do add convenience. That means pickups at any point in Bangkok you choose, guaranteed space for your whole party and luggage, and no dawdling at bus stops along the way. What's more, taxis tend to save a little hassle by taking you straight to the pier, without the need for an extra transfer before reaching the boat going to Koh Phangan.
Check the ferry schedule with the different ferry companies at each ferry terminal
You will need to book separate ferry tickets for the ride across the gulf to Koh Phangan. They aren't sold as combos with the taxi companies, but both can be bagged online with 12Go.asia. The two legs of the journey joined together; you're probably looking at a time of around 13-15 hours in total. And while costs might be high, remember they can be divided up between all people sharing the taxi.
Don the neon paint, dust down the party gear, and get ready to glug bucket cocktails between fire shows and beach DJs, because all of the above travel options take you to Thailand's bona fide party mecca on Koh Phangan. Of course, there are also chilled beaches of white sand and azure snorkeling lagoons, if that's more your sort of thing!
---
Bangkok to Koh Phangan FAQ
What is the cheapest way to get from Bangkok to Koh Phangan?
The bus-ferry combo is surely the cheapest option for going from Bangkok to Phangan. It might not the be the most comfortable mode of transport, but tickets starting at a mere $28 should make up for that. There are also loads of options to pick from, leaving from Khao San Road, the Southern Bus Terminal, and Hua Lamphong, usually going via the city of Surat Thani.
What is the fastest way to get from Bangkok to Koh Phangan?
Even though Koh Phangan doesn't have its own airport, flying is still the fastest way to the island. You can cut the length of the journey down to south Thailand significantly by ditching an overnight bus or train for a quick one-hour hop from runway to runway. Only then will you need to join everyone else at the ferry pier. The speediest route is usually through the neighboring island of Koh Samui, but it's likely to cost a little extra.
How do I get from Bangkok to Koh Phangan?
Take your pick! Perhaps you want to cut costs and go for a classic backpacker bus before switching to a ferry? Maybe you'd prefer the experience of an night train to Surat Thani Railway Station and then a boat? Or are you so eager to splash in Haad Rin beach and get started with the Full Moon Party that only a quick flight from BKK to the islands will work? Whatever your choice, you can compare, contrast and book the lot using 12Go.asia's easy online tool.
How much does it cost from Bangkok to Koh Phangan?
The price of your hop to the sun-kissed, bucket-sloshing island of Koh Phangan will all depend on what mode of transport you go for, and – to a lesser degree – what time of year you travel. The high season months between November and March tend to be the costliest, while flight and ferry combos usually come in most expensive (paying under $50 is rare!). Bus links, meanwhile, can go for as little as $28.
How do I get from Bangkok to Koh Phangan by train?
First step: Catch the popular overnight service from Hua Lamphong station to Surat Thani. Next: Transfer from the station there to the pier in Donsak. Third: Get a ferry across the Thai Gulf to Koh Phangan. The best news? All the above can be booked at the same time using 12Go.asia's online search and buy service. Easy.
How many days do you need in Koh Phangan?
That all really depends on what you want to do. A lot of folk hop into Koh Phangan for just a weekend of partying, especially if one of the legendary Full Moon Parties is happening in Haad Rin. Others come for classic Southeast Asian sun, sand and sea. Find that by heading north to stunning Thong Nai Pan and Hat Salad – places where you can easily while away a whole fortnight sunbathing between the paint-peeling fishing boats and bamboo cabanas.
How useful was this post?
Click on a star to rate it!
Average rating / 5. Vote count: