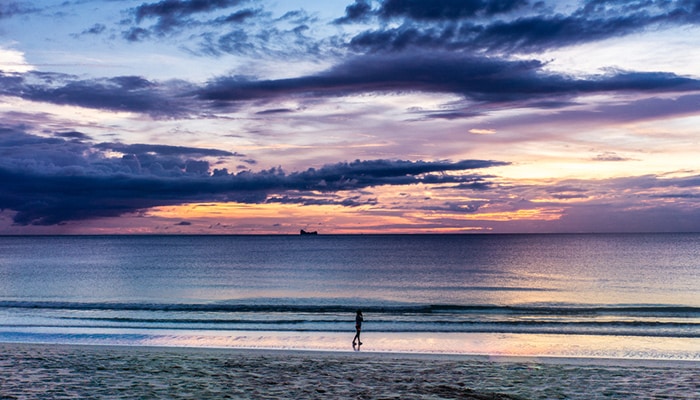 Home to more than 1,400 islands, deciding where to spend your time in southern Thailand can be slightly overwhelming. To make the most of your vacation, and reduce travel time in-between islands, you might choose to stick to either the east or west of Thailand's peninsula. Floating in the Andaman Sea on the west, just 50km apart, are the two very different islands of Koh Phi Phi and Koh Lanta.
Made famous by Leonardo Di Caprio in The Beach, Koh Phi Phi is undoubtedly the more popular of the two, boasting stunning bays, flanked by looming limestone cliffs and turquoise waters. Just half an hour away by speed boat, or slightly longer by ferry, sits the more laid-back island of Koh Lanta, with equally as beautiful beaches and landscapes to admire. Here's a quick and easy guide that'll help you get between the two.
Koh Phi Phi to Koh Lanta by ferry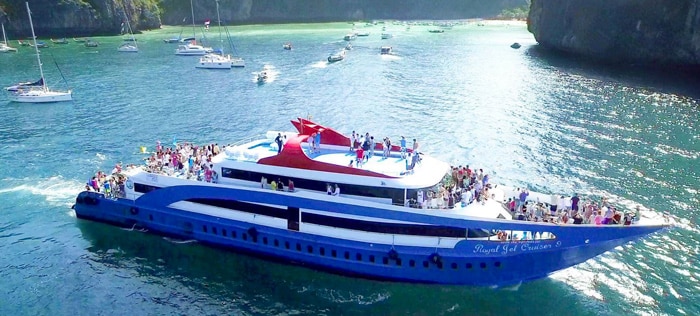 Time – 1 hour
Price – $10-15
Comfort – 4/5
Most people traveling from the beautiful bays of Koh Phi Phi to the quiet beaches of Koh Lanta will choose to go by ferry. For one, this is the cheapest option when it comes to transferring between the two islands, and secondly, it provides more options when it comes to departure times.
Four leading companies manage regular crossings from Ton Sai Pier, which sits on the south side of Phi Phi's central cape, to Ban Sala Dan Pier on Koh Lanta's northwestern coastline. Andaman Wave Master and Sea Angel are considered to be the most reliable of the companies, offering cushioned seats, air-conditioned rooms, and even pick-ups for those staying in centrally located hotels. Of course, with these perks comes slightly higher rates than those you'll get on boats operated by Chao Koh and Phi Phi Cruiser. While these cheaper liners will get you from A to B successfully, they're less reliable with leaving times, regularly overcrowd their boats, and provide less room for luggage. It's easy to compare prices, leaving times and previous travelers' reviews for all companies over on 12Go.asia.
If you're traveling on a budget, transferring between Koh Phi Phi to Koh Lanta by ferry is the best option for you.
It's always worth booking your boat ticket in advance, especially if you're traveling during peak season running from November to March. During this time, ferries run daily, and take around an hour to cross, so it should be easier enough to find the right schedule for you. It can be a little trickier to organize your journey from April to November. Considered to be low season, ferries run every couple of days, and it's not unusual for routes to be canceled due to adverse weather.
Koh Phi Phi to Koh Lanta by speedboat

Time – 30 minutes
Price – $25
Comfort – 5/5
Jumping on the speedboat from Koh Phi Phi to Koh Lanta halves your journey time between the islands but can cost you more than double the price of a ferry ticket. Most speedboats operate on a supply and demand basis, so you may find a limited number of crossings during the off-peak season (April to November). To guarantee a spot on your preferred date of travel, you can book your ticket in advance on 12Go, where you'll also find details on pricing and all available departure times.
Saun Pakbara Speedboat Club and Bundhaya Speedboat are currently the only companies operating the route and offer little difference in their services. While rates don't differ too much between the companies, they will fluctuate with the season. If you do choose to splash out a little more on a speedboat rather than a ferry, you'll find the service onboard to be considerably better. With fewer passengers on board, departure times are as precise as they can be in southeast Asia, there's plenty of room for luggage and a guaranteed seat sheltered from the sun for everyone onboard.
A quick and exhilarating speedboat between the two islands will have you on Koh Lanta in just thirty minutes!
Those traveling in larger groups may want to consider chartering their own speedboat. Both of the companies mentioned above can arrange a private speedboat at a price of around $600 for a 30-seater boat. Departure times can be organized to fit your schedule perfectly, and you'll have plenty of room to stretch out and enjoy a comfortable ride!
Getting from Koh Phi Phi to Koh Lanta is one of the quickest island transfers you'll make in Thailand. Hopefully, this guide has made it that little bit easier for you to get there!
---
Koh Phi Phi to Koh Lanta FAQ
What is the cheapest way to get from Koh Phi Phi to Koh Lanta?
You're going to want to travel by ferry if you're island-hopping on a budget. You can pick up tickets for the cheapest crossings with either Chao Koh or Phi Phi Cruiser over on 12Go.asia. Just be prepared for slightly more chaotic crossings and older facilities on board.
What is the fastest way to get from Koh Phi Phi to Koh Lanta?
Regular speedboat crossings are the quickest way to get from Koh Phi Phi to Koh Lanta, taking just 30-minutes to hop across the Andaman Sea. Tickets costs around $25 depending on the season and can be booked in advance using 12Go.
How do you get from Koh Phi Phi to Koh Lanta?
Both completely surrounded by water, and lacking their own airports, the only way to travel between Phi Phi and Koh Lanta is by boat. There are options for a slightly slower and cheaper ferry crossing, or a faster, but more expensive speed boat crossing. 12Go.asia makes it simple to compare all of your options for traveling between the islands with its extensive listings and prices.
How long is the ferry from Koh Lanta to Phi Phi?
The ferry between Koh Lanta and Phi Phi takes around an hour to get from Ton Sai Pier to Ban Sala Dan Pier. To shave half an hour off your journey time, opt for the speedboat instead.
How much is the ferry from Koh Lanta to Phi Phi?
Crossing from Koh Lanta to Phi Phi by ferry can cost between $10 to $20 depending on the company you choose, and the season in which you're traveling. Highly rated companies with modern facilities such as Andaman Wave Master will cost towards the higher end of the scale, with boats filling up quickly during peak season. It's worth booking your ticket ahead of time using 12Go.asia if you want to guarantee a ticket with one of the more reputable companies.
How many days do you need in Koh Lanta?
Three days will give you plenty of time to explore everything Koh Lanta has to offer, with a bit of time for soaking in the sunshine too. Hiring a scooter is the best way to get around the island, allowing you to hop between all of the beautiful beaches with ease. You might want to splash out on a snorkeling or SCUBA trip during your visit to discover the fantastic coral that lies under the water, or perhaps a boat trip to explore some of the smaller islands nearby.
How useful was this post?
Click on a star to rate it!
Average rating / 5. Vote count: