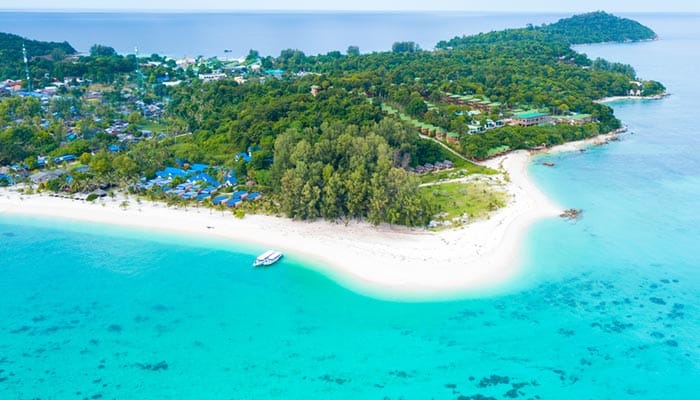 When the time comes to escape the bustling Big Mango for a refreshing change of scenery, few nations can rival Thailand for pristine topical island escapes. Among the most alluring is Koh Lipe, a diminutive and fairly remote tropical haven in the deep south. It is a long road to paradise at over 500 miles from Bangkok, but well worth the effort.
Koh Lipe is a tiny island without its own airport, so requires a short ferry ride to get to its sparkling shores. There are a number of different ways to do the trip, from flying to riding the rails or long distance buses. Read on for the lowdown on all the different transportation options.
Bangkok to Koh Lipe by plane, van and ferry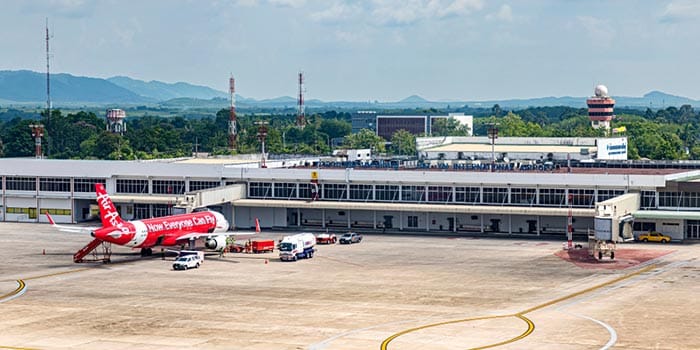 Time – 7-8 hours
Price – Tickets start at $49 if you buy well in advance
Comfort – 4/5
Although it can work out more expensive, you'll shave hours off in travel time by flying and avoid an uncomfortable overland journey. Several Thai airlines serve southbound routes between Bangkok and Hat Yai. The cheapest options are generally with Thai AirAsia, Thai Lion Air and Nok Air, all departing from Don Mueang Airport. Thai Smile has departures from Bangkok's Suvarnabhumi Airport. Flight time is about 90 minutes. It pays to book well in advance as fares are all tightly capacity controlled. You'll be extremely lucky to find any low fares booking last minute during the peak season or for busy Thai holiday weekends.

You can fly from Bangkok to either Hat Yai or Trang Airports
On arrival from Hat Yai you need to transfer by van or bus to Pak Bara pier for the ferry across to Koh Lipe. Given that the final boats leave Pak Bara around 2pm or 3pm (depending on the season) you'll need to take an early morning flight out of Bangkok.
Including waiting times at the arrival airport and pier, the total journey time is around 7-8 hours. Despite the need to take different modes of transport, booking a combined ticket is easy at 12Go.asia
If flights are full to Hat Yai, another option is to go via Trang Airport, on AirAsia, Thai Lion Air or Nok Air. On arrival at either airport, you'll have a short wait for the minivan which will whisk you off to the pier in time for your scheduled ferry sailing.
Bangkok to Koh Lipe by train, van and ferry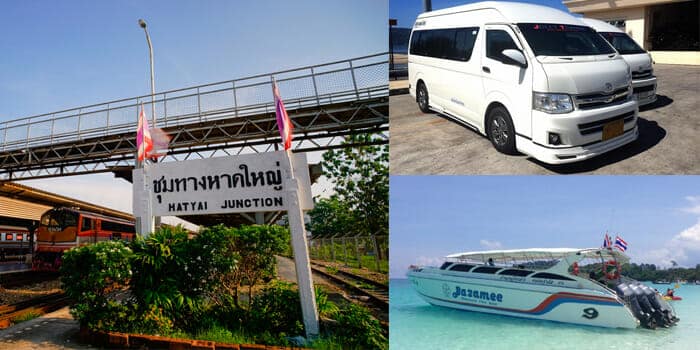 Time – 22 hours overnight
Price – Tickets start at $49, fastest trains from $89
Comfort – 4/5
For a more leisurely journey, let the train take the strain. The overnight rail trip is an altogether different travel experience, and generally cheaper compared to flying. Although the duration can be 20+ hours in total, much of that will be spent in slumber curled up in a sleeper bed. It's worth noting that with a convenient afternoon or evening departure from Bangkok's Hua Lamphong Station, you can avoid an early morning rush to the airport to catch a flight, and you will save a few Baht with one less night's accommodation at a Bangkok hotel.
Although it is possible to just reserve a second class seat, it is definitely worth the extra Baht for a sleeper bed for such a long journey. Thai Railways' 2nd class sleepers are comfortable but you can also splurge on a 1st class sleeper compartment for your own private space. This will set you back as much as, if not more, than the cost of flying but you'll get there in style and wake up refreshed for the remainder of the journey to Koh Lipe.
If you forget to stock up on snacks for the long journey, fear not. There is a dining car and an at-seat meal service available, although prices are inflated. When you disembark at Hat Yai station, there is time to grab breakfast before the minivan is ready to take you on the second leg of the journey to the pier.
Bangkok to Koh Lipe by bus, van and ferry

Time – 18-20 hours overnight
Price – Tickets start at $47
Comfort – 3/5
Another cost-effective option is a combined bus and ferry trip from Bangkok to Koh Lipe. Generally the cheapest option of the three, you'll still need to weigh up a balance between cost and comfort. It is a long overnight journey, and for some people it may just be a little too arduous. You get a comfortable reclining seat but it doesn't match the comfort of a train's sleeper bed and there is little opportunity to stretch your legs during the journey, apart from the scheduled stops en route.
Interestingly, it is actually quicker than the train journey and benefits from a convenient departure point in Khao San Road, such as the service operated by Jolly Travel. You can search availability, timings and fares and reserve a combined long distance bus and ferry ticket at 12Go. A further option is doing it yourself by taking a VIP or express bus service from the Southern Bangkok Bus Terminal.
These overnight bus services normally leave in the late afternoon to get you through to Koh Lipe in time for lunch. Although it lacks the speed of a flight or comfort of an overnight rail journey, the bus can be a boon for budget conscious travelers in times of peak high season demand. Airfares can skyrocket during busy holiday weekends and trains sell out fast.
Each of these three transport options is a viable choice depending on your need for speed, comfort and overall cost. Getting there is of course all part of the travel experience. For some train-loving travelers, a leisurely overnight rail journey through southern Thailand is a must at any cost, while flying allows you to get there fast – and then take it slow. Enjoy the journey!
---
Bangkok to Koh Lipe FAQ
What is the cheapest way to get from Bangkok to Koh Lipe?
Unless you book well in advance to score the very lowest airfares, the cheapest option will likely be a bus and ferry ticket. Choose from various VIP, express and regular buses departing from Khao San Road, or at the Southern Bangkok Bus Terminal.

You can easily narrow down the options and select the most suitable trip with a combined ticket at 12Go.asia. At more than 800km, expect a long, overnight trip that can vary from about 13 to 20 hours depending on the number of en-route stops it makes. You will also have to compromise on comfort levels and personal space.
What is the fastest way to get from Bangkok to Koh Lipe?
There is no doubt about it – take the plane if your time is limited. It is the only option that will get you from the capital to Koh Lipe's pristine beaches the same day. There is a variety of low cost airlines to choose from, departing mostly from Don Mueang Airport.

It requires a relatively early start in order to make the last ferry across to Koh Lipe in the afternoon, after a transfer by van or bus from either Trang or Hat Yai Airports. The plane-van-ferry travel combination is actually much less complicated than it sounds. Simply book a through ticket online at 12Go.asia which covers the entire journey.
How do I get from Bangkok to Koh Lipe?
Located off the coast of Thailand's far south, it is a long journey from Bangkok. To avoid an overnight journey, fly to Trang or Hat Yai and then connect by van and ferry to offshore Ko Lipe. Search the travel website 12Go.asia for comprehensive schedules and prices and book a seamless through ticket. For more budget-friendly options, check out the bus and train options with van and ferry transfers included.
Is Koh Lipe crowded?
Koh Lipe has two very different faces, determined by the seasons. The dry season starting from December is by far the most popular time as travelers flock to the island. Expect to pay a premium for your accommodation unless you book well in advance.

The bar and restaurant scene is buzzing and it's the best time for snorkelling and diving. Come late April, the busy vibe winds down as the rains arrive. There is a more chilled out ambience but there is a downside – many bars and restaurants close up for the off-season and the weather can impact water sports activities.
Is Koh Lipe expensive?
For Thai standards, Koh Lipe is generally more expensive than many other southern islands. It's a fairly remote island near the Thai-Malaysian border and virtually every kind of consumable has to be shipped in by boat. That adds to the costs of buying essentials like toiletries and eating out. Also, it's a tiny sun-dappled tropical island and its main industry is tourism. That leads to higher than average prices, although there is ample choice to suit every wallet, including budget restaurants, cheap beer and local eateries hidden away from the tourist strip.
Is Koh Lipe touristy?
Koh Lipe has its own Pattaya Beach (nothing like its infamous namesake on the mainland) and a walking street, which forms the central focus of Ko Lipe's buzzing tourist trade. There are ample traveler-friendly facilities for such a small island – western restaurants, bars, budget bungalows and boutique resorts – yet the vibe is fairly laid back and it is easy to find quietude on little known Sanom Beach or exploring hidden coves by kayak.
How useful was this post?
Click on a star to rate it!
Average rating / 5. Vote count: