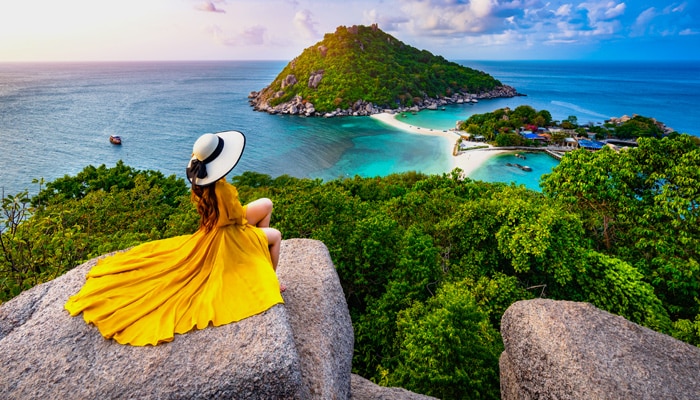 White-sand beaches, multicoloured coral gardens, mind-boggling marine creatures, and hills dashed by humid jungles – what could be a better cure for the hustle and bustle of Bangkok? Thankfully, it's easy to trade the Thai capital for the sparkling shorelines of Koh Tao these days.
This guide highlights just a few of the most popular options for going the 255 miles that separate the two. There are flights and ferries, buses and trains, each offering tickets to Tao for different budgets and styles of traveler. Let's begin…
Bangkok to Koh Tao by plane and ferry

Time – 8.5-12 hours, depending on flight-ferry connections
Price – $45-100+
Comfort – 5/5
A combo of flying and ferries is probably the fastest way to trade the city for the coast of Koh Tao. What's more, passengers choosing this route are spoiled for choice. Hops from Bangkok serve all sorts of regional destinations with good onward links to the islands of the Thai Gulf. And, while there's no single runaway option (no pun intended!), a few connections do stand out from the crowd, all of which can be booked with ease on 12Go.asia.
The first is to catch one of the premium short haulers with Bangkok Airways from big Suvarnabhumi Airport. They can take you straight south to Koh Samui. Deluxe spa hotels and beaches backed by bamboo bars abound there, so you might want to linger a while before pushing on. Alternatively, you can get a pickup at the arrival terminal and head straight for any one of three piers, where speed boats will be waiting to make the two-hour push on to Koh Tao – look for the Lomprayah catamarans for the fastest ride.
If speed is of the essence, choose to fly and ferry across to the dive sites of Koh Tao.
Even more airlines – including some budget carriers (check Nok Air and AirAsia) – run a route from Bangkok to Surat Thani. That's a regional hub for getting to places like Koh Tao, so there will be lots of connections to ferry companies like Seatran Discovery for those arriving in the morning. It also regularly works out as one of the most affordable ways of the bunch.
Low-cost carriers Nok Air and AirAsia also have routes into Chumphon Airport. Those flights leave from the domestic and short-haul hub of Don Mueang International, and will be the quickest air links of all before changing to the ferry. Others are to Nakhon Si Thammarat Airport, which might take over an hour but offer a gateway to Donsak Pier and the multitude of boat trips going from there to Koh Tao.
Bangkok to Koh Tao by train and ferry

Time – 18 hours
Price – $48 (second class), $72 (first class)
Comfort – 4/5
There's no need to leave behind solid ground on the trip from Bangkok to Koh Tao. Thai Railways offer a service that heads south from the city's charming Hua Lamphong station, all the way to Surat Thani. There, you switch from tracks to transfer and go straight eastwards to either Tapee Pier or Donsak Pier to hop on the ferry link to the island.
Use the overnight train service from Bangkok to arrive early at the ferry and get to Koh Tao in time for breakfast!
On paper, the train-boat option is the longest overall. But, because it's possible to catch an overnight departure from Bangkok, you can do this one while the sun's down and plan to arrive in Koh Tao in time for brunch on the beachfront. Look for the 6.30pm, 7.30pm or 10.50pm services that roll out of the city to make use of sleeper carriages that should mean waking up to visions of the coast and the karst ranges of central Thailand come morning. The main price difference in the trip is in choosing between first- and second-class berths, with the former in shared quarters with curtain covers, and the latter in private carriages that include a washbasin.
By far the best way to plan a journey like this is to go for a combined ticket through 12Go. Not only do they guarantee your transport on each leg, with a pickup at the station and a pre-booked place on the ferry out of Surat Thani, but there's also a convenient office to collect your pass for the trains just outside of Hua Lamphong station.
Bangkok to Koh Tao by bus and ferry

Time – 8-15 hours
Price – $25-50
Comfort – 3/5
There's no doubt about it – the bus is still the cheapest option for trading the bustle of Bangkok's backpacker bars and markets for the shimmering seas and curious corals of Koh Tao. Of course, taking to the Thai highways to go south can take a little extra time when compared to flying. But there are plenty of choices on the menu when it comes to what company you go with…
Tried-and-tested Lomprayah is certainly the most premium of the bunch. They operate a fleet of clean, modern buses, and back that up with the fastest ferry links from the mainland to Koh Tao that it's possible to get – the trip from Surat Thani to the beaches can be done in under four hours. Check for the coaches leaving from the buzzing Khaosan Road district of Bangkok each morning and evening, at 6am and 9pm respectively.
Opting for an overnight bus means you can connect with the earlier ferries and get to Koh Tao with a whole day ahead.
Other companies include Paradive Travel and Songserm, both of which go via either Chumphon or Surat Thani before switching onto the boat. Talking of boats…these companies tend to have slightly slower links on the water. Expect total travel times from Bangkok to the island to be in the region of 12-15 hours if you choose them, but prices will also sit at the lower end of the spectrum.
The main things you'll need to decide is whether to get a bus to Chumphon or to Surat Thani, and what type of ferry you'd like to complete the trip. Thankfully, all of the various options and legs are outlined on 12Go.asia, where you can also pre-book to beat the crowds.
Travelers keen to swap the frenetic heart of Bangkok for the azure waters and PADI dive centres of Koh Tao are in luck – there are stacks of different ways to go between the two. Whether you choose to whiz through the air or hit the Thai roads, you can look forward to stepping into a gulf-side paradise after less than half a day's moving.
---
Bangkok to Koh Tao FAQ
What is the cheapest way to get from Bangkok to Koh Tao?
Buses still come in as the mode of transport that's easiest on the wallet. They can take you from the hostels of Khaosan Road to towns like Surat Thani or Chumphon, where easy links to the ferry piers mean you'll be leaving footprints on Koh Tao's beaches in less than 14 hours in most cases. What's more, the lowest price tags are still around the $25 dollar mark, leaving more baht for the dive courses once you arrive.
What is the fastest way to get from Bangkok to Koh Tao?
That's always going to be by air. Even though Koh Tao is too small to have its own airport, you can cut off a hefty leg of the 255 miles trip down from Bangkok by taking to the skies. The closest arrival point is on Koh Samui, but that will cost extra. You can also jet into Chumphon, Surat Thani or Nakhon Si Thammarat, all of which have links to ferries bound for the islands. An easy way to book is via 12Go.asia's platform, which offers combo tickets to take the hassle out of transferring from terminal to port.
How do you get from Bangkok to Koh Tao?
Check out 12Go.asia's search tool to see the variety of options open to travelers looking to leave behind the Grand Palace and enjoy the white-sand beaches of the Chumphon Archipelago. There are flight-ferry combos, overnight buses that link up to the boats, and even trains that leave the capital for changeover hubs down in south-central Thailand before getting you to Koh Tao.
Where do you fly into for Koh Tao?
Take your pick! Koh Samui is the sure favourite. Not only is it the closest arrival point of all for anyone flying Koh Tao way from Bangkok, but it's also a stunning island in its own right, offering gold-tinged beaches and five-star resort hotels (stopover, perhaps?). Chumphon's airport is a good one if you want to have the shortest flight before hopping on the ferry. Meanwhile, Surat Thani and Nakhon Si Thammarat offer loads of choices when it comes to getting on the boat.
Is Koh Tao expensive?
Koh Tao isn't the priciest of the Thai islands, but it's not the cheapest either. Average daily costs hover around the 1,000 TBH ($30) level, with street-food, sunset beers, and accommodation all pretty good bargains. You'll also find Koh Tao to be one of the most affordable places in Southeast Asia for doing a PADI dive course, with discovery beginner packages starting at around $70! One thing: Taxis on Koh Tao can be expensive, so you might want to pre-arrange trips with transfers to your hotel door via 12Go.asia.
How useful was this post?
Click on a star to rate it!
Average rating / 5. Vote count: