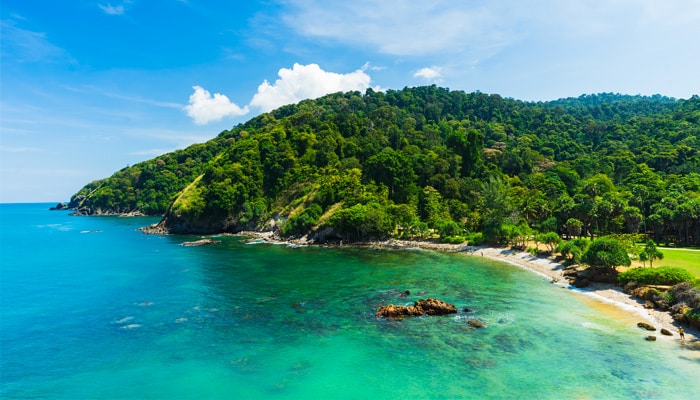 Bamboo bars serving mango lassis, hidden beaches crowded by palms, reggae music and some of the best sunsets you've ever seen – all that and more awaits just over Phang Nga Bay from Phuket, on the wonderful island of Koh Lanta. Fast becoming one of the hotspot destinations on the south-west coast of Thailand, it is accessed primarily by boat. It's a total distance of 42 miles from shore to shore, which means a journey time of around three or four hours on average. This guide outlines all the ways to go from Phuket to Lanta, with tips on how to book and what to expect.
Phuket to Koh Lanta by ferry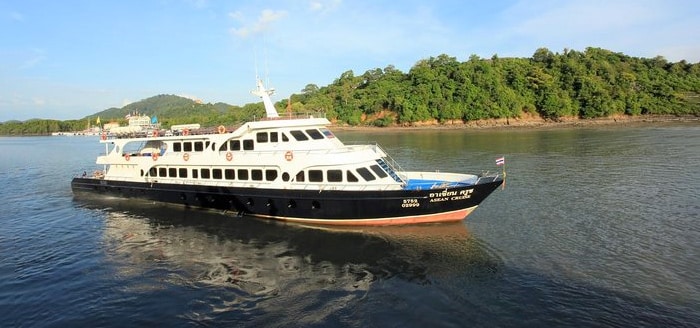 Time – 4.5 to 5 hours
Price – Around $30
Comfort – 4/5
Just look at the map – a huge dash of the sky-blue Andaman Sea separates Phuket from Koh Lanta. Any straight line between the two crosses nearly 43 miles of water, so a ferry link is the obvious choice. It's also the most popular way to island hop, with thousands of travelers jostling for tickets on the boats each year.
Normal-speed ferries are run by companies like Phi Phi Cruiser, Andaman Wave Master, and Aonang Travel Tour. They have loads of departure options both morning and afternoon, but that's mainly because the boats leaving from Phuket's Rassada Pier are also bound for the Phi Phi islands. The popularity of those (thanks, Leo DiCaprio and The Beach!) means you get lots of ticket availability. Unfortunately for those Koh Lanta bound, it also means you'll need to change vessel in Koh Phi Phi Don along the way.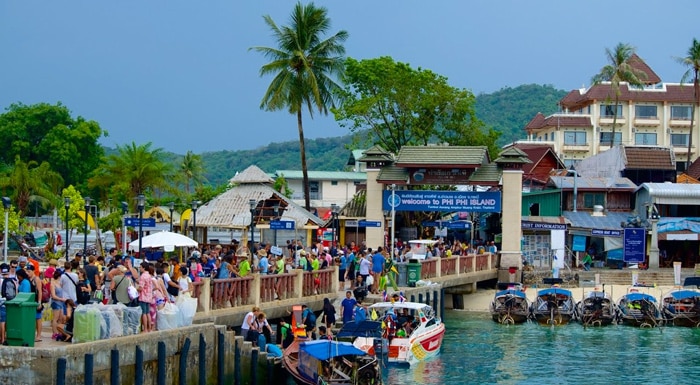 There's a changeover on the normal ferry link between Phuket and Koh Lanta, on the famous party island of Koh Phi Phi.
All that adds time to the trip. In fact, journeys on the normal ferries can take as much as five hours, including waits at the harbor in Koh Phi Phi if there are connecting boats running late. The one bonus is that tickets on these services represent one of the cheapest ways to travel. They're just a fraction of what it costs to get your own speedboat, for example, with prices starting as low as $24.
Don't be surprised if you start your adventure on a large boat with multiple floors but finish on a much smaller ship. The bigger ferries only tend to run from Phuket to Phi Phi, before handing over to little vessels that go Phi Phi to Koh Lanta. Arrivals are at the pier in Ban Saladan on the north end of the island. Taxi links from there to your hotel are easily organised from ticket sellers onboard the final connection. Alternatively, you can book convenient combo tickets for boats, ferries, and transfers on Phuket through 12Go.asia.
Phuket to Koh Lanta by shared speedboat

Time – 1.5 to 2 hours (crossing only)
Price – $40-60
Comfort – 3/5
If you're in a real hurry to ditch the buzz of Phuket and get swinging in that hammock down on Kantiang Bay, the speedboat is your savoir. These zippy cross-water connections get you from pier to pier in under two hours. Just be warned: They aren't the comfiest ride, and certainly not the option if you're more of a land lubber than a sailor.
Much smaller than their ferry counterparts, the speedboats seat a maximum of around 40 passengers and are designed to whiz across the waves of the Andaman Sea. Satun Pakbara Speed Boat Club, Tigerline Travel and Bundhaya Speed Boat operate routes, with most departures from Rassada Pier at either 8am, 8.30am, or 11am in the morning.
Shoot right across the Andaman Sea to Koh Lanta in just 1.5 hours with brisk speedboat options.
Downsides to choosing the speedboat links are twofold. First off, the trip is a bumpy one. It's probably better to air on the side of larger ferries if you are prone to seasickness or have lots of luggage in tow. Secondly, the cost: You'll pay at least $40 to cut the length of your connection to Koh Lanta down to under two hours.
Because the bulk of the speedboat departures are in the morning, they aren't as easily accessible to folk flying into Phuket Airport during the day. That said, combo tickets that include pickups at any number of resorts and places across the island are bookable via 12Go, which means you could have someone waiting for you at arrivals with a ride raring to head for the port.
Phuket to Koh Lanta by bus and boat

Time – 7 hours
Price – $18-22
Comfort – 2/5
Prefer sticking to dry land? Like road trips through stunning coastal mountain ranges? Eager to keep the spending low? The combination of bus and boat might seem like an unnecessary cranking up of travel time on the route between Phuket and Koh Lanta. However, it means shorter ferry journeys and lower rates.
Step one: Score a ticket on the local bus from Phuket to Krabi Town. They take you all the way north and east around the perimeter of Phang Nga Bay. That's a drive in the region of 2.5 hours. Step two: Transfer to the ferry port in Krabi, where you hop on one of the regular services going south to Koh Lanta. Unlike direct boats from Phuket, they don't stop at the Phi Phis and take a mere two hours total.
Phuket to Koh Lanta by taxi

Time – 5.5 hours
Price – $150
Comfort – 5/5
Both Phuket and Koh Lanta are islands. But they're also both linked to the Thai mainland by bridge or regular vehicle ferries. That opens up the possibility of taxi transfers between the two, which could actually be an economical option if you've got a travel party big enough to fill an entire car.
Taxi links between Phuket and Koh Lanta are made possible by bridges and car ferries that join these isles to the mainland.
Expect to pay in the region of $150 for the whole drive. From door to door it's around five hours, so the rate isn't unreasonable, particularly when you divide the total between nine people (the upper capacity of a minivan). Surcharges are in place for groups that want to go when the car ferry linking the mainland to Koh Lanta is out of action (it usually runs from 6am to 10pm).
Of course, one of the bonuses of opting for a taxi is that a pickup on the Phuket side is a given. Whether you're jetting into Phuket Airport or just finishing up a hotel stay on the shores of Patong, your ride will come by at the time of your choosing. You also get a drop off at any point on the Lanta side – great news for those en route to the honeymoon haven of Kantiang Bay right down south.
Koh Lanta is a loveable island. Gleaming beaches hemmed in by coast pines and palms run the whole length of the west coast. There are party towns with fire shows in areas like Klong Khong. There are stunning sunsets off of Long Beach. And you've got chic hotels down in Kantiang. What's more, the and the island is easy to reach, what with all the boat, ferry, and taxi options outlined above!
---
Phuket to Koh Lanta FAQ
What is the cheapest way to get from Phuket to Koh Lanta?
Try the normal ferry services that leave from Rassada Pier first. It's possible that they will be real bargains for your chosen travel dates. Rates are also super easy to check on 12Go.asia. Alternatively, you could piece together a trip using local buses to Krabi and then ferries from there, but it might only save a few bucks and take upwards of seven hours from start to finish.
What is the fastest way to get from Phuket to Koh Lanta?
Speedboat. On the route from Phuket to Lanta they do precisely as their name implies. In fact, they can zip across the whole breadth of Phang Nga Bay in as little as 1.5 hours. They will be a bigger toll on the travel budget, with tickets often costing upwards of $50. What's more, they're probably not the best choice if you've not got great sea legs.
How do you get from Phuket to Koh Lanta?
Ferries are the main mode of transport linking Thailand's biggest island with the lazy beaches and bays of Koh Lanta. But you've also got whizzing speedboats, taxis, and even bus-boat combos to pick from. Thankfully, 12Go.asia's handy search tool makes it really easy to compare and book the lot. Just enter your travel dates and see what's available.
How long is ferry from Phuket to Koh Lanta?
Generally speaking, there is about four hours between drifting out of Rassada Pier and mooring up in Ban Saladan in Koh Lanta. That typically involves around three hours of actual boating, because there's a changeover in Koh Phi Phi to factor in along the way. Speedboat links from coast to coast, on the other hand, can smash the trip in well under two hours.
How much is ferry from Phuket to Koh Lanta?
The cost of ferries will vary from company to company, and even from season to season. However, it's normal to pay about $30 for your ride. That will be a little higher if you want to get a transfer from Phuket Airport to the port. It's also always a good idea to bag your tickets as far in advance as possible, because the boats will fill up. So, search and find the departure that suits you on 12Go.asia to beat the crowds.
How many days do you need in Koh Lanta?
You could spend weeks enjoying the soft powders of Relax Beach, Long Beach and Kantiang Bay – three of Lanta's finest – and not get bored. There are national parks filled with coconut jungles, honeymoon hotels, and gushing waterfalls to keep you busy, too, not to mention buzzy nightlife around the Klong Khong area. If you're a little pushed for time, a few days will be enough to appreciate the island, but we'd recommend sticking to the north, which is easy to reach from the ferry pier in Ban Saladan.
How useful was this post?
Click on a star to rate it!
Average rating / 5. Vote count: