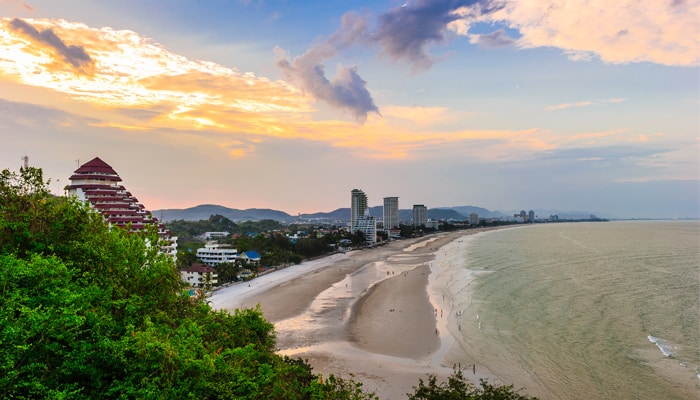 While most visitors to Thailand make a beeline for the southern islands, they're missing out on the idyllic resort towns on the mainland. Sitting around 145km south of Bangkok, you can be at Hua Hin within three hours of setting foot in The Land of Smiles.
Transfers are relatively simple and hassle-free if you opt for a direct bus or private transfer. Travelers on a budget might want to consider jumping on a train, though there's a little more involved in making this trip a reality.
Here, we break down your transfer options into easy, digestible chunks.
Bangkok to Hua Hin by bus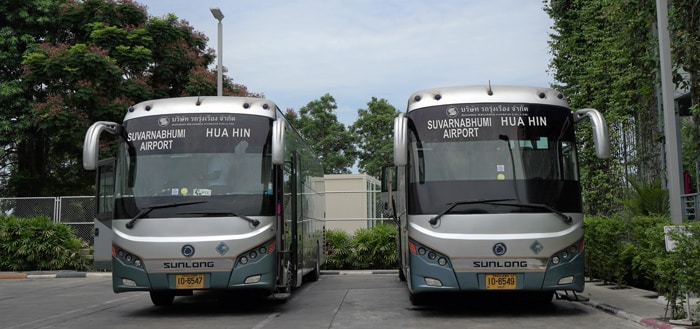 Time – 4 hours
Price – $11 per person
Comfort – 5/5
Whether you find yourself in the center of Bangkok or at one of its two international airports, getting to Hua Hin by bus is one of the easiest and most comfortable transfer options, and won't set you back too much either.
Direct buses from Suvarnabhumi Airport take less than 4 hours to reach the beaches of Hua Hin.
If you're arriving by plane, you'll need to head out to the Suvarnabhumi Airport arrivals area, where you'll find a convoy of modern, 24-seater, air-conditioned coaches waiting to take you to Hua Hin. These leave every hour from 6.30am to 6.30pm. If your flight arrives at Don Muang, it's easy enough to jump on public bus #555 from outside the airport, which takes about an hour to reach Suvarnabhumi Airport.
For those who have already found themselves in the city center, Tara Tour and Travel offers a daily coach transfer from its office in downtown Bangkok too. It's easy to book your bus transfers several months in advance or just a few days before your trip through 12Go.asia.
Bangkok to Hua Hin by minivan

Time – 3 to 4 hours
Price – tickets range from $7 to $16
Comfort – 3/5
Boasting more flexibility with its pick-up points, lower prices, and quicker transfer times, 12-seater minivans are another popular option to get from Bangkok to Hua Hin. While this is the most budget-friendly, direct transfer option, minivans are slightly more cramped than a coach, and luggage space is limited. So, if you struggle to pack light and enjoy your personal space, this may not be the option for you.
Numerous companies run the route, including Nor Neane Transport, Mama Travel, and JKP Mochit, all of which offer transfers from Bangkok's Southern Bus Terminal (Sai Tai Mai). If you're not at that end of the city, it's better to organize a pick-up from one of the more central stops in the downtown area. These include Khao San Road, the Ekkamai neighbourhood, or the Mo Chit New Van Terminal, located just north of the city center. Tickets can be booked on the day, or to be sure you've got a spot from your exact pick-up point, book in advance using the trusted travel website 12Go.asia.
Bangkok to Hua Hin by train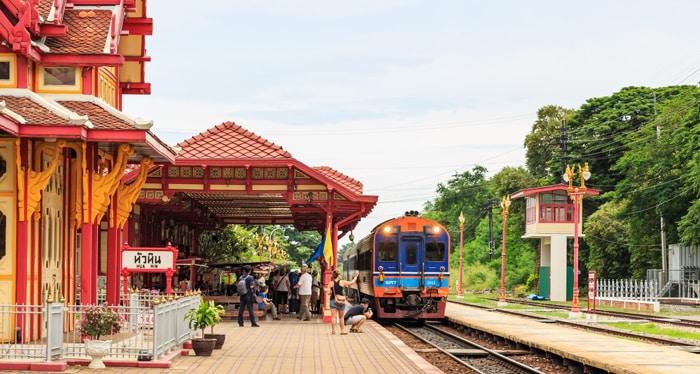 Time – At least 4 hours, but delays are not uncommon
Price – Tickets range from $2 to $9 for third-, to first-class seats
Comfort – 2/5
If traveling for you is all about getting amongst the locals and immersing yourself in a new culture, then heading to Hua Hin by train should be top of your list. It's by no means the most comfortable or the quickest route, but you'll meet some interesting characters along the way and meander through the stunning Thai countryside, before pulling up at the picturesque Hua Hin train station, which is said to be the oldest in Thailand!
Trains depart from Hua Lamphong, Bangkok's busiest and most central train station. If you're staying in the city, a taxi shouldn't cost more than a couple of dollars. From Don Muang Airport, a combination of the A1 bus and MRT will get you there within a couple of hours. From Suvarnabhumi Airport, head to the basement where the Airport Rail Link will drop you off at Makkasan Station – from here get on the MRT to Hua Lamphong.
Bangkok to Hua Hin by private transfer

Time – 2.5 hours depending on traffic
Price – Around $65 for a four-seater car, expect to pay more for a VIP service
Comfort – 5/5
While choosing to travel from Bangkok to Hua Hin by private transfer will be the most expensive option, it is by far the comfiest. With your private transfer, you can choose precisely when you want to go, when you want to stop for a toilet break and can take as much luggage as you wish. You'll also be taken door to door from your hotel in Bangkok to your hotel in Hua Hin, leaving you with nothing to worry about, except for turning up on time.
It's worth noting that public transport to Hua Hin isn't available during the night, so if you arrive on a late-night flight and want to head straight for the sandy beaches, a private transfer may be your only option. 12Go.asia is a excellent at organizing private transfers – you just need to let them know where you want to be picked up and when, and they'll sort the rest.
Bangkok to Hua Hin by car rental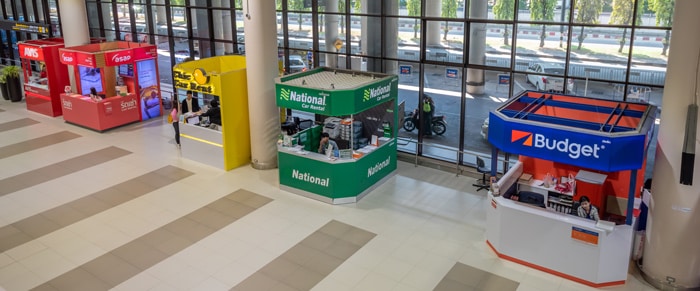 Time – 2 to 3 hours
Price – Daily rates start from $25 and include insurance
Comfort – 5/5
Are you planning on doing a bit of exploration of your own around Hua Hin? Then it's probably worth renting a car from the airport when you land. This way, you can enjoy the ultimate freedom during your transfer and for the rest of your holiday. All of the usual suspects offer rentals, including Avis, Europcar, and Hertz. RentalCars.com is the place to go to check out deals on hire vehicles. All of these companies require drivers to present an International Driver's License upon arrival and be above the age of 21.
The drive from Bangkok to Hua Hin is relatively simple, with road signs conveniently written in both Thai and English. Just remember, they drive on the left-hand side over there! If you're not too tired from the flight, there are a few things you can check out along the way, including the 12th-century temples in Petchaburi, Damnoen Saduak floating market, or the giant stupa known as Phra Pathom Chedi.
---
No matter what your travel style or budget, we hope that you've found the perfect way to travel to Hua Hin, so you can focus on enjoying your vacation.
---
Bangkok to Hua Hin FAQ
What is the cheapest way to get from Bangkok to Hua Hin?
If you're happy to compromise on comfort, traveling to Hua Hin by train is ultimately the cheapest way to get there. For third-class seating, you'll be paying no more than $2 and can take a seat amongst locals. If an element of comfort is key for your journey, you can opt for a first-class ticket for around $5 more. It's easy to compare prices for all transport options on 12Go.asia.
What is the fastest way to get from Bangkok to Hua Hin?
12Go can organize a private transfer that will get you door to door from Bangkok to Hua Hin in around 2.5 hours. Along with renting your own car and making your own way down to the resort town, this is your fastest option and one that offers a lot of flexibility.
How do I get from Bangkok to Hua Hin?
There are heaps of ways to get from Bangkok to Hua Hin, and 12Go is one of the most useful tools for laying out all of your options. For the quickest and most comfortable transfer, you'll want to look into renting a car or booking a private taxi, both of which are also the most expensive. The cheapest option is to jump on the train from Hua Lumphong with the locals. For a happy medium, coaches and minivans leave from Suvarnabhumi Airport and from different spots around town and cost an average of $10.
How long does it take to get from Bangkok to Hua Hin?
While the fastest option – a private transfer – can get you there in 2.5 hours, traffic in the city is always unreliable, and it really depends on the time of day you travel. If you've booked a minivan or coach through 12Go.asia, your travel time will be around 3 hours. Train travel is notoriously unpredictable and can take anything upwards of four hours. You'll also need to factor in transfers to and from the train stations, which can take up to an hour either side.
How much is a taxi from Bangkok to Hua Hin?
A taxi from Bangkok to Hua Hin will cost anywhere from $60 to $100 depending on the kind of service you opt for. 12Go has extensive listings of private taxis ranging from an economy taxi to a luxury SUV and can accommodate groups of any size.
How long is a taxi from Bangkok to Hua Hin?
A taxi from Bangkok to Hua Hin will take around 2.5 hours, depending on traffic and the time of day you're traveling. If possible, avoid traveling during rush hour and at the weekend.
How useful was this post?
Click on a star to rate it!
Average rating / 5. Vote count: