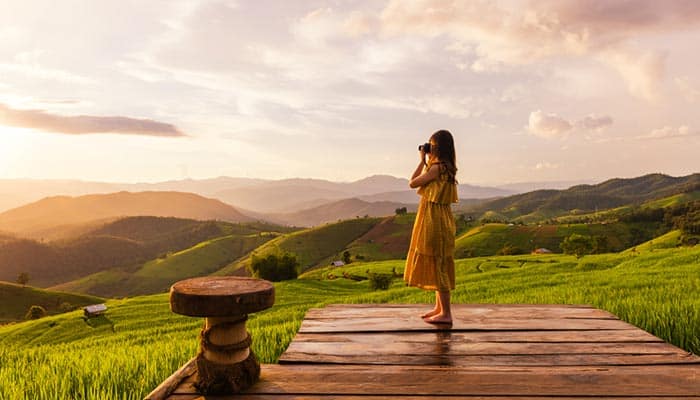 The ancient city of Ayutthaya, officially known as Phra Nakhon Si Ayutthaya, is a popular destination among many travelers to Thailand. Formerly the capital of the country, it's located just 50 miles north of the current capital, Bangkok. It's a UNESCO World Heritage Site, featuring a wealth of fascinating ancient ruins, making it a popular destination for both day-trips and longer stays alike.
From this breathtaking former capital, the journey to Chiang Mai is well worth undertaking. While long at over 375 miles, it takes in some of the most stunning scenery the country has to offer, with many travelers making the trip for the journey rather than the destination itself.
However, Chiang Mai is a gem in itself, situated among some of the highest mountains in the north of the country. There are many ways to make the trip so let's check out your options below.
Ayutthaya to Chiang Mai by train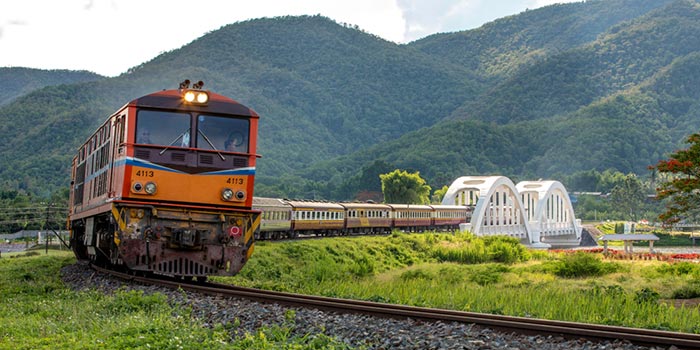 Time – 10–12 hours
Price – Tickets start from $28 when booked in advance, rising to $60 for first class
Comfort – 4/5
Traveling from Ayutthaya to Chiang Mai by train is perhaps the most popular choice for a variety of reasons; it's cheap, relaxing, comfortable, and exciting. The fantastic journey takes you 375 miles across some of the most spectacular scenery Thailand has to offer, passing through national parks, bustling villages, impressive mountains, and vibrant forests. It's also the slowest method, although that needn't necessarily be a problem as travelers can choose between 3 night trains, or 1 day-time train each day.
The night train is a more popular choice, and while you may miss out on some of the scenery in the dark, the best sights can be enjoyed towards the end of the journey. With tickets starting at around $40 for a second class sleeper compartment, it's a great way to save on a night of accommodation, while still traveling cheap. There are also first class sleeper compartments, or female only 2nd class sleepers. All sleeper compartments feature AC and promise comfort, and you can browse ticket prices at 12Go.asia.
With only second class seating available, tickets for the day train are the cheapest at around $28. You're also guaranteed the best views!
Night trains can take up to 12 hours, while the day-train is faster at just under 10-hours. On all trains you'll find a steady supply of vendors, offering food and drink to keep you well nourished. It's worth mentioning that tickets for the sleeper cabins can sell out quite quickly, and booking in advance is advised. All trains depart from the beautiful Ayutthaya station with its classic architecture, just outside the city center.
Ayutthaya to Chiang Mai by plane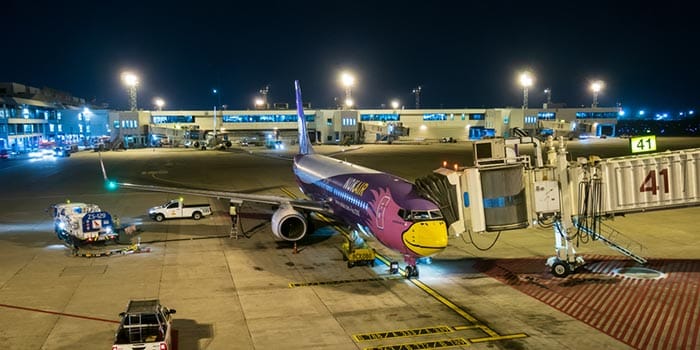 Time – The flight takes just over an hour, but the total journey time is closer to 5-hours.
Price – Tickets start from around $40 if you book in advance
Comfort – 5/5
While there isn't a direct flight between Ayutthaya and Chiang Mai — largely because the former doesn't have an airport — flying between the 2 cities is a viable option. It's also the fastest method of travel, with the journey complete in less than half the time of most overland routes, even when you factor in transfers. Therefore, it's ideal for those travellers who are pressed for time, or who want to fit in as much as possible during their visit to Thailand.
Travelers can also fly from Bangkok's Suvarnabhumi Airport, although transfer times will be longer and tickets slightly more expensive.
It's necessary to travel the 35 miles from Ayutthaya to Bangkok's Don Mueang Airport, either by minivan or taxi. You can find combo tickets online at 12Go, for around $40 when booked in advance ($9 for the van journey, plus $33 for the flight). From Don Mueang Airport, various companies fly to Chiang Mai, though Thai AirAsia and Nok Air are among the most frequent and popular choices.
Numerous flights depart each day, ensuring that the total journey time between Ayutthaya and Chiang Mai can be completed in as little as 5-6-hours. The journey is widely regarded as an extremely comfortable way to travel between the 2 cities, with both the flight and the van transfer highly rated, even in economy class. The downside however, is that you'll miss out on the spectacular scenery.
Ayutthaya to Chiang Mai by bus

Time – around 9 hours
Price – from around $15
Comfort – 3/5
Taking a bus from Ayutthaya to Chiang Mai is the cheapest option, and there are a wide choice of operators to choose from. It's also slightly quicker than the train, and depending on traffic and road conditions, the journey can be completed in just under 9-hours.
Around 14 public buses per day make the trip, departing from the Ayutthaya Bus Terminal located just off the highway. Starting at 06:30, running through until the last bus at 22:40, travelers can choose whether to travel through the day or night. Both have their advantages, but day-time travel offers the best views. Conditions are fairly comfortable with regular stops, and passengers are dropped off at Chiang Mai Arcade Bus Terminal.
While quicker and cheaper than the train, conditions are a little less comfortable, especially when journeying through the night.
There are also several private companies offering VIP buses. While they take about the same time, they're generally more comfortable, with on-board toilets and other additional services such as water, snacks, and a meal. Tickets for such services typically start at $25, and Thai Sriram is one of the main providers. They offer one bus per day, which departs at 22:00 from the 7-Eleven near the Thung Makham Yong Intersection. You'll probably need to take a taxi to the bus station, which is just outside of town, and it's worth arriving 30-minutes early.
Whether you crave the slow and peaceful pace of the train, the bustling bus ride, or the thrill of a flight, however you choose to travel from Ayutthaya to Chiang Mai, we wish you a safe and happy journey!
---
Ayutthaya to Chiang Mai FAQ
How useful was this post?
Click on a star to rate it!
Average rating / 5. Vote count: