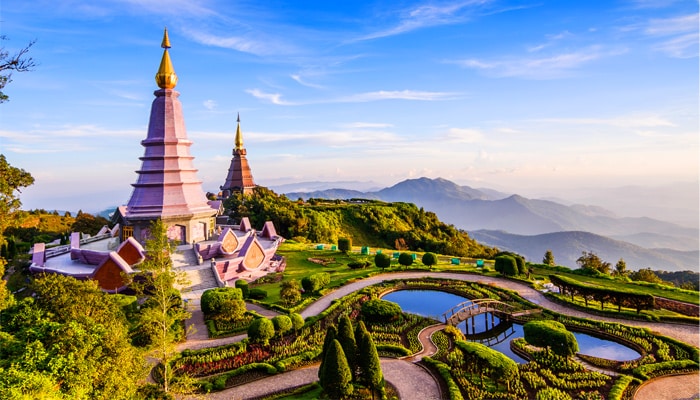 Going from Bangkok to Chiang Mai means traveling right through the heart of the fabled Land of Smiles. You'll leave the glimmering skyscrapers of the capital for a place of temple-capped hills, frenetic bazaars, and mystical shrines. But the journey's also an adventure in itself, whizzing through rolling rice paddies and elephant-stalked forests. In total, the trip clocks up 430 miles, typically taking a whole day or a night to complete when done overland.
This guide is brimming with information on how to make the popular hop up to the second city of Thailand from BKK, with details on flights, buses, trains, and more.
Bangkok to Chiang Mai by plane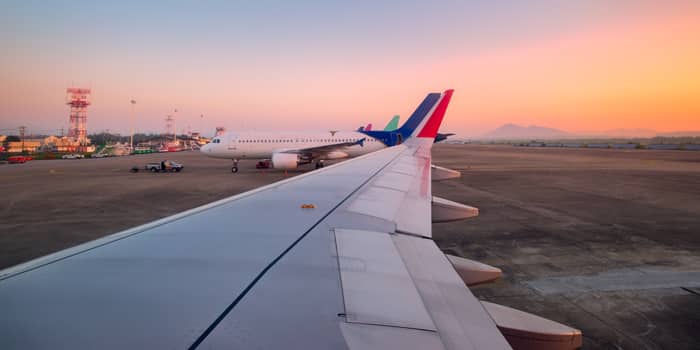 Time – 1.3 hours (flight time only)
Price – All the way from $20 to $120, depending on how far in advance you book
Comfort – 5/5
Don't worry – there's no shortage of zippy short-haul flights running the route between Bangkok and Chiang Mai. This is a connection between the largest and the second-largest city in the country, after all. It's a popular commuter link, as well as a great option for travelers looking to tread the jungle-clad hills of rustic northern Thailand.
In total, around 450 flights each week jet off from the runways of the capital of the Land of Smiles for its compadre up north. The healthy competition helps to keep prices nice and low, with average rates in the region of just $40-50 each way. For the best bargains, you'll want to consider booking at least 90 days in advance, and try to pick a budget-focused carrier like Nok Air or AirAsia. If you're bringing baggage, you might be better off with the premium offering from the likes of Bangkok Airways and Thai Airways, which include check-in as standard.
There are multiple airlines running the link to Chiang Mai from both of Bangkok's major airports.
You'll have two choices of departure port in Bangkok. DMK airport, or Don Mueang International, handles the majority of domestic links like those going to Chiang Mai. However, there are some services running out of BKK, which is the larger Suvarnabhumi Airport. It's a good idea to choose the latter if you're heading straight for northern Thailand after coming off a long-haul connection from Europe, the US, or the Middle East.
From wheels-up to landing, the flight from Bangkok to Chiang Mai takes around 1.2-1.3 hours. That makes it the fastest way to get between the two cities by some distance. You'll drop into Chiang Mai International Airport, which sits just on the south-east side of your destination, around 10 minutes' ride in a taxi from the atmospheric Old City and the bulk of the hotels.
Bangkok to Chiang Mai by train

Time – 11 to 13 hours
Price – $30-60
Comfort – 4/5
Ask anyone who's done it – going from Bangkok to Chiang Mai by train is a great experience! Yes, it takes around 12 hours on average, and cost about the same as flying, but there are other reasons you might want to choose tracks over runways…
Not only is this an eco-friendly way to travel but you'll get to see great tracts of Southeast Asia whizzing by your window. On the trip to Chiang Mai, there are likely to be vistas filled with grass-green blankets of rice paddies, followed by craggy karst mountains on the horizon, and jungles where elephants once roamed. You'll also get to glimpse the famous monkey temple of Lop Buri, which is visible from the railway line as you move through the stop there.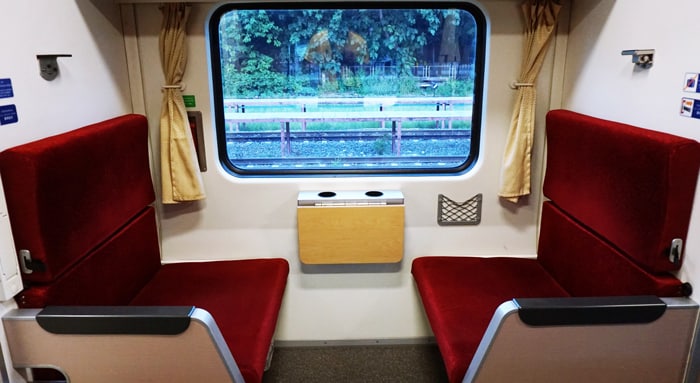 Choose an overnight sleeper train and watch the sunrise over the mountains of northern Thailand when you wake.
Despite the views, most travelers opt to make the jaunt north on one of the three overnight services. Those will save you the cost of a hotel, and they'll get you to Chiang Mai really early on. They depart from big Hua Lamphong station at 6.10pm, 7.35pm, and 10pm, with the 6.10pm departure using modern, Chinese-built trains that have comfortable sleeping compartments. (Just bring a blindfold – the lights are on all night!)
During the high season, it's super-important to book your place on Thai rail services as early as possible, especially on popular connections like the BKK-Chiang Mai overnighter. 12Go.asia have made that a cinch, with web booking forms, price comparisons, and a ticket pick-up point that's right outside the station.
Bangkok to Chiang Mai by bus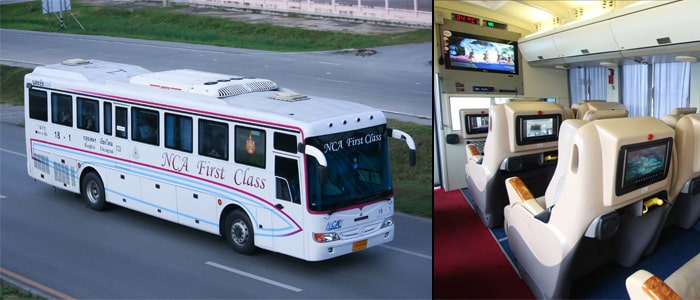 Time – 10 to 12 hours
Price – $15-35
Comfort – 3/5
If you're keeping a keen eye on the travel budget or just want the full backpacker experience, bussing it up north could be the option you've been looking for. There are departures almost every hour from the Thai capital to Chiang Mai, along with plenty of competing bus companies and ticket providers that help to keep prices low.
Buses tend to be the quickest option for doing the journey overland, mainly because they stop less and travel a little faster than the train. However, grabbing some shut eye en route, staying comfy, and enjoying the romance of the railway aren't givens. They might just be the sacrifices you'll have to make for arriving a little earlier.
Buses are surely one of the cheapest options for travelers looking to go between Bangkok and Chiang Mai overland.
Be sure to check the quality and reviews of all bus companies before booking. Thailand's coach network is notoriously unregulated. Some so-called "VIP" buses are nothing of the sort, while others are good value for money. 12Go can help on that count. It lists some of the most popular operators on the route, like Tara Tour and Travel, Nakhonchai Air Bus and Sombat Tour, alongside user reviews for added peace of mind.
Bus links going Bangkok-Chiang Mai leave from a number of different stations. Ones popular with Thai locals often roll out of the Mo Chit Bus Terminal, located on the north side of the city. Meanwhile, backpackers will often hop on the services that depart straight from the hostel and nightlife district of Khaosan Road.
Bangkok to Chiang Mai by taxi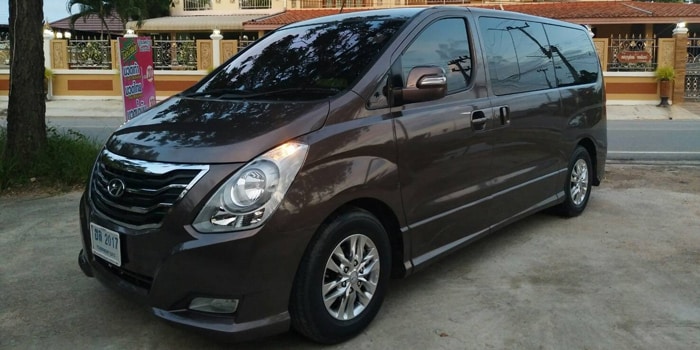 Time – 9.5 hours
Price – $280-300
Comfort – 4/5
Taxi trips between Bangkok and Chiang Mai are really uncommon. The reason? Well, for starters, there's a whopping 690 kilometers between these two cities, so it's not the most economical way to go about things. What's more, you'll find that the costs of private transfers are usually astronomically higher than with buses and trains, pricing out most backpackers and casual travelers.
That said, you might like this option if you're moving around Thailand as a family or a group and want to keep things simple. The estimated cost of about $300 for a taxi can be shared between everyone in your party, reducing the hit to the budget a little. What's more, private transfers will pick you up virtually anywhere in the capital, whether that's the lobby of your hotel in chic Silom or the terminals of Suvarnabhumi Airport just after you've landed.
Taxis might be a pricy option, but they do offer added flexibility and potential stops at amazing attractions between Bangkok and Chiang Mai
The other great bonus of taking a private taxi to Chiang Mai is that routes tend to be flexible. They are a good choice if you want to head straight to the mist-swirled hill towns of northern Thailand but don't want to miss out on some of the amazing sights along the way. So, be sure to ask your driver how much it would cost to add in a pitstop at the temple-strewn city of Ayutthaya or the monkey shrines of Lopburi to mention just two.
The journey from Bangkok to Chiang Mai is one of the most-trodden routes in the Land of Smiles. Whichever mode of transport you opt for, you can rest assured you'll be joining oodles of other folk on the way, and can look forward to a city of enchanting Lanna shrines and incense-scented temples once you arrive.
---
Bangkok to Chiang Mai FAQ
What is the cheapest way to get from Bangkok to Chiang Mai?
Bussing it up from Bangkok to Chiang Mai is the cheapest option of all. That's why it's the long-time favorite of backpackers and budget travelers. Most choose to go on VIP buses and dedicated tourist buses for extra comfort, completing the trip in around 10-12 hours total. Check out 12Go.asia's booking platform, which offers departures from a number of different stations across the capital.
What is the fastest way to get from Bangkok to Chiang Mai?
With nearly 700 kilometers separating Bangkok from Chiang Mai, it's hardly a surprise that flying offers the fastest route between the two towns. You can complete the connection in little over an hour by hitting the skies, while overland journeys take 10 hours at least.
How do you get from Bangkok to Chiang Mai?
There are multiple modes of transport ready to whisk you from the Grand Palace of Bangkok to the Lanna shrines of old Chiang Mai. The best way to compare and contrast the lot is by using 12Go.asia. One search there will return prices for VIP coaches, flights, train connections, and even private taxi transfers.
Is there a train from Bangkok to Chiang Mai?
Yes. What's more, it's one of the most popular train rides to take in all of Southeast Asia! It brings you through the heart of the country, past amazing cities like Lop Buri and the karst mountains of the north, and can be done either by day or overnight. Use 12Go to book early and pick up your tickets at a convenient spot that's right outside the train station in Bangkok.
How much is train from Bangkok to Chiang Mai?
That all depends on what class and train you go for. The most comfortable way to do the journey is surely with a sleeper bed on the overnight service leaving at 6.10pm. They cost around $30 in second class and $50 in first. Standard seating tickets on the daytime trains between Bangkok and Chiang Mai are priced in the region of $28.
How much does it cost to fly from Bangkok to Chiang Mai?
You might be surprised to see the cost of a domestic flight from Bangkok to Chiang Mai sitting as low as $20. However, that would be a real steal! More likely are average prices of around $30-50 each way. Be sure to factor in what checked baggage will add to the booking, because some of the premium carriers will offer that as standard. Thankfully, it's super easy to compare ticket prices for any given date and different airlines on 12Go.asia.
What is the best time of year to go to Chiang Mai?
The dry season in northern Thailand kicks in around November time, bringing warm days and plenty of sunshine for sightseers in search of those gold-tipped Buddhist temples and shopping bazaars. Beware of the so-called burning season that starts in mid February and ends in April, however. Pollution from local agricultural techniques can make the air particularly unpleasant then. It's actually better to hold off for June, July, and August. Those are officially the monsoon, but rains typically only come in short bursts, there are fewer people around, and hotel rates are easier on the wallet.
How useful was this post?
Click on a star to rate it!
Average rating / 5. Vote count: