These two much-loved beach towns face each other on opposite ends of famous Phang Nga Bay. It's hardly a wonder they are among the most popular destinations in Thailand. The whole region is speckled with islands where cotton-coloured beaches dash under lazy palm trees and dramatic mountains lurch from cerulean seas. To the east is Krabi, with Ao Nang's lux hotels and the rock-climbing mecca of Railay. To the west, Phuket beckons with pumping Patong and the villa-speckled sands of Karon.
Covering the 37 miles (60 km) that separates one from the other should be a breeze. Boats, buses, and taxis all run the route from Phuket to Krabi, with a whole range of prices and comfort levels on offer. Let's take a look…
Phuket to Krabi by normal ferry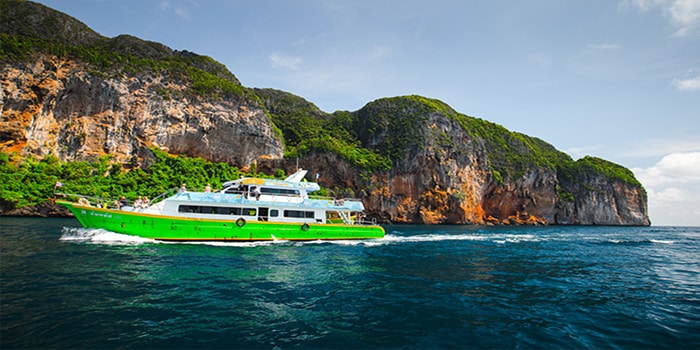 Time – Up to 8 hours
Price – $20
Comfort – 4/5
If you drew a direct line from Phuket to Krabi, it would cut right across Phag Nga Bay. That's the route the ferries take, and boy is it a pretty one! From the talcum-powder beaches of Koh Yao Noi to the sheer cliffs of the Phi Phi islands, there's plenty to keep you gasping and snapping photos along the way. That's good news, too, because the journey can take up to eight hours in total.
The reason for the long trip? You'll need to make a change of boat at the port in Koh Phi Phi itself. Ferries leave Rassada Pier on the south-eastern edge of Phuket come the morning, arriving in Phi Phi around midday. You can either linger on the jetties or go kick back on Tonsai Beach that's just next door. That's a great way to break up longer layovers but will mean paying the 400 THB entry fee to the island.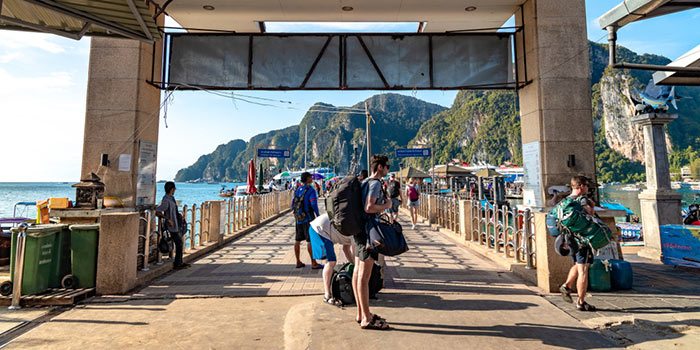 Boats might not be the fastest way to go between Phuket and Krabi but they sure do offer some awesome views of the region's island and tropical coast.
There's plenty of choice when it comes to boats out of Phuket itself for that first leg, but we'd recommend sticking with Chaokoh Travel Center. It's possible to book connecting tickets with them on 12Go.asia that will take you all the way through to Krabi. They also run double-decker vessels with open-air spaces up top for island watching as you sail.
Departures to Krabi from Phi Phi go at 1.30pm and 3.30pm, which means you can expect to pull into Krabi Town late in the afternoon or the early evening. Your arrival point will be Klong Jilad Pier. There, taxis, shared minivans, and even local songthaew shuttles offer further links to Krabi Town center. Alternatively, you can catch the Krabi ferry from Phi Phi that goes direct to Ao Nang Beach – Krabi's main hotel resort.
Phuket to Krabi by speedboat

Time – 2.5 hours
Price – $37
Comfort – 3/5
The folk over at Koh Yao Sun Smile run a regular speedboat link that goes straight from Phuket to Krabi. It's among the fastest options for crossing the water, with a travel time in the region of only 2.5 hours from dock to dock. There's typically a single departure each day. It leaves at 9.30am from the Bang Rong Pier on the north-western edge of Phuket island, which is a super-convenient spot for those jetting into the local airport – the terminals are a quick 25-minute drive away.
Speedboats are a contender for the fastest rides of all across the water from Phuket to Krabi.
The trip itself isn't the slow and scenic odyssey you can expect on the larger boats. It's high-octane, adrenaline-pumping stuff on the speedboats. In fact, travelers who are prone to seasickness, bringing lots of luggage in tow, or wanting to take in the views as they sail should steer clear of this mode of transport. There's not too much room on board, and rides are infamous for getting bumpy.
Pre Book a Speedboat on the Phuket Krabi Route
We'd recommend booking ahead of time if you're set on catching the speedboat link between Phuket and Krabi. Because these nippy vessels can't carry more than 20-30 people on average, it's important to secure a seat before they all get snapped up, particularly for holidays between November and March. To do that, head over to 12Go.asia and get a-booking. Just be ready to pay a premium when compared to the slower ferry connections.
Phuket to Krabi by shared minivan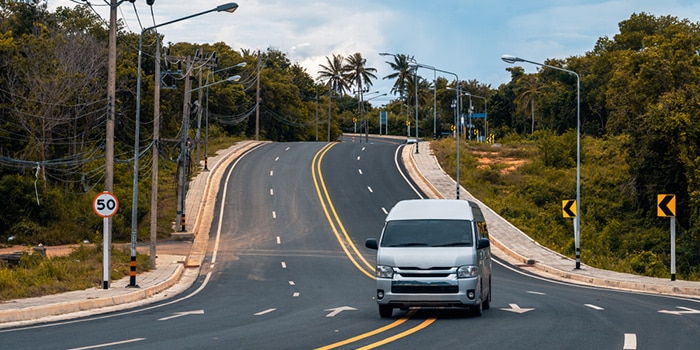 Time – 3.5 to 4 hours
Price – $20-25
Comfort – 4/5
Departures From Phuket Airport
An economical and fast way to navigate your way around the southern Thailand coast from Phuket to Krabi is to choose the shared minivan. Run by Krabi Airport Shuttle, they take around 3.5-4 hours to complete the trip. The standard pickup point is at Phuket Airport, which is great news if you're looking to waltz off a plane from Bangkok and make straight for Krabi's beautiful beaches. If you're traveling from a hotel or a resort, it's also possible to book rides with a transfer from your hotel in a single ticket using 12Go.
Shared minivans drive the whole way around the coast to Krabi from Phuket, taking approximately four hours from start to finish.
The shared minivan from Phuket to Krabi is a popular choice because it takes way less time than the ferries. There's no need for a stopover on Koh Phi Phi here, just a one-way ticket to ride from west to east. The roads are well-maintained for the whole route to boot. First, you'll follow the 402 up the middle of Phuket island and then cross to the mainland. From there, highway 4 weaves through the countryside's rubber plantations and jungle-topped karst mountains all the way to central Krabi.
All vehicles are air conditioned and can carry up to nine passengers. One drawback is that you might need to make some stops at the hotels in Ao Nang or Krabi Town to drop everyone off once you've arrived. On the flip side, that also means you'll get transported right to the door of your next stay.
Phuket to Krabi by private taxi

Time – Around 3 hours
Price – $85+
Comfort – 5/5
You'll probably need to fork out over $80 to move from Phuket's buzzing go-go bars to the beachside massage parlours of Krabi in your own ride. That might seem like a lot, but there are things worth remembering. First: That's the rate for the whole vehicle. In groups of four, that's just $20 apiece – the same cost as a ferry or a shared minivan is per person. Second: Private taxis take comfort levels to new heights. Things like air-con interiors, free water and upholstered seats usually come as standard.
Adding to all that is the convenience of being collected and dropped off wherever you choose. Oh, and taxis take a little less time to whiz through the jungles and the mangrove forests to reach Krabi. Without stops to make or other travelers to wait for, you'll be able to go from A to B in under three hours, traffic depending. With a driving distance of 99 miles (160 km), that's cracking news if you're simply pining to dip your feet in the crystal-clear waters of Railay Beach or Ao Nang!
Phuket to Krabi by local bus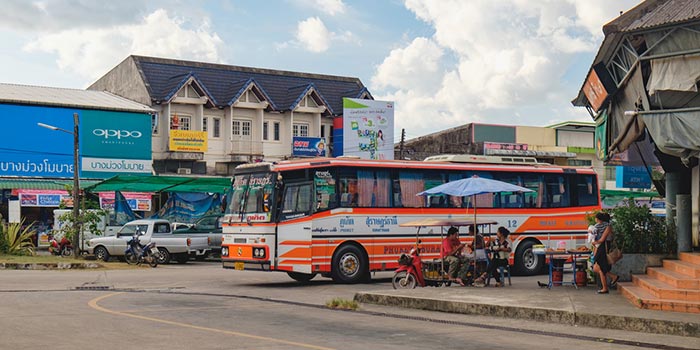 Time – 3.5 hours
Price – under $5
Comfort – 3/5
Go local, save plenty – that's the mantra on the route from Phuket to Krabi. Cue the local buses, which can whisk you off Thailand's largest isle and put you in the midst of the salt-scented fish markets of Krabi in as little as 3.5 hours. They leave from Phuket Bus Terminal 2 several times throughout the day. Early departures start about 7am, with the latest possible leaving town around 10pm.
Don't come expecting limo levels of comfort. These are shared, big buses that are used by both Thai commuters and international travelers. There's often competition for room, the air conditioning might not be the best, and the seats are nowhere near as plush as in private taxis. Balancing that out is the price. This is by far the cheapest way to get from Phuket to Krabi Bus Station. A handful of dollars is all you'll need to buy your ticket from the booth in the station!
---
Going from Phuket to Krabi can be a real adventure. Take the boats via Koh Phi Phi and you'll glimpse one of the iconic islands of the Andaman Sea along the way, with its cream-coloured beachfronts and rickety sunset bars. Go by road and it's about navigating jungles, rubber plantations, and wild karst mountains. Excited?
---
Phuket to Krabi FAQ
What is the cheapest way to get from Phuket to Krabi?
That's got to be the local bus. It trumps the lot on the price front with tickets that cost less than $5 a pop. What's more, journey times stay roughly the same as on the minivan, with total travels taking about three hours. The only downside is the comfort. These are public transport links, which can get busy and hot. Still, so what? The refreshing waters of Ao Nang Beach await on the far side.
What is the fastest way to get from Phuket to Krabi?
Get onto 12Go.asia and score yourself a seat on one of the uber-quick speedboats if you're looking to get from Phuket to Krabi as fast as possible. Travel times can break the 2.5-hour barrier on those. The route whisks you straight across the water to piers in Ao Nang and Krabi Town. The departure point is at Bang Rong, just 25 minutes' drive from Phuket Airport.
How do you get from Phuket to Krabi?
The choice is yours. One way is to go by sea. That's a real adventure, but it will take some time. Expect trips to be around eight hours as you weave through tropical islands to change on the docks of Koh Phi Phi. Alternatively, there's the heart-thumping speedboat, which costs more but arrives in under 2.5 hours. Faster on-land options include the shared minivan and private taxis. They follow the main road around the top of the Andaman Sea to Krabi. Both can be booked in advance with 12Go.asia.
How do I get from Phuket Airport to Krabi?
The best way is to organise a private transfer using 12Go.asia. Providers like BangkokTaxi24 and Andaman Taxis will have a driver ready and waiting for you as you emerge from the arrival hall. Easy. To keep things a little cheaper, you could hop onto one of the shared minivans and opt for an airport pickup. Or, travel from the terminals to the Phuket bus station and then connect to the local coaches bound for Krabi there.
How long is a boat ride from Phuket to Krabi?
The regular boats between Phuket and Krabi tend to run on island time. In other words – they're not the fastest! In fact, trips from pier to pier on this route can be as long as eight hours or more. The reason for that isn't so much the time it takes to cross the Andaman Sea, but rather the lack of direct ferries. On the flip side, there's always the speedboat. It leaves once a day and smashes the trip in less than 2.5 hours. Just don't expect the most comfortable ride!
How much is the boat ride from Phuket to Krabi?
Prices vary from company to company, but you're likely to pay in the region of $20 for a ticket on the normal-speed boats that go from Phuket to Krabi. The best way to book them is via 12Go.asia. Doing that will ensure you have all the right connections to the right ferries as you pass through Koh Phi Phi along the way. It's also a great way to beat the crowd to the best departure times during the high season. For faster connections on speedboats, you're looking at about $37 or more per person each way.
How do I get from Phuket to Krabi by bus?
You can either grab your own minibus ride in a shared car or go with the local bus. The first guarantees a little extra comfort and will often come with a pickup at your nominated point on the island. The second is way cheaper (tickets are priced at just under $5!). However, it might take a little longer and will only leave from the Phuket bus terminal near Phuket Town.
How useful was this post?
Click on a star to rate it!
Average rating / 5. Vote count: