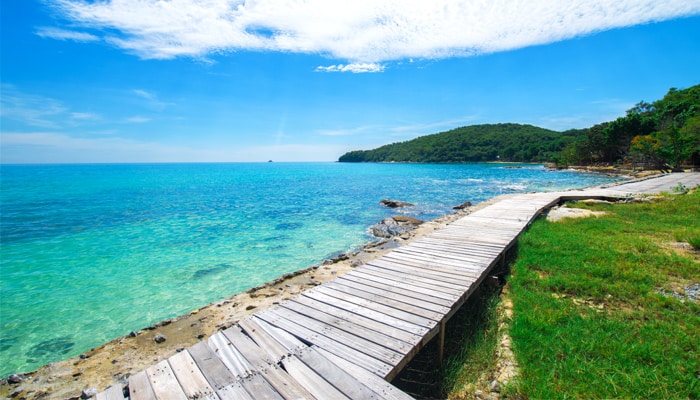 Shaped like a corkscrew and sat out in the glistening waters of the Thai Gulf, Koh Samet is a stunning dose of powdery sand and turquoise sea. Because it's one of the closest islands to Bangkok, it's gradually become one of the more popular getaways for Thai locals living in the capital.
Partiers and sun seekers flock in on the weekends and during holidays to hit brilliant Diamond Beach and guzzle beers in the bars of Ao Pai. They usually arrive by road and then cross over on a ferry; Koh Samet is simply too close to BKK to make a flight worth your while (or money) – just 100 miles separates the two. For more information on how to make the trip to join the hammock-swinging, snorkel-touting, beach-going fun yourself, read on…
Bangkok to Koh Samet by bus and ferry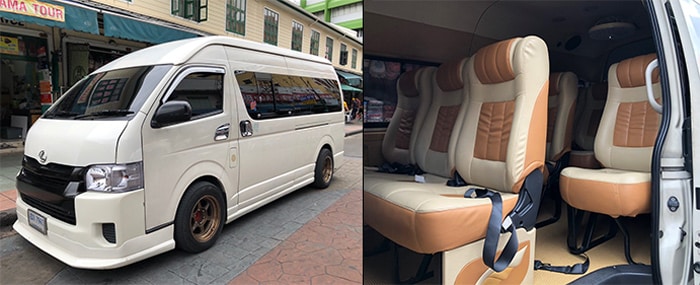 Time – 4 to 5 hours
Price – $17
Comfort – 4/5
The most common way to get from Bangkok to Koh Samet starts with a bus trip down the coast roads to the south-east of the capital. The route follows fast Motorway 7 as its bends around the Thai Gulf past Pattaya and Chon Buri, all the way to the ferry pier at Sri Ban Phe in Rayong. That's where the boats leave from to connect across the water to the paradise beaches and coves of Samet itself.
The great thing about the bus-ferry combo option is that departures from buzzing Bangkok are usually in the early morning. That means, with an average five-hour travel time, you'll be pulling into dock under the swaying cajeput trees and jungle-draped hills of Koh Samet with a whole day's sunbathing ahead of you.

You can swap the hustle of Khaosan Road for the Robinson Crusoe vibes of Koh Samet in around five hours when going by bus and ferry to the island.
The most sought-after packages on this trip are with companies like Travel Mart. They organise minivan-style buses with a maximum capacity of 12-14 people out of Bangkok's bar-filled Khaosan Road quarter – one of the city's main backpacker and traveler hubs. What's more, they include the ferry crossing, and are predominantly aimed at international tourists, so you can share stories and chat with likeminded globetrotters en route to the island.
We'd always recommend purchasing rides as far in advance as you can for trips on buses and boats to Koh Samet. Thousands of Bangkok locals set their sights on the cotton-tinged beaches there for their weekend and work holiday breaks. That means services often fill up and tickets sell like pad Thai noodles from a Chatuchak street stall (fast!), which is why the online search and booking facility offered by 12Go.asia is such a gift. Separate ferry tickets from Ban Phe Pier to Koh Samet can be purchased online and checked for departure times before your trip!
Bangkok to Koh Samet by private taxi and ferry

Time – 4 hours
Price – $110+
Comfort – 5/5
One way to crank up the comfort levels when swapping the electrifying street markets of Bangkok for the hammock-swinging beachfronts of Koh Samet is to choose a private taxi for the transfer to the port. It's an option that will certainly stretch the budget – average costs for just the drive down to Ban Phe Pier are in the region of $100. However, bear in mind that it's possible to share that with your whole travel party, because taxi fares are for the entire vehicle.
There's a little added comfort to taxi rides to the port, while combo tickets can help make the change from car to ferry a real breeze.
Talking of the vehicle…these are typically plush, air-conditioned rides with upholstered seats and free water bottles as standard. That puts them a cut above the buses when it comes to traveling in style to Koh Samet from Bangkok. You'll also have a driver of your own, which means asking for pitstops and rest breaks is all the easier.
It's a good idea to score bundled packages using a ticket booking service like 12Go to make the changeover from car to ferry at the port run smoothly. Doing that makes it easy to connect up transfers with highly rated taxi companies like Glassflower, PGS, Team Holiday, and MCC VAN with ferry crossings offered by Koh Kaew Phitsadan and others.
Bangkok to Koh Samet by public bus and ferry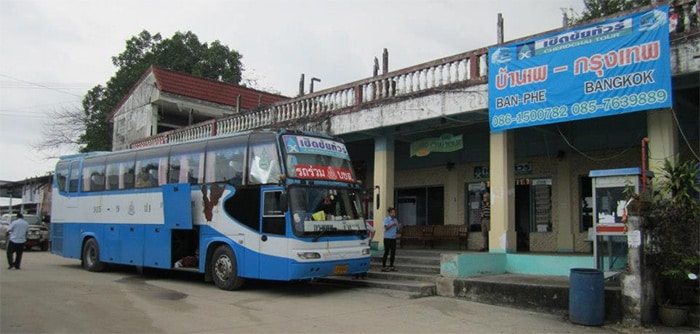 Time – 5 to 6 hours
Price – As little as $10
Comfort – 3/5
Are you looking for adventure? Do you love to mingle with the locals? Want to practice your sawadee kraps and kas? Why not make a beeline for the public bus connections that run the route from Bangkok to Rayong's ferry piers. They're usually a little busier than the out-and-out tourist buses but do have more authentic vibes and atmosphere.
Join local Thais on their way to the hotels and bays of Koh Samet by making use of the regular public buses out of the capital.
They depart out of the Eastern Bus Terminal in Ekkamai and the Southern Bus Terminal. You'll need to hop into a tuk-tuk or a taxi to cruise across the metropolis to reach those before buying your ticket at the on-site booths. Be sure to ask for fares to take you all the way to Koh Samet. It's possible to do that as a bundle with the bus and ferry together.
You can expect to be riding either a large VIP bus or a minivan. They usually have air conditioning and even onboard entertainments. The destination is Ban Phe Pier, which is reached after four or five hours on the road. After that, ferries will take 30-45 minutes to make the crossing over to Nadan Pier on the very far north tip of Koh Samet. Ferry tickets can be purchased online and checked for departure times before your arrival!
Bangkok to Koh Samet by bus and speedboat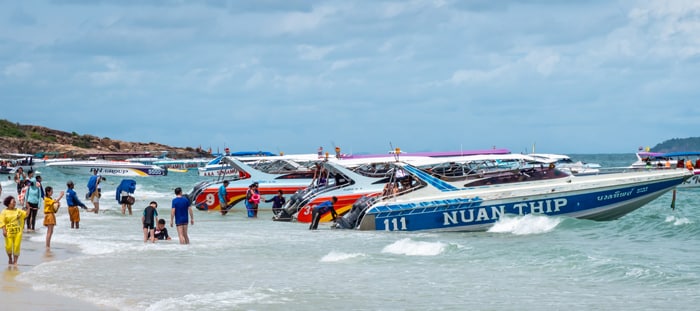 Time – 4-5 hours
Price – $130+ – but be sure to haggle!
Comfort – 3/5
Private speedboats will shorten the already-short crossing from the Thai mainland to Koh Samet to around 15 minutes. They can also whisk you right over to all sorts of enticing spots on the island, whether that's the talcum-white seafront of Sai Kaew Beach or lesser-known Wong Duean Beach further south. They rarely run throughout the day but instead take over when the main ferries stop in the late afternoon.
Price wise, you're looking at about $100 just for the boat charter. That's why this is seldom an option worth considering, unless you're late to the ferry port in Ban Phe or simply want the adrenaline hit offered by a faster boat. On top, you'll need to organise bus links to the marina on your own. That can be done either with scheduled traveler transfers in minivans from Khoasan Road or with public buses from Ekkamai, Bangkok's Southern Bus Terminal, or even Suvarnabhumi Airport.
Koh Samet is a jewel of the Thai Gulf. It might be one of the closest places to Bangkok to get that fix of sun, sand and sea, but there's still a chilled-out islander vibe going around, with reggae parties, coconut stalls and gorgeous bays. It's also easy to get to. There are buses and boats of all sorts to make use of, with travel times in the region of just four to six hours before you drop into paradise.
---
Bangkok to Koh Samet FAQ
What is the cheapest way to get from Bangkok to Koh Samet?
Public buses can whisk you down to the wave-sloshing piers at Ban Phe near Rayong for a mere 155 THB (that's less than $5!). Combine that with the cheapest boats, booked well in advance using 12Go.asia, and you're looking at a wallet-friendly total of just $10 or so to go all the way from Bangkok to Koh Samet. Nice.
What is the fastest way to get from Bangkok to Koh Samet?
A private taxi hire can speed up the road trip from Bangkok to Rayong, where the ferry piers are. From there, you can save even more time by opting for a speedboat. However, they cost astronomically more than the usual ferry, and will only cut 10-20 minutes off the crossing. You also can't book them in advance via 12Go, which may mean you'll end up wasting extra sunbathing hours haggling a price on the port.
How do you get from Bangkok to Koh Samet?
Because Koh Samet is so close to Bangkok, there's no real sense in catching a flight any nearer to the island before you hit the road. So, your choices include private taxis from the airport, public buses from the city's various stations, or backpacker minivans out of Khaosan Road. Then you'll need to switch to a ferry to make the short crossing over to the island itself. All the available options and tour companies offering these trips can be compared using 12Go.asia's handy online search tool.
How much is a taxi from Bangkok to Koh Samet?
You'll pay just over $100 for a taxi all the way from Bangkok to the port area linking to Koh Samet. Using 12Go.asia, you can score packages that bundle the ferry crossing and the taxi for about $110 total. That might seem like a lot, but it's the rate for an entire car that can seat at least four passengers, perhaps more. In addition, taxis offer a pickup at any point in the capital, so you won't need to fork out tuk-tuk fares to get to the bus terminals before you're island bound.
How far is Koh Samet from Bangkok?
If you drew a straight line on the map between the sprawling Thai capital and the island of Koh Samet, your distance counter would read 100 miles or so. Following the main highways that bend around the edge of the Thai Gulf to link the city with the boats (the route you'll need to take in a bus), you're looking at something closer to 120 miles, plus the 5km crossing in the ferry.
Is Koh Samet worth visiting?
Ask any local Bangkokian and they'll probably tell you – Koh Samet is a paradise. The island has long been a getaway for city slickers eager to tread in warm sands and splash in turquoise seas. It's got all the chilled-out, reggae-bumping vibes of a real Thai beach hotspot, only a short four or six hours outside of the metropolis. So, it's a resounding yes for Koh Samet if you're after clear waters, snorkelling sessions, sunbathing, scuba diving – the list goes on!
How useful was this post?
Click on a star to rate it!
Average rating / 5. Vote count: