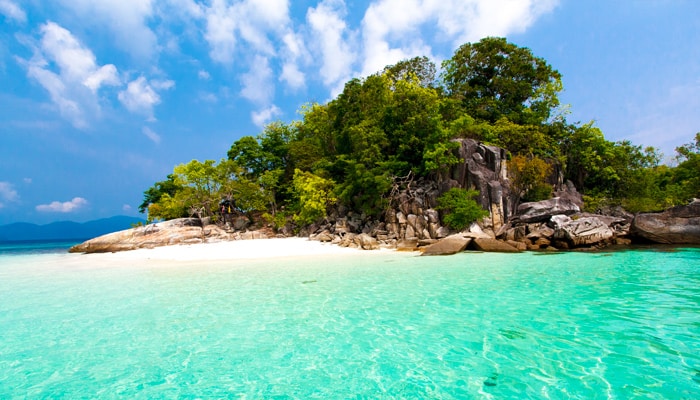 There might be an international border and a whole dash of the Malacca Strait between them, but Langkawi and Koh Lipe are well-linked by ferries and boats. In fact, the Malaysian island is one of the best jump-off points for Thailand's southern Tarutao National Marine Park of which Lipe is a part.
You can cover the 27-miles distance in just 1.5 hours, so there's hardly time to finish your spicy Malay laksas before hopping off starboard and treading on Thai sands. That said, direct boats only go during the high season (November to early June), so journeys will be much longer if you're traveling with the monsoon.
Langkawi to Koh Lipe by direct ferry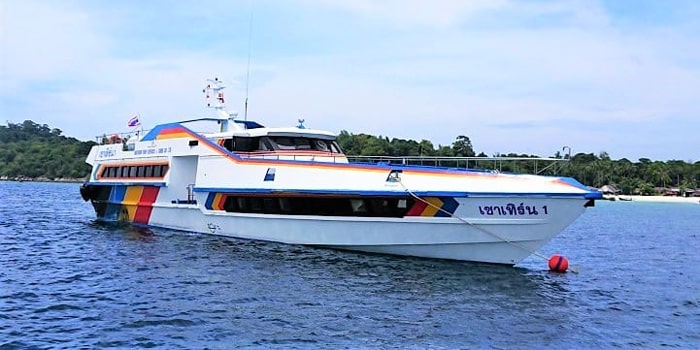 Time – 1.5 hours (not including time taken at immigration)
Cost –  $30
Comfort – 4/5
In an age where flights seem to go everywhere, there's something undeniably novel and exotic about crossing international borders on a boat. But that's exactly what every traveler heading between Langkawi and Koh Lipe on the ferry must do, because the jaunt isn't just from island to island, but also from Malaysia to Thailand.
That all brings a few extra complications into the mix. While the ferry crossing itself is only 1.5 hours on average, there are immigration procedures on both ends to factor in. You'll need the passport stamped when you leave Malaysia at the jetties. And you'll need to get your Thai entry sorted when you arrive on Lipe.
Boats bring you from the shimmering sands of Langkawi to the shimmering sands of Koh Lipe in just 1.5 hours.
Boats depart from either Kuah Jetty on the south-east side of Langkawi, or from the Telaga Harbour Marina on the north-western shores. The first is better if you've been holidaying in the main town of Kuah. The second is a fine choice for anyone adventuring around the white-sand beaches of Pantai Cenang, or coming into Langkawi Airport and searching for a boat connection right away.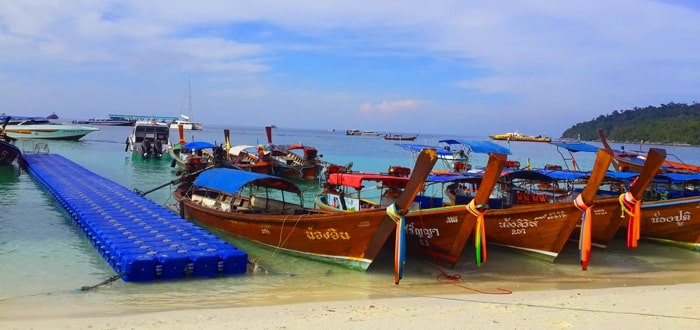 Arriving in Koh Lipe, you'll need to hop from the ferry to a longtail boat to get onto dry land. They will charge an extra fee of 50 THB to drop you at the makeshift jetty on Pattaya Beach, where Thai immigration officials are ready and waiting to stamp your documents. Oh, and don't forget to reset your clocks at this point – Langkawi and Koh Lipe are, strangely, in different time zones!
Remember that the ferries that go directly between Langkawi and Koh Lipe only run during the dry season. Seas are too rough and there's simply not enough custom to keep routes running between June and August. On the flip side, they do get busy when the rains stop, so you'd be wise to secure your spot as early as you can using the online search tool on 12Go.asia.
Langkawi to Koh Lipe by connecting ferry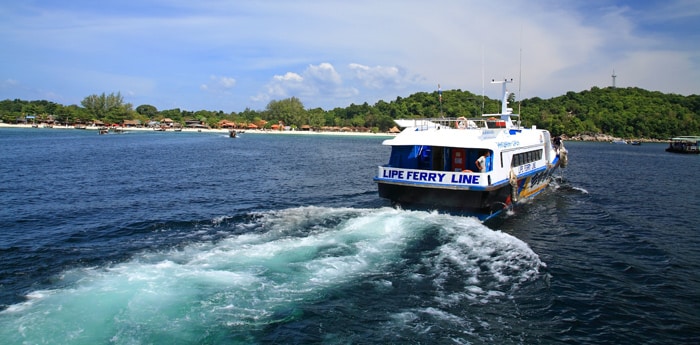 Time – 4 to 6 hours
Cost –  $35+
Comfort – 3/5
If all the boats running straight from Langkawi to Koh Lipe are full, or if you're looking to make this journey in the low-season months between June and October, you could try to string together two ferry connections. It's not ideal: The trip will almost certainly cost more and take a lot longer. However, it might just be the only option left.
Connecting ferries through Satun can help you navigate to Koh Lipe when direct ferries aren't running or are full.
The first boat you need to catch goes to Satun on the Thai mainland. It leaves from Kuah Jetty, with departures both early on in the morning and late in the afternoon most days. In total, the trip takes about 60 minutes and the views are wonderful – look westward to find the pristine sands and forested hills of untouched Koh Tarutao whizzing by! Your destination? Pak Bara Pier. There, you'll need to clear all Thai immigration procedures before you can think about pushing on.
Once into the Land of Smiles officially, it's time to get over to Koh Lipe. This should be the easier half of the trip. There are more ferries linking Satun to that gorgeous island than you can shake a guidebook at. The fastest are with Bundhaya Speed Boat or the Satun Pakbara Speed Boat Club. They take just 1.5 hours to whisk you into Lipe. Once you arrive, with all passport stamps in order already, you're free to hit the cocktail bars or laze down on Pattaya Beach right away.
Langkawi to Koh Lipe by day tour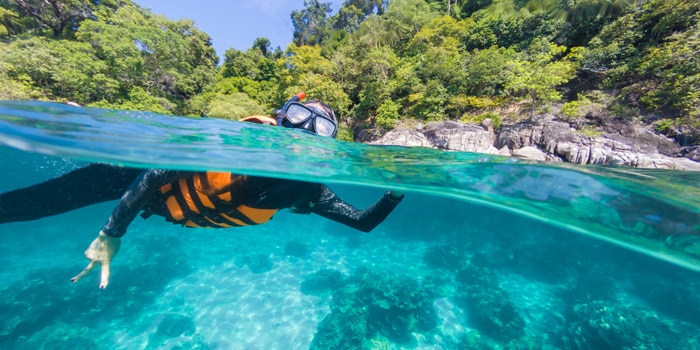 Time – All day
Cost –  $200+
Comfort – 4/5
Organised tours like the one from Langkawi-Tour.com that whisk you from Langkawi to Koh Lipe might be pricy but they're full of fun. These package the ferry crossing from Malaysia's Andaman jewel to Thailand into an action-filled itinerary. You'll hardly notice that you're traveling from one to the other, what with snorkelling, wild swimming, beach hopping, and long Thai lunches to keep you busy along the way.
For a cost that starts at about the $200 per person mark, you can expect a pickup at any hotel on the Langkawi side. You'll also have food provided, along with activities that range from tricycle tours of Koh Lipe's bustling villages to early evening stops on Sunset Beach. It's an option to consider if you're eager to check off all the highlights of Koh Lipe right away.
---
Most folk will choose the quick, direct ferry that regularly runs from Langkawi to Koh Lipe in the high season. They take just 90 minutes to swap isle for isle, with some extra time needed for immigration on both sides. Alternatively, you've got organised tours and connecting boats. Either way, you'll be Thailand bound on this trip!
---
Langkawi to Koh Lipe FAQ
What is the cheapest way to get from Langkawi to Koh Lipe?
Boat. You're looking at around $30 per head to get across from Langkawi to Koh Lipe on the direct ferry. That makes it the cheapest option, because indirect routes via Satun will mean booking two individual tickets with two separate companies, while tours have price tags that are always astronomically higher. The best way to unearth the cheapest boat crossings is to tap in your travel dates over on 12Go.asia and book there long in advance of arriving in Langkawi.
What is the fastest way to get from Langkawi to Koh Lipe?
The direct ferry link between Langkawi and Koh Lipe means you can trade Malaysian soil for Thai sand in as little as 90 minutes. But that's only the journey time over the water. Because you're traveling between two countries on this trip, there's going to be lots of admin to sort out at immigration. That can add waits on both jetties, making total travel times in the region of 2-3 hours.
How do you get from Langkawi to Koh Lipe?
How else do you get from one tropical island to another? By boat, of course! There are several services to pick from, with multiple companies running out of two piers on Langkawi all throughout the main season months from November to June. Expect large, modern ferries with deck spaces and inside seating areas. When you get close to Lipe, you'll need to hop onto a longtail boat to get to shore. That's not included in the price of most tickets, so aim to have 50 THB handy to pay the driver.
How long is ferry from Langkawi to Koh Lipe?
It's not long at all. Just 90 minutes is enough to complete the crossing in normal conditions. That said, extra wait times should be expected to clear immigration and to catch the longtail boat to shore when you finally reach Pattaya Beach in Koh Lipe. Anyone using the connecting boats going through Satun is looking at two journey legs on the water, the first taking about one hour, the second taking 1.5 hours.
How much is the ferry from Langkawi to Koh Lipe?
You can usually score a ticket on the direct boats from Langkawi to Koh Lipe for about $30. However, it's a good idea to search and book your place well in advance on 12Go.asia, because prices can fluctuate and ferries do fill up in the most popular travel months. You'll also need to pay 50 THB ($1.5) for the boat taxi from the ferry to the pier in Koh Lipe. And there's an entry fee for the Thai island, which is currently 200 THB ($6) per person.
Is Koh Lipe expensive?
Koh Lipe is just a little pricier than other Thai islands. Things cost a premium because it all needs to be transported over on boats from the mainland. What's more, there's limited space and strict building rules on Lipe because it's a part of a national park – that cranks up the cost of hotels and beach bungalows. Still, it's not somewhere that should break the bank. Pad Thai noodles from a street stall can be bought for about $3, while beers in the sunset bars cost just shy of $4.
How useful was this post?
Click on a star to rate it!
Average rating / 5. Vote count: