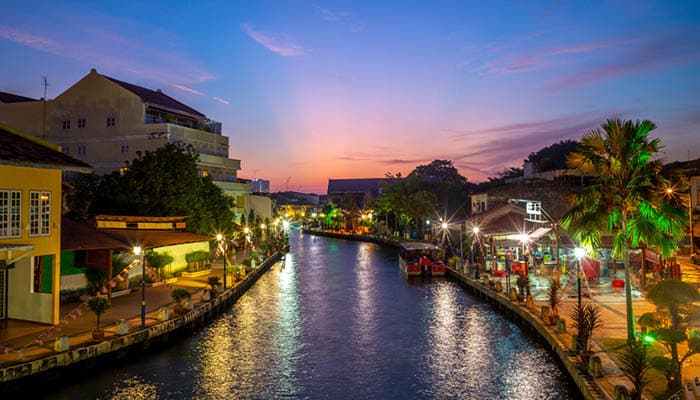 Malacca and Singapore once vied for: the title of Southeast Asia's richest trading port. The latter won, eventually becoming the electrifying megalopolis that it is today, complete with soaring skyscrapers and the straight-laced HQs of various banking institutions.
Malacca slipped into obscurity for much of the 18th century, a fact that helped it retain its handsome Dutch colonial core and European-style architecture. In modern times, that was enough to make it a UNESCO World Heritage Site and one of the top attractions in Malaysia.
Covering the 122 miles between the two towns is now super-easy thanks to regular buses that go day and night. Here's our guide for Malacca to Singapore travels…
Singapore to Malacca by Bus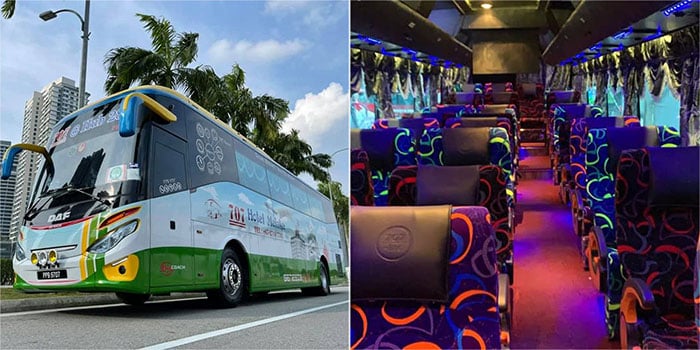 Time – 3.5-6 hours
Price – $18-24 per person
Comfort – 4/5
There are more bus connections between Singapore and Malacca each day than you can shake a Singapore Sling at. We're talking nearly 20 individual services, most of which leave during daylight hours. You'll probably spend a little over three hours on the road in all, crossing the Singapore-Malay border, and then taking the main AH2 highway through the city of Johor Bahru all the way into downtown Malacca.
Options start as early as 7am when the slower coaches run by KKKL Express SG leave from the Kovan Hub Bus Terminal in eastern Singapore. If you hold out only another 15 minutes, you can get the much faster express services run by 707. They leave from Queen Street at 7.15am and stop at multiple places in the city before getting on the road in earnest. Throughout the day, you can expect at least one departure option almost every hour with the companies mentioned above and other providers to boot.
Join the bulk of travelers looking to get from Singapore to Malacca by booking a direct coach departure, but be sure to pick a starting and finishing point that suits you.
We'd rate coaches used on this route as moderately comfortable. Some are dated but still have frills like fully-reclined seats and air conditioning as standard. The aforementioned KKKL Express has the best-reviewed services of the bunch, something that's largely down to their new fleet of VIP coaches. Tickets for all the buses between Singapore and Malacca can be pre-booked online using 12GoAsia at least one month before the scheduled date of travel. Easy.
The main thing to pay attention to is where you plan to board the coach and where you want to go when you arrive in Malacca. Queen Street is often a great starting point for travelers who are staying near the heart of Singapore. It's only a short walk from the spice-scented curry houses of Little India but also the chic hotels of Marina Bay. To get as close as possible to the UNESCO World Heritage Site of old Malacca, be sure to book a bus that terminates at Casa del Rio.
Singapore to Malacca by Night Bus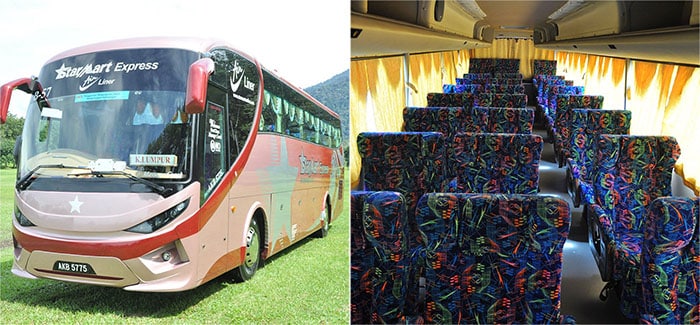 Time – 3.5-4 hours
Price – $18 per person
Comfort – 3/5
The latest bus departure to roll out of Singapore is around 8pm. It's the perfect one to go for if you wanted to enjoy a "free day" in the big city without having to book accommodation. Hit Marina Bay, dine in the curry houses of Little India and shop through Chinatown. Then, once you're done, head over to the Boon Lay Bus Interchange, which is the stop where the well-rated evening bus link run by StarMart SG goes from. You can also pick up the same coaches 10 minutes later at the Golden Mile Tower if that suits you better.
The latest bus departure from Singapore to Malacca is nearly a night bus, though it still completes the journey by half past midnight. 
You'll be cruising into Malacca between 3.5-4.5 hours later. Arrivals are either at Malacca Sentral (the town's main bus terminal) or at the Mahkota Medical Centre. We'd recommend sticking to the latter if you have a hotel booked on the south side of the old town. Those staying north of the river or in the Malacca New Town will probably find it easier to arrive at the bus hub and then catch an onward taxi from there.
Remember that these services aren't, strictly speaking, night buses. They take a maximum of four hours, so will get you into Malacca around midnight. What's more, they don't come armed with the extras that many dedicated night buses do – think lay-flat beds and the like. The chances are that you'll have to organize accommodation for when you arrive at your destination, though bear in mind that hotel rates in Malacca are typically just a fraction of what they are in Singapore!
Singapore to Malacca by Train and Bus/Taxi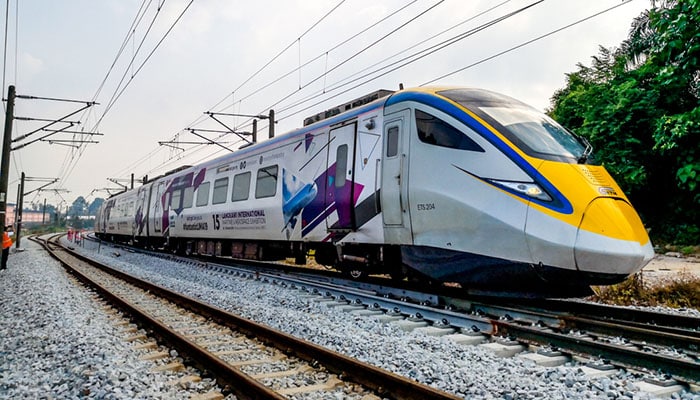 Time – 7-8 hours
Price – From $10
Comfort – 3/5
Train lovers have an option when it comes to traveling between Singapore and the old Dutch city of Malacca. Okay, so with a combined journey time of over eight hours, it's hardly as swift as the buses, but it's a good backup nonetheless. The trip will involve a number of legs, first from Singapore to Johor Baru on the Malaysian side of the border, and then up to Tampin. Finally, you'll need to complete the final step from Tampin to Malacca in either a bus or a taxi.
It's possible to hop trains from Singapore to Malacca, but it will take a lot longer than the buses.
Up for the adventure? You'll need to hop on the KTMB Shuttle Train in the morning. They leave 13 times per day from Singapore's Woodlands Station, which is just about as far north in Singapore as it's possible to go. The link is very quick – think like five minutes from start to finish sort of quick. It gets you into the main Johor Bahru Railway Station, where you'll need to alight and change locomotives. The next leg will be on the Intercity service that leaves four times each day for Tampin.
You have a choice once you arrive at the station in Tampin itself: Either walk the 10 minutes to the local bus terminal, from where regular shuttles go to Malacca Sentral for about $1 total. Or hop in a taxi. The latter is the quicker option but will cost nearly $20, though you will have the added bonus of being able to pick exactly where you get dropped off.
Singapore to Malacca by Taxi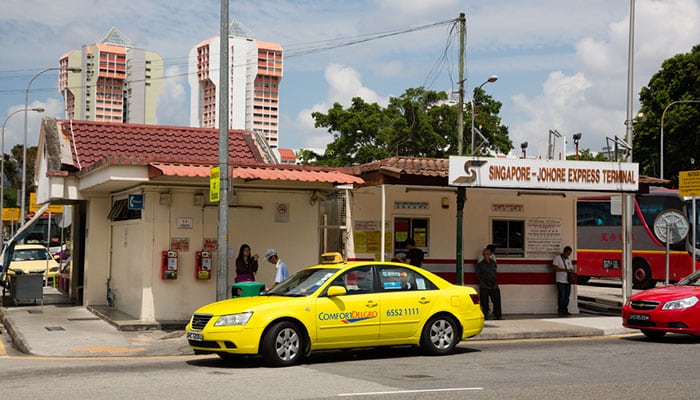 Time – 3 hours
Price – $180+
Comfort – 5/5
To travel in the height of comfort across the international border and up to Malaysia's enthralling colonial city on the Malacca Strait, there's nothing for it but a taxi. This is the only way that you'll bag yourself a ride that's 100% private, with air conditioning that you can set to your preferences and a dedicated driver who will stop whenever you request it. Sadly, you'll need to fork out something in the region of $180 for the whole trip.
To be honest, with travel times that are close to the same as what the buses take and only three hours spent on the road in total, we're not entirely convinced that the higher price tag is worth it here. It might be if you're traveling with the family and want to keep the hassle levels to a minimum, or if you have a group you can share the cost of the car with. Also, taxis are a great pick if you're looking to get to a hotel or resort that's far from the main bus stations in Malacca – these private cars will take you straight to your lobby door.
---
When you're finished gawping at the steel-clad skyscrapers of Marina Bay and wandering between the spice bazaars of Little India, perhaps you'll be tempted to travel north to the amazing colonial city of Malacca?
Malacca is a common next port of call for travelers moving up the Malay Peninsula from Singapore, with its Dutch architecture and bustling night bazaars down Jonker Street. Buses are probably the best way to complete the trip, though you can also choose taxis and trains.
---
How useful was this post?
Click on a star to rate it!
Average rating / 5. Vote count: