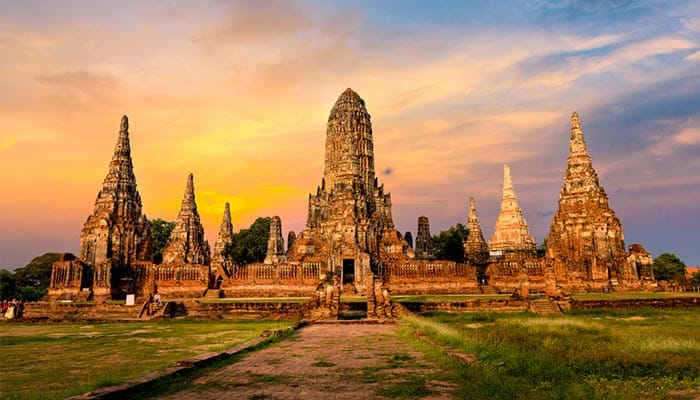 Most travelers in Bangkok spend a handful of days in Thailand's capital enjoying the city's vibrant street life and bustling waterways before heading out of town in search of an entirely new adventure. In this guide, we'll take a look at how to leave Bangkok behind and head 50-miles north to Ayutthaya, the former capital of the Kingdom of Siam and a historic city home to ancient ruins, Buddhist temples, and impressive monasteries.
From journey time, travel cost, and transport options, this article covers all that and more making your trip to Ayutthaya simple and easy to book.
Bangkok to Ayutthaya by Minibus
Time – under 2 hours
Price – tickets start at $9 if you book them online in advance
Comfort – 4/5
Getting from Bangkok to Ayutthaya by minibus (van) is fairly simple and minibusses depart from Bangkok's Makkasan Station daily every 30-minutes between 6am and 5pm. The journey takes around 1.5 hours but you should allow for an extra 30-minutes if you plan to depart from Bangkok during rush hour (7:30 a.m. – 9 a.m. and 5 p.m. – 7 p.m.).
As for levels of comfort, the minivans are relatively new, seat 9 people, and are fully equipped with aircon to make the journey enjoyable. If you're traveling with large luggage, it might be worth booking a second seat as the luggage hold area is relatively small and you could end up with bags on your knees.
Tickets for your bus journey to Ayutthaya start from around $9 and can be purchased online in advance from 12Go.asia. To board the minibus you will need to show your 12Go PDF voucher which can be printed or shown in a screenshot. Your 12Go minibus will be waiting for you at the Makkasain Airport Rail Link Terminal in Bangkok and you should arrive at least 15-minutes before your scheduled departure time to avoid disappointment (the bus won't wait for late travelers). Get ready to sit back and enjoy the ride as you cruise north to Ayutthaya!
Bangkok to Ayutthaya by Train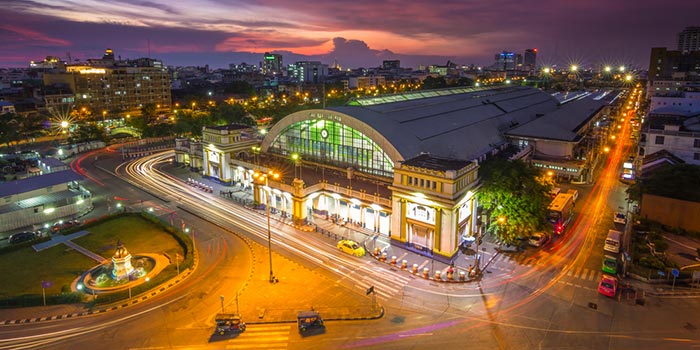 Time – Between 1 hour 20 minutes and 2 hours
Price – One-way tickets start at as little as $2
Comfort – 4/5
Traveling to Ayutthaya by train is possibly the best way to head north out of the city! Not only is it one of the cheapest ways to travel, but you'll also enjoy the scenic route as you ride too. How fast you travel depends on whether you board an ordinary, rapid, express, or special express train but the longest train journey takes around 2 hours and while the quickest train takes only 1 hour 17 minutes.
Trains depart from Bangkok's Hua Lamphong Station from as early as 5:30 a.m. and the most popular place to purchase your train ticket to Ayutthaya is at the station on your day of travel. Head to the ticket counter and ask for a return to Ayutthaya, you'll likely need to show your passport to purchase the ticket so make sure you have this at hand. Alternatively, make use of 12Go's online booking system but act fast, train tickets get booked up well in advance during high season.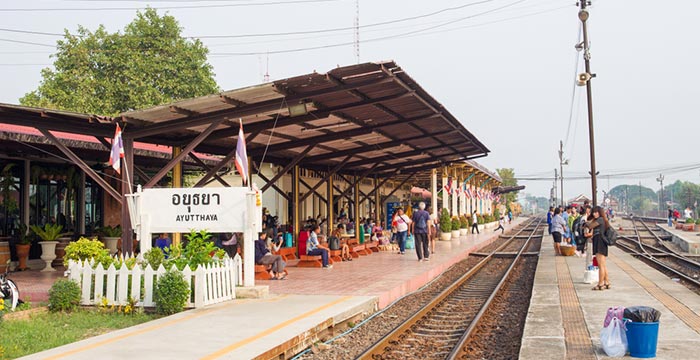 Ticket prices range depending on the class you buy but a 2nd class ticket comes in around $2 – $6 while a 2nd class ticket with air-conditioning is between $7 – $11 one way. In general, the faster the train the more expensive the ticket. Be aware that trains leaving Bangkok station often are subject to delays and sometimes the journey time can be an extra 30-minutes depending on how smooth the previous departures have gone.
When you arrive at Ayutthaya Station you'll need to exit the building and follow the signs for the pier. From here, take a ferry (which costs less than 20cents) to cross the river where you'll find most of Ayutthaya's tourist attractions. Alternatively, take a tuk-tuk over the bridge. Try to get a window seat for the journey north and make the most of the views!
Bangkok to Ayutthaya by Taxi

Time – 1 hour 20 minutes
Price – One-way tickets start at around $50
Comfort – 5/5
If you're looking for the quickest way out of the city, consider taking a private car or taxi from Bangkok to Ayutthaya. The journey comes in at a bit more than one hour if you leave outside of rush hour (which runs from 7:30 a.m. – 9 a.m. and 5 p.m. – 7 p.m.), or add an extra 30-minutes if you're tied to these times.
Before getting in a taxi, make sure they have a meter running (a good sign that it's a legitimately licensed taxi) or negotiate your fare before you set off. One of the best ways is to get a metered taxi either at the airport or to have your accommodation organize one in advance. You can also book online at 12Go and compare fares and reviews.
A one-way taxi ride to Ayutthaya from a central Bangkok location will set you back around $50 but if there's more than one of you traveling, it's well worth splitting the cost. If you're departing from Suvarnabhumi Airport, expect the fare to be slightly less. A return taxi journey with a stop at one attraction of your choice should cost around $100, though you'll likely be working with a time-constraint as the driver will want to be back in Bangkok for a particular time. Ride in the comfort of a private taxi and enjoy a direct journey north.
---
Bangkok to Ayutthaya FAQ
How useful was this post?
Click on a star to rate it!
Average rating / 5. Vote count: