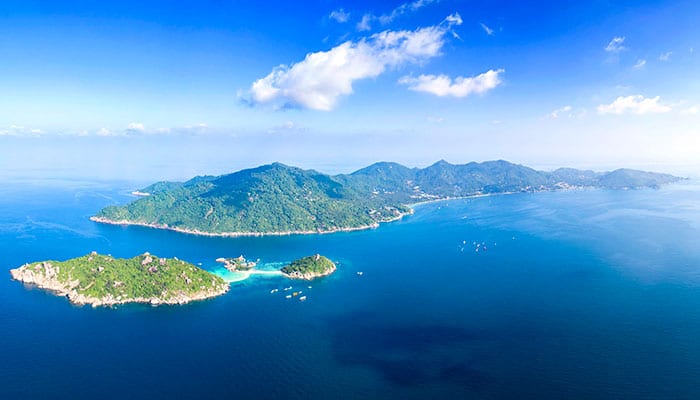 The route from Koh Phangan to Koh Tao is one of the most traveled in the whole of the Thai Gulf. It whisks you across 20 miles of gleaming tropical water from the home of the Full Moon Party to the de facto diving capital of the Land of Smiles. Because neither aisle has an airport, the route will always involve a ferry connection or a private boat hire. Thankfully, services run several times each day throughout the Thai high season (December-March) and even continue throughout the wet season (May-October). Let's take a closer look at all your travel options…
Experience the Thrill of a Speed Boat Journey to Koh Tao!
Time – 1 hour
Price – From $17 per person
Comfort – 3/5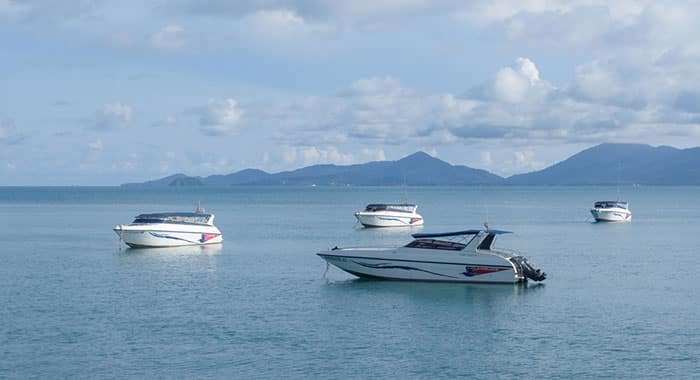 The speed boat is the quickest way to hop from isle to isle. It lets you trade Koh Phangan for Koh Tao in just an hour, meaning you'll be cruising into the coral-filled bays before you can finish that mango sticky rice and coconut coffee in the morning. There are usually one or two departures on offer each day. Both are in the early hours, though operators do run extra boats in the afternoon during the peak of the peak season.
Lomprayah is the name you're looking for. That's the company that runs virtually all of the high-speed services in this part of the Thai Gulf. The boats themselves are small, zippy vessels; not the big, multi-deck ferries that can carry hundreds of passengers. They have space for around just 25-40 people at once, are streamlined and narrow to crank up the speed, and have small storage areas for luggage.
The Lomprayah speed boat can help you hop from Phangan's main port to Koh Tao in as little as one hour.
The Lomprayah speedboats depart out of the Thong Sala Pier on the southwestern side of the island. That's Koh Phangan's busiest port. There's a bustling town to its back with plenty of pre-departure breakfast spots and hotels. But you don't have to travel here the night before your boat. Both of the major coast roads meet at the pier, too, and it's possible to book taxi-ferry combo tickets from 12GoAsia that include a pick-up at any hotel on the island.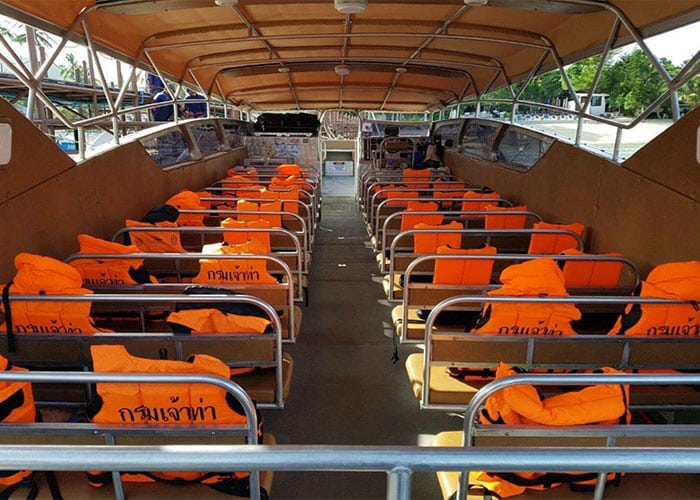 The glaring downside to the speedboats is that they're really sensitive to rough seas. Remember that Phangan has a mini low-season in December and then another again from May to November. Traveling this way could mean bumpy trips, or, worse yet, unexpected cancellations thanks to sudden storms. On top of that, you can expect to pay a touch more for a speedboat ticket than a conventional ferry – around $17 per person is normal.
Take In The Stunning Gulf Of Thailand Views With A Relaxing Ferry Ride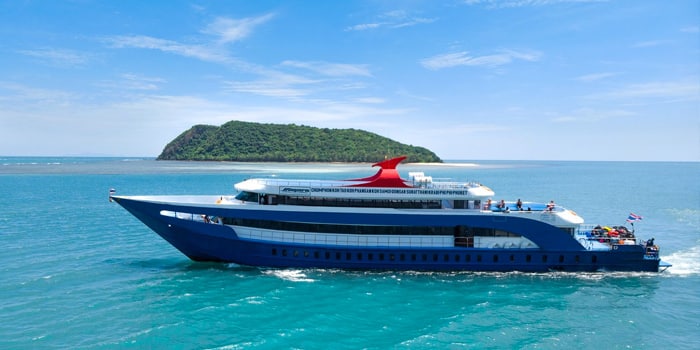 Time – 2 hours
Price – $10-20
Comfort – 4/5
One of the most common routes to the PADI centers of Koh Tao is on the normal ferry link. These will take about twice the length as the speedboat connection but are more regular – you can pick from early-morning or afternoon departures with two separate companies: Songserm and Seatran. The latter has slightly better reviews when it comes to comfort but both complete the journey in about two hours.
There are two main reasons to plump for the slower ferry over the fast links with Lomprayah. First off, these are bigger boats with deeper hulls. They're able to handle the sloppier waters that can roll through the gulf region around December time a lot better than their smaller compadres. That makes them a better pick for anyone susceptible to a touch of seasickness. Second, the price – early-bird tickets can be had for a mere $10 a pop.
Save some baht for post-dive beers and choose to travel slow on the daily normal ferry from Phangan to Koh Tao.
We'd also add that the ride itself is a bit more pleasant on these bigger boats. Lots of them come with open-air deck spaces where you can go to chill while you travel, watching as the cotton-tinged beaches and the palm-threaded shores of Phangan fade into the distance.

All slower boats leave from the same pier in Thong Sala. However, your arrival point will depend on who you travel with since the Songserm boats go to the dedicated Songserm Pier. That hardly matters, though, since the main Mae Haad Pier is right next door.
Sail In Style On A Koh Phangan To Koh Tao Catamaran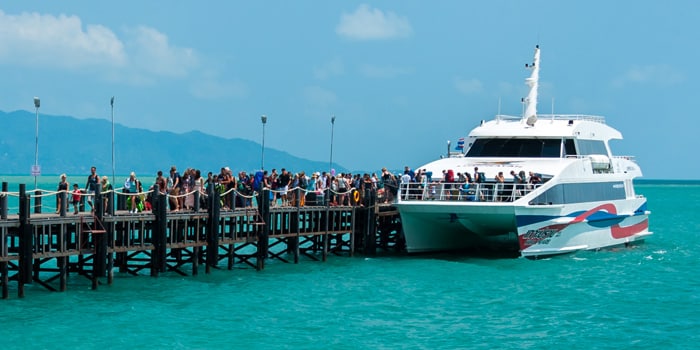 Time – 1 h 15 min
Price – $17
Comfort – 5/5
Although most of the catamaran fleet has now been replaced by speedboats, there's still an occasional link on these two-hulled vessels. It's also run by Lomprayah but only tends to come into action when the weather gets rough or there's high demand for travel to Koh Tao, such as at the height of the diving season around February and March. Departures change regularly, but usually fall twice daily at 1pm and then again at 4pm, but be sure to check that when you come to book via 12GoAsia.
Catamaran connections from Koh Phangan to Koh Tao aren't that common anymore, but they do occasionally run and offer a comfy, speedy ride when they do.
The catamarans start their journey in the Thong Sala port and arrive at Mae Haad – just like all the other boats running this route. They're quick, taking just 15-20 minutes more than the turbo speedboat options on average (that's around 1h15 in total). However, they're capable of carrying far more passengers at any one time and are among the comfiest travel options of all…

Yep, with indoor and outdoor spaces, covered mid-decks, and even an operating bar on board, we'd say that the catamaran boats trump the whole bunch when it comes to whizzing over to Tao in style. Expect to pay a few dollars extra for the luxury – tickets on the cats are on par with the speedboats at about $17 per person, each way.
---
Koh Tao beckons with resplendent coral reefs and epic dive sites, not to mention boutique jungle hotels and chilled reggae bars. To get there, a lot of travelers will first pass through the neighboring gulf island of Koh Phangan, which sits just over 20 miles to the southeast. There are no airports to speed things up, but there are several boat companies that run the trip daily. They offer everything from quick speedboat links that will get you across the strait in an hour to more bargain-friendly slower ferries that let you enjoy the island views along the way. It's possible to compare and contrast all options and departure times right now using 12GoAsia.
---
Koh Phangan to Koh Tao FAQ
Is Koh Tao worth visiting?
Koh Tao has been a magnet for scuba divers since anyone can remember. Coral reefs, blue sinkholes, shipwrecks, and shark-infested coves all see to that. However, underwater is just part of the pull. There are also gold-tinged beaches from Sai Daeng to pearly Sai Nuan, along with mountains draped in misty jungles, and a pumping nightlife scene with bamboo bars that rock until sunup. It's got a little something for everyone with marine passion. Answer: Yes!
How many days do you need in Koh Tao?
Leave at least five days on Koh Tao if you're planning on getting a PADI qualification – you'll need to complete training dives and other exercises which can take a while. If not, it's still a good idea to have at least three or four days here. From snorkeling in Shark Bay to hiking the rocks of Chalok Bay, there's loads to get through.
How useful was this post?
Click on a star to rate it!
Average rating / 5. Vote count: