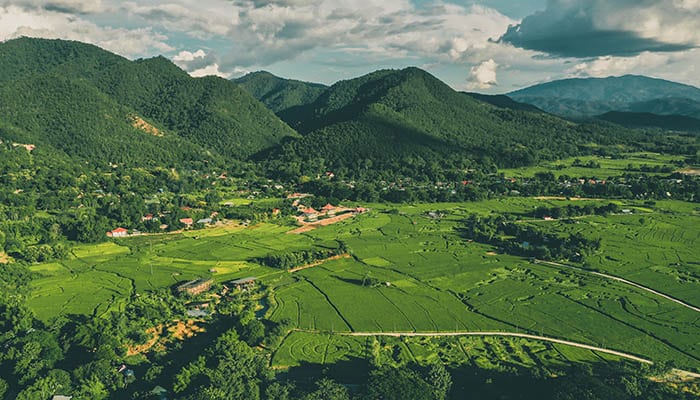 Once you've finished haggling your way through the Chiang Mai Night Bazaar and wondering at the spinning prayer wheels of Doi Suthep Temple why not slow the pace of your travels a little by heading up to Pai? This is Thailand's laid-back mountain town, where bamboo shacks line the Pai River, chilled reggae bars pop up in the jungle, and canyon walks and hot springs are the order of the day.
The good news is that it's only 54 miles away as the crow flies. The bad news is that there are rugged mountain ranges and dense jungles in the way, which means the 79 miles of road will take at least three hours and probably a touch more. Let's take a look at all your transport options…
Ride in style: Minivans ready to whisk you to Pai!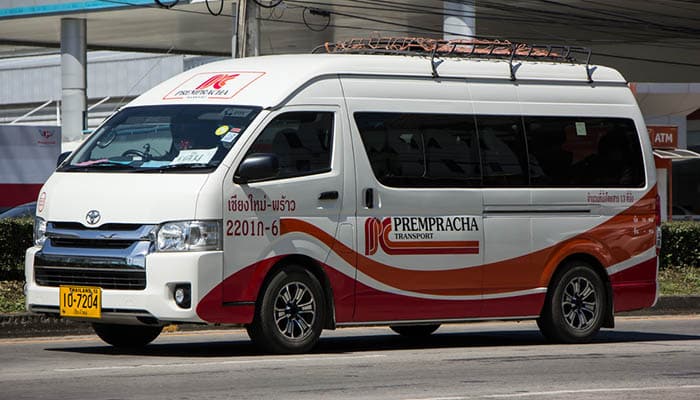 Time – 4 hours+
Price – From $7 per person
Comfort – 4/5
The classic way to get to Pai is on one of the local minivan connections. These run every hour at half past the hour starting at 6.30am. The last departure of the day is usually around 5.30pm. In all, the journey usually lasts no more than 4.5 hours but can be slower if the weather is bad and if the driver opts to make extra stops (which they sometimes do). Generally speaking, though, this is a punctual way to travel. Therefore, you should be cruising into the station on the main street of Pai town at least close to the specified time.
All the minivans take the direct road link that goes north and then west through the jungle-covered mountains of Mae Hong Son Province. There was a time when this was one of the most infamous drives in the Land of Smiles. There are something like 750 bends and hairpin turns along the route, not to mention sections that are exposed to waterfalls and landslides. Thankfully, the highway has recently been expanded and resurfaced, so the trip along its meandering asphalt is no longer the rollercoaster it once was.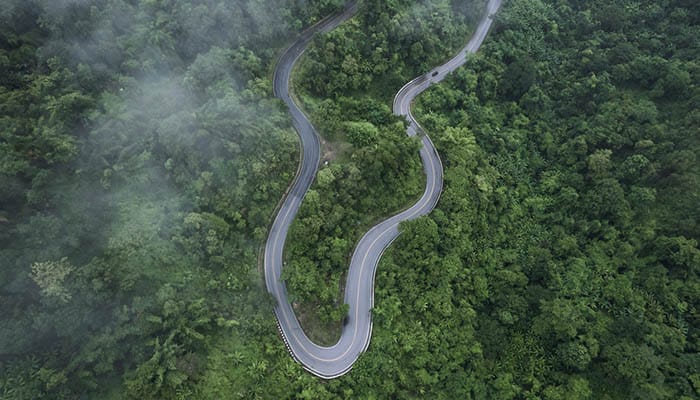 The way to Pai is a winding highway through lush jungles and mountains, but the minivans out of Chiang Mai still make the trip every hour throughout the daytime.
The main company running minibusses between Chiang Mai and Pai is Prem Pracha. They're well-rated for comfort and timing, offering 12- and 14-seater fully airconditioned vehicles, along with a crew of drivers who have plenty of experience navigating the endless bends in the road. Most will stop somewhere halfway for a toilet break and a coffee. Others will stop multiple times.
Traveling to the hippy town of Northern Thailand this way really shouldn't break the bank. You're looking at $7 per person for the whole thing, which is just a fraction of what you'd spend on a private taxi or motorbike hire. It's probably a good idea to book seats ahead of time, particularly if you're looking to go in the morning during the high season, which is when the departures match up with the arrival of night trains from Bangkok.
Secure a taxi ride and travel seamlessly from Chiang Mai to Pai!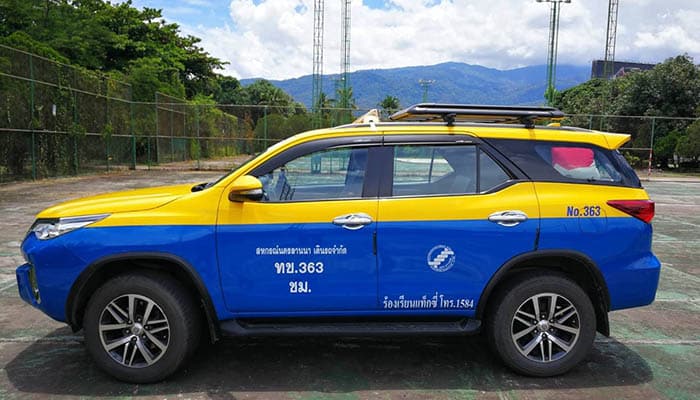 Time – 3h50+
Price – $115 for the whole car
Comfort – 5/5
Everyone who goes by road to Pai – which is now just about everyone since the short-haul flights over from Chiang Mai were discontinued in 2017 – needs to take the same wiggling, winding highway. That means you won't save all that much time by swapping the minivan with a taxi. What you will improve is the comfort level of the trip – this is a whole car all to yourself or your travel crew, with climate control you can set it to your preferences without the need to wait for other travelers before you get going. 
There's plenty to be said for upping the luxury on these challenging mountain roads, but you should know that it will cost you. In fact, it will cost you quite a packet. Private drivers and a car for this route start at $115 or so, which is over 10 times what you'll pay for a seat in a shared minivan. Of course, you can share that between up to four other people and sometimes even 10 or 12 (if you go for one of the minivan taxis). The upshot? There's a chance you'll be able to cut your outgoings down to as little as $10 per person.
Taxis are the comfiest way to trade the temple-topped city of Chiang Mai with the jungle hotels of Pai, and they'll take you right to the door of your next hotel.
Taxis can be organized to leave from anywhere on the Chiang Mai side and drop you off anywhere on the Pai side. That will be a real bonus for some travelers. Perhaps you're staying in the hipster district of Nimmanhaemin, far away from the Chiang Mai bus station? Maybe you're trying to reach a hidden spa hotel in the hills away from the center of Pai? With a car at your beck and call, you can hop out of the lobby in the morning and cruise to exactly the spot you like later on in the day. Easy.
These days, the online ticket portal at 12GoAsia makes it super-easy to compare all the various taxi offerings for getting between Chiang Mai and Pai. There's no need to haggle with crowds of would-be drivers or to drop by the hotel reception. Simply search for your dates and you can pre-book your whole journey at the guaranteed rate.
Rev up your adventure! Cruise from Chiang Mai on a motorbike.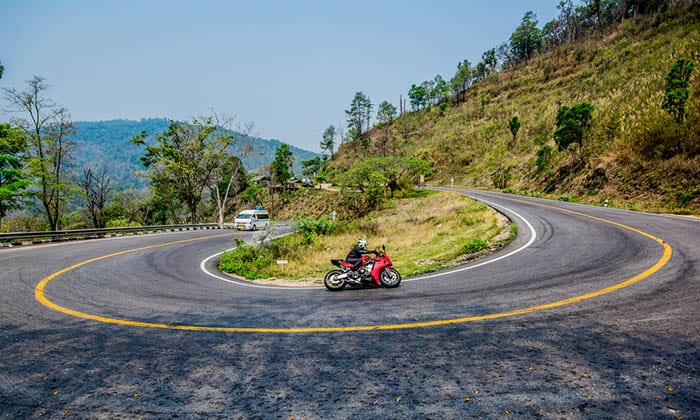 Time – 2-6 hours, depending on your route and stops
Price – Bike rental from $10 per day
Comfort – 4/5
No guide to the ways from Chiang Mai to Pai could possibly miss out on the motorbikes. The route from the Land of Smiles' second city to the hippy escape in the hills is among the most iconic biking routes in all of Southeast Asia. It's actually one leg of the legendary Mae Hong Son Loop, a 373-mile odyssey through the emerald hills that dominate the Burmese borderlands of northern Thailand. Sound exciting? Read on…
As we've mentioned, the highway that connects these two destinations is a snaking route of 79 miles with a whopping 750 bends along the way. It's a challenging drive if you're not used to riding two wheels. But, if you are, then it's a bona fide joy, coming with cruisy bends and panoramic stretches that reveal the true beauty of the region in a series of waterfall lookout points and sweeping vistas of lush rainforests.
The motorbike route from Chiang Mai to Pai is a part of the bucket-list Mae Hong Son Loop, one of the most famous biking connections in Southeast Asia as a whole.
It's possible to motorbike from A to B in two hours if you go all out. We really wouldn't recommend that, though. There's a potential expansion to the trip that will take you north to Chiang Dao before carrying on to Pai. It can add two whole hours to your journey but paves the way for explorations through some of the largest cave systems in the region and a stint in a charming country town that's truly off the beaten path.
It's hard to give a good estimation as to what the cost of bike hires will be in Chiang Mai. It can change a lot depending on the season and the availability of bikes. As a rough estimation, expect to pay over $10 a day for a basic ride and over $30 for something newer and more powerful. Remember that an international motorbike license or a bike license issued within Thailand is required to legally ride a motorbike in the Land of Smiles.
---
Crank up the chill factor and discover your inner hippy by swapping the buzz of Chiang Mai, Thailand's second-largest city, for the remote mountain town of Pai. Hidden up in the jungle-dressed ridges of Mae Hong Son, this is a place of reggae-bumping bars, yoga studios, and meditation retreats, with hot springs and trekking thrown in for those after a bit more adventure.
Most travelers will choose to go on the regular minivan connections, which leave almost every hour of the day. Others might want the comfort of their own taxi. And then there are the bikers, who can look forward to one of the most scenic routes in the whole Land of Smiles.
---
How useful was this post?
Click on a star to rate it!
Average rating / 5. Vote count: