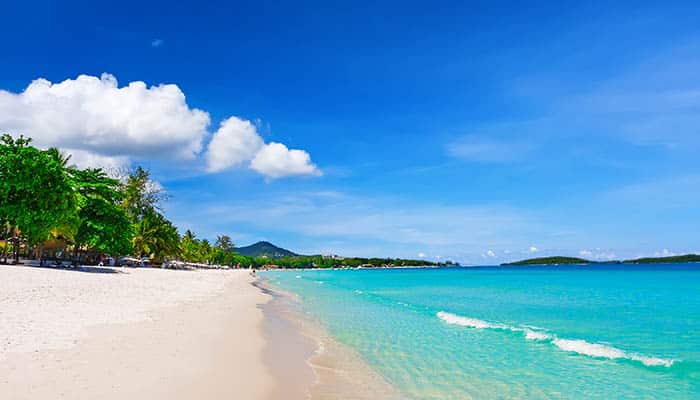 Going 140 miles from Phuket to Koh Samui is about going from the largest island in Thailand and the gateway to the Andaman region across to the hub of the Thai Gulf in the east. The two destinations reign among the most coveted places in the whole of the Land of Smiles, touting more gorgeous beaches and opulent hotel resorts than you can shake your khao soi at.
These days, the journey from one to the other should be quite simple. There are direct domestic flight links that can help you do it in a single morning, but also boat and bus combos that are very reliable and leave multiple times per day.
Nothing is Quicker Than Flying: Plane to Koh Samui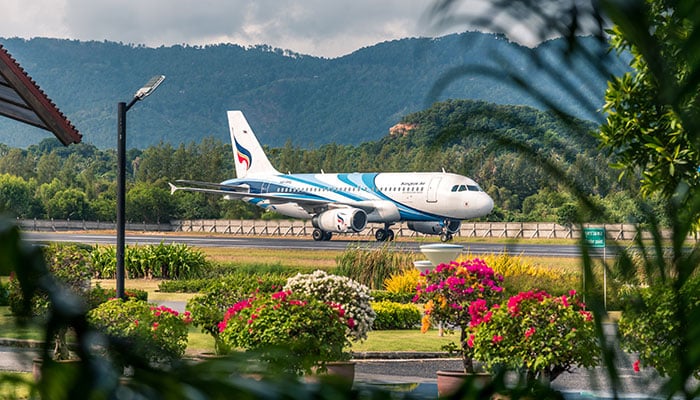 Time – 55 minutes flight time
Price – $80-200
Comfort – 5/5
There's no faster way to swap the beaches of Phuket for the beaches of Koh Samui than by taking to the air. In just 55 minutes of flight time, you can be cruising down into the Thai Gulf, which means you're looking at total travel times of a little over three hours when you factor in waits at Phuket Airport before takeoff and transfers to your hotel on the Samui side.
Booking flights on this route is made very simple by the fact that there's basically only one airline on offer. Cue Bangkok Airways. They actually own and run Koh Samui Airport, so have a bit of a monopoly on services in and out of the gulf from all across Thailand. That's not a bad thing, though – the flight service is a premium one, with seats that have a bit more legroom than your average short-hauler, plus onboard meal service as standard.
In a hurry to crack a coconut on Chaweng Beach over in Samui? Book yourself onto one of the daily flights across from Phuket with Bangkok Airways, which takes under an hour.
The real downside of flying has to be the price. You're spending a minimum of about $80 on tickets, but that can soar to over $150 each way at key times. Watch out for the months between January and March especially, as that's when the high season in the Andaman crosses over with the high season in the Thai Gulf, putting prices at their very peak.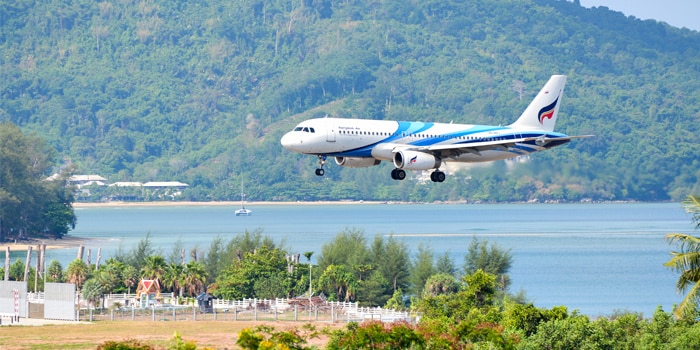 Because this is such a popular route between two of Thailand's major beach resort areas, you can expect up to six direct departures daily. They all leave from Phuket International Airport (HKT) and arrive at Koh Samui Airport (USM). Transfers to and from both of those, in addition to your plane tickets themselves, can be booked online via 12GoAsia before you even arrive in Southeast Asia. Easy.
Going by Bus and Speedboat to Koh Samui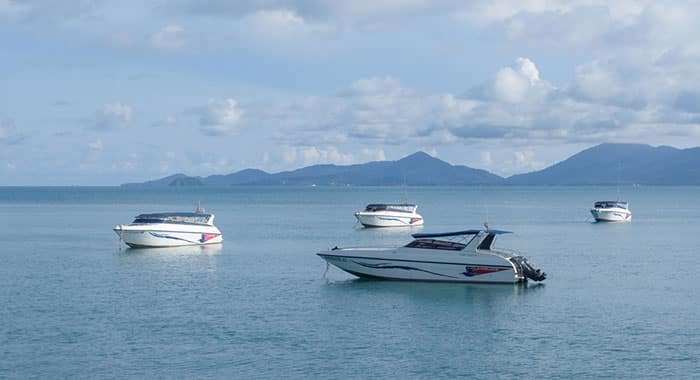 Time – 6 h 15 min
Price – $39
Comfort – 4/5
The quickest overland way out of Phuket to Koh Samui comes courtesy of the speedboat operator Lomprayah. They run the biggest fleet of fast ferries over on the gulf side of Thailand, and now sell tickets that include transfers to the port in Surat Thani from Phuket itself. There are just one or two departures on offer each day on this route, usually leaving around 9am or even earlier for arrivals in the mid-afternoon.
Lomprayah runs the speedboats from Surat Thani on the Thai mainland to Koh Samui's western coast, and now sells combo tickets that include transfers from Phuket to the port.
Trips begin at the Lomprayah Office in Phuket. Big, double-decker buses with air conditioning run from there straight over to the mainland and then across to Donsak Pier. That's where you'll transfer onto the speedboat, which takes roughly 45 minutes to reach Na Thon Pier on the western side of the island. The ride is relatively comfortable the whole way, but remember that speedboats can be wobbly when the waves are bigger. It's also possible to pay a little extra to get a shared minivan for the first part of the trip. They tend to be a touch quicker than the big buses and can pick you up at the door of your hotel in the morning.

You can expect this trip through the jungle-covered heartlands of the nation and then over the water to Samui itself to take a lot longer than flying – something like six or seven hours is normal. On the plus side, it also costs about half the price. Tickets bought online via 12GoAsia can be had for around the $40 mark.
Phuket to Koh Samui by Bus and Ferry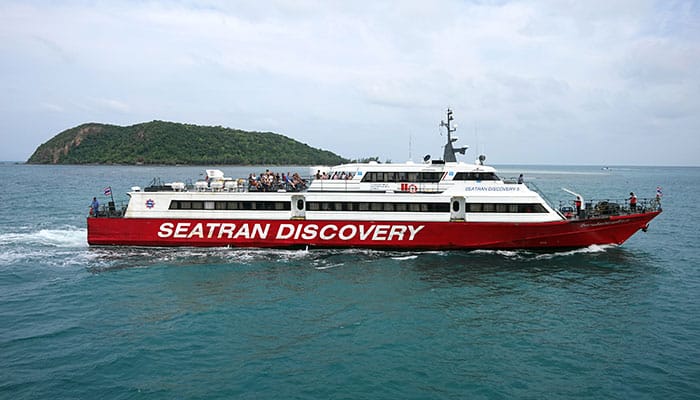 Time – 7.5 hours+
Price – $19
Comfort – 3/5
If you don't mind being at sea for a little longer then you could swap the speedboat connection for a normal ferry. These take more than double the time to get to Samui from the mainland port, which adds at least an hour to the trip. They can also take longer to get going because they carry over 100 people at any one time, so boarding and disembarking is a bit of a chore. Combine all that with what it takes to travel across Thailand by bus beforehand and you're looking at total journey times of over 7.5 hours.
Bargain tickets for under $20 are on offer to travelers willing to take the slower boats out of Donsak Pier to Koh Samui.
That's the bad news. The good news is that this is almost certainly going to be the cheapest way to travel from Phuket to Koh Samui. Early-bird bookers can sometimes score tickets for the $19 mark, which should leave more baht for those chilled Chang beers down on Chaweng Beach once you arrive. The lowest rates of all tend to be with Seatran, who operate large, double-deck ferries with indoor and outdoor spaces.

Again, you can pick between large VIP buses and smaller 12-person minivans for the overland portion of this journey. We'd probably recommend the latter since they don't cost all that much more, are generally more comfortable, and – crucially – include a pick-up at a hotel anywhere in Phuket on the morning of departure. Talking of departure…leaving times tend to be very early to make it to the pier in time to connect with the boats. You'll likely need to be up and ready to go by 8am.
The Most Expensive Option: Travel by Taxi and Boat

Time – 6-7 hours
Price – $200+
Comfort – 4/5
You don't have to get a shared minivan or bus to connect with the boats at Donsak Pier for rides to Samui island. There are plenty of private taxi operators willing to whizz you over from Phuket, a ride that takes the best part of five hours. You'll pay over $200 for just the drive, but it's worth considering if you're traveling as a group and can share the cost of the trip between four or five people. 
The great thing here is that a taxi will be a whole load more comfortable than the shared buses, and you'll have the freedom to stop whenever you like along the way. They do pick-ups at whatever part of Phuket you nominate to begin the day and can be ordered to match up with specific boat departures, no matter if you want to get the high-speed services with Lomprayah or the slower (and cheaper) Seatran ferries.
---
Hop from Phuket's glitzy hotels and pumping party towns to Koh Samui in the Thai Gulf to ensure you keep your Land of Smiles adventure packed with idyllic sands and salt-washed beach bars. This guide reveals the best ways to make the 140-mile journey, from the uber-fast flights with Bangkok Airways to overland routes on buses and boats. Bon, voyage!
---
How useful was this post?
Click on a star to rate it!
Average rating / 5. Vote count: