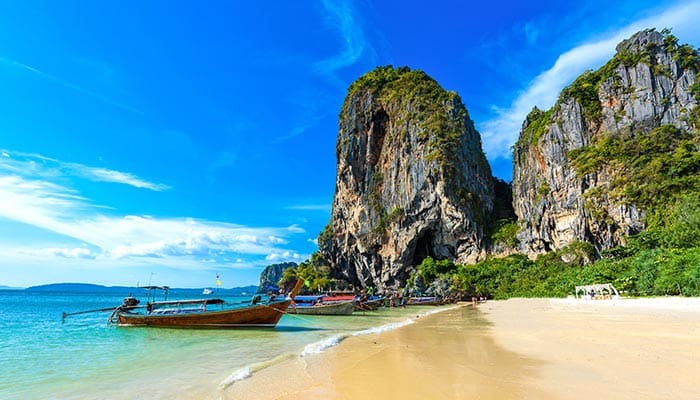 Bangkok to Krabi Train, Night Bus, Direct Flights
Looking to escape the commotion of Bangkok and enjoy the breathtaking scenery and fresh beach air of Krabi? You've got options! The 800km journey can be done by plane, train, bus, or minibus, and prices vary depending on which option you choose.
It will take you anywhere from 1.5 hours to 13 hours to find yourself relaxing on Railay Beach or exploring the Tiger Cave Temple. This guide will give you all the details about the various ways to get from Bangkok to Krabi so you can choose the best transportation for your adventure!
Bangkok to Krabi by Plane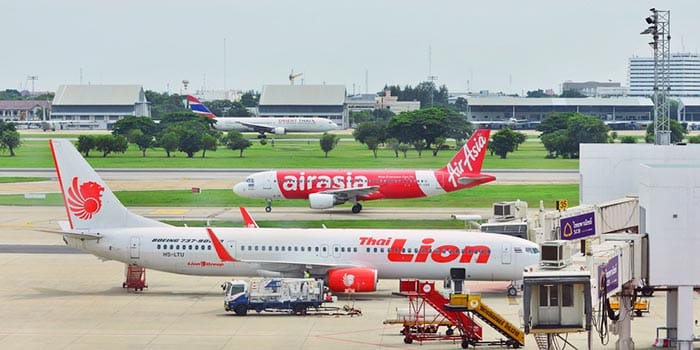 Time – 1 hour 30 minutes
Price – $30-80 approx. one way
Comfort – 5/5
Flight Options to Krabi International Airport
The fastest way to get to Krabi from Bangkok is to fly directly to Krabi Airport (KBV). Direct flights to Krabi depart from both Don Mueang Airport (DMK) and Suvarnabhumi Airport (BKK) in Bangkok. There are several different airlines offering flights throughout the week for this route including Thai AirAsia, Thai Lion Air, Bangkok Air, Nok Air and Vietjet. Prices fluctuate based on the time of year and airline, and one-way tickets can be found for as low as $30 per person.
Ticket Prices for Krabi Flights
While many of the local airlines prioritize cheap prices over comfort, the short travel time is worth a cramped seat on the plane! In less than 2 hours you'll be out of the city and enjoying the beautiful ocean scenery of Krabi. Keep in mind that last-minute tickets are very expensive- so buy your tickets ahead of time for the best prices at 12Go.asia.
Bangkok to Krabi by Train (and bus)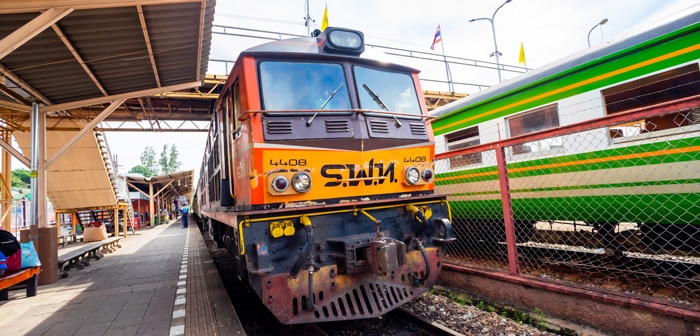 Time – 11-15 hours (9-12 hour train ride and 2-3 hours driving)
Price – $42-83 approx. ($34-58 train ticket and $8-25 bus ticket)
Comfort – 4/5
Bangkok to Nearest Railway Station to Krabi, Surat Thani Station
Trains in Thailand are a unique experience- so for those determined to make the trip via railway, you can take a train for part of your journey. Depart from Bangkok Hua Lamphong Train Station (or the new Bang Sue Grand Station) and arrive at Surat Thani Station in 9-12 hours depending on the type of train and the time of departure. If you can, take a sleeper train to have a relaxing journey and save some accommodation money while you're at it! As no Thai trains travel directly from Bangkok to Krabi, you will have to switch transportation at Surat Thani Station. From here you still have about 2-3 hours to go to get to the beautiful beaches of Krabi province! The rest of your journey to Southern Thailand can be done by taking a taxi, minibus, or bus.

From Surat Thani Railway Station to Krabi
If you take a taxi- be sure to agree on the price beforehand, or at the very least make sure the taxi driver uses the meter! To avoid haggling and dealing with taxi drivers, a better option is to take a bus or mini-van. A bus or mini-van from Surat Thani Station to Krabi will cost between $8-25 per person depending on the type of bus you choose.  
Bangkok to Krabi Train Tickets and Bus Tickets
You can buy bus tickets in person at Surat Thani, at transportation shops, or get your all your tickets online at 12Go.asia and have the peace of mind that you know you'll have a seat!
Bangkok to Krabi by Bus

Time – 12-13 hours
Price – $20-$35 approx. one way, depending on the type of bus
Comfort – 4/5
From Bangkok to Krabi Krabi Bus Terminal
A popular way to travel to Krabi from Bangkok is via bus. Most buses depart from the Southern Bus Terminal, located west of Bangkok city center. There are many kinds of buses available, ranging from economy to VIP. VIP buses are larger, more spacious, and offer more amenities and comforts than the other buses at a slightly higher price. Both economy and VIP buses complete the journey to Krabi Bus Terminal in about 12 hours, but you can spend this time relaxing. Take an overnight bus and sleep the journey away while also saving money- you won't have to pay for a hotel room that night! 
Advance Booking of Bus Tickets
Krabi buses tend to not make many stops at rest stations and sometimes have a bathroom on board. Be sure to bring snacks and bottles of water with you to enjoy as you pass the hours on the bus. While bus tickets can be purchased at airports and stations or at transportation providers in Bangkok, it is a better idea to book your tickets ahead of time and compare bus companies through sites such as 12Go.asia. 
Bangkok to Krabi by Minibus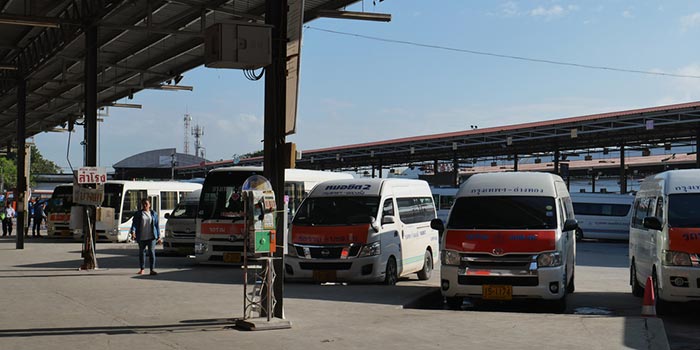 Time – 11-12 hours
Price – $15-20 approx. one way per person
Comfort – 2/5
Taking a Minibus All the Way Down to Southern Thailand
Taking a minibus across Thailand is always an adventure. These vans are usually cheaper and quicker than taking a bigger bus- but prepared for some bumpy driving and very limited space. Minibuses depart from various locations throughout Bangkok, including the main bus terminals and Khao San Road. 
While a popular and budget way to travel across Thailand, getting tickets for minibuses can be a hassle to buy in person in Bangkok
Traveling by minibus can be a good way to meet other travelers and save a bit of money at the cost of a less comfortable trip. If you are traveling with a large group, you can even rent out an entire minibus just for your trip! Keep in mind that minibuses are very small and do not have bathrooms on board, so expect several stops along the way to get snacks and use rest stop toilets. 
Advance Booking of Minibus Tickets
Minibus tickets can be bought at airports and train stations as well as at the many transportation shops and re-sellers in Bangkok. Always ask if there are any deals, and you can usually haggle on the price. Some online companies offer a more convenient way to buy minibus tickets – check with providers such as 12Go to see what minibus options are available for the dates of your trip.
Got your bags packed? No matter how you get there, we wish you a happy and safe journey from Bangkok to Krabi- Enjoy your adventure! From Krabi popular routes are to visit close by destination Koh Lanta and between the two cities of Phuket and Krabi.
---
Bangkok to Krabi FAQ
What is the cheapest way to get from Bangkok to Krabi?
The cheapest way to travel to Krabi from Bangkok is to take a minibus. This adventurous experience costs about 20 USD one way and takes approximately 11 hours. To compare bus companies and buy tickets ahead of time, check 12Go.asia to find the best transportation options for your trip.
What is the fastest way to get from Bangkok to Krabi?
By far, the fastest way to get to Krabi from Bangkok is to take a Krabi flight. You can leave Bangkok for the white sand beaches of Krabi in just a short 1.5 hour flight. Ticket costs depend on the airline and time of year- to check ticket availability go to 12Go.asia and be sure to buy your tickets well in advance to avoid them selling out!
Which is better Phuket or Krabi?
The island of Phuket is more well-known and tends to be much more crowded. This means it is more accessible and has more man-made attractions such as restaurants, museums, and tourist activities. Krabi province has more natural scenery and tends to be a better escape from the crowds. Both destinations have a lot to offer, so choosing between Phuket and Krabi will depend on your own personal vacation goals. 
How do I get from Bangkok to Krabi?
The journey from Bangkok to Krabi town or Ao Nang Beach can be done by plane, train, bus, and taxi. The fastest route is to take a 1.5 hour flight, and the cheapest option is to take a minibus. Be sure to do research and find the best means of transportation for your travel needs! To help you make a decision, visit 12Go.asia to easily search all route options and prices for the dates of your trip.
How do I get from Bangkok to Krabi by train?
Catch a train at Hua Lamphong Station in Bangkok and ride about 10 hours to reach Surat Thani Station. From there, take a bus, minibus, or taxi the rest of the 2-3 hour trip to reach the beautiful scenery of Krabi! To avoid tickets selling out and the hassle of purchasing them in person, it is a good idea to reserve tickets ahead of time at 12Go.asia. 
How far is Krabi from Bangkok?
Krabi is about 800km south of Bangkok. The white sand beaches and breathtaking scenery of Krabi can be reached by plane, train, bus, or minibus with a journey time of anywhere from 1.5  to 15 hours depending on the transportation you take. No matter your route, you will find that Krabi is worth the trip! It is always a great idea to book your tickets in advance- use online providers like 12Go.asia to find the best deals and compare options!
What is the best time to go Krabi?
Krabi follows the same tourist seasons as the rest of Thailand- the peak time to visit is the cool season between November and March. The weather is nice, but expect higher prices and more crowds. April, May, and sometimes June can be blistering hot and very humid in Thailand- so stick by the beach if you travel during these months. Monsoon season is from June to October- so if you go Krabi travel during this time, prepare for heavy rainfall but lower prices and less crowds. 
How useful was this post?
Click on a star to rate it!
Average rating / 5. Vote count: