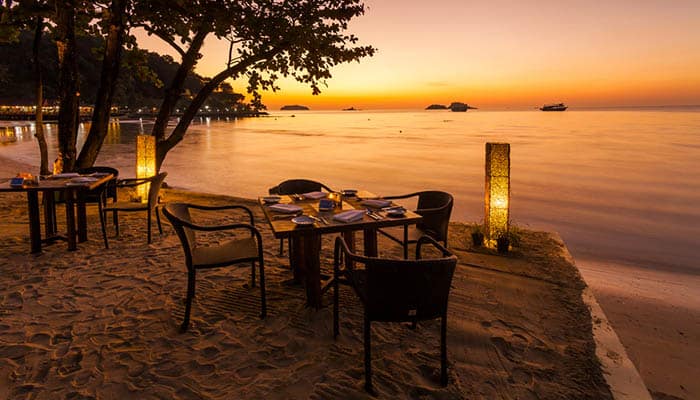 Koh Chang is the perfect antidote to the heady parties of Pattaya town. A remote island in the Thai Gulf, it's closer to the Cambodian border than to Bangkok, comes strung with pebble-dotted, coconut-strewn sands down its western shoreline, and backed by a massif of jungle-covered peaks. Chilling is the number one thing to do, which is great news because the trip from Pattaya is likely to take seven hours in total.
It's not all that far; only 115 miles as the crow flies. But you're probably going to need to plan out connecting buses and minivans, plus a quick ferry hop. Let's take a closer look at all the transport options…
Pattaya to Koh Chang by Minivan and Ferry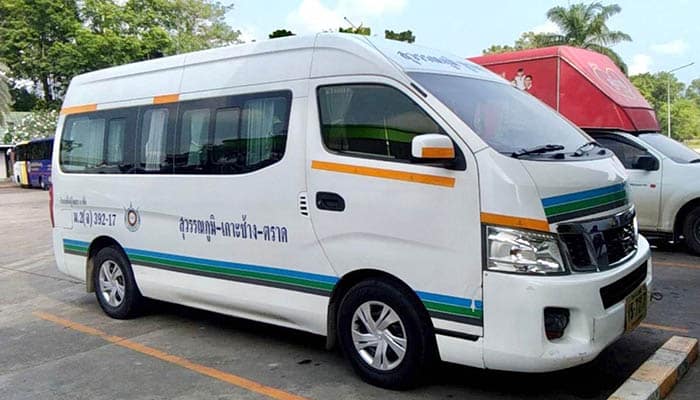 Time – 7 hours
Price – From $19 per person
Comfort – 4/5
The transport option that most folks will look to first for getting from Pattaya to Koh Chang is the minivan and ferry combo. These run twice daily from the big resort city to the island of wave-lapped beaches and hammock-strewn coconut trees. Both departures go at 8am but are operated by different companies. The first is 35 Group Pattaya, which offers a pick-up at pretty much any hotel in the vicinity of Pattaya itself. Then there's Suwarnphum Burapha, who always departs from the CK Residence hotel on the main South Pattaya Road.
To be honest, it doesn't really matter all that much which company you go for. Both enjoy similarly high ratings (4/5) for comfort and service. They both take roughly 6.5 hours to complete the whole trip, too. That's mainly because the route is exactly the same, first driving east towards the Cambodian border to the coastal district of Laem Ngop south of Trat, and then connecting with the boats that leave out of Aow Thammachat pier.
Most travelers will choose the ferry and minivan connection from Pattaya to Koh Chang – it's cheap and leaves every day at 8am.
The bulk of your day will be taken by the driving segment of the trip. There's only one winding highway linking up this part of the Land of Smiles, and then an elongated detour to the port going on the 3156 roadway via Trat Airport to the boats themselves. Expect to be in the vehicle for roughly five hours in total. Ferry-wise, these are double-decker vessels with room for cars on the bottom and passengers up top. They typically take just 30 minutes to cross to Chang.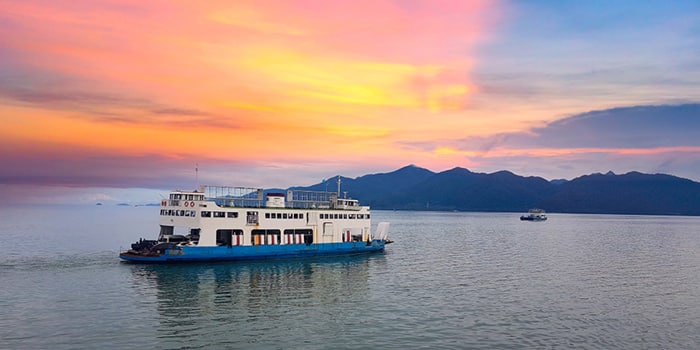 The main thing that sets 35 Group Pattaya apart from Suwarnphum Burapha here is that the former includes a drop-off at a hotel of your choice on the Koh Chang side. The latter, meanwhile, always finish up at Haad Sai Khao, which is the most popular beach resort on the west coast and home to many of the best-rated accommodations. Booking online is the easiest way to score minivan and ferry combination tickets. 12GoAsia lets you do that in just a couple of clicks which means you can secure your transport out of Pattaya long before you even arrive in Thailand. Easy.
Pattaya to Koh Chang by Taxi and Ferry

Time – 6 hours
Price – $115+
Comfort – 5/5
Because there's no airport on Koh Chang island and no flights from Pattaya to anywhere nearer the port, you really have to go by road. That means there's no way to speed up this journey – everyone has to make the five- or six-hour drive. However, you can make the whole thing a touch comfier by opting for a private taxi…
These will replace the shared minivans on the first – and longest–leg of the trip. Instead of squeezing into a 12-seater, you'll enjoy a whole car to yourself, complete with air conditioning that you can set to your preferences and a driver who's usually willing to stop whenever you ask. You'll also get a pick-up in Pattaya at the place of your choosing, so it's no matter if you're staying smack dab on the beachfront or in more of an out-of-town resort area like Jomtien or Krating Lai, for example.
Taxis might cost more than minivans, but they'll collect you right at your hotel in Pattaya and offer a more comfortable ride from start to finish.
This costs a lot more than just a seat in a shared minivan, mind you. In fact, it costs almost five times as much. However, that price can be divided up between everyone you're traveling with, so it's possible to bring in the trip via private taxi for around $28 each if you have a group of four. Ticket prices do include the cost of the ferry over to Koh Chang and, usually, a transfer right to the door of a nominated hotel on the other side. It really is a stress-free option.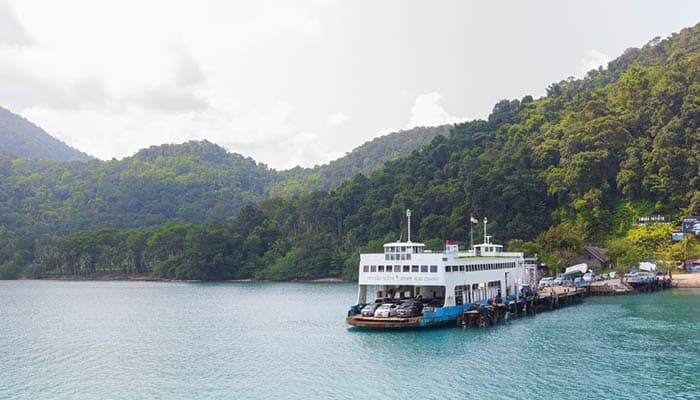 One of the other great things about a taxi is that they can be timed to match up with either of the two main ferry boats that go from the Thai mainland across to Koh Chang. The most popular departures are out of Aow Thammachat port, taking 30 minutes in all. But there are also slightly slower boats from Centre Point Pier that go to Dan Kao on the Chang side. They take 45 minutes or a touch longer but are better for accessing the eco resorts and mangrove lodges on the island's eastern shoreline.
Pattaya to Koh Chang by Bus, Songthaew, and Ferry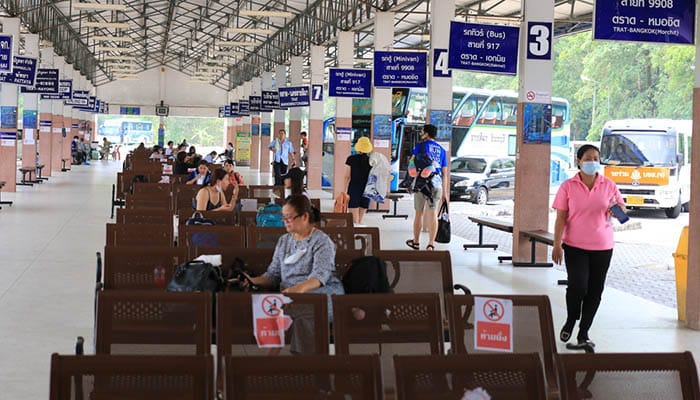 Time – 6-8 hours
Price – $11
Comfort – 3/5
There is one other way to make the overland journey from Pattaya to the ferry port in Laem Ngop, which is where you pick up the boats to go to Koh Chang. It involves catching either a public bus or a minivan to the regional hub of Trat and then transferring to the pier by local transport. This way of traveling will likely take longer and involve a whole load more hassle since you'll need to plan all the changeovers yourself and move vehicles one extra time. On the flip side, it's cheap – expect the whole trip to cost a mere $11-15 per person!
There's a bit more adventure in hopping buses and songthaew taxis to get to the ferry port, and it's surely the cheapest option of all.
There are van and bus departures to Trat from Pattaya several times throughout the morning and even once in the afternoon. They're regularly used by travelers heading for the Cambodia border but also make a stop at the out-of-town bus hub along Route 3. From there, some people will head into the center of Trat itself, but there are also songthaews – a type of low-cost local taxi – ready and waiting to whisk you down to the port (it's a drive of about 25 minutes).
Almost all of the songthaew connections from the bus station in Trat take you to the lesser-known pier at Centre Point. The boats that leave from there are the same type of boats that leave from Aow Thammachat pier, only they go slightly slower, taking 45 minutes to get island side. Remember that traveling this way means you won't have a transfer planned on Koh Chang, so will need to haggle with a taxi driver there or hop in another songthaew to make it to your hotel.
---
Bag yourself some time on the soft sands of Koh Chang's White Beach or secure an adventure in the jungle-dressed hills of the Mu Koh Chang National Park, all by planning to make this wonderful island in the eastern gulf your next stop out of Pattaya.
The trip might take over six hours in total but it's not hard to organize. There are dedicated minivans ready to take you straight over to the ferry port each morning, private taxis, and even buses that go via the regional transport hub of Trat. Get over to 12GoAsia right now to get a booking.
---
How useful was this post?
Click on a star to rate it!
Average rating / 5. Vote count: