The hop from the mainland city of Surat Thani to the beach-fringed island of Koh Samui is one that thousands of travelers make every year. Most will have their heart set on a well-deserved bout of R&R on one of the most famous paradise isles in Asia, where five-star hotels, deluxe villas, and palm-shaded coves are plentiful. Thankfully, the trip should be a quick one. There's just over 50 miles separating the two places as the crow flies, and loads of travel companies run buses and ferries on the route. It's definitely an A-to-B that can be completed in a single morning, so now's the time to start dreaming about those hammocks, cold coconuts, and famous Samui sunsets…
Surat Thani to Koh Samui by catamaran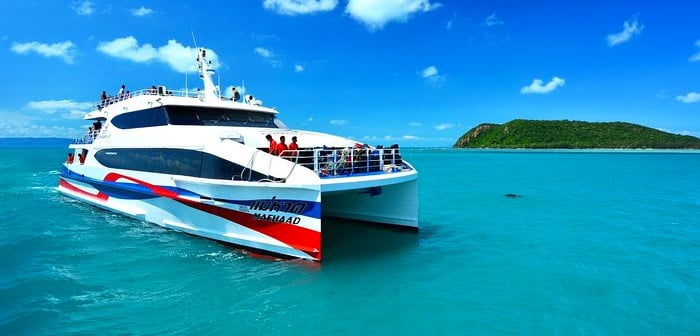 Time – around 2 hours
Price – $18
Comfort – 5/5
There's no faster way to leave the ports of Surat Thani in the heat haze and arrive in the tropical paradise of Koh Samui than by catamaran. These ferries are the quickest, newest and most comfortable rides on the route. They complete the whole trip from pier to pier in a mere one hour and 45 minutes. You'll be sipping mango juice and splashing in the waters of Chaweng Beach before you can say sawadee krap!
To make things nice and simple, a single company runs these boats: Lomprayah. With consistently high ratings from passengers, they are among the cream of the crop in the travel industry, specialising in premium routes to and from gulf islands like Koh Samui. They're known for their efficient ticketing service, timely arrivals, and smooth crossings. The boats themselves are also worth a mention. Inside are rows of comfy seats in air-conditioned communal cabins. Outside are breezy deck areas where you can gather with other travelers to watch the mangrove forests roll on by as you sail.

Pay a little extra to enjoy the high-speed catamarans and top-rated service of Lomprayah when going from Surat Thani to Koh Samui.
Unlike many of the other trip options on this list, Lomprayah's services leave from Tapee Pier. It's located just on the north-eastern side of the city, so you won't need an uber-long transfer just to get to the boat. Even those coming straight into Surat Thani Airport can be at the dock in as little as 30 minutes.
Connections from Surat Thani to Koh Samui with Lomprayah can be booked online through 12Go.asia. That means you'll be able to score your seat long before the rush of travelers (expect that during high-season months like December, January, and February). It also means you can tack on transfers from the city centre, the airport, and local hotels to get you to the boats on time.
Surat Thani to Koh Samui by high-speed ferry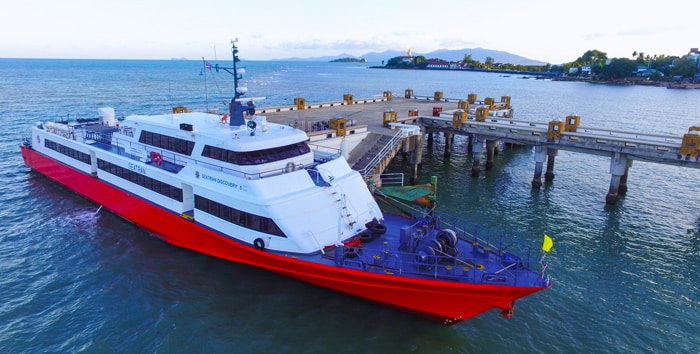 Time – 1.5 hours (crossing only), 3-5 hours including transfers
Price – $17
Comfort – 4/5
The most common sort of link between Surat Thani and Koh Samui is the high-speed ferry. But don't let the name fool you – they aren't quite as quick as the catamarans. Yes, the crossing from mainland to island is only 1.5 hours on average. However, the boats leave from a pier in Donsak, further east down the coast from Surat Thani, meaning you'll need to drive for longer before anchors aweigh.
Still, this is a popular option for travelers who want to save a little baht for the massages and bucket cocktails, but also want to arrive in Samui without wasting a whole day on the road. Most journey times are around three to five hours in total, including minivan transfers from either Surat Thani's downtown or the local airport, pre-boarding waits at the port, and the trip across the shimmering waters of the Thai Gulf.

The high-speed ferry might do the crossing in 1.5 hours, but it leaves from a pier slightly further from Surat Thani itself.
The two best-known names offering high-speed links are Seatran Discovery and Songserm. The former boasts the most modern boats. They'll whisk you to the north shore of Samui, to Bangrak Pier – a great option if you're making for hotels in the fisherman's village of Bophut or gorgeous Lamai Beach. Songserm's service will drop you at Nathon on the west coast of the island, which is better for accessing the yoga retreats on the south shore and the resorts of quieter Maenam.
It's always a good idea to book your tickets on the high-speed ferries from Surat Thani to Koh Samui as far in advance as you can. That's not only because they're usually in high demand, especially from November onwards, but also because doing that through a service like 12Go makes it easy to add on city-to-port transfers and taxis to your hotel after arrival.
Surat Thani to Koh Samui by normal ferry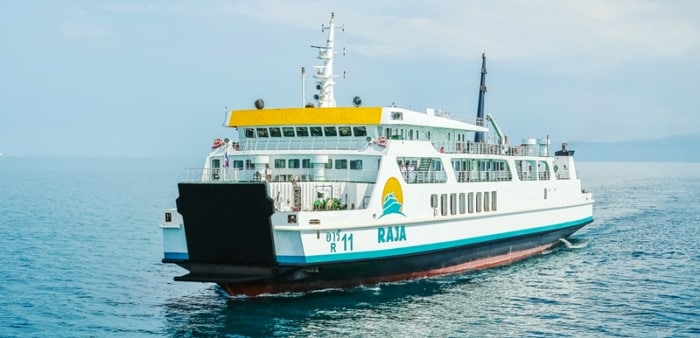 Time – around 4 hours total
Price – $7-12
Comfort – 3/5
If you've got a little extra time to spare and don't want to dip any deeper into the travel budget than you need to, the normal ferry could be the perfect way to get between Surat Thani and Koh Samui this year. It's the slowest boat of all, yes, but it's also the cheapest. Expect boat-only tickets to come in at around the $7 mark. Meanwhile, packages that include a transfer to the pier cost around $12. That should leave plenty for the PADI dives and Muay Thai sessions, don't you think?
Normal ferries take you from Donsak Pier on the mainland to one of two piers on the west coast of Koh Samui.
Journeys typically start with a pickup in Surat Thani town or at the airport. Then you make the drive east along the shores of the mainland, between lines of coconut palms and mangrove, all the way Donsak Pier. Finally, it's a short wait there before hopping onto the boat for the crossing over to ether Lipa Noi or Nathon on Samui. That all adds up to total travel times in the region of four to five hours. Just be aware that you'll be arriving on the closer west coast of the island, so it might be worth bagging a ticket that includes an onward taxi to your hotel – most of which are on the east and north shores.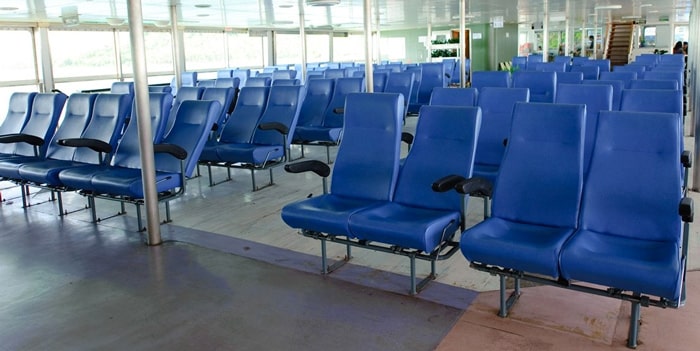 The normal ferries themselves are large and spacious. There are both indoor and outdoor areas to relax in as you travel, with open deck spaces up top for watching the Thai Gulf slosh by. The boats are operated by two companies out of Donsak Pier. Both have similar user ratings, but it's usually Raja Ferry that just pips Phantip 1970 to the post for service quality.
It's not far from Surat Thani to Koh Samui. In fact, the 80-kilometer trip can be done and dusted in just a few hours. What's more, there's a potpourri of different companies and boats waiting to help you make it, so you'll be spoiled for choice on the way to the fish-sizzling cookhouses of Bophut and the bumping beach bars of Chaweng.
---
Surat Thani to Koh Samui FAQ
What is the cheapest way to get from Surat Thani to Koh Samui?
The normal-speed ferries run by Phantip 1970 and Raja Ferry are still the cheapest choice for leaving behind the mainland in the direction of Koh Samui. However, there's not that much in it between those and the high-speed options, so consider upping the cost a dollar or two to give yourself a little more choice on the trip. Oh, and all tickets and prices can be compared easily using 12Go.asia.
What is the fastest way to get from Surat Thani to Koh Samui?
Catamarans! The popular link from city to island run by Lomprayah takes under two hours to complete. On paper that might look like longer than the express ferries, but it's not – the cats leave from a pier in the heart of Surat Thani, so you won't have to waste time on minivan transfers before getting afloat. Head to 12Go now to book your ride with Lomprayah before it's all filled up.
How do you get from Surat Thani to Koh Samui?
A little bit of land and a wide stretch of the Thai Gulf separates Surat Thani and Koh Samui. That means you'll need a combo of driving and boating to swap noodle-frying night markets for gorgeous beaches. Thankfully, you have lots of choices, ranging from zippy catamarans to high-speed express boats, all of which can be booked with transfers and taxis over on 12Go.asia.
How long is ferry from Koh Samui to Surat Thani?
Time spent on the ferry will depend on what company you go for. Lomprayah's boats are the quickest, but they don't have the shortest crossing times. Why? Well, they leave from a pier closer to town, so the distance-covered is a little more. Even so, it will be less than two hours before you disembark on Samui. Other ferries operating out of Donsak Pier tend to take 1.5-2 hours in total.
How do I get from Surat Thani airport to ferry?
There's an easy way and a hard way. The easy way is to make sure you book a ticket that includes a transfer from the arrival hall to the ferry. That can be done in a jiffy over on 12Go.asia, and promises to take the stress out of those changeovers. Alternatively, you can go it alone, but be warned that taxis at the airport can be pricy and hard to find.
How long does it take to get from Surat Thani airport to Koh Samui?
Go for the speedy catamaran boats run by Lomprayah and you can wave goodbye to planes and say hello to palm trees on Koh Samui in under three hours. That's the quickest route, mainly because the pier for the boat is closer to the terminals. Alternate methods can take anything between three and five hours.
How useful was this post?
Click on a star to rate it!
Average rating / 5. Vote count: