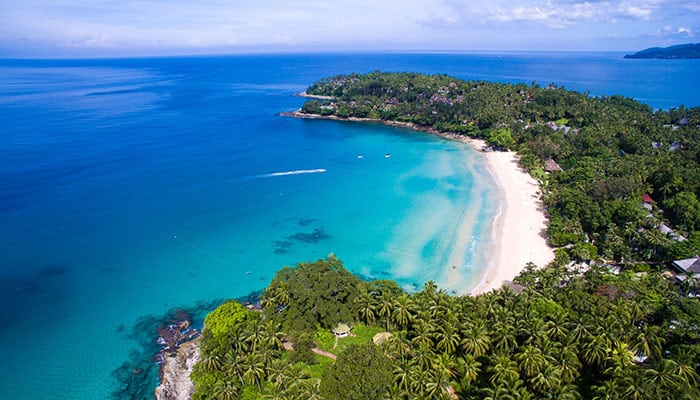 Sat just 43 miles apart, Krabi and Phuket are the two major gateways to the stunning Andaman Sea of southwestern Thailand. They both have their own airports, but there aren't any flight links running between the two. Thankfully, hopping from Krabi in the east to Phuket in the west is actually a cinch. Everything from overland buses to salt-spraying ferries is on the menu. Departure options are available from morning until night.
The route is a popular one, offering to connect up all the laid-back beach towns and isles around Krabi – Ao Nang, Railay, Lanta – with the buzz of big Phuket, where you can look forward to bucket-fueled parties in Patong and glitzy hotel resorts on the Kata cliffs. Let's take a look at how you can complete the journey…
Taking a Minivan from Krabi to Phuket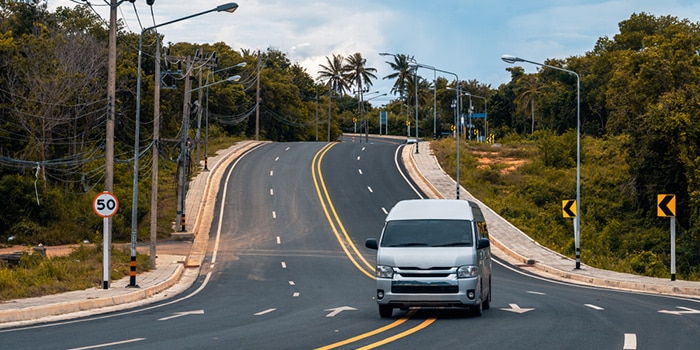 Time – 3-3.5 hours
Price – From $6
Comfort – 3/5
While you're heading to Phuket with dreams of sparkling sea waters, the quickest and most popular way to get there from Krabi is actually on dry land. The two towns are linked by a long and arcing road that skirts the whole of Phan Nga Bay from east to west. What's more, Phuket is just about the only island in the country that has a direct road link to the mainland, making it easy to cruise across on the asphalt.
Something like 22 departures happens every single day in the peak season months between November and March. You can search through the whole lot on 12GoAsia to weigh up the ones that best suit your needs, but suffice it to say that you can go as early as 6am or as late as 5.20pm, with options virtually every half an hour between those times.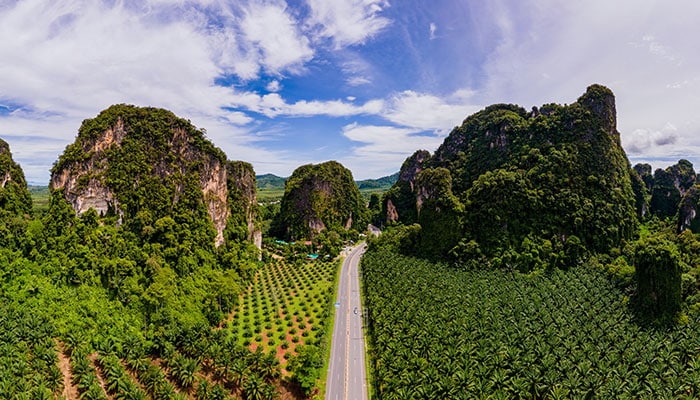 Whiz through the karst mountains between Krabi and Phuket to do this trip in as little as three hours.
The bulk of the buses is run by 438 Phuket Krabi Transport. They've got generally good reviews for comfort and punctuality. The ride isn't in large-scale coaches but rather in small, 12-seater minivans, all of which boast air conditioning. All trips begin at the Krabi Bus Terminal in Pak Nam. To get there, hop in a taxi going north out of Krabi Town for about 15 minutes. You'll arrive into Phuket Bus Terminal 1 right in the heart of Phuket Town. From there, it's a 10-minute stroll to the famous weekend night markets but also super-easy to hop on regional buses to all quarters of Phuket Island.
The plus sides to the minivan are simple: It's cheap and it's quick. You'll pay just $6 a pop for the best-bargain tickets and be done with the whole journey in less than 3.5 hours. On the flip side, these tight-knit small buses aren't the comfiest way to move around, especially when they're filled to the brim with people and luggage, as is often the case during the Thai high season.
Navigating the Ferry from Krabi to Phuket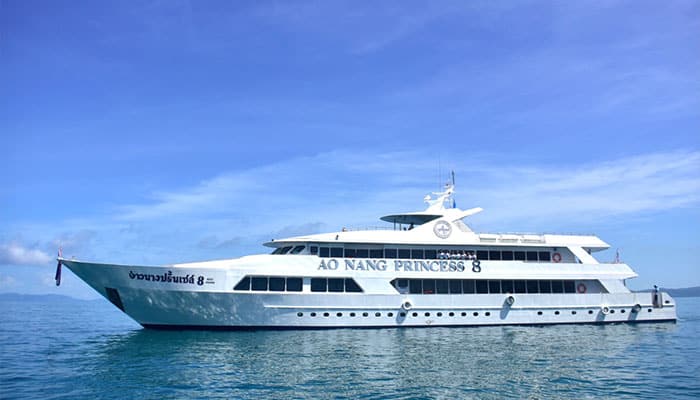 Time – Up to 8 hours
Price – Around $20
Comfort – 4/5
Take a glance at the map – it's clear to see that the most direct route from Krabi to Phuket is straight over the breadth of Phang Nga Bay, the large inlet of the Andaman Sea that separates the two destinations. As the crow flies, that's just a touch over 34 miles in all. What's more, there are umpteen ferry companies – including tried-and-tested names like Songserm and Andaman Wave Master – running services from one end of the water to the other.
The thing is, not all ferries on this route are made equal. Only one or two do the trip directly. Others will go via the Phi Phi Islands, which can add three, four, or even five hours to the total travel time, resulting in a day of more than seven hours on the water. Yikes! The upshot? Be sure to search out the direct boats when you come to book on 12GoAsia or ensure that you get the best possible connection times on the long boats that do go via Phi Phi.
You can spend up to eight hours on the water going from Krabi to Phuket by ferry, but you will enjoy sweeping views of the Andaman Sea and hidden islets as you travel.
One thing we would say is even the long trip across to Phuket from Krabi doesn't have to be a chore. It's downright beautiful. Sparkling seas of cobalt water whiz by, and you'll catch glimpses of lesser-known isles like Ko Poda and Ko Yai as you sail. Plus, the boats tend to be big, spacious, and breezy, with open deck spaces where you can walk around and take in the views. Try to get that in a 12-person minivan!
The bulk of the ferries departs from the Klong Jilad Pier just southeast of Krabi Town. Every taxi driver in the region should know where that is, though you might not even need to explain since the vast majority of ferry tickets include a pick-up from your hotel and a ride to the port itself. Phuket has multiple arrival points. The most popular for ferries coming across from Krabi is at Rassada, which sits only a few clicks to the west of Phuket Town – head there for historic neighborhoods and night markets.
Speeding Across the Sea: Taking a Speedboat to Phuket

Time – 1h50
Price – $32+
Comfort – 3/5
If you're not keen on spending half a morning crammed into a 12-seater minivan but still want to reach Phuket in time for a noodle lunch in the old town bazaar. Then the speedboats could be just what you've been searching for. Just as the name implies, these are the zippiest vessels out there, able to skim across the bay from Krabi to the piers on the eastern side of Thailand's largest isle in under two hours total. Nice.
Speedboats can't be beaten if you're traveling from the Krabi beaches of Railay and Ao Nang and want to get to Phuket as fast as possible.
Speedboats will cost more than conventional ferries. In fact, they'll cost a whole load more – you're looking at over $32 per person each. They're also nowhere near as comfortable if you ask us. There's no spacious deck to kick back on and enjoy the montage of rocky isles and sea caves. It's just a case of strapping in and bouncing over the swells from port to port. Talking of swells…speedboats can't really handle rough water, which means cancellations can be common in the shoulder season and wet season (from March to November). And they aren't the mode of transport for travelers prone to seasickness.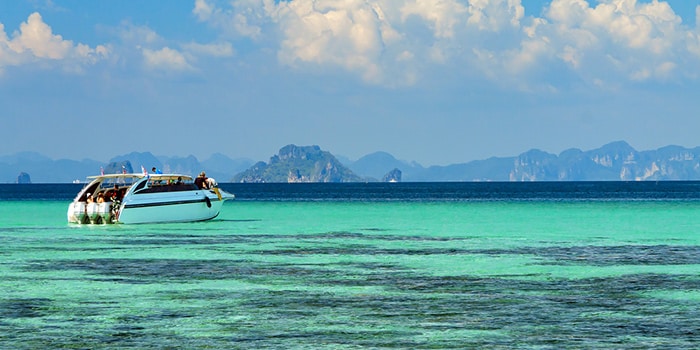 On the upside, speedboat links are one of the few coast-to-coast connections that depart directly from Ao Nang and Railay, two of the most popular beach towns in the Krabi region. If you're staying in either of those, then taking these lickety-split ships means that you might not have to book an extra longboat ride or taxi to take you to the bus station or the port in the morning. Arrival points in Phuket are usually at Naka or the Bang Rong Pier.
Cruising in Comfort: Taking a Taxi from Krabi to Phuket

Time – 2.5-3 hours
Price – From $65
Comfort – 5/5
Straight off a long haul? Is jet lag creeping in? Don't enjoy the sway of the boats or cramped shared buses? Want extra flexibility? Taxis are the savior. There are plenty of private drivers willing to take you from place to place in this corner of Thailand – the region attracts some of the highest numbers of visitors each year and has the infrastructure to match. Naturally, they'll ask a higher price than the minivans and ferries, but it's charged per car, which means you can mitigate your outgoings by sharing the cost between up to four other passengers.
Hire a private driver, and you'll have the freedom to add on stops between Krabi and Phuket for an extra fee. From waterfalls to legendary Buddhist temples, there are loads to see!
Taxis will take the same scenic route along the number 4 highway, running northwest of Krabi Town. It passes right by the gurgling waterfalls and karst valleys of the Than Bok National Park, close to the wild riverways of the Khlong Phanom National Park, and beside the mystical caves of Tham Phung Chang. AKA – there are loads to see on the way! Don't be afraid to ask your driver how much it would cost to add on a stop-off at any of the above, or at any of the other off-the-beaten-track draws of the region. You could turn the trip into a real adventure.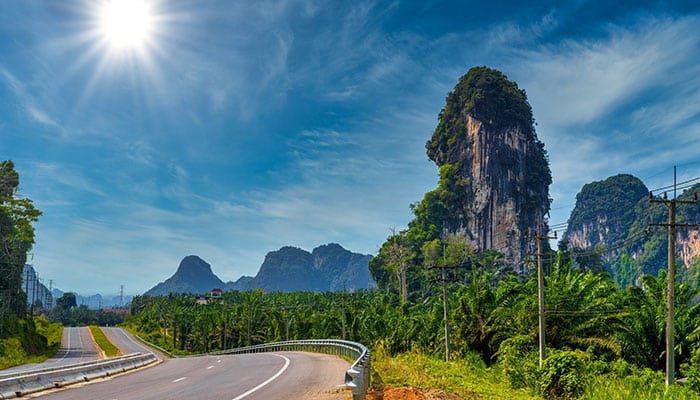 That said, it's the heightened comfort level of a taxi that really helps this way of traveling stand out. You'll get a whole air-conditioned car for yourself and your travel crew, typically with complimentary water and break stops whenever they're required. On top of that, taxis can be organized to pick up and drop off virtually anywhere in both Krabi and Phuket, so you'll arrive right at the lobby of your next hotel primed for that welcome drink.
---
Going from Krabi to Phuket has to be one of the easier trips to plan in southern Thailand. These are two of the major tourist towns in this sun-kissed half of the country. The first pull in the crowds with the promise of idyllic islands and beaches, from Koh Lanta to Ton Sai. The latter flaunts five-star hotels for honeymooners, rare Thai surf breaks, and some of the most bumping nightlife this side of Koh Phangan. Everything from slow day boats with stops in the Phi Phi islands to shared minivans that cruise the mainland highways is an option, but be sure to book early on 12GoAsia because it's a super popular route!
---
Krabi to Phuket FAQ
What is the cheapest way to get from Krabi to Phuket?
That's got to be the local bus. It trumps the lot on the price front with tickets that cost less than $5 a pop. What's more, journey times stay roughly the same as on the minivan, with total travels taking about three hours. The only downside is the comfort. These are public transport links, which can get busy and hot. Still, so what? The refreshing waters of Phuket Beaches await on the far side.
How useful was this post?
Click on a star to rate it!
Average rating / 5. Vote count: