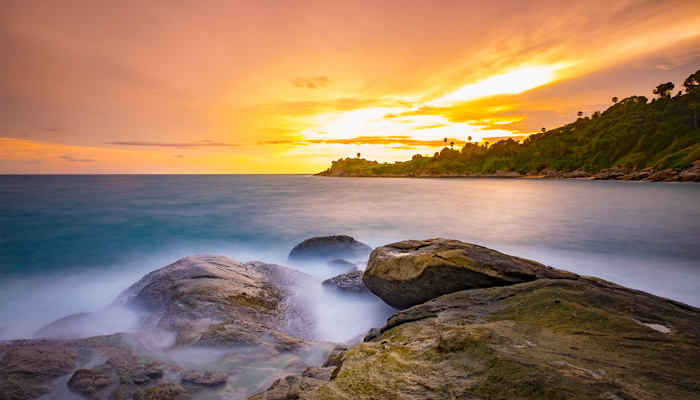 This guide can help you trade the buzz and energy of the Thai capital for the glinting beaches of the country's largest and most popular island. With info on the fastest, cheapest, and less-trodden ways to get from Bangkok to Phuket, it's got the lowdown all travelers will need to go from pumping Khaosan Road to palm-fringed Andaman sands.
With a distance of just over 840 kilometers between the two, you can complete the trip in a single morning if you opt for the air. Alternatively, save your baht for cold Chang beers overlooking the Phuket sunset and choose a longer trip that could cost less.
Bangkok to Phuket by plane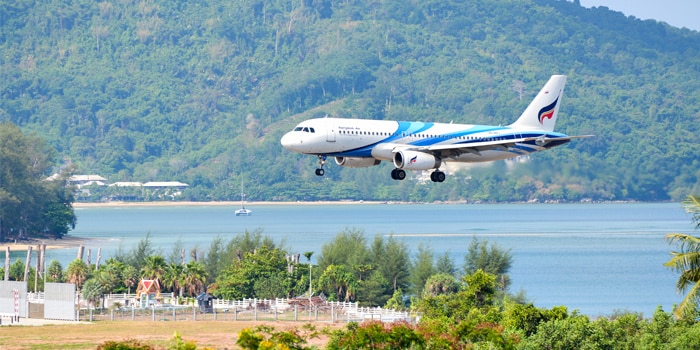 Time – 1.5 hours (flight time only)
Price – from $35 to $100 each way – book in advance to save more.
Comfort – 5/5
There are more flights from Bangkok to Phuket than you can shake your peanut-topped pad Thai at. Linking Thailand's sprawling capital to the country's largest island, they are a popular choice with both locals and travelers looking for the fastest route to the sun, sea, and sand.
There are loads of airlines running the connection. Budget carriers like Nok Air and Thai Lion Air typically have the cheapest tickets. Then you've got the pricier services on premium names like Bangkok Airways and Thai Smile – those include checked baggage as standard, so could end up a better bargain if you think you've packed a few too many Aloha shirts.
Depending on which airport you want to fly from you have different options of airlines.
Be aware that there are two airports in Bangkok. The domestic and regional hub at Don Mueang International Airport (DMK) tends to have the lowest-cost options. However, it's usually simpler to hop on a connecting flight at big Suvarnabhumi Airport (BKK) if you're coming in on a long-haul and want to take a shortcut to the coast. You can easily search and discover all flight routes and book tickets from both Bangkok airports over on 12Go.asia.
The journey time is typically around 1.5 hours from takeoff to landing. You'll touchdown in Phuket International Airport on the northern end of the island. Check the views out of the window as you land – they offer a glimpse of those fabled white-sand beaches and coconut palms. At arrivals, there's a pre-paid taxi stand before the exit with set transfer rates to most of Phuket's best-known resorts and beaches.
Bangkok to Phuket by bus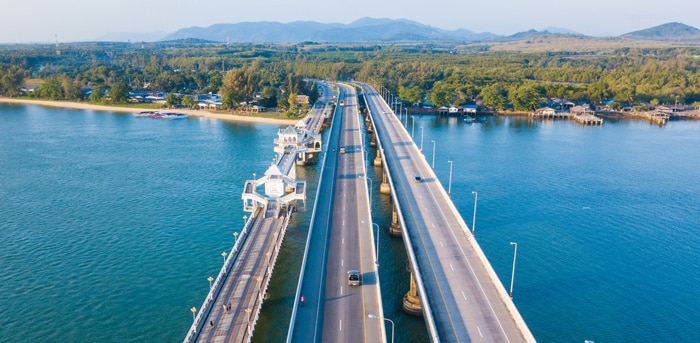 Time – around 12-15 hours
Price – $19-30 depending on your class of travel
Comfort – 4/5
Buses leave regularly from big Bangkok for most of the islands in the south, and Phuket is no different. In fact, it's one of the best-connected of all Thailand's beach hubs. That means you have the pick of multiple daily departures, on a whole host of different companies, each offering different comfort levels.
Most will go from the Southern Bus Terminal in Sai Tai Mai. A taxi there from the backpacker hub of Khaosan Road costs around 200 THB ($6.30). Alternatively, a few overnight buses leave from the dedicated Sombat Tour station in Chatuchak, which is a little easier to reach from downtown.
There are loads of different providers operating on the route between Bangkok and Phuket. Some of the top rated include Sombat Tour, Transport Co, Bus Express and Phuket Travel, with the latter touting their VIP class tickets that include extra legroom, snacks, TV entertainment, and air conditioning throughout the journey.

It's always a good idea to book your bus tickets from Bangkok to Phuket in advance online. That's especially true in the high-season months between November and March, when places fill up with travelers ditching the city for the sands. Check out the search tool over on 12Go.asia to compare prices and get your reservation sorted well before departure.
No ferry is necessary to take you across to Phuket. It might be surrounded by crystal-clear seas, but it's also conveniently connected to the mainland by bridge. Your arrival point is likely to be the Phuket Bus Terminal 2. A whisker north of Phuket Town and close to Rassada Pier for connections to other Andaman favorites, it's on the western side of the island, some 30 minutes' transfer from the popular beach resort of Patong. Be aware that taxis in Phuket can cost an arm and a leg, so it might be worth pre-booking a pick-up.
Bangkok to Phuket by train and bus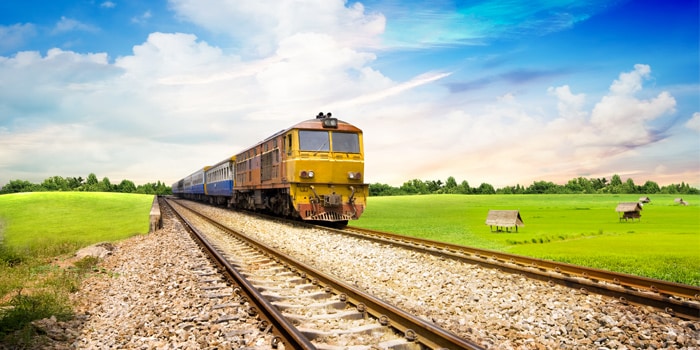 Time – 16+ hours
Price – $40-50
Comfort – 3/5
Unfortunately, there's no railway line going straight from the gold-tipped temples of Bangkok to the gold-tinted beaches of Phuket. However, lovers of locomotives shouldn't despair, because you can swap the Thai capital for the Thai coast by hopping on the train to Surat Thani and then changing onto a bus to complete the rest of the journey.
It's by no means the fastest route down south, but it can be one of the most enjoyable.
It's by no means the fastest route down south, but it can be one of the most enjoyable. Choose the early morning departure from the big and bustling Hua Lamphong station in the capital (a people-watching haven). That way, you'll chug out through the rice paddies and end the trip gazing at the mist-haloed karst peaks that rise off the Gulf of Thailand.
You could also opt for the overnight train, which takes a little longer but promises to get you to Phuket earlier in the day, perhaps even with time to spare for a dip in the Andaman Sea before evening.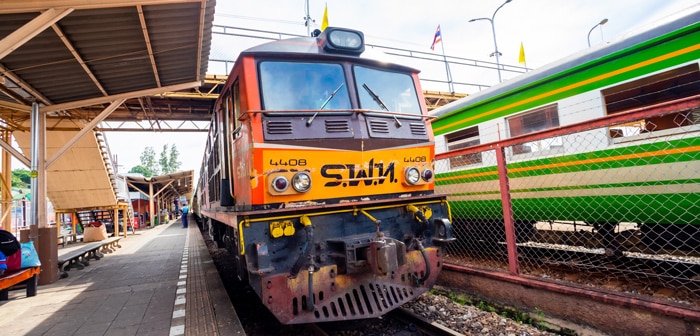 The link from Surat Thani to Phuket takes around five hours. You can book that with several bus or minibus operators, most of which leave from Surat Thani town – a tuk-tuk connection from the train station might be necessary. Expect to pay in the region of $11.50 for that onward ticket.
Getting reservations on Thai trains can be tricky if you're not from the Land of Smiles. That's where booking services like 12Go come in. They can take care of all the admin and you'll just collect your passes right outside the station when you arrive.
Bangkok to Phuket by taxi (private transfer)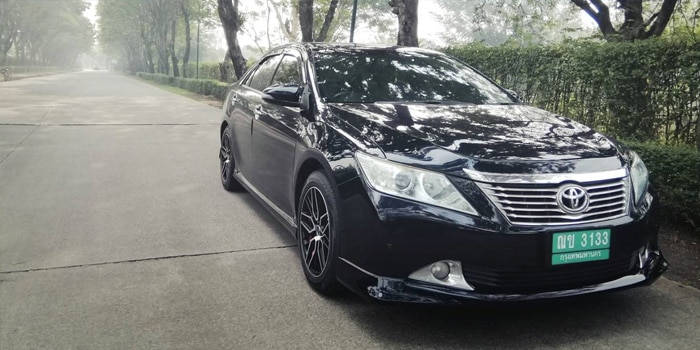 Time – 12 hours
Price – $390
Comfort – 5/5
If you're looking to hop to the palm-shaded sands of Phuket from Bangkok in real style, then consider a private taxi transfer. They are never going to be the cheapest form of transport, but do guarantee comfort and simplicity. You'll get a pickup anywhere in the city you wish, and a drop-off anywhere in Phuket you want. That means door-to-door travel; from one chic hotel to the next.
What's more, private transfers are typically in deluxe cars with leather upholstered seats, air conditioning, and refreshments provided. The total price is also quoted per vehicle, so this could be the choice for you if you're traveling as part of a larger group or as a family.
There are oodles of ways to go from Bangkok to Phuket. Whether you whiz to the Andaman coast by air, bus or rail, you can look forward to enjoying Thailand's biggest island and its wealth of stunning sands and sky-blue seas.
---
Bangkok to Phuket FAQ
What is the cheapest way to get from Bangkok to Phuket?
Because there are so many budget airlines running the popular route from Bangkok to Phuket, you might find that flying is actually the cheapest way to get to the island. However, you'll need to factor in the extra cost of taxis both sides, and add-on baggage if it's needed. Those could push things just a little higher and make VIP coaches the best-priced route of all. You can easily compare the cost of both options over on 12Go.asia's booking platform.
What is the fastest way to get from Bangkok to Phuket?
Flying – of course! There's no bus or train that could hope to match the 1.5 hours it takes to jet off from Bangkok and land down in Phuket. It's important to check what airport your chosen flight is leaving from in the capital. It will either be the smaller Don Mueang International Airport on the north side of the city, or huge Suvarnabhumi Airport to the west. Tickets from both can be booked online via 12Go.asia, where you can also compare and contrast departures at different times throughout the day.
Is there a train from Bangkok to Phuket?
There's no direct train link between Bangkok and Phuket. However, if you really want to experience the joys of Thai rail, with karst mountains and wild jungles whizzing past your window, it is possible to travel on a combined train and bus link via the city of Surat Thani.
How long does it take to go from Bangkok to Phuket?
That all depends on what mode of transport you go for. Flights take just 1.5 hours, which means a total travel time of around 4 hours from door to door when you factor in waits in the departure lounge and a transfer after arriving. Buses and trains, meanwhile, can be 12-16 hours, and often go overnight.
How many days in Phuket is enough?
Phuket is a wonderworld of glistening beaches and azure seas, all punctuated by bumping party strips in Patong and colorful market towns. You're going to want to set aside a least three or four days to enjoy the chilled-out vibe of the coast and the beer-fueled hedonism before catching a ferry to bucket-list islands like the Phi Phis. However, it's also possible to spend whole vacations in Phuket, what with deluxe villas and gorgeous resort hotels aplenty in these parts.
How useful was this post?
Click on a star to rate it!
Average rating / 5. Vote count: