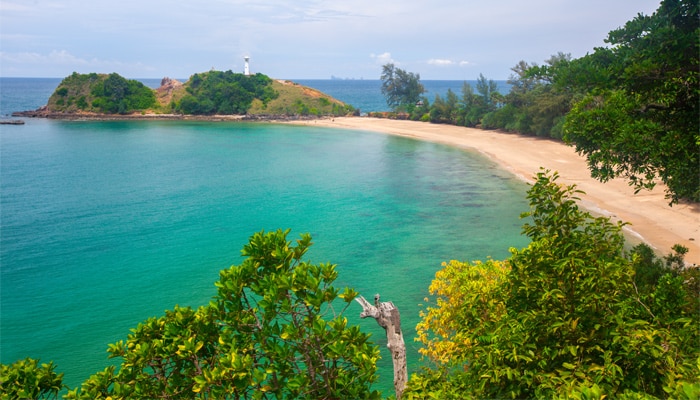 So, you're looking to make the dash down south from Krabi to Koh Lanta? Get ready to swap a bustling Thai port with a laid-back island of hidden beaches and bamboo bars where cold beers and coconuts clink with the sunset. By boat, the trip skirts the mainland coast for just over 27 miles, weaving between the rocky tide pools of Koh Jum island and untouched mangrove forests before mooring up at the pier in the town of Ban Saladan. Alternate routes can take you by road to Hua Hin Pier and then across the bridge to Koh Lanta, meaning it's possible to do this journey without even getting out of the car.
This guide runs through all the travel options on the route from Krabi to Lanta, with info on the fastest, comfiest and cheapest available.
Krabi to Koh Lanta by taxi

Time – 2 hours
Price – $50-80
Comfort – 5/5
It's actually possible to be gazing across the Andaman Sea from the gold-tinged beachfronts of Koh Lanta a mere two hours after emerging from the arrival hall at Krabi Airport. How? Simply score a private transfer from the terminal to the lobby of your hotel and the whole trip can be done in 120 minutes using local roads, a short car ferry, and a bridge that links the two portions of Koh Lanta itself.
The route follows highway 4 south-east before veering onto the 4206 road to the coast. Once you hit the shore, you'll need to queue for the vehicle ferry. However, they run regularly on no particular schedule from 6am to 10pm. After that, it's a quick drive across Koh Lanta Noi – the quieter, northern part of Lanta – and finally over a bridge to the resorts where most visitors will have their hotels and bungalows awaiting by the beach.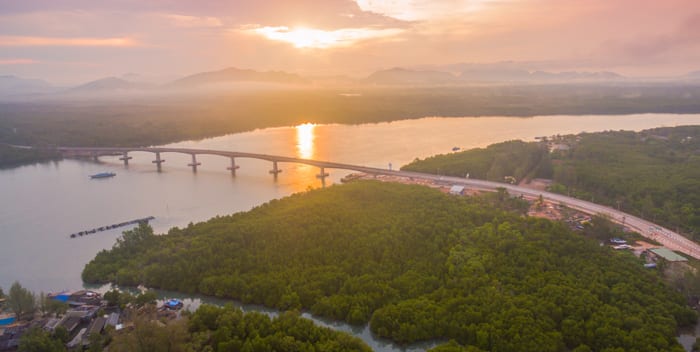 A mere two hours of driving including a quick car ferry is all it takes to trade Krabi Airport for the azure Andaman waters of Lanta.
The beauty of going from A to B in a private transfer is that it's the quickest route of all if you're coming into Krabi Airport. Taxis will take a little longer if you're leaving from Krabi Town or Ao Nang Beach, because those are located a tad further west. Still, this is a simple, quick, and convenient choice. It includes a pickup at any nominated spot, and a drop-off right by the door of your hotel on the Lanta side.
What's more, the trip shouldn't break the bank. Prices can be as low as $50 per ride, but that's for the whole vehicle. Divide it up between a travel group of four and you'll be paying less than for shared minivans or ferry boats. You can also score yourself the cheapest taxi rates by searching and booking well in advance on 12Go.asia.
Krabi to Koh Lanta by shared van

Time – 3 hours
Price – $15-20
Comfort – 4/5
If you're keeping a close eye on the baht, shared vans offer a more affordable alternative to a private car. They'll follow roughly the same route as a taxi, only with pitstops to pick up other customers. That adds a little time to the total, so you're looking at about three hours before you can slide into the flip flops and grab yourself a cold Chang on Long Beach.
Shared vans buses offer a balance between budget and comfort on the road between Krabi and Koh Lanta.
During the high season between November and March, shared rides depart Krabi Town and Krabi Airport from 8am to 8pm at around hourly or two-hourly intervals. That means you should never be short of a ride. However, it's still wise to book long before you jet into the Land of Smiles. Lots of travelers have their hearts set on Koh Lanta's pine-studded beaches, so buses can fill up fast. Check out 12Go.asia's search tool to score you seats now.
Be aware that shared vans will terminate at the main town of Koh Lanta. That's Ban Saladan. It's right at the northern tip of the island. There are plenty of hotels and eateries in the vicinity, but the best beaches are further south. You'll need to swap the minivan for a songthaew or a tuk-tuk to reach them. To the family-friendly area of Long Beach, it's around 350-500 THB. To the romantic honeymoon resort and white-sand bay of Kantiang, you'll pay upwards of 800 THB.
Krabi to Koh Lanta by normal ferry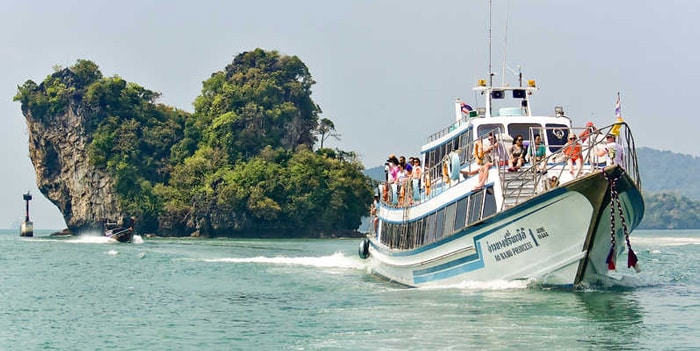 Time – 1.75 hours+ (the ferry crossing only)
Price – $12+
Comfort – 4/5
There's something special about whizzing out across Phang Nga Bay to find your tropical paradise between the mangroves and the coconut palm forests. Well…that's the adventure on offer to folk who choose to ride the regular ferry link between Krabi Town and Koh Lanta.
They drift out of either Kong Ka Pier or Klong Jirad Pier – both within easy reach of central Krabi – about four times per day in the main season. From there, it's a direct course southward. Grab a seat on deck if possible: A montage of remote Koh Sriboya and the sleepy escape of Koh Jum wooshes past to the east, while the rugged silhouette of Koh Phi Phi sits in the heat haze to the west.
Sit up on deck and watch the gorgeous islands of the Thai Andaman float by as you head to Koh Lanta from Krabi.
You'll arrive in the same spot as the shared minivans: Ban Saladan. It's super easy to get to pretty much any corner of Koh Lanta from there. Shared taxis drive the main coast road on the west to drop off passengers in the favourite resorts – Long Beach (top for families), Khlong Khong (a more hedonistic backpacker hub), Kantiang (one for loved-up couples). Alternatively, there are private taxi options, but they'll cost more.
Ferries tend not to run in the low season. The seas can be rough, so you're better off looking to on-road options for going between Krabi and Koh Lanta between May and October.
Krabi to Koh Lanta by speedboat

Time – 1.5 hours+
Cost – $50+
Comfort – 3/5
The speedboat transfer from Krabi to Koh Lanta doesn't actually leave from Krabi itself. The first leg in this journey is a drive to Hua Hin Pier, the same one you'd make if you were doing the whole trip by car. However, there's no need to linger around for the vehicle ferry when you reach the coast. You'll be straight onto a nippy jet boat and making your way to the port in Ban Saladan.
In total, skipping the short ferry crossing and the drive across Koh Lanta Noi can save around 30 minutes during the high season. When there's little congestion at the strait between the mainland and the island, trip times are quite comparable.
That said, there's a dose of adrenaline and fun that comes with these. They whiz right across the waves of the Andaman Sea, dodging sandbanks and mangroves, to bring you to the pier in under 15 minutes. Once you arrive, you'll need to change to a minivan or taxi to take you to your resort. That's paid separately to the driver, so be sure to haggle!
The trip from Krabi to Koh Lanta isn't a long one. You can pick between rides through rubber trees and banyans to the coast to cross over the small straight by car. Or, you can hop on a boat and watch the beautiful isles of the Andaman Sea roll by. Either way, you'll be done with the traveling in around two to four hours, ready to watch the pinkish sunsets and crack a cold one on the beach.
---
Krabi to Koh Lanta FAQ
What is the cheapest way to get from Krabi to Koh Lanta?
Stick to dry land and choose the shared minivan to go between Koh Lanta and Krabi if you're eager to save as much for the massages and sunset beers as possible. Tickets on those usually cost under $20 when booked in advance with 12Go.asia. You will have to share the ride with other travelers, and factor in some extra costs to get to your beach bungalow once you pull into Ban Saladan.
What is the fastest way to get from Krabi to Koh Lanta?
Plan to have a taxi pick you up at your hotel in Krabi Town or be waiting just outside arrivals in the airport and you can be on the way to Lanta before you can finish a sticky mango rice. Thanks to good roads and a regular vehicle ferry, the trip by private transfer is usually the fastest of all. Expect travel times in the region of two hours each way. There's also the speedboat option, which means skipping the queues at the mainland-island ferry and going straight to Ban Saladan. They might be a faster choice when there's lots of traffic in the high season.
How do you get from Krabi to Koh Lanta?
Krabi and Koh Lanta are only 40 or so kilometres apart, so there are plenty of ways to hop from one to the other. The most popular is probably with a shared minivan, which uses the coastal road links to get you to the beaches and palms in under three hours. 12Go.asia also lets you compare and book rates with private taxi drivers, who can do the journey in just two hours. Alternatively, go by boat to enjoy the salt spray of the Andaman en route to Ban Saladan Pier in Koh Lanta.
How long is the ferry from Koh Lanta to Krabi?
Not long. A quick 90 minutes to two hours whizzing across the sloshing blue waters of the Andaman from pier to pier is all that's needed to go between these two by ferry. You'll hardly notice even that, though – the views of the paradise isles of Koh Jum and the Phi Phis are truly stunning!
How much is a taxi from Krabi airport to Koh Lanta?
Rates for taxis vary a lot. A typical fare is around the $50 mark, but we've seen prices even lower. The best way to score a bargain on the trip from the terminal to tropical sands is to search as far in advance of traveling as you can on 12Go.asia. You'll be able to compare and contrast the cost of all the various taxi and transfer companies on the two-hour route to your destination.
How far is it from Krabi to Koh Lanta?
In a straight line, there's just 27 miles separating Krabi and Koh Lanta. It's that direct route that's taken by the ferries out of Kong Ka Pier, cutting right through the eastern edge of the Andaman Sea from point to point. You'll cover more distance – approximately 37 miles – going in a car or by minibus, because the roads need to navigate great swathes of green mangrove swamps before getting to Koh Lanta's northern tip.
How useful was this post?
Click on a star to rate it!
Average rating / 5. Vote count: