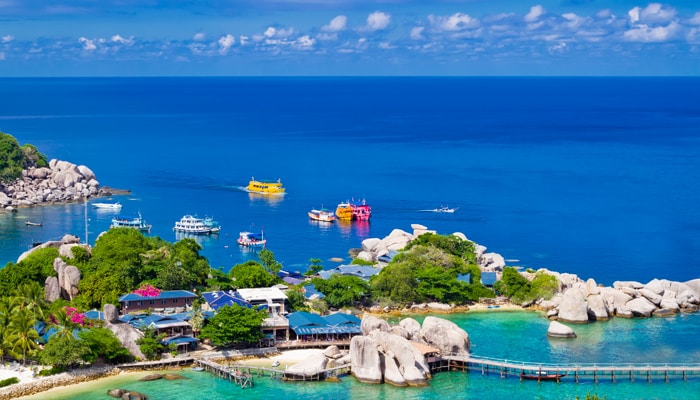 The trip from Phuket to Koh Phangan is a trip from Thailand's largest island to its biggest party destination. You'll swap the pastel-painted cottages and chili-sizzling food markets of Phuket Town for sands that pump with spinning DJs until sunup over the Thai Gulf.
In a straight line, the distance between the two spots is 160 miles. But you'll need to take a longer route. There's a way to go by air to Koh Samui and then change to a cross-strait ferry. Or, you can take buses through the wild jungles that roll across the heart of the Land of Smiles before switching to a boat. This guide runs through all the transportation options on your way from Phuket to the Full Moon Party capital.
Phuket to Koh Phangan by plane and ferry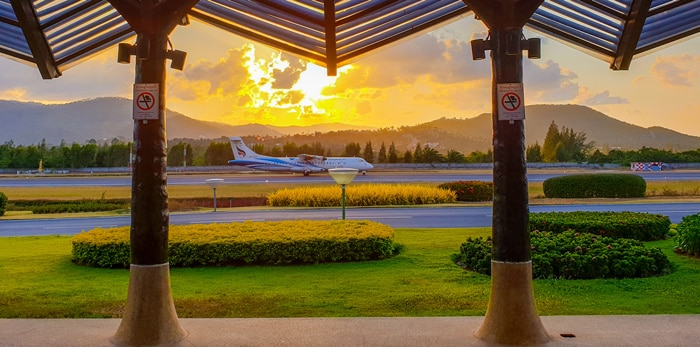 Time – 3 to 5 hours with good connections
Price – Around $80
Comfort – 5/5
Bangkok Airways run the flights that link Phuket with the islands of the Thai Gulf. Unfortunately, there's simply no way to jet across to Koh Phangan directly – there's actually no airport there! Instead, you'll need to plot a route that first takes you to the holiday mecca of Koh Samui.
The good news is that there are as many as six departures each day during the high season months that start in November. The first leaves at 9.45am. The latest goes at 7.50pm. Travel time in the skies is a short, snappy 55 minutes. That means you'll be dropping down between the coconut palms of Samui before you can finish applying the neon paint ready for the Full Moon Party.
Time your flight and ferry connections right and you could be looking at a journey that takes less than half a day.
From the airport in Koh Samui, the trip continues on to the port where the boats leave for Koh Phangan. More good news: Bangrak Pier is a mere 15-minute taxi ride from the terminals. If you decide to haggle for your own ride after landing, you can expect to pay a driver around 600 THB for the transfer. That's why it's always better to seek out combined tickets with 12Go.asia. They'll guarantee you a better rate, and include flights, taxis and ferries in a single package.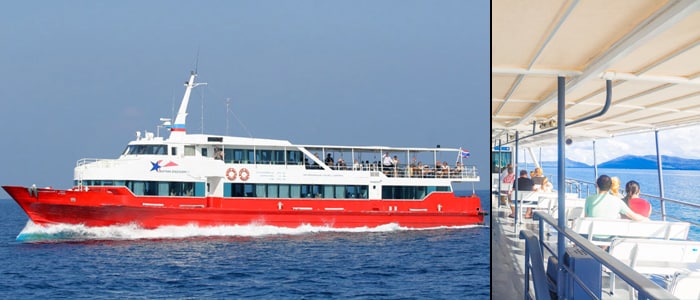 Perhaps the most convenient ferries to take are with Seatran Discovery, but only because they depart from Bangrak. Alternative connections with companies like Lomprayah (expect fast catamarans) and Raja Ferry (expect slower big boats that cost less) also leave from other piers around Koh Samui, though they're a little further away form the airport. The trip from island to island usually takes in the region of 30 minutes.
The key here is to time your trip to perfection. If you ensure you can land and connect with one of the daily ferry departures (FYI: Seatran Discovery has boats that leave at 1pm and 4.30pm), it's possible to smash the trip from Phuket to Koh Phangan in less than seven hours. Those flying in too late might find themselves stuck on Samui without a boat ride until morning.
Phuket to Koh Phangan by bus and ferry

Time – 8 to 10 hours
Price – $17-35
Comfort – 3/5
Okay, so the route from Phuket to Koh Phangan by bus and boat isn't for folk in a hurry. It can take a whopping 10 hours to cross the midriff of the Land of Smiles from island to island using this method. That's because, even though the roads are generally of high quality, there are rugged mountain chains, protected swathes of jungles, and gushing rivers to dodge en route. The plus side of all that? You certainly won't be short of things to look at out of the coach window!
Buses weave and wind their way through the jungles and karst peaks of southern Thailand to piers on the side of the sparkling Thai Gulf.
Talking of coaches…you're talking large VIP buses here. The most comfortable of the lot are the double-decker vehicles run by Lomprayah, which have a tad extra legroom and good aircon. That said, virtually all companies offer rides with climate control and spacious seating. Departures leave from either Phuket Bus Terminal 2 or Phuket Airport, but you could pay extra for a taxi transfer straight to the station from hotels in Patong, Karon, Rawai and other resorts.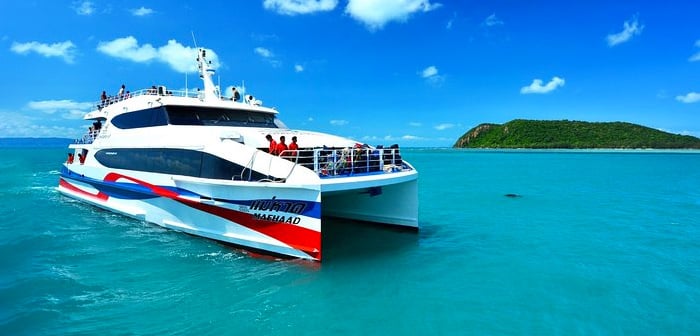 The driving section of the journey takes between four and five hours in total. The destination? That's Surat Thani on the coast of the Thai Gulf. You won't be lingering there long, however, because the bulk of the ferries leave from Donsak Pier to the east of the city. They include the cheap and slower boats of Raja Ferry and the high-speed links operated by Seatran Discovery. The fastest boats from mainland to island are with Lomprayah, which go from Tapee Pier nearer to Surat Thani's centre.
Because this is far and away the most popular way to go from Phuket to Koh Phangan, we'd always say book in advance. That's an especially good idea if you want to travel on the fast Lomprayah catamaran boats or want to trade Phuket for Phangan in the peak of the high season (December-February).
Phuket to Koh Phangan by taxi and ferry

Time – 6 to 9 hours
Price – $230+
Comfort – 4/5
Calling A-listers and jet setters! Once you're done soaking up the rays between Kata Noi's white sands and deluxe hotel resorts, you can kick-start an island odyssey by choosing a private taxi to take you straight across the country in style. The bonuses are many. First, you'll have someone pick you up from where you're staying in Phuket. Second, you'll go in comfort, with air conditioning, plush seats, and lots of legroom. Third, there's no hanging around for other travelers, so the drive to the piers in Surat Thani can take less time than on the buses.
It's possible to organise a private taxi link to the piers where the ferries for Phangan leave from, but expect to pay considerably more for the luxury.
Of course, all that cranks up the price tag. It's not common to find deals for less than $200 on the route. What's more, that won't include the ferry ticket, which you'll need to buy separately via a tour provider like 12Go.asia (choose the Lomprayah catamaran service to score the comfiest boats of all). The only saving factor is that you'll be able to share the total cost of the taxi between your entire group – fares are for the vehicle, not per person.
Be sure to ask your driver to take you all the way to Donsak Pier if you do intend to catch any boat connections other than the Lomprayah catamaran. That's actually a good 31 miles further along the coast from Surat Thani, and where the bulk of the other services heading to Koh Phangan will leave from.
The adventure from Phuket to Koh Phangan is one made by countless travelers every year. Linking one lively party hub surrounded by gleaming beaches to another, it means keeping that Thai bout of sun, sand, and sea fuelled for a little longer. These days, you can fly, sail, and drive your way from island to island – whichever suits you the best.
---
Phuket to Koh Phangan FAQ
What is the cheapest way to get from Phuket to Koh Phangan?
You'll save stacks of baht by going for the bus and ferry connections that join Phuket with Koh Phangan. They run multiple times a day, linking up Thailand's largest island with the ports on the gulf by road, all before switching over to the boats. If you're really watching the budget, look out for the bargain offering from companies like Raja Ferry and Phantip 1970. They're usually the cheapest of all, and both can be booked via 12Go.asia.
What is the fastest way to get from Phuket to Koh Phangan?
If you plan it right, the quickest way to ditch Phuket and the Andaman coast for the eastern islands of Thailand is by flying. Bangkok Airways run up to six services between Phuket Airport and Koh Samui each day in the high season months. After landing, you'll need to transfer to a boat bound for Phangan, so be sure to arrive with an afternoon to spare for that. In total, you're looking at journeys that could be as short as five hours.
Can you fly from Koh Phangan to Phuket?
Not directly. However, you can jet across to Koh Samui from Phuket. That's thanks to the regular route run by Bangkok Airways. It completes the trip in 55 minutes and there are up to six planes leaving every day to boot. Of course, you'll need to book a ferry ticket to take you from Samui to Phangan on top of that, but it's possible to do it in a bundle, including taxi transfers to the port, over on 12Go.
Can you get a boat from Phuket to Koh Phangan?
Nope. Just look at the map: A boat from Phuket to Koh Phangan would mean navigating the whole of the Malay Peninsula. You'd be on it for weeks! And while that sounds like a real Southeast Asian adventure, we'd recommend opting for the bus and boat combo. Taking the roads eastwards from Phuket (which is connected to the mainland by a bridge), you head for Surat Thani and hop on a ferry there, cutting down travel times to something like eight or 10 hours. The whole trip can be booked as one using 12Go.asia.
Is Phuket or Koh Phangan better?
Now that's a tricky one. In the words of the Thais, it's a case of 'same, same, but different' with these islands. Phuket has hedonistic party meccas like Patong and the boho streets of Phuket Town. However, those are balanced out with deluxe resorts at Kata Noi and Rawai, where villas spill over jungled coastline to body-packed beaches. Phangan is similar but brings a touch of the backpacker vibe, with party hostels and bamboo beach bars and yoga studios. It's most famous for its Full Moon Party but has a quiet and chilled north shore to boot.
How useful was this post?
Click on a star to rate it!
Average rating / 5. Vote count: