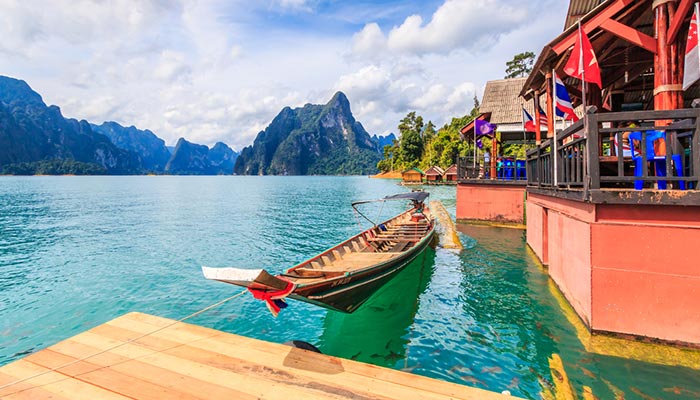 Any visitor to Thailand who craves sandy beaches, virgin rainforests, and craggy mountains has probably taken a look at the stunning southern tip of the country. Surrounded by azure seas and white beaches, it's something of a paradise. The bustling town of Krabi is a great place to start out, and as the gateway to the stunning Phi Phi islands, it guarantees breathtaking scenery and plenty to do.
After enjoying the beach and island hopping to your heart's content, it's well worth looking inland, to the rainforests and mountains of Khao Sok National park. Situated just 93 miles north of Krabi, Khao Sok is a veritable adventure land. Travelers can hike up the rocky mountains, float through the jungle on the epic River Sok, or discover the amazing local wildlife.
There are several ways to get from Krabi to Khao Sok, each with their own benefits, so let's take a look at some of them below.
Krabi to Khao Sok by bus

Time – 4 hours
Price – $11
Comfort – 4/5
One of the most convenient and popular ways to travel to Khao Sok from Krabi is to take the daily bus. Operated by Phantip, the journey takes around 4 hours or so depending on road conditions. They provide a modern, air-conditioned bus, complete with comfy, spacious seats. While there are no onboard toilets, there is a toilet break midway through the journey.
The bus departs daily at 11:30 from the Krabi Sea Pearl Travel office, conveniently located in the center of Krabi, which is ideal if you're staying locally. The road is well paved, and takes you around 93 miles through some breathtaking scenery. As you wind up the mountains, the views become spectacular, taking in rocky outcrops, palm tree groves, and lush rainforest.
The bus typically travels slower and is less bumpy than minivans or taxis, making it a good choice for those who get travel-sick.
Upon arrival in Khao Sok, you'll be dropped off at the Khao Sok Van Station, which is about 1 mile away from the majority of the hotels and hostels in the area. Tickets are just $11, making this the cheapest method of transport between Krabi and Khao Sok. You can order tickets in advance online at 12Go.asia.
Krabi to Khao Sok by minivan

Time – 3 – 4 hours
Price – from $12 – $18
Comfort – 4/5
Offering more flexibility than the standard bus, numerous minivans operate between Krabi and Khao Sok. They typically offer more departure points, including a number of hotels in both the main town center of Krabi, as well as the Ao Nang area closer to the beach. In addition, they run more regularly, typically with 2 or 3 departure times each day depending on the company.
The journey is a little faster than the standard bus, though the ride can be a little bumpier as well. Most minivans offer either 9 or 14 seats, and it can be pretty cramped inside. However, all vehicles are fairly modern and feature AC as standard.
Some journeys by minivan can be quite fast and bumpy, especially on the windier mountain roads, so beware if you're prone to travel sickness.
Krabi Airport Shuttle and Hat Yai World Tour are the 2 main providers of minivan services. The former does indeed offer a service direct from Krabi Airport to Khao Sok, as well as services from any hotel in Krabi or Ao Nang. Meanwhile Hat Yai World Tour offers pick ups from any hotel in Krabi town, Ao Nang, or a joint ticket including a taxi ride from Ao Nam Mao. Tickets start as low as $12 and can be bought in advance online at 12Go.
Krabi to Khao Sok by taxi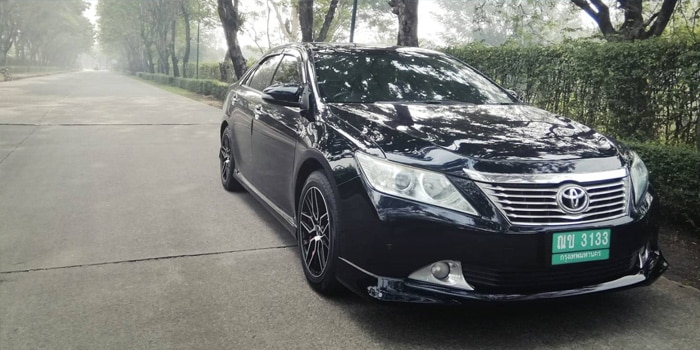 Time – 2.5 – 3 hours
Price – $80 – $100
Comfort – 5/5
Traveling from Krabi to Khao Sok by taxi is certainly the most expensive way for an individual to travel, but it's also the quickest and most convenient. Passengers can be picked up from anywhere at any time, rather than having to rely on the schedules of bus or minivan providers. As such, it's a useful option if you're staying outside of the main central areas of Krabi town or Ao Nang.
While a taxi for an individual might be very expensive, it's a better option for groups. The fare remains the same regardless of the number of people, and some taxi services offer 9-seat vans. For a group of 9 travelers, taking a 9-seat taxi would actually work out cheaper than the bus or minivan. Plus, you get to travel in more comfort and can request stops along the way as you desire.
Taxis are a great choice for families with young children, as many companies will fit child seats and ensure a safe journey.
The 2 main taxi operators that make the journey are Bangkok Taxi 24 and Andaman Taxis. Both offer a variety of vehicles, from economy class, up to VIP, as well as vans. Fares start at around $80 and don't typically exceed $100. You can browse through the options at 12Go.asia.
Krabi to Khao Sok by ferry & van

Time – 4 – 5 hours
Price – Tickets start from $41 when booked in advance
Comfort – 3/5
During the high season, typically mid November to late April, there's the possibility to take a ferry from Krabi to Khao Sok. At least part way, with the final leg being completed by minivan. You can find combo minivan and ferry tickets at 12Go from $41 when booked in advance. It's worth mentioning that this isn't a car ferry, and it doesn't operate during the low season.
The ferry is operated by Tigerline Travel and departs from Krabi's Floating Pier East Railay. This passenger speedboat ferry has space for several travelers, and offers toilets as well as a steward service. The ride can be a bit choppy and bumpy however, reducing the comfort level for those who are not used to sea travel. After the ferry docks, the remainder of the journey is completed by minivan to the center of Khao Sok. In total, the journey takes around 4 to 5 hours depending on the conditions.
From scenic road routes, to bracing boat trips, however you choose to travel from Krabi to Khao Sok, we wish you a safe and enjoyable journey!
---
Krabi to Khao Sok FAQ
What is the cheapest way to get from Krabi to Khao Sok?
The cheapest way to get from Krabi to Khao Sok is typically to take the daily bus. This service costs around $11 per person, and departs from Krabi town center every morning at 11:30. However, if you're in a group of 9, it's even cheaper to hire a 9-seat taxi to transport you and your group for around $10 per person. You can compare all your options at 12Go.asia.
What is the fastest way to get from Krabi to Khao Sok?
The fastest way to get from Krabi to Khao Sok is typically by taking a private taxi. As the road gets fairly windy, smaller vehicles are able to traverse the route far quicker than larger buses. However, minivans are generally almost as fast as taxis, and are far cheaper. Take a look at all of the options at 12Go.
How do you get from Krabi to Khao Sok?
There are a number of ways to get from Krabi to Khao Sok, including a bus service, various minivan services, taxi, and even a passenger ferry during the high season. The level of comfort varies from option to option, with many considering the bus to be the most comfortable, as it's slower and steadier, while other methods of travel can be a little bumpier, especially on the mountainous roads.
How long is the bus ride from Krabi to Khao Sok?
It typically takes around 4 hours for the bus to arrive at Khao Sok from the town of Krabi. There are also minivans, which are normally a little bit faster, and can sometimes make the journey in as little as 3 hours depending on the road.
How do I get from Krabi airport to Khao Sok?
From Krabi airport, there's a direct shuttle service to Khao Sok. This service departs twice daily from the airport; a morning service at 08:00 and an afternoon service at 14:00. The journey takes around 4 hours to complete, and will drop you off at the hotel of your choice. It's well worth booking in advance to secure your seat in the 9-seater van, as well as ensure your hotel is listed as one of the stops. Book your ticket online at 12Go.asia to be sure.
How useful was this post?
Click on a star to rate it!
Average rating / 5. Vote count: