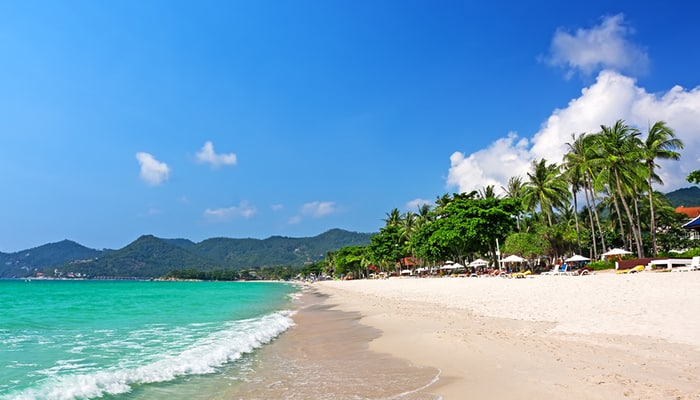 So, you're looking to swap west coast for eastern islands? The jungle-topped karst peaks of the Andaman for the boulder-spotted white sands of the Thai Gulf? Look no further than this guide. It runs through all the main ways you can go from Krabi to Koh Samui. It's a trip that'll take you through more than 124 miles of rural countryside and sloshing sea, navigating rubber plantations and jungles and mangroves and coastline on the road from A to B. Alternatively, you could skip all that and go by air, but only if the budget allows.
Krabi to Koh Samui by plane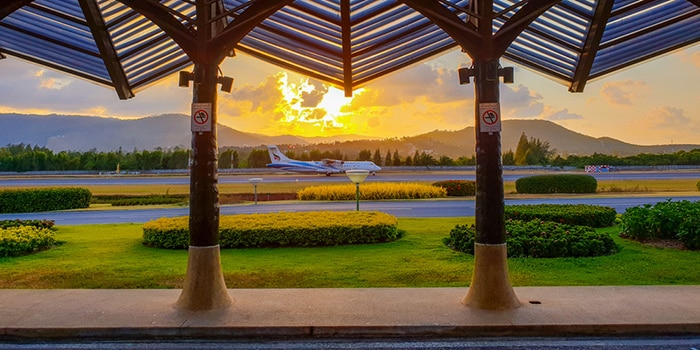 Time – 50 minutes
Price – $80+
Comfort – 5/5
Roll off the runways of Krabi Airport and you'll be touching down in Koh Samui before the hour is through. Yep, it's a mere 50 minutes in the air when you hop from town to isle by plane. It's by far the fastest option on the route, and certainly the one to go for if there's simply no time to waste before lazing on the sparkling sands of Chaweng Beach.
Kick back for 50 minutes on a flight between Krabi and Koh Samui to do this 124-mile trip in as little time as possible.
Of course, the added speed and comfort of a flight means you'll pay extra for the luxury. In fact, hopping on a plane across to the island will usually leave you at least $80 lighter. Thankfully, Bangkok Airways – the only carrier running the route – have free checked bags (20kgs) as standard. What's more, you can keep costs low by booking well in advance through ticketing services like 12Go.asia.
Bear in mind that there's only a single flight per day. It's usually wheels up at around 1.45pm, which means you won't have to worry about getting to the airport super early. What's more, the departure time makes it possible to connect through Krabi from the Andaman Islands of Phi Phi and Koh Lanta to catch a flight. Remember: The air link between Krabi and Koh Samui only runs during Thailand's dry season. There are simply no planes going between May and late October.
Krabi to Koh Samui by bus and ferry

Time – 4.5 to 7 hours, depending on your choice of ferry
Price – $21-30
Comfort – 3/5
The combo of buses and ferries lets you stick to solid ground and wavy seas the whole way from Krabi to Koh Samui. It's by far the most popular way to get from the port town to the paradise island. That's not only because there are limited places on the single flight, but also because the cost of taking this route is just a fraction of a plane ticket – you're looking at just over $20 on average!
You'll be spoiled for choice when it comes to picking a company to go with. Perhaps the best-rated option is Lomprayah. They run large, air-conditioned VIP buses across to the far Thai Gulf coast, taking two hours. Then you get to hop on a fast catamaran, which goes between Tapee Pier in Surat Thani and Samui's Nathon Pier in 55 minutes.

If you can, get the catamaran ferry that's run by Lomprayah – they are the fastest and most comfortable boats on the route between Krabi and Koh Samui.
The next-fastest choice are the high-speed boats with Seatran Discovery. They have total travel times in the region of five hours. Finally, you've got the standard ferries operated by Phantip 1970 and Songserm. Those are the slowest of the lot and they don't have same modern seating areas and facilities as their competitors. However, they will typically boast the cheapest tickets of all. Both of the slower options leave from Donsak Pier.
12Go is usually the best tool to use when planning a trip to Koh Samui from Krabi using a mix of buses and boats. It's got a simple search tool that lets you compare the prices and services of all the various operators. You'll also be able to add on transfers to the bus station from hotels in Ao Nang or Krabi Airport at just the click of a mouse.
Krabi to Koh Samui by private taxi and ferry

Time – 3.5 to 4 hours
Price – $215+
Comfort – 4/5
Don't be put off by the soaring price tag – the rate for a taxi from Krabi to the piers of Donsak or Surat Thani is quoted for the whole vehicle. What's more, book your ride through 12Go.asia, and you can score packages that include tickets for the ferry crossing over to Koh Samui. The upshot? This might be the way to go if you're traveling as a family or a group and can split the cost between multiple passengers.
A private taxi might cost more, but you can share the fare with your travel group and enjoy extra comfort levels in air-conditioned vehicles en route.
One of the great bonuses of having your own driver and wheels for the trip overland to the gulf is that you can get a pickup pretty much anywhere in Krabi you choose. That's perfect for anyone jetting into the runways of Krabi Airport. And it's great if you're staying out by the turquoise seas of Ao Nang Beach to the west of the town proper.
In addition to door or terminal collections, it's possible to ask taxis to stop along the way. In fact, you're allowed pitstops of up to 30 minutes, which means photo breaks beneath the karst mountains of the Than Bok Khorani National Park as you cruise out of Krabi, or lunches of coconuts and pad Thai along the 44 highway towards Surat Thani.
Thailand has two very different coastlines, and Krabi and Koh Samui offer a taste of both. Head through the wild jungles and rolling plantations of rubber trees that cover the Land of Smiles from west to east and you'll be able to enjoy the delights of Chaweng Beach and authentic Bophut Village after around four hours of travel. Fly that way and you can do this trip in a mere 55 minutes. It's up to you!
---
Krabi to Koh Samui FAQ
What is the cheapest way to get from Krabi to Koh Samui?
Certain bus and ferry combinations can help keep the outgoings around the $20 mark on the road from Krabi to Koh Samui. The best way to find them is to check out 12Go.asia. You just need to enter your travel dates and search. Viola: You get to compare all the offerings from different companies running minivans, VIP coaches, catamarans, and ferries on the route.
What is the fastest way to get from Krabi to Koh Samui?
It's possible to cruise over the Land of Smiles at 30,000 feet to smash this journey in less than an hour. That's because Bangkok Airways run a daily flight between Krabi Airport and Koh Samui Airport. It departs at 1.45pm and arrives in Samui at 2.35pm. On the downside, this is the most expensive way to travel by a long shot. Moreover, flights only run during the high season months from November to May.
How do you get from Krabi to Koh Samui?
First, choose between air or land links. Flights take less time but are pricier, and there's only a single departure each day. If you're staying on solid ground, you'll then need to settle on a package with a tour provider. Lomprayah's VIP buses and catamaran boats are probably the most popular, but you can also book connections on high-speed ferries with Seatran Discovery, or slower normal ferries with Songserm. The whole lot can be compared using 12Go.asia's online search portal.
How long does it take from Krabi to Koh Samui?
That really depends on how you're planning on going from the beaches of the Andaman Sea to the sands of the Thai Gulf. You can jet off from Krabi Airport and be touching down in Samui in under one hour if you travel by plane. Alternatively, overland links that combine minibuses, VIP coaches and ferries to the island's various piers can take anywhere from four to seven hours.
How long is the ferry from Krabi to Koh Samui?
There is no ferry all the way from Krabi to Koh Samui. The first step to getting on a boat to where you're going will be a drive right across the middle of southern Thailand. It means crossing rural regions of palm jungles, karst mountains and rubber trees for around 120 minutes. Only then will you reach the pier. The crossing time from there depends on which ferry you've chosen. Lomprayah's catamarans do it in about 55 minutes to 1.5 hours. Other boats can take two hours or more.
Can you fly from Krabi to Koh Samui?
You sure can. Bangkok Airways have a monopoly on the route, but they still sell tickets for the relatively reasonable price of $80-100, including a single item of checked baggage per passenger. From runway to runway, the flight is about 55 minutes. Departures are in the early afternoon, meaning you'll emerge from the arrival hall in Koh Samui around 4pm. Flights aren't available in the low season, and it's always wise to book in advance for the high season via 12Go.asia.
How useful was this post?
Click on a star to rate it!
Average rating / 5. Vote count: