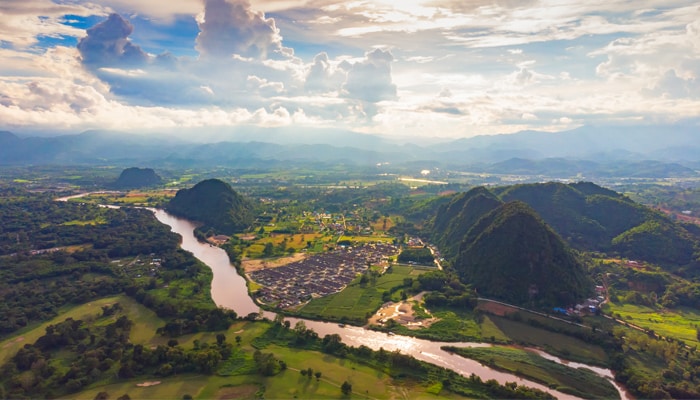 Chiang Rai and Chiang Mai are the two main urban hubs of northern Thailand. They both huddle beneath rugged mountains, watched over by elephant-trodden rainforests and the gold-tipped stupas of Buddhist temples. But each still brings its own unique vibe and attractions. Chiang Mai is lively night bazaars and a UNESCO old quarter; Chiang Rai is about rock climbing, eye-watering religious architecture, and encounters with remote hilltribes on the Burmese border.
If you can, you should add both your itinerary. Getting between them isn't hard. This guide runs through all the options you can take to cover the 94 miles that separates the cities.
Chiang Mai to Chiang Rai by bus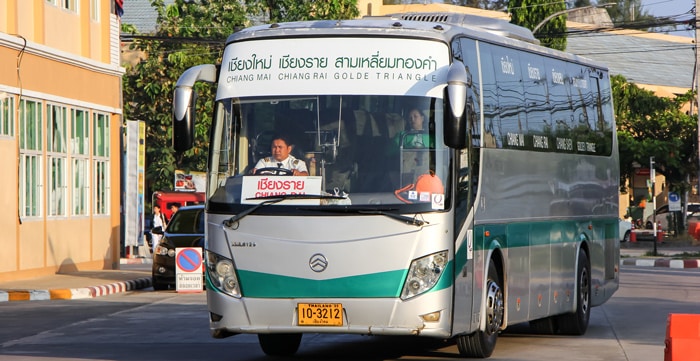 Time – 3 hours
Price – $5-10
Comfort – 4/5, depending on what class you go for
The vast majority of travelers looking to swap Chiang Mai's eco cafés and old shrines for the white-tipped temples of Chiang Rai will use the bus. Not only is it the cheapest way to go from city to city, but it's also regular. In fact, you've got upwards of five departures a day. And to make things even easier, they're all run by a single company: The Green Bus Company.
You'll need to head over to the Arcade Bus Station in Chiang Mai to pick up the ride. It's possible to hop in one of the songthaews (shared shuttle) that go up and down Kaeonawarat Road to get there on a budget. Alternatively, a taxi from the Old City (where most of Chiang Mai's hotels are) should cost around 100-150 THB.
Green Bus Company offer upwards of five departures a day on a variety of coaches with different seating classes bound for Chiang Rai.
The cost of your ticket will all depend on what level of comfort you want on the journey. Green Bus offer three tiers: A-Class, X-Class, V-Class. A-Class is usually a real bargain, coming in at as little as $5 for simple, no-frills seats that still have air conditioning. X-Class are a midrange choice, on buses with toilets and better climate control. V-Class will be $10 or more, though you'll have recliners and oodles of legroom.

The trip itself follows some darn remote country roads. It takes you through wild regions dominated by the hazy peaks of the Khun Chae National Park and the tussock ridges of the Doi Luang National Park. There's plenty to look at out the window, even if travel times can skyrocket when there's a lot of traffic to contend with. On the Chiang Rai end, you get off at either Terminal 1 or Terminal 2. The first is typically where travelers are headed, because it's near the bustling town centre and the night markets.
Chiang Mai to Chiang Rai by taxi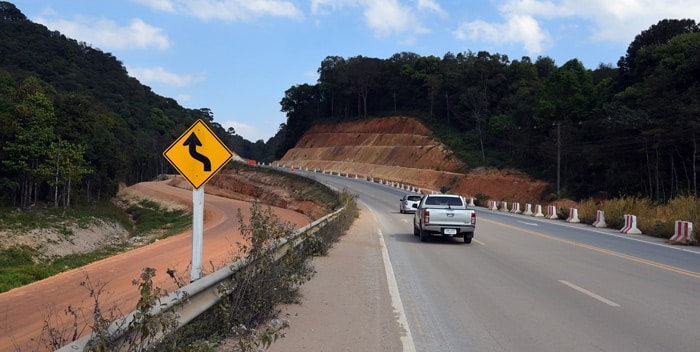 Time – 3 hours
Price – $95-175
Comfort – 5/5
If you've not spent all your baht on incense sticks and Thai curry pastes in the sprawling night bazaar of Chiang Mai, you might have enough to score a private taxi between Chiang Mai and Chiang Rai. It's the most luxurious and comfortable way to smash the trip between the northern cities. You'll have a whole car to yourself, complete with air conditioning, plush upholstered seats, and a dedicated driver. Seriously, it's like being chauffeured…
There's no comfier a way to move from Chiang Mai to Chiang Rai than in your own car, but the trick is to share the cost.
…And that means you'll pay extra. Expect smaller cars to come in at around $120, with larger SUVs and minivan transfers costing anything up to $175. One bonus is that those quotes are for the whole vehicle for the whole ride. The more folk you can fit in them, the more people you can share the cost with. So, it might just be worth considering if you're traveling as a family crew or have managed to convince hostel buddies to hop over to Chiang Rai for some time exploring the Golden Triangle and meeting the hilltribes!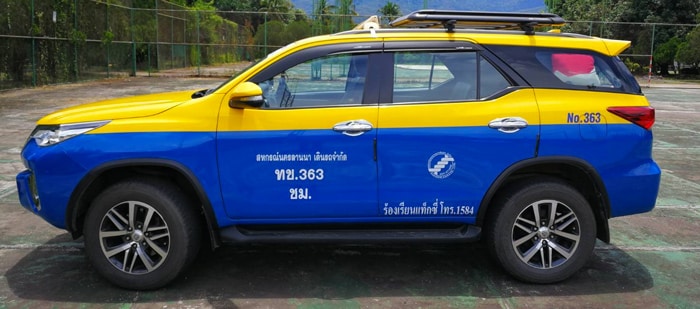 The trip in a private transfer will usually follow just the same route as the buses. However, in a nimbler five-door car, you should complete the journey in less time. It's rare for drives to take over three hours, and sometimes it'll be even less. Just be ready to deal with lots of turns – these mountain roads are wigglier than a Southeast Asian snake!
Chiang Mai to Chiang Rai by tour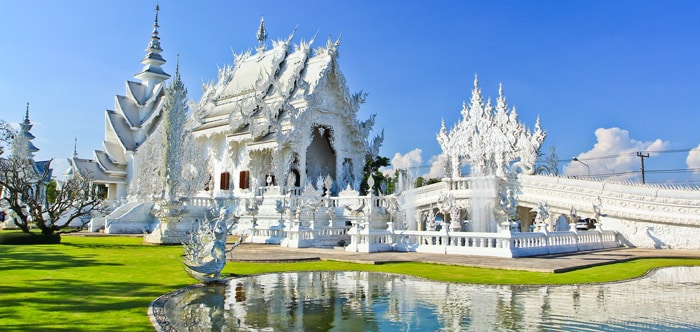 Time – All day, or several days – it's up to you
Price – $150+
Comfort – 4/5
A more nuanced method of going between Chiang Mai and Chiang Rai is with a day-long or multi-day tour. Yes, you'll travel from one city to the other, but you'll also explore and adventure through the remote and wonderful landscapes of northern Thailand along the way, sampling all the raw culture and stunning natural beauty that brings to the table.
All tours are priced differently, but it's rare to find anything for less than $150. You could also fork out more and put together an itinerary that lasts several days, including stays in mountain longhouses and trekking camps before reaching Chiang Rai itself. There's certainly plenty to fill the time, from encounters with long-necked Karen tribespeople to ethical elephant sanctuaries, bathing in hot springs to hikes through untouched valleys overlooking Myanmar. Amazing stuff.
---
Whatever way you choose to go from Chiang Mai to Chiang Rai, you're sure to enjoy the journey. It takes you through weaving mountain roads to stunning lookout points and along jungle-shrouded paths to remote valleys. Have the camera at the ready!
---
Chiang Mai to Chiang Rai FAQ
What is the cheapest way to get from Chiang Mai to Chiang Rai?
The bus. Check out Green Bus Company's most affordable offering – their so-called A-Class. Tickets can be bought at the Arcade Station in Chiang Mai, but we'd recommend bagging yours in advance from 12Go.asia. Doing that means you can usually secure a journey for around the $5 mark. Bargain.
What is the fastest way to get from Chiang Mai to Chiang Rai?
The drive from city to city usually takes something around three hours. However, you might be able to do it a tad faster by choosing to engage the services of a private taxi company. There are loads of them, but Jed Yord, Glassflower and Smart En Plus are among most popular. They can all be pre-booked using 12Go, and could even get you to Chiang Rai in 2.5 hours or a little more.
How do you get from Chiang Mai to Chiang Rai?
Hit the tarmac and prepare for mountain roads, because the route from Chiang Mai to Chiang Rai is all over ground. Both of these towns do have their own airport, but they're simply too close to warrant any commercial connections. That means buses and taxis are the go-to options, though some travelers might want to do the trip as part of an organised tour through the region's national parks and hidden hill towns. You can book direct point-to-point transport with ease using 12Go.asia.
How much is a taxi from Chiang Mai to Chiang Rai?
It's normal to pay around the $100 mark for the smallest of all taxis. They will seat four, so you're looking at $25 per person if you manage to fill the whole vehicle. Larger cars and minivans can be as much as $175, but that does mean you can invite extra passengers. It's best to use 12Go.asia's online search tool to compare and contrast the offerings from all the major transfer companies before you book.
How much is the bus from Chiang Mai to Chiang Rai?
The regular bus offered by the Green Bus Company that goes between Chiang Mai and Chiang Rai can cost as little as $5. That's for their real economy class (A-Class). More luxury is on offer from X-Class and V-Class, but you're looking at paying in the region of $7 or $10 for those. A private minivan that can hold 7-14 is another option on the bus front. They usually cost about $175, though that's shared between everyone who's along for the ride.
How long is the bus from Chiang Mai to Chiang Rai?
The good news for those without the extra cash to score a private taxi is that the bus links between Chiang Mai and Chiang Rai aren't too much slower than in a car. In fact, both take around the three-hour mark. That can shoot up if there's traffic on the roads, especially as we're talking winding mountain roads with single lanes in some areas.
Can you do a day trip from Chiang Mai to Chiang Rai?
You sure can! Leave Chiang Mai early on and you can pack a whole day's adventuring through northern Thailand into the journey. Pitstops can include the likes of Wat Rong Khun (the mystical White Temple of Chiang Rai), visits to where the Khong River meets on the borders of Laos and Myanmar, and the ancient ruins of old Siam at Chiang Saen. It's a great way to get from A to B while seeing some of the region's most amazing sights.
How useful was this post?
Click on a star to rate it!
Average rating / 5. Vote count: