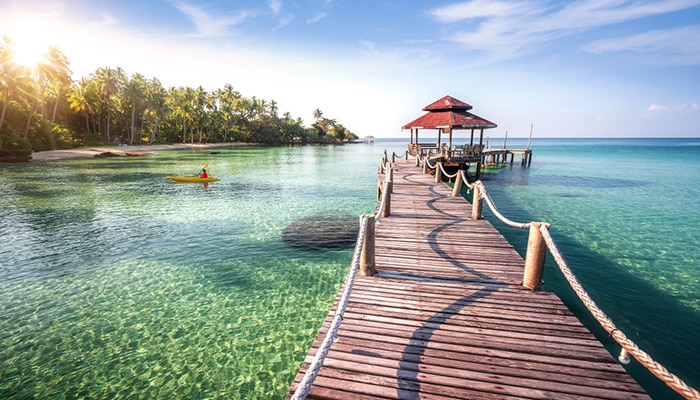 Sitting just off the coast of Trat, Koh Kood, otherwise known as Ko Kut, is a great alternative to the overcrowded islands you'll find off Thailand's southern peninsula. It's part of the Koh Chang group, a cluster of islands that are frequented more by locals than tourists. For this reason, getting to Koh Kood from Bangkok is a little more complicated and can require some forward planning on your part.
There's no airport on Koh Kood, so your journey will inevitably include a boat ride. Reaching Laem Sok Pier from Bangkok can be done via minibus from Khao San Road, a flight to Trat airport or, the easiest but most expensive option, a private taxi from your hotel. If you play your cards right, it shouldn't take more than half a day to reach Koh Kood – here's how to make your journey as smooth as possible.
Bangkok to Koh Kood by bus and ferry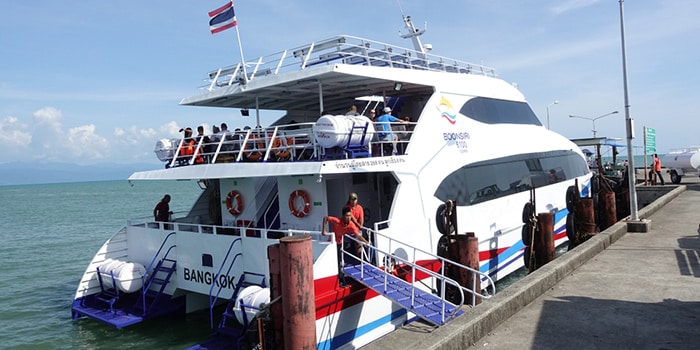 Time – 7 to 9 hours
Price – $25
Comfort – 4/5
Making your way from Bangkok to Koh Kood is no easy feat, but taking the bus and boat option is about as simple as it gets. To keep your journey streamlined, you can buy a combined minivan and boat ticket from 12Go.asia, which will ensure that your bus arrival lines up with your boat departure time. This way you should make it to Koh Kood in one day.
Buses are operated by the Boonsiri ferry company and depart from Khao San Road twice a day, the first at 5am and the second at 7.30am. If you choose to rise with the early bird, you'll arrive at the Laem Sok pier just in time to catch the 10.45am ferry, which sails directly to Koh Kood and takes just over an hour. Setting foot on Koh Kood before 1pm means you'll have the whole day to take in your surroundings and even have a quick dip in the sea. Catching the later bus from Bangkok will put you on the 2.20pm ferry service from Laem Sok Pier, which takes slightly longer due to the stop off at Koh Mak to pick up and drop off passengers. If all goes to plan, you should be in Koh Kood just before 4pm.
Buying a combined bus and boat ticket ensures that you'll get from Bangkok to Koh Kood on the same day.
If you're feeling a little more adventurous, you can travel to Trat independently from either Ekkamai or Mo Chit bus station in the northern part of Bangkok. T.T.T company runs a direct service with tickets costing just $10. When you arrive in Trat, however, you'll need to jump in a taxi to the pier in time to catch a ferry crossing by one of the four companies: Boonsiri Ferry, SuperJet Ferry, Ko Kut Express or Koh Kood Princess.
Bangkok to Koh Kood by flight and ferry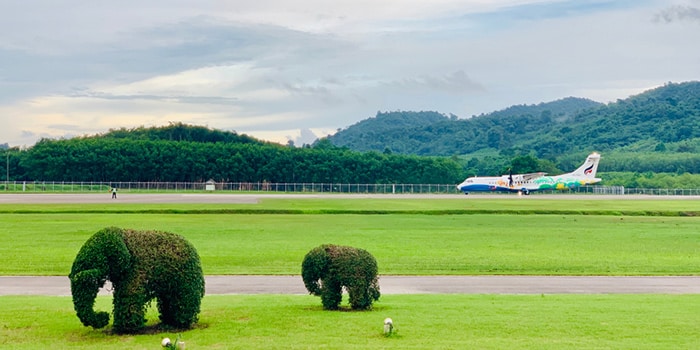 Time – 4 to 5 hours
Price – $70 to $90
Comfort – 4/5
You can cut your journey time down considerably by catching a flight from Bangkok Suvarnabhumi to Trat airport. This is a particularly good option if you're already at the airport and don't want to head into the busy city to catch a minibus. During peak season, Bangkok Airways offers up to four flights a day to Trat Airport, which means you'll make it to the Laem Sok Pier in time for a ferry transfer to Koh Kood on the same day. It's worth noting that the last ferry leaves at 3pm, so try to book an early flight to make sure you make the crossing on the same day.
The unfortunate reality of taking a flight during the low season is that there is currently just one flight running a day, operated by Bangkok Airways, and leaving at 1.40pm. Taking one hour to reach Trat, this will mean that you'll more than likely miss the last ferry crossing and will need to spend the night in Trat. The next morning, grab a taxi down to the pier in time for the 10am speedboat by Ko Kut Express or 10.45am catamaran by Boonsiri Express. Tickets for either can be booked in advance using a trusted travel website like 12Go.asia.
Bangkok to Koh Kood by private taxi and ferry

Time – 7 hours
Price – $160 – 200
Comfort – 5/5
Those with the cash to splash can opt for a private transfer from Bangkok to Laem Sok Pier. Although it's the most expensive option of the three, it offers the most flexibility. Even better, if you're traveling in a group, the cost can be shared to make it more affordable for everyone. Several reputable companies offer private transfers, including Team Holiday and Glassflower, with the option of an economy four-seater vehicle or premium SUV.
Complete freedom is the main reason why people might opt for a private taxi. You can enjoy a door to door service, choose a departure time that suits your plans best of all, and stop as many times as you wish during the journey. While it's possible to book your boat ticket at the pier, it's worth booking it advance on 12Go to ensure a seat on your preferred boat.
Choosing a private taxi transfer to the pier gives you absolute freedom to decide when to leave and which boat to catch.
When you're choosing which company to travel with, it's worth considering a few factors. Super Jet claims to provide the quickest ferry crossing, taking just 45 minutes, but only offers one departure time of 12.45pm year-round. Ko Kut's speedboat may take an extra fifteen minutes to make the journey, but they offer three crossings a day during peak season (10am, 1pm and 3pm), and some of the most modern facilities. Alternatively, Koh Kood Princess is a great budget option, if you don't mind the slightly older boats running the route.
<
Wave goodbye to the busy metropolis of Bangkok and hello to the secluded beaches of Koh Kood, when you make your way to the island by bus, plane, taxi, and boat.
---
Bangkok to Koh Kood FAQ
What is the cheapest way to get from Bangkok to Koh Kood?
The most cost-efficient way to reach Koh Kood from Bangkok is to book a combined minivan and boat ticket via 12Go. Costing just $25 to get from Koh San Road to the beaches of Koh Kood, this ticket will ensure a smooth and affordable transfer.
What is the fastest way to get from Bangkok to Koh Kood?
If time isn't on your side during your trip to Thailand, you might want to consider taking a flight from Bangkok Suvarnabhumi to Trat Airport. These take just one hour, and if you line it up well with your boat transfer, your overall journey could take 4 hours from door to door. Both your boat and airplane tickets can be purchased in advance on 12Go.asia, so you don't have to worry about last-minute purchases on the day.
How do you get from Bangkok to Koh Kood?
There are plenty of ways to get from Bangkok to Koh Kood, suiting both the budget backpacker and the luxurious traveler. Budget options are limited to either a minibus and ferry package that can be booked on 12Go.asia or taking a local bus to Trat and taxi to the boat pier. For quicker, comfier, but more expensive transfers, there's also the choice of taking a one-hour flight to Trat or a private taxi transfer to the pier. As there is no airport on Koh Kood, you'll still need to jump on a boat from Laem Sok Pier.
How do I get to Koh Kood from Trat Airport?
There's no public transport from Trat Airport to Laem Sok Pier, so you'll have to fork out for a taxi, which can cost between $20 to $40. Once at Laem Sok Pier, you can jump on one of the seven daily ferry crossings to Koh Kood (four during low season), which take just over an hour to reach the island.
Can you take a bus from Bangkok to Koh Kood?
Yes, you can take a bus straight to the pier to catch a boat transfer to Koh Kood. Taking a combination of the bus and boat from Bangkok to Koh Kood is actually the most popular way to travel, thanks to the handy combined tickets offered by Boonsiri. You'll have no problem getting your hands on these tickets using an online booking agent like 12Go.asia.
How useful was this post?
Click on a star to rate it!
Average rating / 5. Vote count: