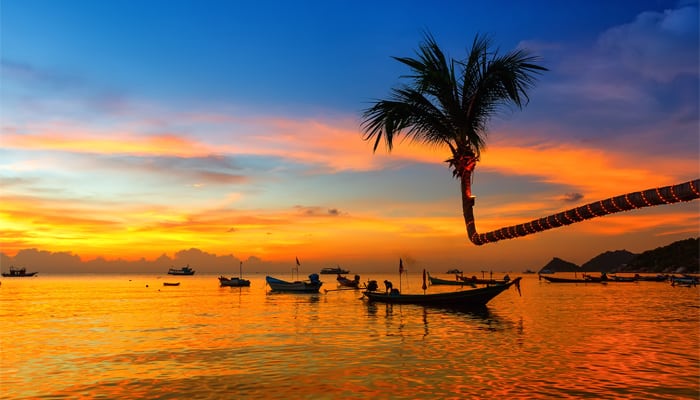 Prep the scuba gear, ready the snorkels, and dust down the bikini – Koh Tao awaits. One of the three most famous islands of the Chumphon Archipelago (a group that also includes Koh Phangan and Koh Samui), it's known for the cotton-white isthmus beach at Ko Hang Tao, its fish-teeming dive sites, and inland hills clad in emerald jungle.
Although it's the northernmost and farthest flung in the Chumphon group, covering the 72 miles from Surat Thani on the Thai mainland should still be a breeze. You can hop on any one of countless boat connections, picking between high-speed ferries, and catamarans, and even opt to add in taxi and bus transfers to the port. Check it out…
Surat Thani to Koh Tao by catamaran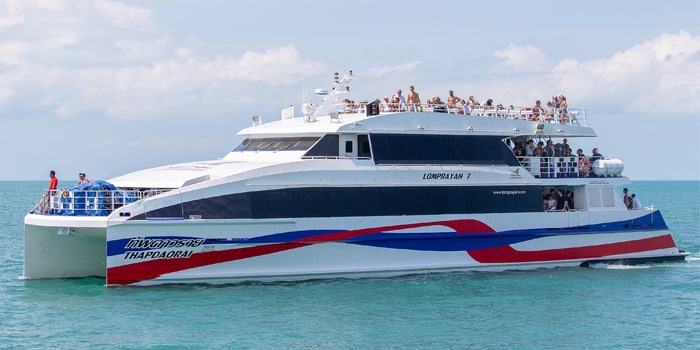 Time – 3 to 5 hours
Price – $24-27 (boat ticket only)
Comfort – 5/5
There are loads of things going for the catamaran connection between Surat Thani and Koh Tao. Perhaps most importantly, it's the fastest boat link you can pick. Travel times on these speedy bad boys can be as short as 3.75 hours. That means whizzing out of dock in the morning (there's a departure at 9am) and arriving in time for a pad Thai lunch in the cookhouses of Mae Haad Pier. There's also a service that goes at 3.30pm and gets you to Koh Tao in the evening – a good choice if you're traveling to Surat Thani from elsewhere in the region before making for the islands.
Catamarans are run by Lomprayah and tend to be the fastest boat link of all between Surat Thani and Koh Tao.
In addition to that, catamaran ferries leave from Tapee Pier, while most alternatives sail out of Donsak Pier. Check where they are on the map – the first is much closer to the centre of Surat Thani. You won't have to think about planning long minivan or coach transfers before pulling up the anchor and getting out to sea. From the Surat Thani Night Market at San Chao, it's a mere 12-minute taxi. From Surat Thani Airport, the drive is just 25-30 minutes to the pier.

Price tags tend to hover around the $24 mark for the boat ticket on its own. If you want to throw in a pickup at the airport or at your hotel in Surat Thani, prices could be nearer $30. Those are rates roughly in line with other types of ferry, which is surely why this is a perennially popular option. That's also why we think it's important to book early to secure your seat. Thankfully, 12Go.asia lets you do that months in advance of traveling to the Land of Smiles. Look for the offerings from tour company Lomprayah, who run all of the catamarans headed for Koh Tao.
Surat Thani to Koh Tao by high-speed ferry

Time – 5.5 to 8 hours
Price – $25
Comfort – 3/5
The vast majority of the boats that travel from Surat Thani to Koh Tao actually leave from another pier that's a little to the east of the city itself. Going with this option means you'll have a lot more choice in terms of what tour company you buy from, not to mention departures from early morning right the way through to the afternoon.
First thing's first, though: You'll need to reach Donsak Pier where your ferry starts. From Surat Thani town that's about one hour in total. From the airport, you're looking at a drive of about 80 minutes. The route follows the 401 road directly eastward, navigating rubber plantations, rustic banana farms, and some green coastal landscapes. It's a pleasant way to kick-start your trip to Koh Tao, especially considering that transfers are usually organised by the boat companies themselves to keep things simple.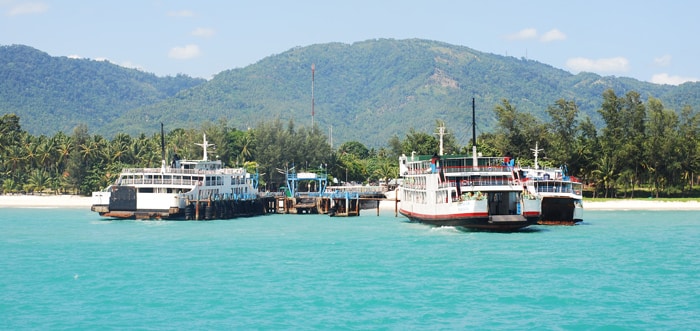 High-speed ferries go from the pier in Donsak, which is about 1-1.5 hours' drive to the east of Surat Thani's centre.
Once you arrive at the pier in Donsak, you'll need to find the right ferry. The high-speed boats are typically shared between two operators. There's Seatran Discovery and Songserm. The first might be a little quicker and a tad more comfortable. Meanwhile, tickets for Songserm's vessels tend to be the cheapest of the bunch. Both have outdoor deck areas where you can stand and watch the mangroves of the mainland fade into the distance as the waves of the Thai Gulf take over. Nice.
The boat trip itself takes about four or five hours but can be slowed considerably by choppy waters and delays (infamously common on this route!). It's always better to bag your bus and boat passes in the same package. Search on 12Go.asia to compare all the options, with pickups at Surat Thani Airport and in the city centre both possibilities.
Surat Thani to Koh Tao by taxi and ferry

Time – 5.5 to 8 hours
Price – $70
Comfort – 4/5
You probably won't save stacks of time by swapping a minivan for a private taxi on the road east to the port at Donsak. It's really about upping the comfort level for that first leg of the journey between Surat Thani and Koh Tao. You're looking at clean, deluxe rides to the pier, complete with air conditioning and free water. It might be the option to go for if money's no object and you're wanting to hit the dive sites fresh and ready to go.
You'll be picked up from anywhere of your choosing for the trip from Surat Thani to the boats. Then it's a clear route to the high-speed ferries run by Seatran Discovery and Songserm. Once you get to the port, you will need to organise an onward ticket for the crossing to Koh Tao, which can be done at any one of the above companies' ticket booths. Alternatively, you can pre-book both sections of your trip in advance using 12Go. That should help you get the best deal on a taxi. It also cuts out the stress of haggling for ferry prices on the day.
Koh Tao is a diving mecca where gleaming white beaches sit next to coral gardens brimming with rays and fish and sea sponges. If you've got it firmly at the top of your dream itinerary, be sure to check out all the transport options above, which promise to whisk you from the buzzing port town of Surat Thani to the bamboo bars and sands in less than half a day's travel.
---
Surat Thani to Koh Tao FAQ
What is the cheapest way to get from Surat Thani to Koh Tao?
The cheapest way to get from Surat Thani to Koh Tao has got to be the bus and boat combinations run by companies like Songserm and Seatran Discovery. They involve a 1.5-hour drive from Surat Thani to the docks at Donsak. Then, you'll hop on a ferry for a journey that takes you out across the Thai Gulf to the islands. All in, tickets cost around the $25 mark, but you can score great bargains by booking in advance via 12Go.asia.
What is the fastest way to get from Surat Thani to Koh Tao?
Be sure to check out the catamaran ferries run by Lomprayah if you want to ditch the mainland and hit Koh Tao as quickly as possible. They can complete the journey in a little over three hours, while average travel times are just shy of four hours when you factor in delays caused by choppy seas and getting passengers on and off. The other good news is that Lomprayah's boats leave straight from Tapee Pier in the centre of Surat Thani, so no transfers down to Donsak are required.
How long is the ferry from Surat Thani to Koh Tao?
Time spent on the ferry from Surat Thani to Koh Tao varies depending on what type of boat you choose and what time of year you travel. The fastest connections – on Lomprayah's catamarans – can be completed in three or four hours. Meanwhile, the boats that go from Donsak Pier usually take in the region of four or five hours. Expect extra delays between May and August especially, when the Thai Gulf can be rougher.
How much is the ferry from Surat Thani to Koh Tao?
Generally speaking, you'll never pay more than $30 for a ferry from Surat Thani to Koh Tao. Even the sought-after catamaran connections with Lomprayah are priced at a wallet-friendly $25-27. The best way to score a bargain on the route is to book early and beat the crowds to it. You can do that by using 12Go.asia's search tool. Just enter your dates and select the trip that's best for you. Done.
How do I get from Surat Thani Airport to Koh Tao?
You could go it alone and try to haggle with a local taxi driver to take you out to Tapee Pier or Donsak Pier to link up with the boats once you land in Surat Thani Airport. But that will almost certainly cost more than a packaged deal from 12Go.asia, and that's not even mentioning the extra stress and hassle involved. So, book those tickets in advance and you'll emerge from the arrivals hall to have someone ready and waiting to transfer you to the ferries for that trip across to Koh Tao itself.
How useful was this post?
Click on a star to rate it!
Average rating / 5. Vote count: