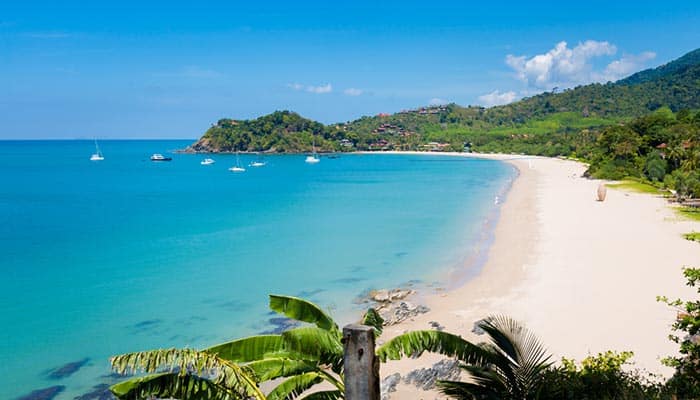 When you envisage Thailand, it is often those white-sanded tropical islands that first spring to mind. If getting from the city chaos of Bangkok to that laid back beach is first and foremost in your Thailand plans, this guide is for you. At just under 440 miles, the distance between Bangkok and Koh Lanta can at first seem an intimidating one. With this comprehensive guide, we can show you how to get there in only a few hours with a quick flight and boat trip, or for the more cost-conscious traveler, by overnight bus or train.
Bangkok to Koh Lanta by Plane and Speedboat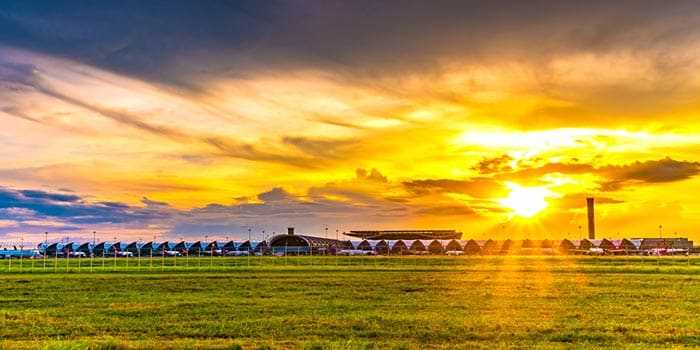 Time – 3 hours
Price – $95
Comfort – 5/5
Arguably the quickest and comfiest way to get from Bangkok to Koh Lanta is to fly from the capital to the town of Krabi. Once in Krabi, travelers then can take a minivan transfer and a speedboat straight from the pier to Koh Lanta. As Krabi is a very popular destination, you won't struggle to find plenty of flights from Bangkok, whatever the season. You can view the flight prices and check flight times with ease at 12Go.asia – prices for this fight, on average, cost around $30.
Buying the combined ticket of a minivan transfer and speedboat to Koh Lanta will decrease your travel time considerably. After a speedy 80-minute flight from Bangkok to Krabi, you'll be picked up from the airport and taken to the speedboat pier within the hour. Depending on the weather, speedboats can take as little as 20 minutes to cross from Krabi to Koh Lanta.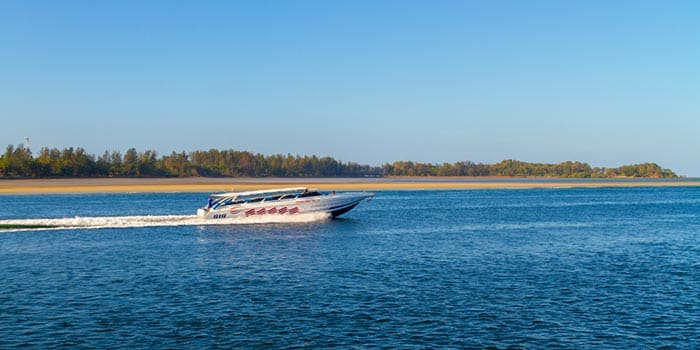 These combined tickets can be bought from several providers, and although the most costly route, the time saved by not queuing for the local ferry can often be invaluable. Most providers will charge around $65 for the combined airport transfer and the speed boat from Krabi to Koh Lanta, children under 12 will be charged around $32
Bangkok to Koh Lanta by Plane and Ferry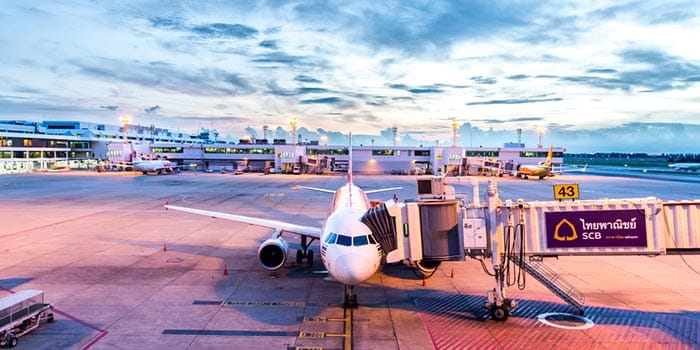 Time – 3-5 hours
Price – $40-$70
Comfort – 4/5
For those travelers who are a little more conscious of cost, the speedboat may not be the choice for you. As the town of Krabi is a hub for most of west Thailand's island-hopping holidaymakers, there are plenty of ferry options. As stated above, the first port of call for any traveler is to catch a flight from Bangkok to the town of Krabi, a flight so popular; it is flown 16 times a day.
Once you have landed in the town of Krabi, you will have two options on getting to the island of Koh Lanta. During the high season (November to April) the passenger ferry is a great choice, concerning both price and time. You will be picked up at Krabi airport and driven for half an hour to the Krabi Khlong Jilad Pier to board the ferry. The ferry itself takes an hour to cross directly from Krabi to Koh Lanta. You can compare times and package deals for the bus and ferry at 12Go, making the whole experience feel more streamlined.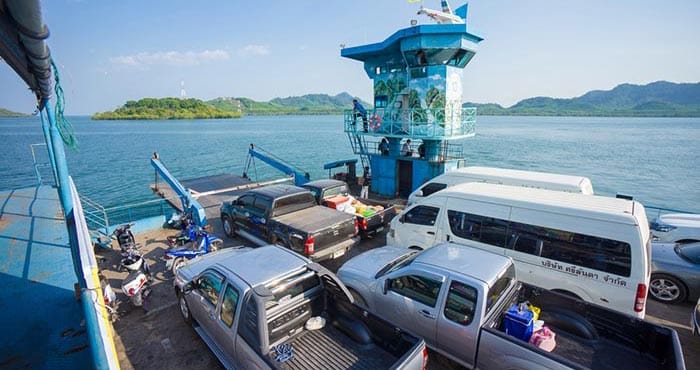 Option two is by far the cheaper option and involves taking a minibus straight from the airport and onto the car ferry at Hua Hin Pier. This journey will take a little longer as the loading of vehicles on to the ferry happens on a first-come, first-serve basis, yet from as little as $12, this is a favorable option.
Bangkok to Koh Lanta by Bus and Ferry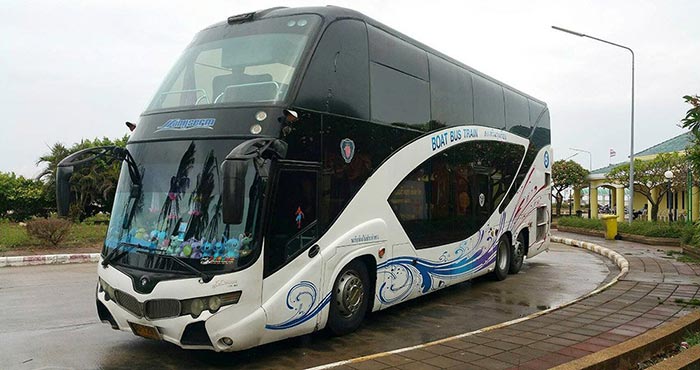 Time – 18 hours
Price – $40
Comfort – 3/5
If you are conscious of those air miles or have a little more time on your hands, taking the bus directly from the city of Bangkok to Koh Lanta may be the option for you. There are a handful of companies that provide a bus from Bangkok to Koh Lanta, yet all of them travel through the night. This night journey does have its benefits, not having to pay for a nights accommodation for one. Clocking up to nearly 18 hours, this is not the most comfortable of journeys, but with a ticket costing about $40 on average, it is the cheapest.
There's only one scheduled bus departure leaving Bangkok straight to Koh Lanta, which tends to leave around 20:00 daily. A handful of companies run this service and 12Go can help you to compare prices and find the right one for you. Buses leave from the famous Khao San Road in downtown Bangkok, which makes finding the departure site super easy. Just remember when catching the bus from Khao San Road, always be aware of dishonest and often fraudulent companies operating in this touristy hotspot.
Bangkok to Koh Lanta by Train and Bus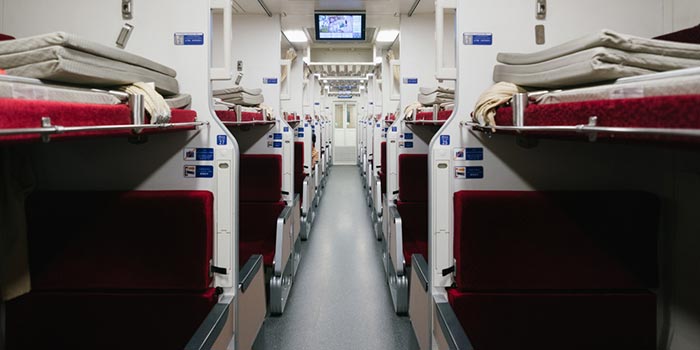 Time – 22 hours
Price – $46
Comfort – 4/5
For many people, the lure of the open railroad and the hum of train on tracks is a sensation never to be overlooked. It is possible to make most of the journey from Bangkok to Koh Lanta by train. The nearest town to Koh Lanta with a train station is the town of Surat Thani. Trains run from Bangkok to Surat Thani through the night and like the night bus; this will save you a nights accommodation.
Trains leave Hua Lamphong Railway Station in central Bangkok around 18:30 and 19:30 and travel throughout the night. Second class sleepers can be purchased for an average of $28. You can search train times and prices on your chosen day of travel at 12Go.asia and easily secure your ticket in advance.

Once you arrive at Surat Thani, you must then catch the bus from here to Koh Lanta. Buses leave around 8 am, so it can often feel a little rushed getting from train to bus. It is also important to remember that this is the only bus from the train station to Koh Lanta, so make sure you book it in advance. Phantip is one of the only bus companies that run along this route and will charge around $18 for the six-hour journey.
Although slightly more expensive and longer than taking a sleeper bus, journeying from Bangkok to Koh Lanta via sleeper train is by far the comfier option out of the two.
Sleepaway the journey from city to city to the gentle sounds of train on tracks with Thailand's reliable railway service.
However you choose to travel from Bangkok to Koh Lanta, we hope you have a pleasant journey in Thailand, The Land of Smiles.
---
Bangkok to Koh Lanta FAQ
What is the cheapest way to get from Bangkok to Koh Lanta?
The cheapest way to get from Bangkok to Koh Lanta is to take the overnight bus from the Mo Chit Terminal or Khao San Road. This costs, on average, around $40 – be sure to visit 12Go.asia for current times and prices.
What is the fastest way to get from Bangkok to Koh Lanta?
The fastest way to get from Bangkok to Koh Lanta is to fly from Bangkok to Krabi Airport, then take an Express Transfer and speedboat to Koh Lanta. The entire journey should take around 3 hours. Search 12Go.asia for a combined plane and express transfer tickets.
How do you get from Bangkok to Koh Lanta?
To get from Bangkok to Koh Lanta, you can either take a flight from Bangkok to Krabi then a ferry from Krabi to Koh Lanta. Another option is to take the overnight bus from Bangkok to Koh Lanta; this bus takes on average 18 hours. Weigh up your options by comparing flight, ferry, and bus prices at 12Go.asia.
How many days do you need in Koh Lanta?
3 to 4 days is recommended as the perfect amount of time to stay on Koh Lanta. Koh Lanta is an island of relaxation, peace, and quiet. Those who enjoy the laid back atmosphere of Koh Lanta may wish to stay much longer.
Is Koh Lanta expensive?
Compared to many of Thailand's islands, Koh Lanta is not especially expensive; accommodation ranges from affordable hostels to high-end hotels. Places to eat on the island also vary quite widely in price; this means you can enjoy a visit to Koh Lanta, whatever your budget.
Is Koh Lanta touristy?
Koh Lanta is one of the less-visited Thai islands, and as a result, it definitely has a less touristy feel. Koh Lanta is large enough that parts of the island have the comfort that tourism brings, and yet there are still untouched beaches and areas to explore.
How useful was this post?
Click on a star to rate it!
Average rating / 5. Vote count: