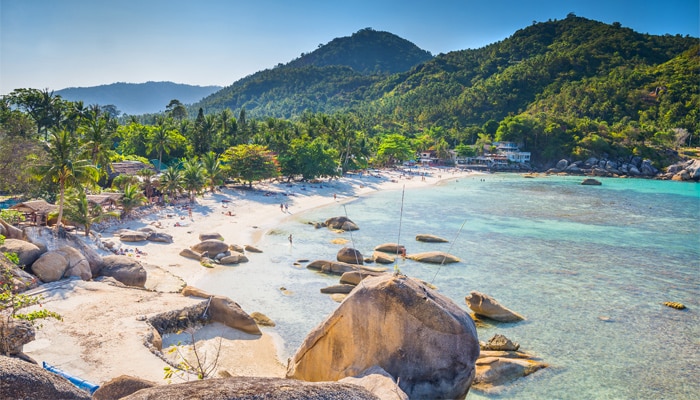 Oh, Koh Samui – just a mention of the name is enough to conjure images of sugar-white sands, stooping coconut palms, and reggae-bouncing beach bars by the sea. If, like thousands of others, you're looking to trade the energy of Bangkok for this Thai paradise, be sure to read on.
This guide runs through all the major transport options that can help you get from Khaosan Road to Chaweng Beach. They each cover the 294 miles distance (as the crow flies) in different ways, over different time periods, and for different price tags.
Bangkok to Koh Samui by flight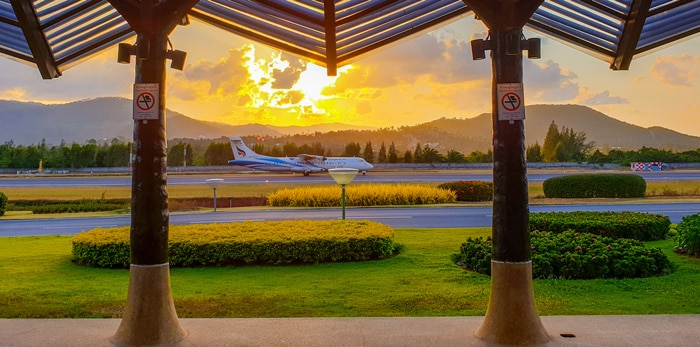 Time – Just over an hour
Cost – $70
Comfort – 5/5
It's actually possible to put the Bangkok skyline in the clouds and scoot down to Koh Samui's sparkling beaches in little over an hour. That's thanks to the speedy flight connections between the two destinations, which link runway to runway without any stops or changeovers needed along the way.
You'll find that Bangkok Airways operates the bulk of the services on the route. In fact, they dominate the market, with upwards of 15 departures throughout the day. The earliest time you can jet off is around 6am. The latest is after 8pm. Other options leave virtually hourly throughout the morning and the afternoon.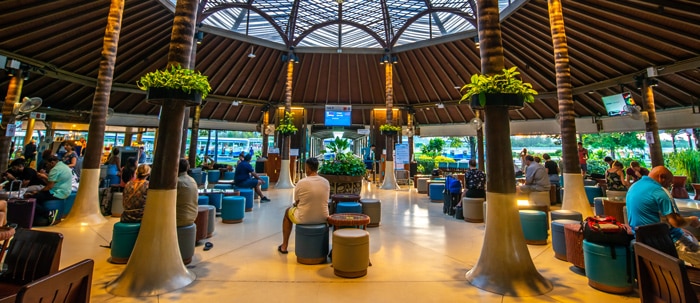 Take the direct flight with Bangkok Airways from Bangkok to Koh Samui if you simply cannot wait to hit the sands and snorkel in the Thai Gulf.
All of the links go from Bangkok's larger airport in Suvarnabhumi, which is great news if you're heading over to the Land of Smiles on a long-haul flight and want a swift changeover before getting en route to the beaches. Just be sure to leave enough time to grab you bags, pass through immigration and re-check in after landing.
It's also always a good idea to book as early as you can for travel on this route. With so many flights on offer, you shouldn't have any trouble scoring a ticket. However, high-season prices can leave the budget a little lighter than you might like, so secure your seat at least 90 days in advance to be on the safe side. 12Go.asia has a handy search tool that compares all the fares for direct flights going Samui's way.
Bangkok to Koh Samui by flight and ferry

Time – 7.5 hours
Cost – $50+
Comfort – 4/5
Because Bangkok is a hub for domestic air connections going throughout Thailand, it's possible to hitch a ride on all sorts of other flights to destinations close to Koh Samui. After landing, you'll need to switch to a transfer and then a ferry to complete the journey. That all means the trip will take considerably longer than when going direct, but that can help keep costs on the down low – around the $65 mark is normal.
Combining air and ground travel is a great way to save some cash but still keep journey times short when heading from Bangkok to Koh Samui.
The main reason for the cheaper rates is that you can make use of the budget carriers that jet off from the runways of Don Mueang Airport on the north side of the capital. With seats at just a fraction of the cost of the premium offering out of BKK, the likes of Nok Air and AirAsia can take you to cities like Surat Thani or Chumphon.
Both of those are great steppingstones for onward travels to Samui. What's more, you can purchase combo deals over on 12Go that package all the legs into a single ticket. That means easy pickups in the airport, fast transfers straight to the boat, and an all-round cruisy ride across the glistening Thai Gulf to the island.
Bangkok to Koh Samui by bus and ferry

Time – 12-15 hours
Cost – $25+
Comfort – 3/5
Calling all backpackers and budget travelers – buses offer a good balance between cost and convenience on the road south to the palm-fringed islands. They're one of the best options if you're keen to leave more baht for massages and Mai Thais by the beachfront, but also want to get the trip done and dusted in under a day.
With some of the lowest prices of all, buses offer a budget-friendly way to hit Koh Samui's world-famous beaches.
You'll have a whole pad Thai full of companies to pick from when it comes to planning your bus-boat adventure to the isle of Koh Samui. The highest rated – but also the most expensive – is surely Lomprayah. They run VIP coaches with air conditioning and reclining seats, along with the fastest catamaran boats. If you'd prefer to keep costs low, consider Songserm and Krungsiam Tour, which have departures going from the Southern Bus Terminal, Khaosan Road, and the area of Hua Lamphong alike.
The driving section of the trip can vary in length. It all depends on whether you go to Chumphon and get the longer catamaran transfer across the Thai Gulf (expect some lovely scenery), or push on to Surat Thani and head straight to Samui from there. Both are viable options, with total travel times including the ferry typically in the region of anything over 11 hours.
Bangkok to Koh Samui by train and ferry

Time – 15 to 17 hours
Cost – $45-60
Comfort – 4/5
For a real Thai adventure, why not go by train to the islands? with lower carbon emissions and interesting scenery along the way, it's becoming a popular choice for those looking to swap traffic-clogged streets with sun-splashed beaches.
Day trains are possible, but you'll save the cost of a hotel and be in time to catch the early ferries across to Koh Samui if you opt – like most – to travel overnight. There are three departures each evening, though the 6.30pm and 7.30pm services are the most popular on account of their modern sleeper berths. You can book a classic curtained bed in second class, or fork out more for a private carriage in first.
Feel a sense of adventure waking on the trains as you cruise through the karst mountain peaks of the Land of Smiles on your way to the islands.
Those will be your ticket all the way through the heart of central-south Thailand to the city of Surat Thani. After waking on the train, you make the hop either to Donsak Pier out east, or straight to Tapee Pier closer to the station. The first is where the bulk of the ships bound for Samui leave (taking about 90 minutes), but the latter hosts the high-speed catamaran run by Lomprayah (taking just 45 minutes).
The best way to go about booking a train link to Koh Samui from Bangkok is certainly through 12Go.asia. They offer combos that include trains, transfers to the ferry port, and the boat itself, along with ticket pickup points just across the road from Hua Lamphong station in the capital.
As you can see, it should be a cinch to ditch the buzzing metropolis of Bangkok for the cotton-tinged sands of Koh Samui. It's hardly a wonder that so many travelers follow this same route each year, flying, bussing, or training their way south to balmy seas and plenty of sun.
---
Bangkok to Koh Samui FAQ
What is the cheapest way to get from Bangkok to Koh Samui?
Bus services offer the best-value tickets on the route south to Koh Samui. They take considerably longer than flying, it's true, but come in at just a fraction of the price. That's even the case when you tack on the cost of a ferry trip from the mainland to the island itself, a combo that can be booked together through 12Go.asia.
What is the fastest way to get from Bangkok to Koh Samui?
Buckle up and enjoy the flight, because it's only an hour! Yep, around 65 measly minutes is all you need to go from the bright lights of Bangkok to the bright beaches of Koh Samui. That's a luxury reserved for travelers willing to pay a little extra for the premium seats on direct flights with Bangkok Airways going out of Suvarnabhumi Airport, though. Tempted? Find and book yours with help from 12Go.asia.
How do you get from Bangkok to Koh Samui?
There are both land and air transport options open to sun hunters on the mission to Koh Samui. The first tend to be easier on the wallet. They take you on Thai trains or backpacker buses to cities in the south before changing to ferries across the sea. The latter are for those most eager to tread in the sand and dive in the coral gardens – flights are fast, but also a tad more expensive. All routes can be compared and contrasted with help from 12Go.asia's online booking portal.
How long is the ferry from Bangkok to Koh Samui?
There is no ferry going all the way from Bangkok to Koh Samui. Instead, you'll need to travel to a pier with services to the islands and then catch the boat. The closest to the capital is in Chumphon, from where the fast Lomprayah catamarans take just under four hours to dock up. Surat Thani has two piers, and it's possible to catch fast boats from there that take just 1.75 hours to complete the trip.
Is Koh Samui better than Phuket?
That all depends on what you're after. Most folk report that Koh Samui cranks up the chill factor and comes with a little more R&R than Phuket. That means quieter beaches and a dash of the classic backpacker vibe. There are still undiscovered corners to this island, unlike on its Andaman brother. Check out the likes of Samrong Beach, Tongson Bay, and the boulder-studded south-east coast to escape the crowds. Alternatively, Bophut and Lamai have a little more life to them.
Which is the best month to visit Koh Samui?
The main season in south Thailand begins in earnest around New Year, with the Thai Gulf becoming most popular from January to April. That's when the rains drop away, there's plenty of sunshine, and average daily temperatures peak around 83F. To save a little dosh, you could consider pushing your trip back to around May, June, or July. There are some downpours then, but they are usually isolated showers, while hotel rates, flight prices, and visitor numbers are all plummeting.
How useful was this post?
Click on a star to rate it!
Average rating / 5. Vote count: