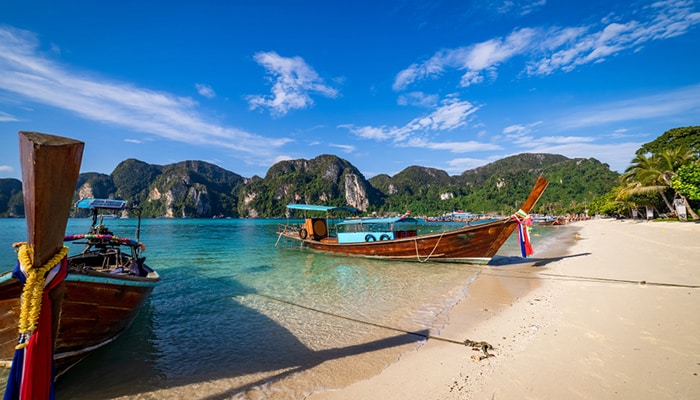 Both Krabi and Koh Phi Phi are major stops on the regular route around the stunning region of the Thailand Andaman. One's a laid-back beach town, where hotels fringe yellow sands backed by cliffs. The other is a lively isle of bamboo bars and fire shows, fish-filled lagoons and forests of waxy palm trees.
Every year, thousands of travelers make the jump between the two. It's a trip of just 20 miles in a straight line, so you can expect to stroll into Koh Phi Phi's bustling Tonsai Pier after only a few hours on the water. This guide can help you plan the trip, with info on all the boats and booking options you've got when it comes to trading the mainland for the Phi Phi Islands.
Krabi to Koh Phi Phi by normal ferry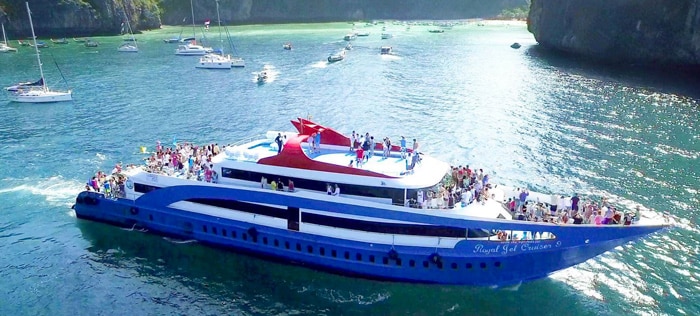 Time – 2 hours (ferry only)
Price – $11-15
Comfort – 4/5
Ferry schedule normal ferry
Normal-speed ferries leave Krabi regularly throughout the morning, starting about 9am. Final departures are in the early afternoon, about 3pm. These are the large, slower boats that make the trip. But even with that moniker, they usually take just two hours before they drift into dock under the rugged cliffs of Koh Phi Phi Don.
How much does it cost to go to Phi Phi Island?
The real bonus is the cost. The cheapest normal ferries from Krabi to Koh Phi Phi will leave you just $11 lighter. That's around half the average fare for a speedboat. To put it another way: It's enough to save you cost of a round of cold Chang beers on the white sands of lovely Loh Dalum Beach once you reach your destination!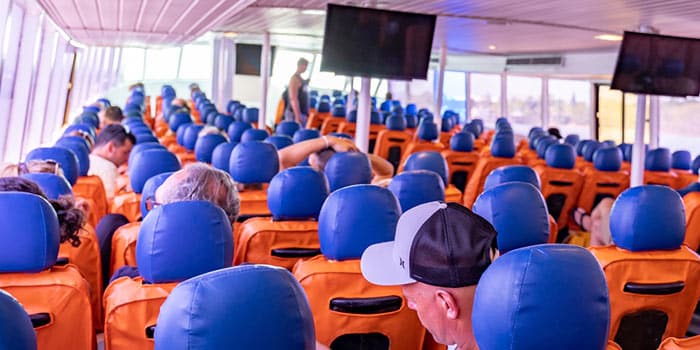 The normal ferry service takes two hours, costs little, and leaves regularly – what's not to like?
The trip itself is straight forward. Get to the pier at least 30 minutes before departure time. Hop on the boat. Then get a-sailing. We'd recommend trying for a seat on the outside deck. The ferry heads southwards along a wild stretch of the Andaman coast. To the east, you might just be able to spy out the rock-speckled sands of lonely little Koh Jum island. To the west will be the silhouette of Ko Yao Yai – one of the region's more untouched gems.
Package that includes transfers
If you're wanting to get the normal ferry service from a hotel in Krabi or nearby Ao Nang, it's a good idea to book a package that includes transfers to Klong Jilad Pier. That'll guarantee you arrive in time to link up with the boat. Alternatively, the boats run by Chaokoh Travel Center also go from Nopparat Thara Pier in Ao Nang itself. All options can be searched and booked well in advance using 12Go.asia's search tool.
Krabi to Phi Phi by high-speed ferry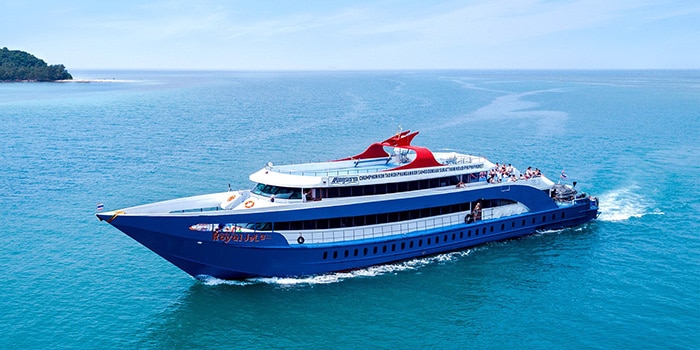 Time – 1.5 hours
Price – $12+
Comfort – 4/5
It's sometimes possible to score high-speed ferry rides for the same price as the normal ferry service. If you can, do it! They're run by well-rated operator Songserm ferry on modern boats that can usually shave a little time of the length of your sea journey. The best way to bag great deals is to get on 12Go as far in advance of traveling as you can, particularly if you're heading to the coconut-strewn beaches of Koh Phi Phi in the high season months between December and April.
Cut your time in transit before reaching Koh Phi Phi's gorgeous beaches and bays by booking a place on the high-speed ferry out of Krabi.
Departure points and the amazing views off the side of the boat are all the same as with the slow boats. You'll need to rock up to the large Klong Jilad Pier on the south side of Krabi Town around 30 minutes to an hour before the Phi Phi ferry is due to leave. Then you'll be cruising between mangrove forests and sun-splashed islands on the way south across Phang Nga Bay to Koh Phi Phi itself.
From Krabi Airport
It's possible to organize combination tickets to get you from the terminals of Krabi Airport to the boats. They're a great idea if you're jetting down south from Bangkok or Chiang Mai or are coming in on a long-haul flight and want to get straight en route to the hammocks and the Mai Thai bars of Koh Phi Phi. Pickups will be outside the arrivals exit, while the transfer to the pier takes about 25-30 minutes.
Krabi Town to Phi Phi by shared speedboat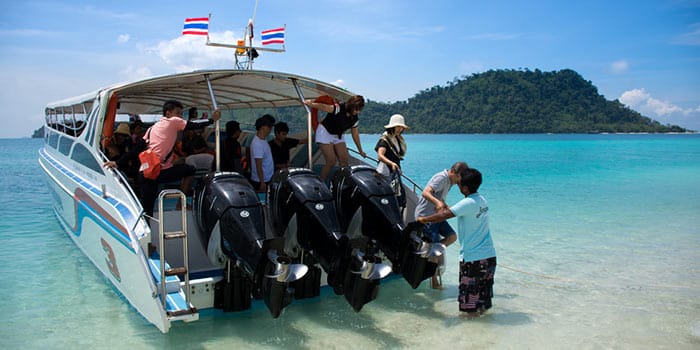 Time – 1 hour
Price – $27
Comfort – 3/5
Throughout the main season, there's a single shared speedboat link between Krabi and Koh Phi Phi in the offing. It's run by Koh Phi Phi Kanichta Tour out of Krabi River Marina. That's super-close to the hostels and hotels of Krabi Town, but also only a quick, 25-minute transfer from Ao Nang or Krabi Airport. Expect to pay about double the price of a normal ferry ticket.
Departures are at 9.15am and the journey takes a mere 60 minutes from start to finish. That makes it the quickest of all the options bound for Koh Phi Phi, getting you to Tonsai Beach in time for that morning Thai omelet and mango juice overlooking the Andaman. The main downside? Speedboats are rough rides. Even the smallest waves will rock the boat and there's often not too much room for luggage.
Krabi to Ton Sai Pier by private speedboat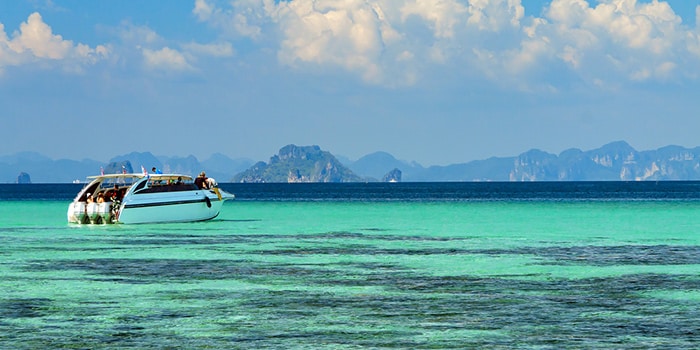 Time – 1 hour or all day with a tour
Price – Around $250
Comfort – 3/5
There are two options on the menu for those looking to travel in style and whiz over the Andaman to Koh Phi Phi in a real hurry. You can haggle with local boat owners and tour providers to get your own speedboat connection out of Krabi. Or, you could choose to take an organised speedboat tour. The first can be pricy but does mean getting into Tonsai Pier in 60 minutes or less. The second will take a whole day. However, it's an adventure in itself, letting you explore Koh Phi Phi's pristine beaches, the hidden coves around its north shore, and even glimpse the iconic Maya Bay from afar.
Tours usually leave from the pier in Railay East or Ao Nang. From there, they go straight across to the Hat Nappharat Thara-Mu Ko Koh Phi Phi National Park for a day of enjoyments. Stops to snorkel, swim and sunbathe are included, along with a packed lunch and the services of an English-speaking guide. Meanwhile, transfers are on small, fast vessels that can hold a set number of passengers. That makes them perfect for sharing the whole cost between a travel group.
---
The rock-ribbed cliffs of Koh Phi Phi beckon on the horizon of Krabi. They promise sunsets that shimmer pink and red and orange over the Andaman Sea, glowing white beaches, and party nights with fire shows. Thankfully, there are lots of options for getting from one to the other, with high-octane speedboats and classic ferries it the mix.
---
Krabi to Phi Phi FAQ
What is the cheapest way to get from Krabi to Koh Phi Phi?
Keeping the budget intact is easy on this popular route. Normal-speed ferries can do the job in two hours total. What's more, they'll rarely break the bank. Prices can be as low as $11 for the crossing alone. A few extra bucks on top of that takes care of taxi transfers to the port.
What is the fastest way to get from Krabi to Koh Phi Phi?
You'll need to loosen the travel budget a little and fork out some baht for a speedboat. They leave Krabi in the salt spray and reach Koh Phi Phi in about an hour. That's half what the normal-speed ferries take. It's wise to buy tickets for those nippy rides in advance using 12Go.asia. There are limited places and prices can shoot up in the high season.
How do you get from Krabi to Koh Phi Phi?
The hop from Krabi to Koh Phi Phi is a hop from mainland to island. Without any airport on the far side, that means you'll need to board a boat. The only question is what sort of boat. Check out 12Go.asia to search and compare all the various options. There are quick speedboats that cost more but complete the journey in an hour on one end of the spectrum. And on the other are normal-speed ferries that can carry more passengers and cost way less.
How long is ferry from Krabi to Koh Phi Phi?
The standard ferry crossing time from Krabi to Koh Phi Phi is two hours. That includes only the time spent at sea. You'll also need to factor in the length of transfers from Krabi Airport or the beach at Ao Nang and waits at the ferry terminal before reaching one of Thailand's most popular destinations the main island, Phi Phi Don.
How much is ferry from Krabi to Koh Phi Phi?
Ticket prices for different ferry companies will vary. On average, you can expect to pay upwards of $11 and rarely more than $18 for a crossing on the normal or high-speed routes. It's easy to check what the cost of the trip from Krabi to Phi Phi Islands will be on your chosen dates. Just head over to 12Go.asia and search.
Is Koh Phi Phi island worth visiting?
It most certainly is! This is one of Thailand's most iconic islands. It hulks straight out of the Andaman Sea like some sleeping giant. Emerald jungles cascade off its cliffs. Karst mountains spike the skies. There are hidden beaches and coves and inlets for exploring, along with wide sands at lovely Loh Dalum Beach and Tonsai, where reggae bars front the water. It's also a national park, with teeming coral reefs and lagoons brimming with sea turtles and sharks.
How useful was this post?
Click on a star to rate it!
Average rating / 5. Vote count: