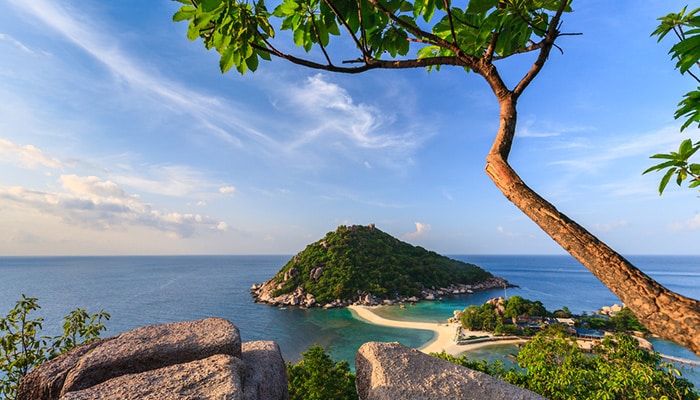 Sitting on either side of the Thai peninsula, getting from Phuket to Koh Tao is no easy feat. But it's more than worth it to step foot on one of the most underrated islands in the country, home to idyllic beaches and some of the world's most colorful SCUBA diving sites.
Phuket and Koh Tao are around 180 miles apart, with everything from the mainland to the Gulf of Thailand separating them. This means that your journey between them will undoubtedly involve two methods of transport and can take around a day to complete. Here are the ins and outs of how to make the journey, whether you choose to go by boat, bus, private taxi or airplane.
Phuket to Koh Tao by bus and catamaran

Time – 9 hours
Price – $28
Comfort – 5/5
If you're the type of traveler who prefers convenience and comfort, then a combined bus and boat ticket from one of the reputable companies listed on 12Go is probably the best option for you. One of the most popular companies that runs the route is Lomprayah, praised for its timekeeping skills and well-kept vehicles in a world where organized chaos is often king.
A combined bus and boat ticket between Phuket and Koh Tao will make your journey pass by with ease.
When you book with Lomprayah, they'll oversee your journey from start to finish, so you can just sit back and enjoy the ride. There's usually one departure a day, which leaves at 10am, though an additional service is sometimes added during peak season (December to March). The journey begins with a rather long bus journey of around 5 hours, from Phuket Town to Tapee Pier in Surat Thani. For an additional fee, the same company can help organize a pick-up form a centrally based hotel or the airport. Boasting a modern fleet of coaches and minibusses, all equipped with large seats and air conditioning, Lomprayah will make sure you travel in true comfort.

Once you arrive at the pier, you'll be quickly pointed in the direction of a catamaran, again a comfortable ride with air conditioning and cushioned seats. There's even an option to upgrade to VIP should you want a little extra legroom. After a couple of stop-offs at Koh Samui and Koh Phangan to pick up and drop off other passengers, you'll arrive at Mae Haad Pier on Koh Tao. All in all, the boat journey will take around three to four hours.
Phuket to Koh Tao by bus and high-speed ferry

Time – 9.5 hours
Price – $30
Comfort – 4/5
Seatran Discovery is Lomprayah's one and only competitor on the route between Phuket and Koh Tao and provides guests with a similar experience. The main differences between the two companies are where they depart from in Phuket, departure times, and the type of boat used. Seatran Discovery is also highly rated for its timekeeping skills and reliability, though comments have been made on their slightly older buses. Combined tickets for both companies are easy enough to book in advance using a trusted travel website such as 12Go.asia.
Seatran Discovery's coach to Donsak Pier leaves earlier than Lomprayah at around 9am and takes five hours. Buses depart from Phuket Bus Terminal 2, which is 3 miles north of town and easily accessible by taxi, tuk-tuk or if you're brave enough, the local pink songthaew (essentially a pick-up truck with an open back). Once at the pier, passengers will be transferred to a high-Speed Ferry, which sails for four hours to Mae Haad Pier on Koh Tao. Onboard, you can choose from an air-conditioned room or outdoor sitting space if a bit of sunbathing is in order! Although not a regular occurrence, boats can be impacted by the weather, so be prepared for changes in departure times, especially during the rainy season which runs from July to October.
Phuket to Koh Tao by flight and boat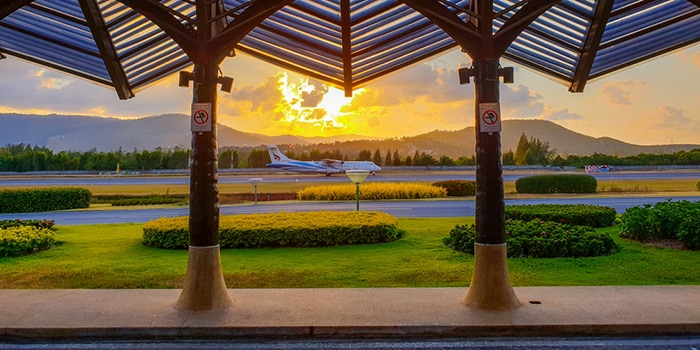 Time – 6 hours
Price – $150, give or take
Comfort – 4/5
If the idea of enduring a lengthy bus journey doesn't sound like your idea of fun, you might want to consider getting a flight. As a very small island, Koh Tao doesn't have its own airport, so you'll need to catch a flight to the neighboring Koh Samui. Bangkok Airways is the only provider operating flights between the islands and offers just one morning flight to allow passengers to connect to any boat transfers on the same day.
Choosing to fly instead of taking the bus will shave three hours off your journey time.
Once you arrive in Koh Samui, you can always spend a few days there before heading to Koh Tao. As one of the most developed islands in the Chumphon Peninsula, with some of its most stunning palm tree-lined beaches, it's an easy place to while away a few days.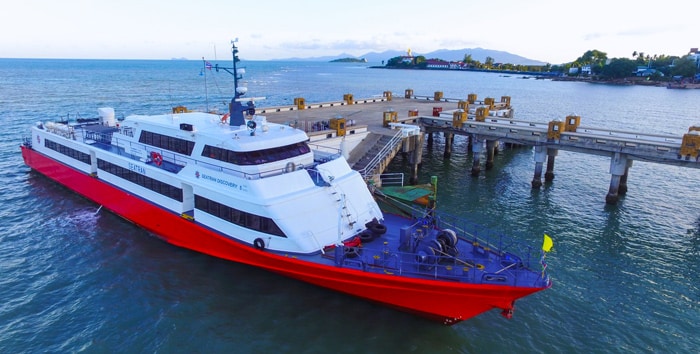 When you're ready to move on to Koh Tao, simply make your way to one of two piers. Maenum Samui on the northwest side is serviced by Lomprayah's fleet of modern ships, whereas Bangrak Seatran Pier, on the northeast side, is the home of Seatran Discovery's high-speed ferries. You can compare departure times and prices for your day of travel easily on 12Go to figure out which company is best for you. Boat transfers between Koh Samui and Koh Tao take around two hours and arrive at Mae Head Pier, the island's main ferry terminal. Taxis and tuk-tuks will be eagerly waiting here to take you onwards to your hotel or hostel, just remember to negotiate your price!
Phuket to Koh Tao by private taxi and boat

Time – 7 hours
Price – $50-80
Comfort – 5/5
To enjoy the ultimate flexibility and comfort, it's easy to sort out a private transfer from your hotel in Phuket, or from Phuket airport, to one of the two ferry terminals. Not only will you be able to dictate the exact pick-up time, but you can stop the car when you need to, control the air conditioning, and even put on a few of your favorite tunes. These privileges do come at a higher price than most other transfers between Phuket and Koh Tao, but they're more than worth it.
Once you arrive at your terminal, Donsak Pier for Seatran Discovery or Tapee Pier for Lomprayah, a five-hour ferry journey will land you at the main pier on Koh Tao. The earliest ferries leave around midday from Tapee Pier, with a further few options in the early afternoon from Donsak. Both companies provide similar comfort levels and ticket rates, with air-conditioned rooms, cushioned seating, and even a few TVs dotted around to keep you entertained.
Wave goodbye to the Phuket and make your way to the picturesque island of Koh Tao with one of these fail-safe methods. Whether you choose to go by boat, plane, or private transfer, we wish you a safe journey ahead!
---
Phuket to Koh Tao FAQ
How useful was this post?
Click on a star to rate it!
Average rating / 5. Vote count: