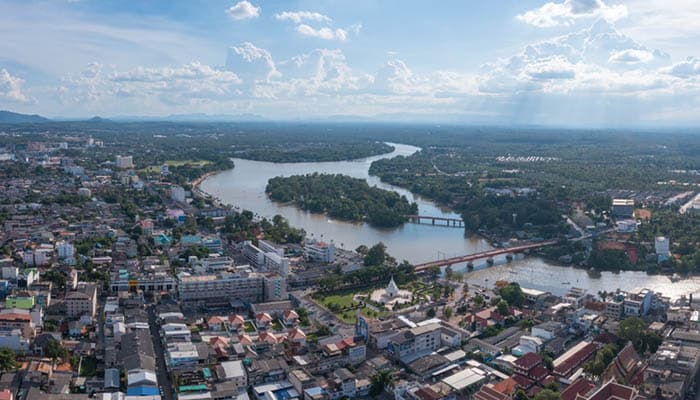 There are loads of reasons why you might want to make the trip from Phuket to Surat Thani. Most notably, it's the way to the ports that connect to the legendary islands of the Thai Gulf, meaning it's your ticket to paradise isles like Koh Samui and the diving mecca of Koh Tao.
It's also the place to base yourself on for adventures in the wild national reserves of Tai Rom Yen and Namtok Si Khit. Finally, Surat Thani is a bustling city in its own right, with lively night bazaars and riverside markets. The good news? There are excellent road links and quick flight options that can help you make the trip over from Phuket in under five hours. Let's delve a little deeper…
Phuket to Surat Thani by Minivan

Time – 4.5 hours
Price – $10
Comfort – 4/5
There are over 10 minivan departures each day between Phuket and Surat Thani, making them the most common option for travelers looking to swap the Andaman Sea for the Thai Gulf. Striking a good balance between comfort and cost, they'll usually get you to where you're headed in good time, feeling relatively fresh, and only $10 or so lighter in the wallet department. To put it another way: We'd check out this travel option first of all.
Van departures are spread throughout the morning and the early afternoon. The first trips tend to leave around 7am, with the latest cruising out of Phuket around 3pm. They'll all take around 4.5 hours to complete the jaunt to Surat Thani, using the more direct 44 highway that skirts the karst mountains of central Thailand to make for an altogether less winding ride.
Minivan is far and away the most popular way to swap the chic shoreline hotels of Phuket with Surat Thani, with up to 10 departures every single day of the week.
What you're buying here is essentially a seat in a 12-person vehicle. They are moderately comfortable, checking off all the necessaries – think air conditioning, reclining seats, and wide windows to enjoy the views. Travelers with big bags or lots of excess luggage should consider booking two seats to ensure enough room.
There's really only one company name to know about when you come to book your van: Phantip 1970. These guys run every single service on offer and are generally well-rated for comfort and punctuality. They leave from Phuket Terminal 1 on the east side of Old Phuket Town and arrive at the central core of Surat Thani. There are also alternative routes with Phantip that take you all the way to the port in Donsak for connecting with the boats that go on to the gulf islands.
Phuket to Surat Thani by Taxi

Time – 3-4 hours
Price – $125
Comfort – 5/5
The other way to make the trip overland through the heart of central Thailand is to book your own private taxi. These can cost more than 10 times what a shared minivan will, but bear in mind that you can divide that up between everyone in your travel group.
Taxis are faster and comfier than van trips, offering private space, loads more legroom, a boot to carry the luggage you have in tow, and stops whenever you choose along the way. That premium rate means a premium service.
Arrive in Surat Thani as fresh as can be, all by booking your own private car for the trip across the heart of Thailand.
Perhaps best of all, though, private taxis can be booked from anywhere you like in Phuket to anywhere you like in Surat Thani. Want to go from a remote beach on the east coast of the island? No worries. Want to get dropped straight at Donsak Pier in Surat Thani to link up with fast boats to Koh Phangan or Koh Tao? Just tell your driver. There's no need for that commute to the terminal in Phuket first thing and no travel to be done on the other side. Easy.

Gone are the days when you have to haggle with taxi drivers for the best rates when you get to the Land of Smiles. These days, it's possible to book your ride in advance using 12GoAsia. You can even use that to compare the various types of cars you can get and see user reviews for different chauffeurs.
Phuket to Surat Thani by Plane and Boat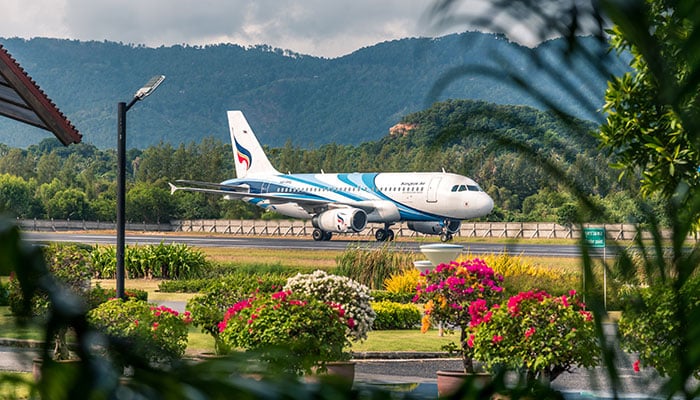 Time – 5-6 hours
Price – $135
Comfort – 4/5
Although Surat Thani does have its own airport, there aren't actually any direct flights over from Phuket. That's because the two destinations are only 144 miles apart by road, so it only makes sense to go overland. What you can do is fly from Phuket to Koh Samui and then hop on boats from the island to the mainland. It's really only worth making that sort of trip if you want to add in some days on Samui itself, which is certainly worth it since it's home to sparkling Chaweng Beach and the charming fishing town of Bo Phut.
Taking a flight to Koh Samui before hopping on a ferry to Surat Thani means you get a taste of the Gulf Island life midway through your trip.
Your day will begin with a taxi from your hotel in Phuket to Phuket International Airport. It's on the northernmost side of the island, around 50 minutes by car from Phuket Old Town in normal traffic. Then, it's onto one of the four daily connections to Koh Samui Airport run by Bangkok Airways. They are usually spread throughout the morning and the afternoon, with options as early as 9.30am and others as late as 7.30pm.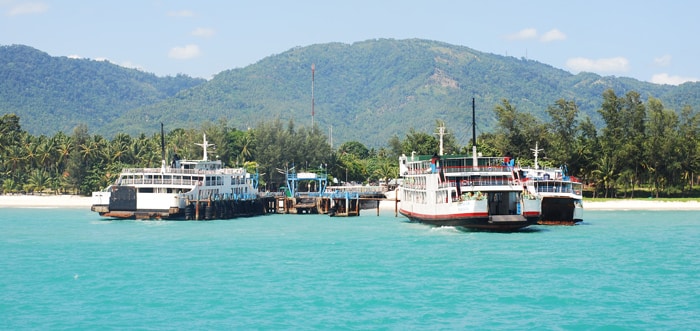 The flight is a mere 55 minutes in the air before touching down on the Thai Gulf side. A taxi booth at Samui Airport displays rates for transfers to all the various resorts on the island. Alternatively, you can push on right away with your connection to Surat Thani. That can be booked online to include a transfer from the airport to the port and then the boat to Donsak Pier, some 40 miles east of Surat Thani proper.
---
The trip from Phuket to Surat Thani is very well-traveled. Mostly, that's because it's the popular route from the Andaman Sea to the Thai Gulf. Swapping Patong for Phangan and getting over to famous isles like Koh Samui and Koh Tao. But it's also your ticket to a vibrant central city of night bazaars that's surrounded by dramatic national parks filled with karst mountains and remote jungles.
The number of folks making the trip means that there are now up to 10 minivan options and oodles of private taxi firms willing to help you get from A to B. You can compare the lot and book online before you even arrive using 12GoAsia.
---
How useful was this post?
Click on a star to rate it!
Average rating / 5. Vote count: