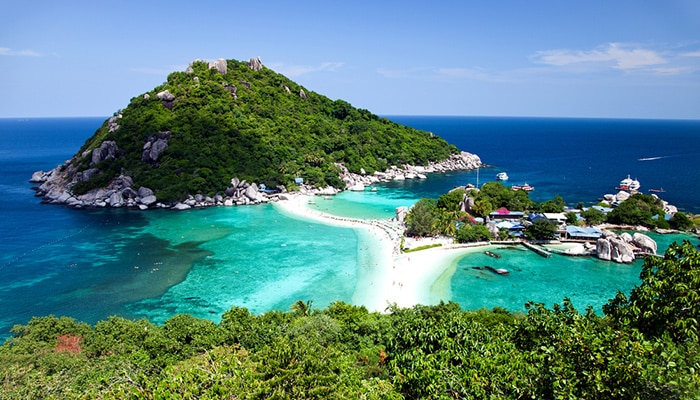 The hop from the Thai mainland at Chumphon to the sparkling beaches and azure seas of Koh Tao island is under 80 kilometres. That makes it one of the shortest ferry crossings for travelers keen to get to the famous diving mecca in the midst of the gulf. In addition, it's a particularly convenient choice if you're traveling down south from Bangkok by plane, train or bus, because Koh Tao has no airport of its own to fly straight into.
By far the quickest way to swap the city for the coconut bars and hammocks is a direct ferry. Those are run by some well-known transport companies and can even be joined together with transfers from nearby Chumphon Airport, the local train station, or hotels in the city of Chumphon itself.
Chumphon to Koh Tao by high speed ferry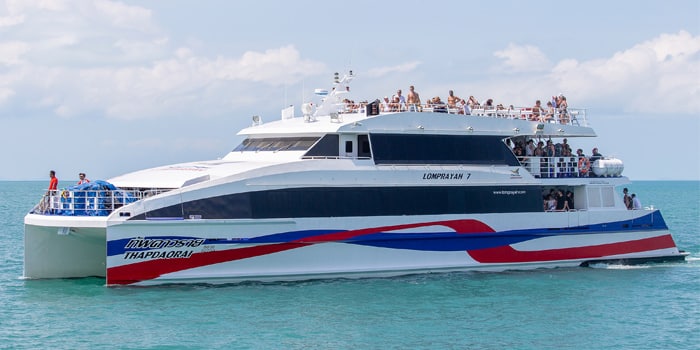 Time – 1.5 hours (crossing only), 3-4 hours (with transfers)
Price – Around $25
Comfort – 5/5
Among the most sought-after rides between Chumphon and Koh Tao are the catamarans run by Lomprayah. Modern, clean, comfortable, but – above all – fast, they're usually the connections that get booked up first when the main season swings around in November. The crossing takes approximately 1.5 hours in total on these speedy vessels, which is one of the shortest travel times of all on the way to Mae Haad Pier on Tao.
The boats leave once daily from Thung Makham Noi Beach. That's a 36-kilometre drive south-east from the train station. From the airport in Chum Kho, you're looking at a transfer more in the region of 1.25 hours. (Remember that Lomprayah's ferries leave early. That means anyone planning on connecting through Chumphon Airport from Bangkok will need a really early flight arrival time or be ready to stay a night on the mainland before getting Koh Tao bound.)

Choose the Lomprayah catamaran to score yourself a reliable and fast ferry link between the Thai mainland and the glimmering island of Koh Tao.
Lomprayah asks passengers to be ready and waiting at the pier at least 30 minutes before the boats are due to set sail. That's to allow for loading luggage and getting everyone on board, so it's important to be punctual. Thankfully, combo tickets make the whole thing a cinch. They let you book transport from your hotel in Chumphon, the train station, and even the airport along with the ferry ticket, so you can rest assured you'll be at the docks with time to spare.
The trip itself is a pleasant enough jaunt that goes directly southeast across the water. There's not too much in the way of views, because the rest of the gorgeous tropical islands of the Chumphon Archipelago (Koh Phangan and Koh Samui) are further south again. That said, the Lomprayah ferry have comfy seating and air-conditioned cabin areas to help the ride go smoothly.
Chumphon to Koh Tao by normal ferry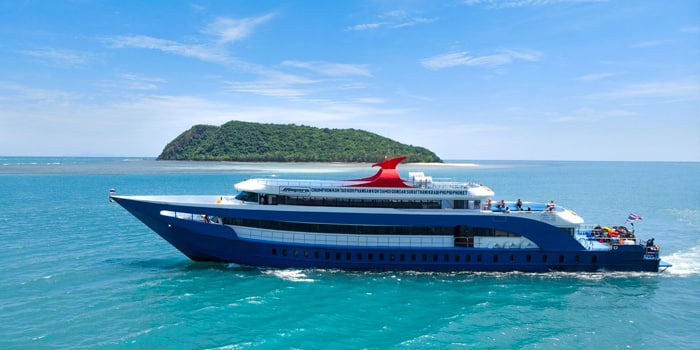 Time – 1.75 hours (crossing only)
Price – Around $20
Comfort – 4/5
If you're not in a big hurry to pull on the scuba tanks and start diving in Koh Tao, you could consider going with the slower ferries. They are run by the Songserm travel company, a long-time provider of trips to various beautiful islands in the Gulf of Thailand including nearby islands Koh Phangan and Koh Samui. The boats used aren't as nimble or new as the catamarans, but you'll often find they're a little cheaper. What's more, they could be a big help during the high season, when the fastest links to the island get booked up. Moreover, they offer extra departure times to travelers connecting straight through Chumphon from the train station or airport.
The normal ferry shouldn't take too much longer to transport you over to Koh Tao, but it might leave you a handful of dollars better off.
That said, Songserm's boats still leave early on. To help with that, the company offers convenient transfers from the town centre on minivans straight to the harbour, which take around 30-35 minutes. Then, you'll board the ferry, which takes about two hours to complete the crossing (more if waters are choppy). Put together, that means you can expect to be pulling into Mae Haad Pier on Koh Tao in the late morning. Mango sticky rice on the beach, anyone?
The most obvious benefit of choosing Songserm over Lomprayah is the cost of a ticket. On this route, you're looking at paying around the $20 mark for a seat over to Tao, and potentially even less if you pre-book the lot through 12Go.asia. That's a bargain that should leave more in the budget for those PADI courses and after-diving Chang beers!
Chumphon to Koh Tao by night ferry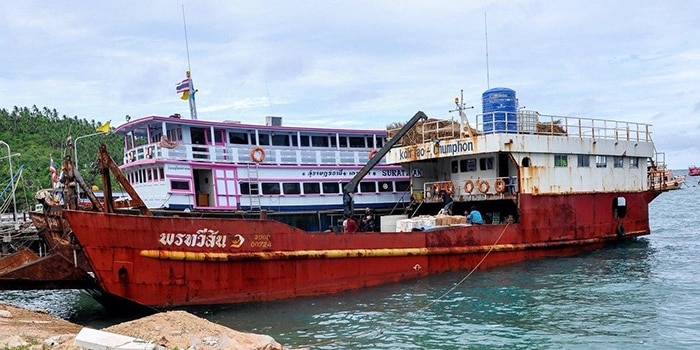 Time – 6 hours (crossing only)
Price – Around $10
Comfort – 2/5
There's one more option on the menu for adventurous travelers looking to hop from Chumphon to Koh Tao: The Talay Sub Night Boat. Leaving the mainland at 11pm, it's scheduled to reach Koh Tao Island at Mae Haad Pier in the very early hours of the morning (around 5am). However, take the timings with a degree of caution, because delays due to adverse weather conditions are common on this route.
The night ferry is an experience, that's for sure – just don't expect the height of comfort on the six-hour voyage.
One of the top bonuses of picking the night ferry from Chumphon to Koh Tao is that the late departure means it's easy to connect with from arriving plains and trains. Actually, that's really why this service is still going, fuelled by the crowds of backpackers coming off transport through Bangkok, from Sukhothai, and even Chiang Mai in the far north of the country.
A word of warning: Don't expect the height of luxury. This is no A-lister vessel. In fact, it's one of the least comfortable ways to go from A to B. There are communal sleeping areas for passengers that are loaded with thin mattresses. Meanwhile, the ship moves slowly and carries cars, cargo and all sorts. On the flip side, you will get to Koh Tao super early. A refreshing dip on Sairee Beach without a single soul in sight could make it worth it. Oh, and you won't have to fork out for accommodation for a night!
---
Koh Tao beckons travelers with the promise of crystal-clear sea waters and coral reefs where rays and parrotfish dart this way and that. There are beaches too, like vibrant Sairee and the snorkelling haven of Jansom Bay. Tempted? There are ferries fast and slow, and even night boats, that can take you there from Chumphon.
---
Chumphon to Koh Tao FAQ
What is the cheapest way to get from Chumphon to Koh Tao?
Probably the night boat. Tickets are around 300-350 THB (up to $10) for that, and it will save you the cost of a night's accommodation. In second place are the normal-speed boats run by Songserm. Most travelers will be willing to pay extra for those because they travel during the day and have relatively comfortable seating areas with air conditioning. Head over to 12Go.asia to search and discover their morning departure times.
What is the fastest way to get from Chumphon to Koh Tao?
Lomprayah run the fastest ferry services between Chumphon and Koh Tao (Turtle Island). They can whiz over the gulf to Mae Haad Pier in less than 1.5 hours. However, be sure to factor in trips from the airport, Chumphon town or the train station, which can crank up the journey time to around the three- or four-hour mark. Conveniently, Lomprayah's boats can all be pre-booked using 12Go.
How much is the ferry from Chumphon to Koh Tao?
The cost of the ferry all depends on what ferry you want to travel on. Crossing with Lomprayah on the nippy catamarans is usually the priciest, but not by much. Expect fares of about $20-25 on those. Songserm offer tickets around the $15-20 mark. Then there's that night ferry, which is the cheapest of all at just $10, although comfort levels simply aren't comparable. You can compare ticket prices using 12Go.asia's online search tool.
How long is the ferry from Chumphon to Koh Tao?
The daytime ferries take between one and two hours to go from the mainland piers in Chumphon to the jetties of Koh Tao. Including transfers from the regional airport or Chumphon Train Station, you're looking at travel times around three to four hours in total. The night ferry is much larger and slower. That clocks up six hours at sea, leaving at 11pm and pulling into dock at 5am.
How do I get from Chumphon Airport to Koh Tao?
There's good news for those landing at Chumphon Airport with their sights set straight on the azure waters of the Gulf of Thailand: Fame Tour and other local travel agencies offer pickups right in the terminals. They'll take you straight to the boats, which leave from a pier over an hour's drive to the south. We'd recommend booking combined tickets for ferries and transport using 12Go.asia, if only to avoid having to haggle with local taxi drivers on the ground!
How useful was this post?
Click on a star to rate it!
Average rating / 5. Vote count: