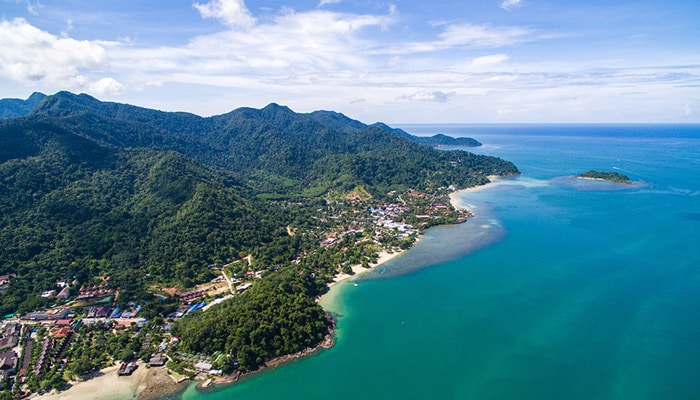 Shh! Koh Chang is a secret. While the crowds flock to Samui and Phi Phi, this hidden Shangri-La on the eastern edge of the Thai Gulf has remained largely off the radar. There are some bamboo-built cottages and low-key resorts dotting its western shoreline, along with reggae bars and pebble-sand beaches shaded by lanky palm trees. That all adds up to make perhaps the perfect escape from the buzz and hubbub of Bangkok. If you're keen to get out of the Thai capital for Chang's coconut-strewn bays and jungle-clad hills, read on. This guide runs through all your transport options, including flights and ferries, buses and taxi transfers…
Bangkok to Koh Chang by flight, bus and ferry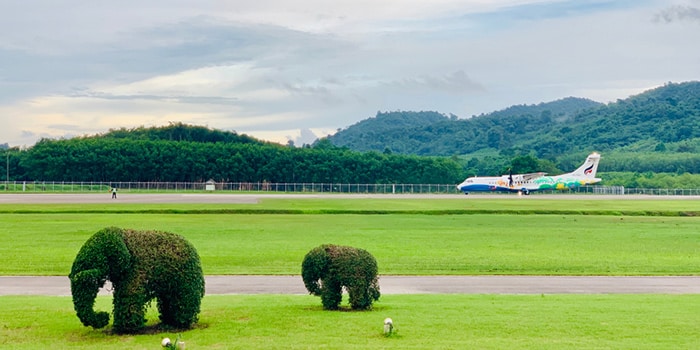 Time – 3 to 4 hours
Price – $80+
Comfort – 4/5
From Bangkok Airport to Trat Airport
Can't wait to soak up the rays on Koh Chang's Klong Prao Beach or bop to reggae on Lonely Beach? There's no faster way to move from Bangkok to the island than by airplane. But Koh Chang itself doesn't actually have its own airport. Instead, flights jet into the regional hub of Trat. They go four times daily during the high season (November-April) and twice daily during the low season (May to October).
The fastest way to trade Bangkok for Koh Chang – big skyscrapers for gleaming sands – is to choose a flight, transfer and ferry combo.
Bangkok's Suvarnabhumi Airport
The only carrier running the route is Bangkok Airways. Their planes leave from big Suvarnabhumi Airport, which makes this a great option for travelers looking to hop straight to the pearly beaches and blue seas of Chang after arriving on a long-haul flight into the Land of Smiles. Connecting flights are short, taking just 60 minutes before touching tarmac on the runways further east.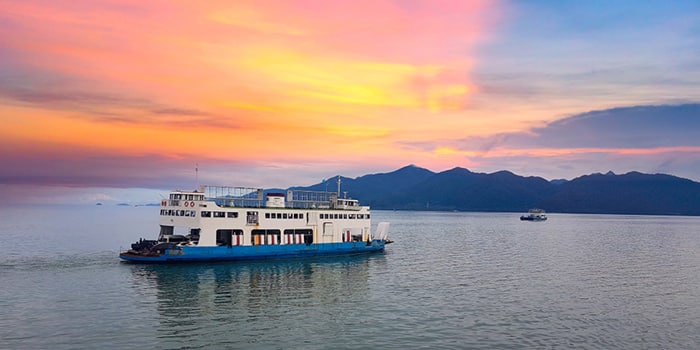 From Trat Airport to Koh Chang
Of course, getting to Trat Airport is half the challenge. From there, you need to reach Ao Thammachat Pier. You could try to haggle for your own taxi, but there's often a lack of drivers and prices can be sky high. Pre-booked private transfers are better, especially if you're traveling as a family or group and can split the cost. However, most popular are the minivan and ferry combos. They take care of your ride to the docks and even the crossing itself. What's more, they operate on schedules set to match up with arriving flights on Bangkok Airways.
Koh Chang Pier
The trip to the pier takes about 20 minutes. Then there'll be a wait for the ferry before the 30-minute crossing over the narrow strait to the northern tip of Koh Chang. That all adds up to a total time in the air, on the road, and across the sea of 3-4 hours.
Bangkok to Koh Chang by bus and ferry

Time – 7 to 9 hours
Price – $15-25
Comfort – 3/5
Travel by bus from Bangkok bus terminal to Koh Chang
There's a distance of just under 250 miles along the Thai highways from sprawling Bangkok to Trat's Thammachat Pier. That means you can drive all the way to the point where the boats bound for Koh Chang go from. The trip will take about four to five hours, passing through the hedonistic resort of Pattaya and the densely forested hills of remote Chanthaburi along the way.
Buses take a little longer to get to Trat's ferry port than a flight, but also come in as a far cheaper option when going from Bangkok to Koh Chang.
Koh Chang bus choices: express bus, public bus or minibus
There are a few different choices if you do opt to go this route. The most popular for travelers in Thailand tends to be the shared minibus. They have a max capacity of 14 people and go straight from point to point without stopping to pick up other passengers after leaving Bangkok. Then you've got the slightly larger buses – known as VIP or Express buses – that have way more space but are slightly slower and less comfy. You can also rely on local Thai bus connections that leave from Ekkamai Bus Terminal, but we'd steer clear of those because they can be tricky to pre-book and match with the ferry departures.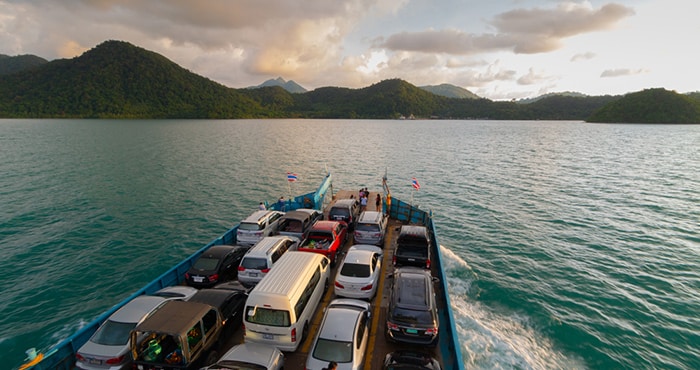 Which bus station in Bangkok to reach Koh Chang?
There are a number of tour operators to look for when searching for connections on the route to Trat. The main thing that separates them is where they depart from in Bangkok itself. Triple T travel have minivans going out of Mochit New Van Terminal in Chatuchak and Eastern Bus Terminal in Ekkamai. Burapha's buses go from the Suvarnabhumi Airport terminals. Meanwhile, Mama Travel and Tour leave from the popular backpacker and party neighborhood of Khao San Road.
Combined ticket online = bus, taxi or minibus ticket + ferry ticket
It's always a good idea to bag yourself combo tickets through services like 12Go.asia to make things run smoother. They will ensure your minivan or bus links to the pier in time for the boat. They also include the ferry tickets and can even have taxi rides straight to the door of your hotel on Koh Chang added on. Hello beachfront views!
Bangkok to Koh Chang by private taxi and ferry

Time – 6 to 7 hours
Price – $140
Comfort – 5/5
Private transfer to the Koh Chang ferry crossing
Throw the backpacks in the boot, sit back, relax and enjoy the view – that's the sort of journey that's on offer to travelers who go with a private taxi from Bangkok to Koh Chang. It's a simple, safe and comfy method, offering a pickup at any point in the Thai capital, from the canals of Wang Lang market to the chic skyscrapers of Silom. You'll also be dropped right by the ferry pier in Trat, making that transfer to the ferries crossing to northern Chang a real breeze.
Private transfers good for groups
One obvious downside here is the price. But groups of travelers and whole families can divide that cost between them. On top of that, taxi rates are not only for the whole vehicle but can include tickets for the boats and transfers to any hotel of your choice on Koh Chang to boot. That's especially attractive if you're looking to get to the more far-flung resorts of Lonely Beach (great if you like reggae parties and sunsets) or Bang Bao (one for the scuba aficionados) down south. A good way to score a bargain is to search and book as early as you can on 12Go.
Koh Chang might not be the easiest of the Thai islands to get to from Bangkok, but that's actually part of its charm. This one's white-sand bays and pebble coves, its monkey-swinging jungles and traditional fishing villages are still largely untouched and uncrowded. It's certainly worth the half-day of travels by air, land and sea to arrive!
---
Bangkok to Koh Chang FAQ
What is the cheapest way to get from Bangkok to Koh Chang?
Buses and boats link up to offer a truly wallet-friendly way to go from Bangkok to Koh Chang. We're talking costs for all legs of the trip in the region of about $20. In fact, it's even possible to get the journey for less than that if you search early on and choose the cheapest tour providers with 12Go.asia.
What is the fastest way to get from Bangkok to Koh Chang?
A one-hour flight from Suvarnabhumi Airport to Trat means you can now avoid those long road journeys from Bangkok to the ferry pier. From the terminals, you'll need to make for the port by taxi or bus and then connect to a boat going across to Koh Chang. The result? Expect your entire journey to last about 4-5 hours from start to finish.
How do you get from Bangkok to Koh Chang?
Head to 12Go.asia, enter your travel dates, and search. You'll see that there are multiple ways to trade in Bangkok's flea markets and street-food bazaars for the beautiful island of Koh Chang. The most popular include minibus service and buses from the capital to the coast and then a ferry, private taxis to the port, and even flights from Suvarnabhumi Airport to Trat before a ferry crossing to the island.
Can you fly from Bangkok to Koh Chang?
Not quite. You can get to Trat Airport, though. That's really close – just 20 minutes' drive – to the main pier where the ferries going to Koh Chang leave from. However, expect to pay a whole load more for the luxury of going by air from BKK. There's just a single airline running the route (Bangkok Airways) and seats can sell out fast in the high-season months.
How much does it cost from Bangkok to Koh Chang?
There are a number of options to suit different budgets on the road from Bangkok to Koh Chang. Those on a shoestring might prefer the big coach links from Khao San Road all the way to the port. Those with baht to splash can score a ticket on one of the Bangkok Airways flights to Trat. Alternatively, spend a little extra on a transfer in your own taxi, which could work out nicely affordable if there's a few of you in the group.
How long does it take from Bangkok to Koh Chang?
That all depends on the way you choose to travel. With a flight to help reduce journey times, you can do the trip in around four hours. Relying on cars and buses to get to the ferry port near Trat, you're probably looking at something more like 5-6 hours in total. Why not use the search feature on 12Go.asia to compare and contrast your options and decide which is best for you?
How useful was this post?
Click on a star to rate it!
Average rating / 5. Vote count: