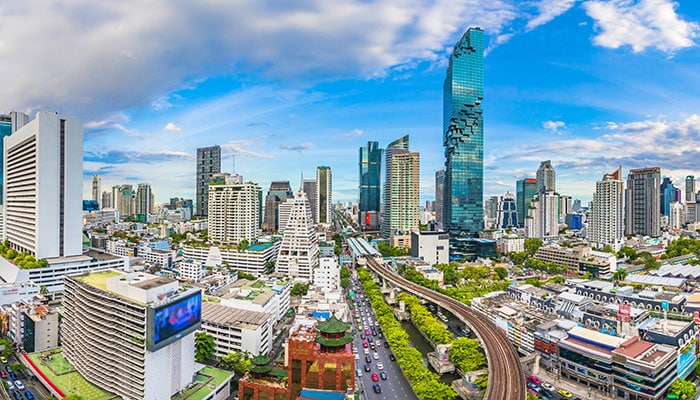 When you're done basking on the sunbaked beaches of the Thai islands and tasting the coconut curries of the southern Land of Smiles. The trip from Surat Thani to Bangkok is a ticket back to the big city. It takes you 315 miles north from the side of the gulf to the beating metropolis at the very heart of the country.
In Bangkok, gold-tipped Buddhist temples, royal palaces, and sleepless night bazaars are the order of the day. This guide will run through all the different ways you can make the trip, ranging from speedy planes to overland buses and trains. Let's begin…
Fly to Bangkok in Style: Surat Thani to Bangkok by Plane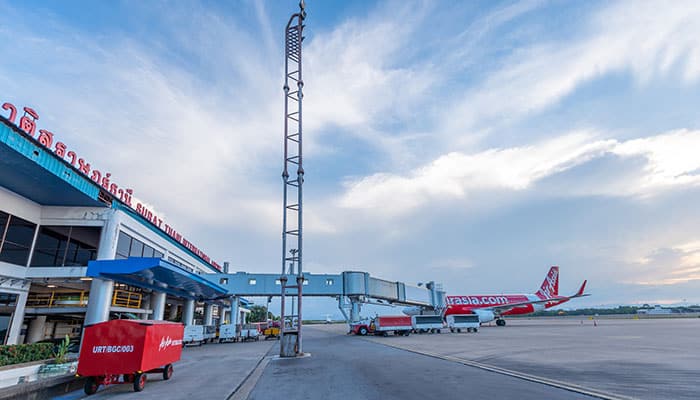 Time – 1h10 (flight only)
Cost – From $28
Comfort – 5/5
If time is of the essence and you simply cannot wait to get the party started down the Khaosan Road, flying is surely the best choice here. Jetting between the port town of Surat Thani and the Thai capital takes a touch over an hour, with most flights dropping down into Bangkok after about 75 minutes in the air. This is also one of the most well-traveled short-haul connections in the country, so you've got loads to pick from when it comes to carriers and departure times…
Yep, as many as five individual airlines now offer hops on the route on a regular basis. What's more, they range from budget-focused carriers to subsidiaries of the national airline, so there's a good spread between cost and service level. AirAsia offer the bulk of the departures, starting at 9am and finishing at 8.45pm. Meanwhile, Thai Vietjet Air, Thai Lion, and NOK Air all offer three departures per day each, while Thai Smile runs just one in the late morning.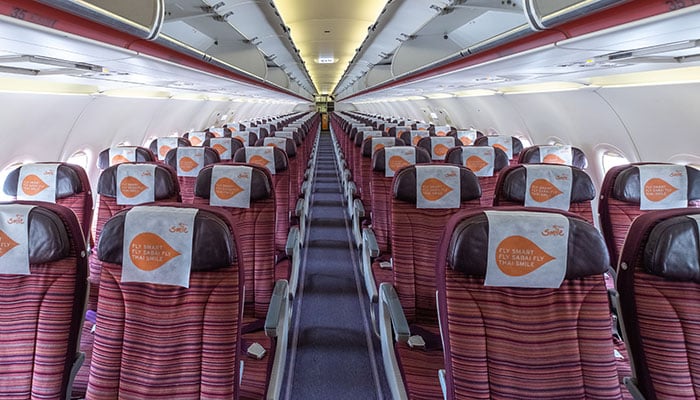 Skim over the clouds and across the Thai Gulf to get to Bangkok in less than an hour from Surat Thani. You'll be glugging Chang down the Khoasan Road in no time!
You can score tickets for little as $25, but remember that baggage and speedy boarding will add more fees if you throw in with the low-cost carriers. The likes of Thai Smile often cost a touch more, but include check-in bags as standard, so could work out cheaper overall. More premium airlines also tend to have planes with just a few inches more legroom, extra recline, and even meal services in the air (yep, even on this short, hour-long direct flight!).
Flying from Surat Thani to Bangkok is unquestionably the quickest way to get between these two Thai cities. That's likely to be the case even after you factor in the time you'll spend at the airport both sides, or transferring to the terminals in the first place (that takes around 30 minutes in Surat Thani's case). On the downside, you'll probably pay a little more to take to the skies and might suffer from big price spikes in the peak travel season, when domestic airfare can more than double.
Experience the Scenic Route: Train from Surat Thani to Bangkok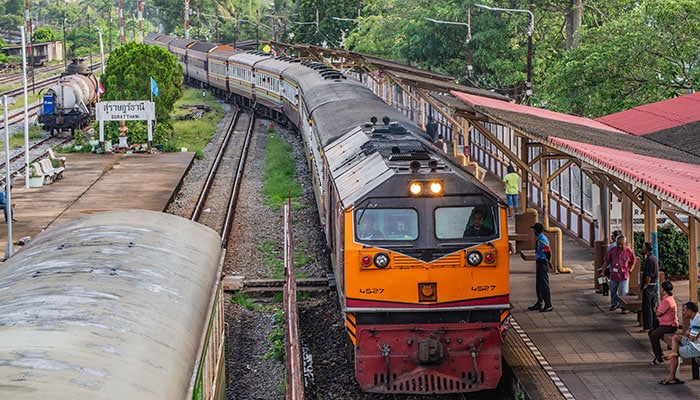 Time – 10h45+
Cost – $32
Comfort – 4/5
The train is one of the more adventurous ways to swap the south of Thailand for the buzz of the big city. It's a proper overland odyssey that takes you up a huge chunk of the western part of the country and then across the top of the Thai Gulf into Bangkok proper. You'll have plenty of time to gaze out of the windows as the jungles and karst peaks roll by, since the overall travel time is usually in excess of 11 hours, and sometimes over 13 hours.
The day train link from Surat Thani to Bangkok is perfect for slow travelers who want to see as much of south-central Thailand as they can.
All services are run by Thai Railways. These days, they tend to be pretty slick operators of the tracks, with minimal delays to key services like this. You'll probably be riding in one of the older DRC model-type trains, which are still very comfortable. They have carriage-style seating arranged in rows of two, all fully air-conditioned, and with access to a meal cart that offers light snacks and beverages.
Phunphin's Surat Thani Train Station
Before you book, it's worth knowing that the Surat Thani Train Station isn't actually in Surat Thani itself. Instead, it's out in the town of Phunphin along the bends of the Ta Pi River. It's easy to reach in a taxi, which should take 20-25 minutes and cost around $5 in total. Connecting from the gulf islands of Koh Tao and Koh Phangan is actually easier, since it's possible to get ferry tickets that include a drop off right at the platforms when you reach the mainland.
Travel Overnight in Comfort: Surat Thani to Bangkok by Night Train

Time – 10 hours+
Cost – From $32
Comfort – 4/5
There are plenty of reasons why the night train is now among the most popular ways to cruise up north from Surat Thani to Bangkok. First off, it's really cost effective. For just over $30, you can secure your passage to the temple-topped capital of the Land of Smiles and cover the price of a whole night's accommodation. Second, it gets you into the metropolis nice and early, refreshed and ready to go for those explorations of the Grand Palace and Chatuchak Market. Third, it's reliable – there are up to three separate departures every single night of the week.
Wake up as your train rolls into Bangkok – that's what the night trains from Surat Thani to the capital can offer.
Each of those departures runs on a slightly different schedule, with one leaving just before 7pm, another just after 8pm, and a final one at 10.27pm. All guarantee that you'll cruise into Hua Lamphong Station (Bangkok's central train station) sometime in the morning, but not all use the same trains. The latest departure has the best of the locomotives. It boasts all-new, Chinese-built sleeper carriages with private two-berth bed options in first class. Expect to pay around $5-6 more for tickets on one of those.
Phunphin's Surat Thani Train Station
As with the day trains, the night connection out of Surat Thani doesn't actually leave from the center of the city itself. You'll need to track over to the main station in nearby Phunphin. That's simple enough on public buses or in a taxi, but there's not all that much to do around the station, so we'd recommend sticking to Surat Thani proper for entertainments during the day.
Finally, it's very wise to book your night trains ahead of time using a service like 12GoAsia. These are popular connections that are in high-demand when there are a lot of people moving in and out of Surat Thani, like during the peak season on the gulf islands or when there's a Full Moon Party on in nearby Koh Phangan.
Affordable and Convenient: Surat Thani to Bangkok by Bus

Time – 9-11 hours
Cost – $20
Comfort – 2/5
The old-school way to hit Bangkok after seeing the isles and beaches of the south is still very much alive and kicking. Cue the buses. Known as VIP buses in Thailand, these rides are big, heaving coaches with space for between 20-40 travelers at once. Although they've gotten a whole lot less busy since the night trains and short-haul flights became so cheap, they are still relatively well used by both locals and backpackers. A lot of that is down to the price. These remain the bargain choice on the route, with tickets hovering around the $20 mark.
The bus is the most budget-friendly of all the transport options between Surat Thani and Bangkok, but it's certainly not the comfiest!
The buses also beat the locomotives when it comes to travel times. With recent road improvements all throughout southern and central Thailand, these coaches can now connect the port town of Surat Thani with the big city in as little as nine hours. That said, things will tend to slow up a little as you approach Bangkok, which has some of the most notorious freeway traffic of any major capital on the planet!
There's a wide range of bus companies still running trips on this line. The best rated among them include Bangkok Busline, Sombat, and ChokeAnan Tour. Most buses travel overnight with planned arrival times in the early hours, though there are one or two day-time connections if you think sleeping might be a problem. And it very well might be a problem – our main gripe with some of the "VIP" bus services is that they're not all that VIP at all. Coaches are often old, seats are often scuffed, and the air-conditioning can leave a lot to be desired.
There are 101 reasons why you might be looking to travel from Surat Thani to Bangkok. Perhaps you're fresh off a ferry from the palm-threaded beaches of Koh Samui. Maybe you've just partied the night away under the full moon over on Koh Phangan. Or maybe you been visiting the temples and monuments of Surat Thani province itself. Whatever it is, you can rest assured that there are several uber-reliable ways to complete the trip, ranging from uber-fast flight connections that take just over an hour to long train journeys that will reveal the sublime beauty of central Thailand as you go.
---
How useful was this post?
Click on a star to rate it!
Average rating / 5. Vote count: