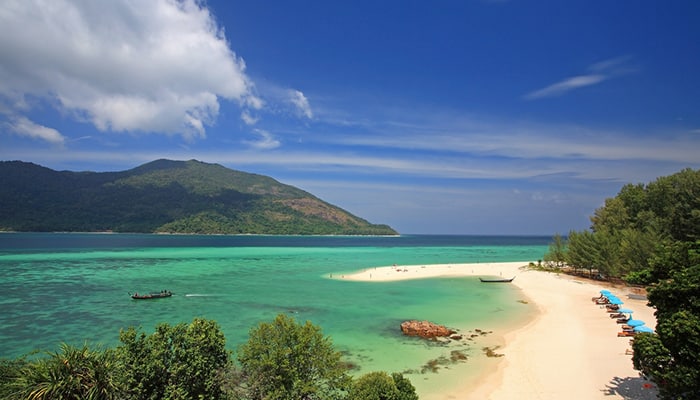 The trip from Hat Yai to Koh Lipe covers more than 87 miles of southern Thailand. It'll take you across the gnarled peaks of the Banthat Mountains, through old-growth jungles swinging with macaques, and over the aquamarine Andaman Sea. The aim? To swap bustling night bazaars and spice-scented floating markets with white-sand beaches and some of the clearest waters Southeast Asia can muster.
Unfortunately, Koh Lipe has no airport of its own. That means journeys will always involve a boat crossing, but you can choose to speed up your trip with private transfers to the port or save some baht by taking shared buses.
Hat Yai to Koh Lipe by minivan and speedboat

Time – 4-6 hours
Price – $20+
Comfort – 4/5
By far the most common way that travelers in southern Thailand opt to go between Hat Yai and Koh Lipe is with a combo of minivan and speedboat. It's a journey that usually takes in the region of five hours from start to finish, although some operators can have you treading footprints in the cotton-white sands of Lipe after only four hours on the road.
Minivans/minibuses and speedboats have long been the most popular way to hop from the floating markets of Hat Yai to the palm-fringed shores of Koh Lipe.
Talking of operators…there are lots to pick from. Highly rated Smart En Plus are considered the premium choice, though their offering is roundly similar to the packages of Dee Travels, Sukhothai Tour, and the Satun Pakbara Speed Boat Club. The main difference is where you'll be picked up on the Hat Yai end, but more on that later. With so many companies competing for passengers, expect rates to vary. Generally speaking, anything in the region of $20 is a bargain.
The first part of the trip is all overland. It weaves and wiggles through the remote backcountry to the west of Hat Yai, before navigating highlands dressed in palm and teak forests, and then the coastal lowlands around the Mu Ko Phetra National Park. To put it another way – you'll have plenty to look at out of the window! Driving time is typically about 1.75-2 hours total.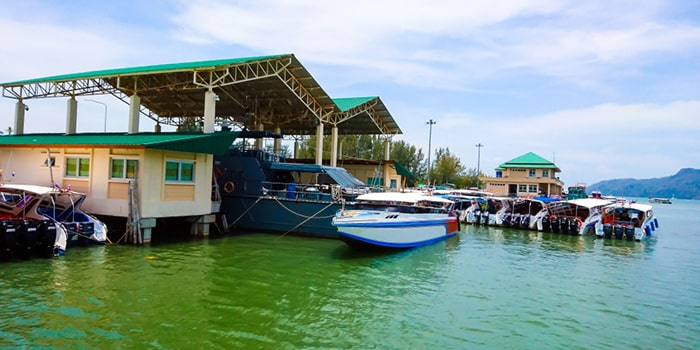 At Pak Bara Pier, you'll get your first glimpse of the glinting Andaman Sea. That's where all the speedboats dock up. Vessels have room enough for 30-40 passengers, sat in rows of three. They take about 1.5 hours to go from the mainland to Lipe. That's quick, but rides are famously bumpy, so prep yourself if you're something of a land lubber.
The best way to organize a minivan and boat combination ticket is to search on 12Go.asia. Just tap in your travel dates and destination, and viola: You can compare all the companies and prices at a glance. What's more, you'll be able to see what operators allow pickups in Hat Yai city, which leave from Hat Yai Bus Station, and which can whisk you to Koh Lipe direct from the airport – perfect if you're flying in from Bangkok and want to make for the island ASAP.
Hat Yai to Koh Lipe by public minibuses and ferry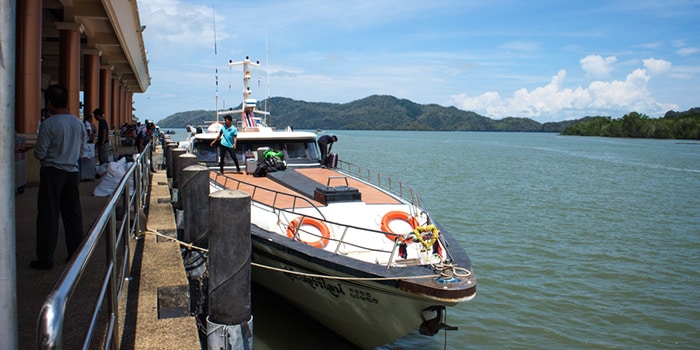 Time – 5-7 hours
Price – $18-20
Comfort – 3/5
You don't have to throw in with the organised tour companies on the journey from Hat Yai to Koh Lipe. It's also possible to do the trip in separate sections. However, be ready to spend a little more time traveling, haggling, and sorting things out. You'll also find that the public bus links aren't quite as comfortable. On the plus side, going it alone means there's an added sense of adventure, and you could save a few dollars along the way.
Public minibuses could save you a little on the road to Koh Lipe, but they might take an hour or two longer to boot.
Start at the Talad Kaset Station. You'll need to catch a taxi there from the airport if you're jetting down south – the ride takes around 15 minutes in moderate traffic; always barter for an affordable rate. You're after the minibus service to Pak Bara. They run hourly in the high-season months (November-April), with the earliest leaving at 8.30am and the latest at 6.30pm. Tickets should be $3-4; no more, no less.
A few hours' drive through the rice paddies and mist-haloed hills that separate Hat Yai from the Andaman coast is what it takes to bring you to the boats. If you haven't pre-booked a ferry-only ticket with 12Go then you'll need to hit the booths and bag your ride. Things can be hectic at the harbour, so be ready to queue.
Then, you're onto any one of the regular crossings, run by the likes of Smart En Plus, Bundhaya Speed Boat, and the Satun Pakbara Speed Boat Club. Boat trips on their own cost about $15-18 when bought on the day. During high season, there are departures throughout the morning, with the latest around 3pm. However, we'd always say book in advance – the white-sand isles and coral reefs of Lipe magnetise thousands of travelers, so there's competition for seats.
Hat Yai to Koh Lipe by taxi and boat

Time – 4-6 hours
Price – $75+
Comfort – 5/5
There's nothing like rolling out of the airport in Hat Yai fresh from a connecting trip from Bangkok to find a driver ready and waiting with your name on a board. That's what on offer to folk that fork out for a private transfer to the port. Yes, it's the priciest route to the coast, but the added comfort, and the fact you can share your lift with your whole travel crew, might just make it worth it.
A private taxi from the airport is a fine choice if you don't want to be waiting around to get that trip to Koh Lipe a-going.
Of course, the airport isn't the only place you can be picked up. Opting for a chauffeured taxi is also a great way to get across to the boats in Pak Bara if you've chosen to stay out of town, closer to the bobbing Khlong Hae Floating Market (Hat Yai's top-drawer attraction), perhaps. In total they take 2-2.5 hours to reach the pier, but with minimal stops and delays, along with air conditioning and comfy seats.
Once you reach the marina, you'll need to join everyone else on the ferries. This is where having a pre-booked ride will come in handy, because you can simply pay the 20 THB port fee and waltz straight onto the boat. If not, you'll need to settle your fare at one of the ticket offices, which can be bustling during the drier months. Either way, it's a 1.5-hour crossing for Koh Lipe, where you'll hop off of deck into turquoise seas lapping against perfect white sand. Not bad, eh?
Koh Lipe is the stuff of dreams for many a traveler. It's the Thailand you've seen on the postcards and in the brochures – gleaming sands, lazy coconut bars, and hammocks strung between stooping palms. All the above routes are ways you can trade the region's main transport hub of Hat Yai for the beaches and bays. Enjoy the journey!
---
Hat Yai to Koh Lipe FAQ
What is the cheapest way to get from Hat Yai to Koh Lipe?
You might save something by relying on the public minibus links between Hat Yai and the Pak Bara port where the boats to Koh Lipe leave from. However, we'd say there's so little in it – a handful of dollars at best – that the cost of combo tickets booked through 12Go.asia are comparable. You're talking something like $18 against $20 here, with added hassle and travel time to factor in on the cheaper option.
What is the fastest way to get from Hat Yai to Koh Lipe?
There's surely nothing quicker than a private taxi all the way to the port and then a speedboat straight across the Andaman to the scintillating sands of Koh Lipe island. Just bear in mind that you'll pay a load more for a transfer like that, while shared minibuses with companies like Smart En Plus and Dee Travels take almost the same amount of time but come in way cheaper. You can compare and contrast the lot over on 12Go.
How do you get from Hat Yai to Koh Lipe?
That's easy – a boat! You're heading to an island, remember? But before you set sail, you'll need to reach the port. That's where you can choose your mode of transport. Most people go for an organised minivan booked through 12Go.asia. Others will head to the bus station at Hat Yai and get their own transport. Others will prefer a pre-booked taxi.
How long does it take from Hat Yai to Koh Lipe?
From start to finish, most trips to the paradise of Koh Lipe take around four or five hours. That's largely because the tour organisers have matched up minibus times to the boats, so you'll hit Pak Bara Pier to find a ferry ready and waiting. During the high season, it's wise to expect some delays. Still, Lipe should never be more than six hours off from Hat Yai.
Which month is best for Koh Lipe?
December and January in Koh Lipe are simply wonderful. Hot days of 25-30 degrees, hardly a speck of rain, and calm seas filled with corals and fish all combine to bring out the best of the island. However, the high season officially runs from November to early May, when things are dry and balmy throughout. There are also way more boats on offer during these months, making it easier to get from Pak Bara Pier and Hat Yai than when traveling during the monsoon.
How useful was this post?
Click on a star to rate it!
Average rating / 5. Vote count: