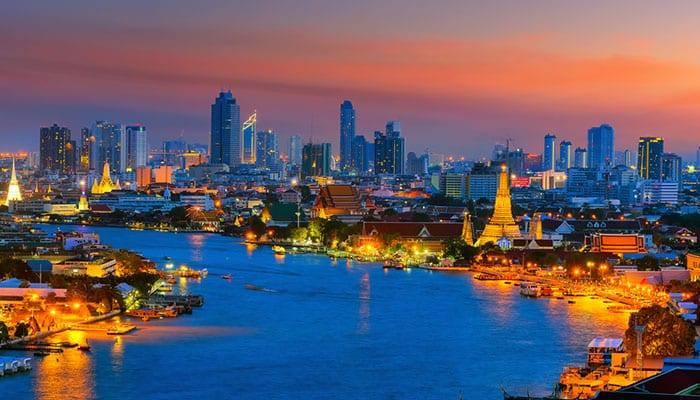 Thousands of folks make the trip from Pattaya to Bangkok each year. It's a route that links one of the biggest party resorts in the Land of Smiles with the sprawling capital. From Pattaya to the endless street-food bazaars, mystical Buddhist temples, and enthralling hipster neighborhoods, not to mention all the long-haul and short-haul flight links out of Bangkok's two major airports.
Because it's such a well-traveled route, you should find loads of transportation options. There are no flights since it's a mere 86 miles, but there are buses at all hours of the day, plus comfy taxi transfers to boot. Let's take a closer look…
Hop on a Minivan to the Thai Capital

Time – 3 hours
Price – $6 per person
Comfort – 4/5
Minivan is the most common way to go from Pattaya to Bangkok. These small, 12- or 14-seater vehicles run the route from the beach town to the big city almost continually. There are something like 21 departures each day of the week. The first services leave around 7.30am. The last goes after 6.30pm. The upshot? You should always be able to find a van option that suits your schedule, no matter if you want to make it to Bangkok in time for lunch or prefer to spend the day swimming in the Thai Gulf and travel later in the evening.
Three main companies are traveling this route. They all have relatively good reviews for comfort and punctuality but leave from different places in Pattaya and get you into different stations on the Bangkok side. Pattaya Pannipa and T Tour run the bulk of the trips. The first departs out of Pattaya Klang in Middle Pattaya and gets into the Mochit Bus Terminal on the north side of the capital. The latter starts at the dedicated Pattaya T Tour Station close to the main beach and takes you to Ekkamai in eastern Bangkok.
Several companies run minivans from Pattaya to Bangkok, each leaving from different stations and taking you to different arrival points in the capital.
Then there are the 12GoAsia buses. They tend to be the comfiest and the newest of the bunch and have the best user reviews of all. They leave from a station near N Pattaya Road and arrive at Makkasan Station, close to central Bangkok and the BTS Skytrain station. We'd say that they are the best pick for getting to Suvarnabhumi Airport and Khaosan Road.

It's often a good idea to pre-book your bus tickets if you want to travel at key times such as the early morning and the early afternoon during the high season months (December-March). Thankfully, that's now super easy to do. Simply head over to 12GoAsia, enter your travel dates, and viola: You'll be able to compare all the departures on your chosen day and reserve online. Remember that some companies recommend booking two tickets if you're bringing lots of luggage along for the ride.
Pattaya to Bangkok by Bus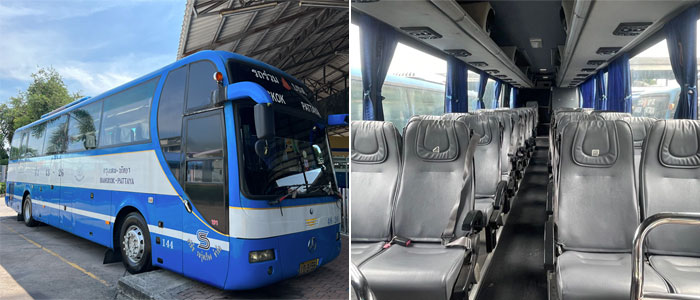 Time – 2.5-3 hours
Price – $4
Comfort – 3/5
Roong Reuang Coach offers a whole load of departures from Pattaya to Bangkok each day. These are bigger municipal buses that can seat over 50 people at once, which makes them perhaps a touch less comfortable than the minivans. However, with reclining coach seating and air conditioning throughout, they are still a-okay for a journey that lasts only 2.5 hours or so from start to finish.
A fleet of big, air-conditioned buses run by Roong Reuang Coach takes you directly from Pattaya to Mochit or Ekkamai bus station.
All departures from the beach town are out of Pattaya Bus Terminal. However, not all Roong Reuang services take you to the same place in Bangkok. You can select to arrive at the Northern Bus Terminal in Mochit (perfect for getting to the Chatuchak district, with connections for onward buses heading to northern Thailand, or reaching Don Mueang Airport). Or you can select to get into Ekkamai Bus Terminal (the better option for hitting the hipster districts on the east side of the capital or getting closer to the big BKK airport).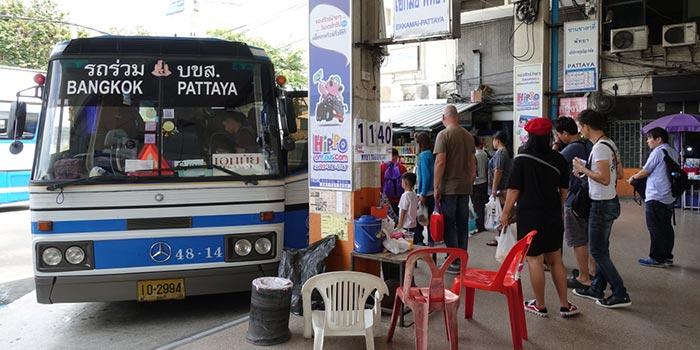 We see these larger bus links as a great fallback and alternative to the minivans. They're simple to organize, prices rarely change from their $5 standard, and they leave almost hourly from Pattaya. On top of that, they've been running the connection for over 20 years in all, so know the roads into the capital very well indeed.
Rolling into Bangkok: The Train Ride from Pattaya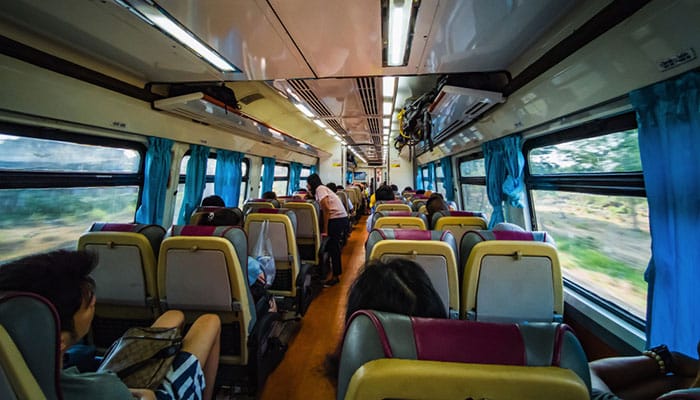 Time – 2.5-4 hours, depending on the train you choose
Price – $5-7
Comfort – 5/5
There are two trains on offer to those keen to swap the rowdy bars of Walking Street in Pattaya with the megacity of Bangkok. They offer a relatively comfortable way to travel, backed up by pleasant views of the Chonburi countryside and a trip through the seemingly endless outskirts of the Land of Smiles' capital.
The downside is that none of the trains have the better second and first-class carriages with air conditioning that you get on other Thai lines. Plus, travel times can be up to four hours in all.
Train enthusiasts might prefer to ride the rails from Pattaya to Bangkok. With two services that leave the resort town in the afternoon.
The first departure of the day leaves at 2.21pm. That's the slower option, taking just shy of four hours to arrive in Bangkok. Later, the express service rolls out of Pattaya at 4.26pm, completing the trip in 2.5 hours for an arrival in the city just before 7pm – just on cue for a trip through the street-food markets of Chatuchak or Banglamphu.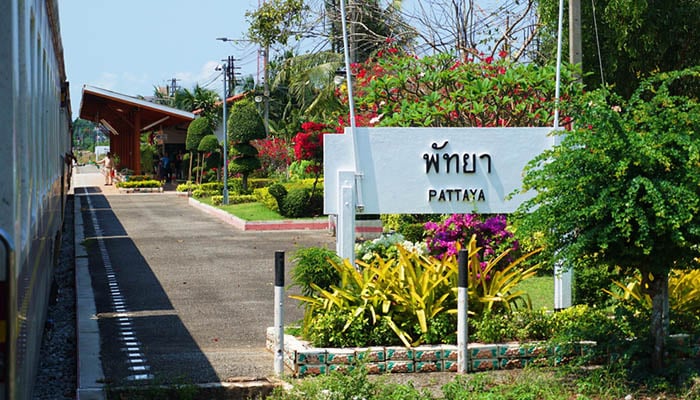 Taking the train certainly shouldn't break the bank. Tickets on this ever-popular route usually sell for something like $5 each. Sadly, they can't be booked online, so you'll need to head to the station to sort your reservations while in Pattaya itself. Oh, and don't pick this option if you're on a tight schedule or trying to connect with a flight out of BKK – trains on this eastern branch of the national rail network are frequently delayed.
The Most Expensive Option: Travel by Taxi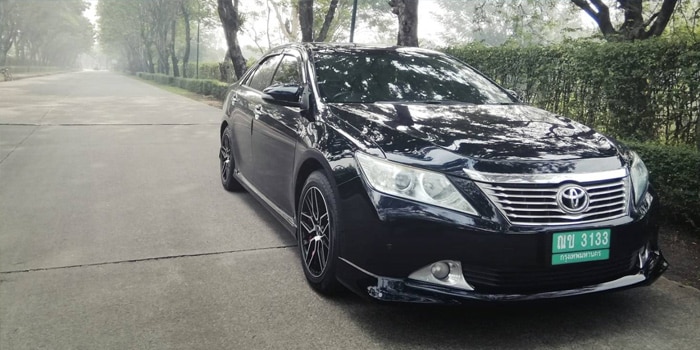 Time – 1h50
Price – From $40
Comfort – 5/5
The comfiest and quickest way to move from the party streets of Pattaya to the heart of Bangkok has to be via a private taxi. At just over 86 miles in total, the route isn't a long one, so expect rates to start at around just $40. That's pretty good when you consider that it's for the entire car, which means groups of four people can pay a mere $10 each to secure a chauffeured ride into the Thai capital.
Travel in comfort and get to a spot of your choice in Bangkok by booking your own private taxi ride out of Pattaya.
The real bonus here is that taxis can be organized to pick you up right at the door of your hotel on the Pattaya side and then drop you off wherever you like in Bangkok. That means you should get to your destination feeling rested and fresh. And it means you can choose to go direct to either Suvarnabhumi Airport or Don Mueang Airport to link up with flights throughout Asia and beyond.
Taxis will be a cut above the minivans on the comfort level, too. These are typically modern cars with upholstered seats and good air conditioning. What's more, the whole vehicle will be yours from beginning to end, so you get to control how hot or cold you have it, and request breaks whenever you please. Book yours online via 12GoAsia to easily compare various quotes and check driver ratings.
---
Pattaya is the party town of the Chonburi coast, with beach bars and bumping walking streets that seem to never sleep. It's not all that far from the big, beating Thai capital. A drive of two hours by taxi or a minibus transfer of around three hours should do the trick when you want to make the 86-mile journey between the two.
There are also train services that offer a more romantic and enjoyable mode of transport, though they are likely to take a little longer and can't be booked in advance online.
---
How useful was this post?
Click on a star to rate it!
Average rating / 5. Vote count: