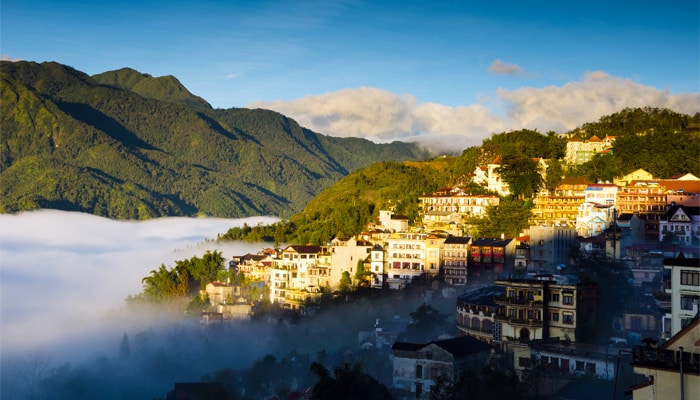 Mist swirls around the peaks of the Hoang Lien Son mountains. Rice paddies cascade in 10,000 shades of green to valley bottoms speckled with longhouses and farms. It can only be Sapa – Vietnam's northern trekking mecca. Being remote and isolated is part of the fun here, but don't worry, there are oodles of ways to arrive from the capital in Hanoi.
In fact, you can cover the 160-mile distance from city to soaring hills by train, taxi or bus. Each has its own pros and cons, not to mention varying price tags to suit different budgets. What's more, you'll have options that travel during the day – for the views – or overnight – so you can wake to visions of muddy rivers and emerald summits. Let's compare the lot…
Hanoi to Sapa by bus

Time – 5.5 to 6.5 hours
Price – $10+
Comfort – 3/5
There are more bus departures for Sapa starting at Hanoi than you can shake a bowl of steaming pho broth at! Yep, you'll find big coaches, so-called VIP buses, sleepers, and 14-person minivans running the route both day and night. There's almost always an option that suits your schedule and – crucially – your budget.
Buses from Hanoi to Sapa vary in size and comfort, so be sure to check whether your chosen option has reclining seats, onboard loos, and air conditioning.
Talking of budget…the bus is the cheapest of all the modes of transport between bustling Hanoi and the mist-haloed hills of Sapa. The complete six-hour journey can be done for as little as $10 when you book in advance with 12Go.asia. Opting to pay more means you can crank up the comfort level, with sleeper buses that boast lay-flat beds or VIP rides with WiFi and air conditioning as standard. However, minivans are usually the priciest of the lot. They carry far less people than the big coaches, come with reclining seating, and often have the best climate control – the only thing that's missing is an onboard toilet.

The route taken by buses rolling between Hanoi and Sapa goes north-west from the Vietnamese capital. It's not long before you leave the coastal lowlands of the country in the dust. Within an hour, vistas of the 3,000-metre-high Phu Luong Mountain and the wiggling Red River take over, offering some pleasant window viewing for the ride. Thankfully, recent upgrades on the road mean that you'll be driving on relatively wide, modern highways. It's a much safer trip than it once was!
Popular companies with highly rated services on the route include Grouptour – offering both large coaches and minibuses – and the VIP-class of Sapa Express. Sapa Dragon Express, meanwhile, has sleeper buses that go overnight, leaving at 10pm from Hanoi with arrivals in Sapa scheduled for 4am.
Hanoi to Sapa by train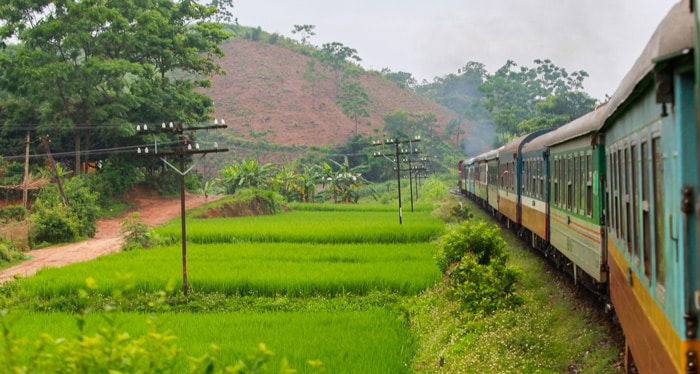 Time – 9.5 hours
Price – $38+
Comfort – 4/5
A great many people will tell you that there's simply no better way to travel through the cloud-topped highlands of North Vietnam from Hanoi to Sapa than by train. It's certainly true that there's something undeniably romantic about trading the traffic-clogged capital for the handsome rice farms of the French hill station using only historic railways. What's more, all the train links between the two destinations go overnight. That means you'll be able to catch some shuteye on the journey, waking up raring to go for treks through remote tribal villages.
There are some downsides to choosing the trains. First off, prices will certainly be higher than on the buses. Don't be surprised if you need to fork out around three times the amount for sleeper compartments on the railways as for sleeper beds on a VIP coach! Oh, and you don't get dropped at Sapa itself. Instead, trains pull into the station in nearby Lao Cai. From there, it's a weaving, winding minibus for as much as 1.5 hours to get to your final destination.

Trains take you from Hanoi to Lao Cai, where you'll need to switch to a bus going up to Sapa.
If you do decide you want to hit the tracks, it's worth getting to grips with the unique booking system that's in place. There are only two or three trains departing Hanoi for the highlands each day. The most popular leave at 9.35pm and 10pm. They are both officially run by Vietnam Railways. However, each carriage is leased to a private tour company, who offer different levels of service, and charge different prices.
As a general guide, look out for tickets with Fanxipan Express or Pumpkin Express if you want good value for money in either compact four-bed berths or first-class two-bed berths. Midrange options with neat wood-panelled compartments are on offer from Sapaly Express and King Express. Upmarket VIP rooms with plush bedding, wide-view windows and even free welcome drinks come with the more premium Chapa Express and Victoria Express. All of the above can be booked in advance via 12Go.asia.
Hanoi to Sapa by taxi

Time – 5 hours
Price – $190-240
Comfort – 5/5
Drop those bags in the trunk and get comfy, because taxis will take five hours to transport you from the buzz of Hanoi to the glowing green rice paddies of the highlands around Sapa. That still makes them the quickest option of all, mind you. There's no waiting around for other passengers. There are no pre-scheduled stops along the route. It's as simple as going from A to B without any hassle, changeovers or pauses.
Taxis can be organised to collect you at virtually any point in the capital. That might mean right outside the lobby of your hotel in the atmospheric and ramshackle Old Quarter. It could mean at the terminals of the Noi Bai International Airport after you've just jetted in on an international flight. It's totally up to you. Arriving in Sapa, you'll also be taken to a nominated spot of your choosing. Easy.
You can divide up the cost of a taxi from Hanoi to Sapa between everyone in your group to make it more affordable.
But it's not only about saving time when it comes to taxi rides up to Sapa. You've also got to factor in the comfort levels. There's no need to bunker down for a whole overnight trip when you travel by car. It can all be finished in a single morning or afternoon, with air conditioning, free water, and plush upholstered seats the whole way.
It's the price that usually shocks on the taxi front. You're looking at paying in the region of $200 per ride. But that is for the whole car. Share it between a travel group of four or more and you could be talking a cost that's comparable – or less – than the train connections. You might also be able to score some seriously good bargains by booking your ride well ahead of time on 12Go.asia.
Dust down the walking boots and ready the hiking poles – Sapa is Vietnam's mountain town extraordinaire. To get there from the capital, you can rattle through the hills on a railway or go overnight on VIP buses. It's among the most popular traveler connections in the country, so you're bound to be in good company, too. See you on the rice paddies!
---
Hanoi to Sapa FAQ
What is the cheapest way to get from Hanoi to Sapa?
Save stacks of Vietnamese dong for your hiking expeditions and homestays in Sapa by choosing to ride the overnight bus link that goes from Hanoi. That's usually the cheapest option of all but does mean trying to snooze off while hurtling around mountain roads in the dark. Other buses during the day can also be bargains, especially if booked well in advance using 12Go.asia.
What is the fastest way to get from Hanoi to Sapa?
Loosen the travel budget a tad and bag yourself a private ride in a chauffeured taxi. They can complete the route up to Sapa from Hanoi in as little as five hours. What's more, a driver of your own means being picked up and dropped off wherever you want in both places, so there's no faffing about either side.
How do you get from Hanoi to Sapa?
It's really a choice between road or rail. The train is a popular option because it adds a sense of adventure into the mix, but remember that you won't be dropped in the town of Sapa itself. Buses are convenient, regular and cheap. Taxis are there for those who want to complete the trip and get on the hiking trails as fast as possible. You can compare and contrast all those options using 12Go.
What is the best way to get from Hanoi to Sapa?
That all depends on what sort of traveler you are. Some simply love the experience of a night train. You'll have a bed to yourself in a four- or two-berth cabin and wake as you're pulling into the mountains come morning. Others will opt for the bus because it's far cheaper and goes more often. Then there are the folk who prefer the comfort and convenience of their own private transfer straight to the door of a hotel in Sapa.
How long is the bus ride from Hanoi to Sapa?
With big improvements on the highway running between Hanoi and Sapa in recent years, most buses now complete the trip in around five hours. Some will take longer because of scheduled stops along the way. However, it's unusual to spend more than seven hours on the road in total. The overnight option is six hours, leaving at 10pm and getting in at 4am. All of the above can be booked directly with 12Go.asia.
How do I get from Hanoi to Sapa by train?
First: Choose a carriage. Will it be a first-class berth with two beds and wood-panelled walls? Will it be a second-class compartment shared between four people? Second: Book via 12Go – 9.35pm and 10pm departure times are the most common. Remember that the train will take you only as far as a place called Lao Cai. That's just short of Sapa, but there are no railway lines running any further. That means you'll need to swap to a minivan and make the hour-long drive to get to the hill town itself.
How long is the train ride from Hanoi to Sapa?
The train ride from Hanoi to Sapa is around eight hours in total. However, it's not actually a train all the way to Sapa. Locomotives only go as far as Lao Cai. It's as close as you can get on the railways. You'll need to swap into a bus to finish the trip, which adds between 45 minutes to an hour onto the length of the journey as a whole.
How useful was this post?
Click on a star to rate it!
Average rating / 5. Vote count: