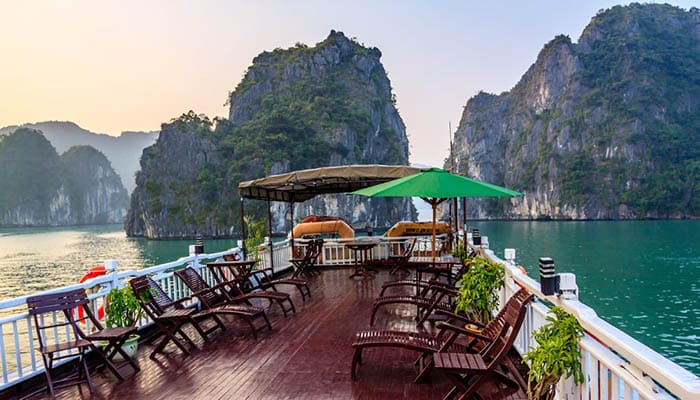 Halong Bay is one of the undisputed must-sees of Vietnam. A designated UNESCO World Heritage Site, it encompasses 600 square miles of the South China Sea with its rugged karst islets and glimmering beaches. Millions of travelers each year drop by for luxury junk boat cruises and sea-kayaking expeditions.
The good news is that the Vietnamese capital of Hanoi is one of the best starting points for all that. It's just over 100 miles east of Halong Bay and is now linked by an all-new express highway that can keep journey times to just 2.5 hours. Let's look at all your transportation options…
Hanoi to Halong Bay by Minivan

Time – 2.5-3 hours
Price – $11+
Comfort – 4/5
Minivans remain the most popular way to swap the happening big city of northern Vietnam for the sparkling waters of Ha Long Bay. They offer a good balance between comfort and convenience, and, at around only $10 a pop, shouldn't break the bank. You'll be spoiled for choice when it comes to departure options – with 40 going each day, starting in the early morning (the first minivans go at 5am) and finishing in the mid-afternoon (the last connections leave at 2pm).
Most minivan connections from Hanoi will make use of the all-new Hanoi-Hai Phong Highway. That was opened back in 2018 and shaved a hefty 1.5 hours off the driving time, meaning journeys on this route take just shy of three hours in total. The other bonus is that the route is now direct and smooth, on multi-lane roads that don't suffer too much from traffic congestion, even at peak times.
There are over 40 minivan departures each day between Hanoi and Halong Bay, so you will find something to suit your schedule to perfection.
The main thing to think about here is where you get picked up and where you get dropped off. Different companies offer different options, though most leave Hanoi from somewhere that's within easy walking distance of the Old Quarter (where most travelers choose to stay). On the Halong side, arrivals are typically at Tuan Chau Island, which is the main cruise port. It is perfect if you're connecting to a luxury boat or junk expedition. Others will take you to Bai Chay Bus Station, which is better for exploring Halong city itself.
The style of minivans here can vary a lot. The best are the VIP 9 buses. They host under 10 people at once and have big, plush leather seats with cup holders and retractable headrests. Expect to pay over $14 for a place on one of those. Cheaper tickets can be had on the standard 14-seater minivans, which are a bit more cramped but still come with air conditioning and decent levels of legroom.
Hanoi to Halong Bay by Bus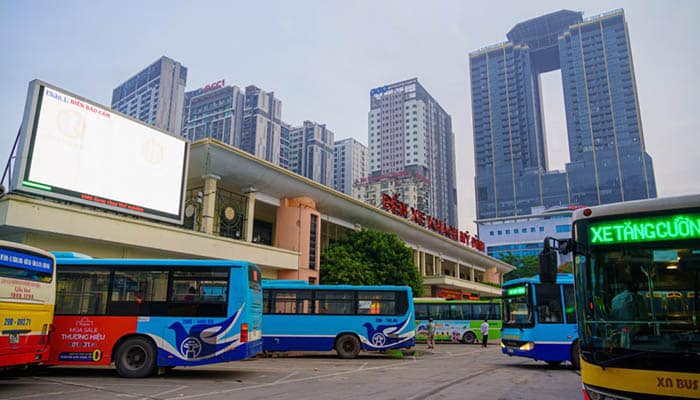 Time – 3-4 hours
Price – From $4-10
Comfort – 3/5
It's the big public buses that offer the best bargains when it comes to travel out to Halong Bay from Hanoi. These are nowhere near as comfy as the minivans listed above, but they can do the whole trip for in the region of $4-10, leaving more money to spend on those luxury boat cruises and snorkeling expeditions around Cat Ba Island.
The public buses are an uber-cheap way to travel, but they necessitate a transfer to a bus station in Hanoi before you can start your trip.
The main downside to going on the public buses is that you'll probably need to plan your own transfer to one of the main transport interchanges in Hanoi before you board. That's because these services tend to depart out of either the My Dinh Station or the Giap Bat Station, which are seven and four miles from the Old Quarter respectively. Thankfully, there are plenty of uber-cheap local taxis ready to take you to either for under $3.
Public buses are also slower than minivans. They don't always take the main highway going east from the city. Some will veer off onto smaller roads to stop at provincial towns as they go. That can push the total travel time up to over four hours. Delays are also unpredictable, so don't rely on this mode of transport if you're looking to connect with boat departures out of the port on Tuan Chau Island.
Hanoi to Halong Bay by Taxi

Time – 1h55+
Price – From $60
Comfort – 5/5
To link up with that luxury Halong Bay cruise in style, there's really nothing for it but a private taxi to get you out from Hanoi to the port. These are by far the most comfortable way to go from city to coast. Rates start at about $60 for the whole trip, but you can pay extra to get a plusher car. For example, forking out over $90 will bag you a spacious SUV with tinted windows and leather upholstered seats. Paying over $110 can score you an entire minivan that seats up to 14 people at once.
Taxis do cost more than buses but remember that you can share the whole cost of a trip with everyone in your travel crew.
There are other bonuses to paying for a whole vehicle here, too. For one, the trip is almost certainly going to be quicker. Private taxis will always use the fast toll roads. They also won't make extra stops (unless you specifically request them) along the way. And you can leave the moment that you close the door since there's no waiting around for other passengers to be done.
However, the most convenient thing about opting for the private taxi from Hanoi to Halong is that you can nominate the specific place you want to be collected, and where you want to be dropped off. That adds way more versatility and flexibility. You can stroll out of your hotel lobby in the morning straight into an air-conditioned car and then out onto your five-star junk boat on the other side, ready to be wowed by Halong's dramatic peaks and emerald waters.
---
Thousands of travelers make the trip across to Halong Bay from Hanoi each year. They go to wonder at what's unquestionably one of the most iconic draws in the whole of Vietnam – think a UNESCO-tagged mass of mountains and islands that lurch like totem poles from the sloshing South China Sea.
Because this is such a popular route to take from the capital, you can rest assured that there are lots of departure options, including over 40 minivans per day and any number of private taxi options that will leave whenever you choose, from wherever you choose.
---
How useful was this post?
Click on a star to rate it!
Average rating / 5. Vote count: