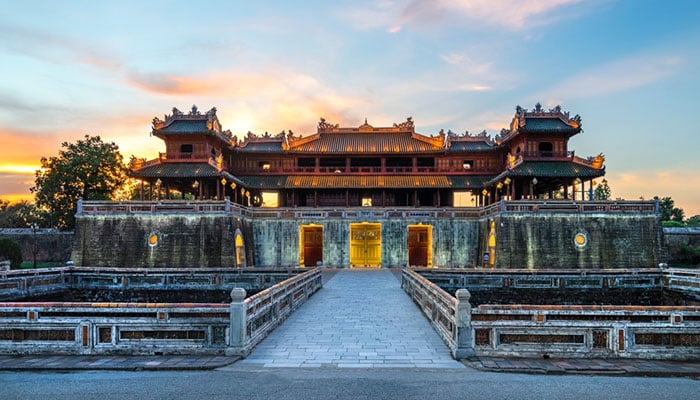 Hoi An and Hue are two of the great bucket-list draws of Vietnam. The first has its enchanting old town, its historic spice depots, and its hipster coffee shops. The second boasts the ancient palaces of the Nguyen Dynasty, mystical pagodas, and an electrifying market district set along the Perfume River.
Both places are also well placed to be consecutive stops on a travel itinerary, sat along the central Vietnamese coastline just 65 miles apart as the crow flies. That's a distance covered in a single morning by either road or rail. Let's take a closer look at all your transport options…
Hoi An to Hue by Train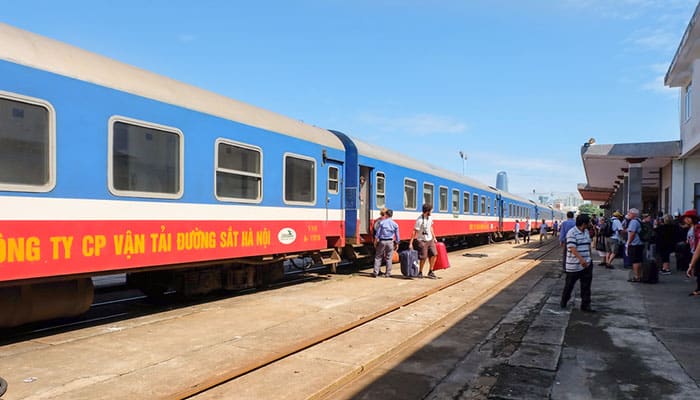 Time – 4 hours
Price – $6 for the train, and another $7 for the trip to the station
Comfort – 4/5
The trains in Vietnam are great fun. They offer a really adventurous way to travel with the bonus of being reliable, cheap, relatively quick, and downright comfy to boot. In addition to all that, the country's main railway line runs smack dab through Hue.
In Hoi An, the trains can be picked up really close, in the nearby city of Da Nang, so we'd rate the locomotives as one of the best transport options for this particular journey. Let's take a closer look at why…
We really like the train as an option for getting to Hue – it's comfy, cheap, and characterful, though you will need to organize a transfer to the station, to begin with.
Trains leave on the main north-south line from Da Nang six times each day. Four of those go during daylight hours, while two are at night. The most popular options tend to be the 1.54pm service with Vietnam Railways, or the 6.05pm service. They are both run by Vietnam Railways but the latter is on the high-class #SE20 train, which offers luxury two-berth cabins alongside 2nd-class sleeper cars with air conditioning.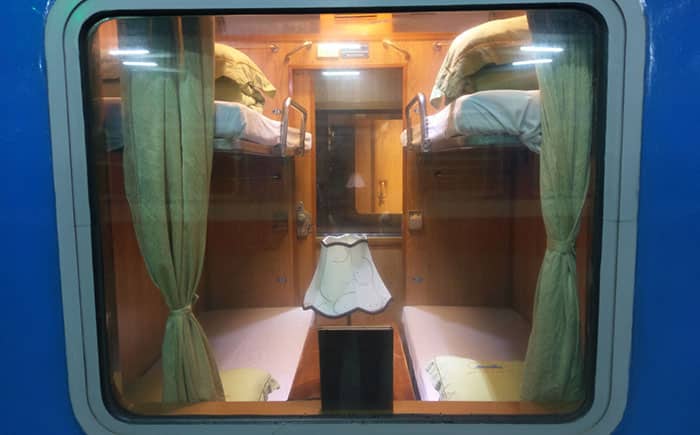 Not that you'll need a sleeper carriage, mind. You'll be stepping out onto the side of the Perfume River between the temples of Hue after just 2h45 on the train, provided there aren't any delays. Sadly, Da Nang station – which is where the trains start from – isn't in Hoi An itself. That means you'll have to add about an hour's transfer to the platforms before you get on the tracks, a leg that can be done in either cheap minivans for $7 or with a private taxi for about $19.
Hoi An to Hue by Minivan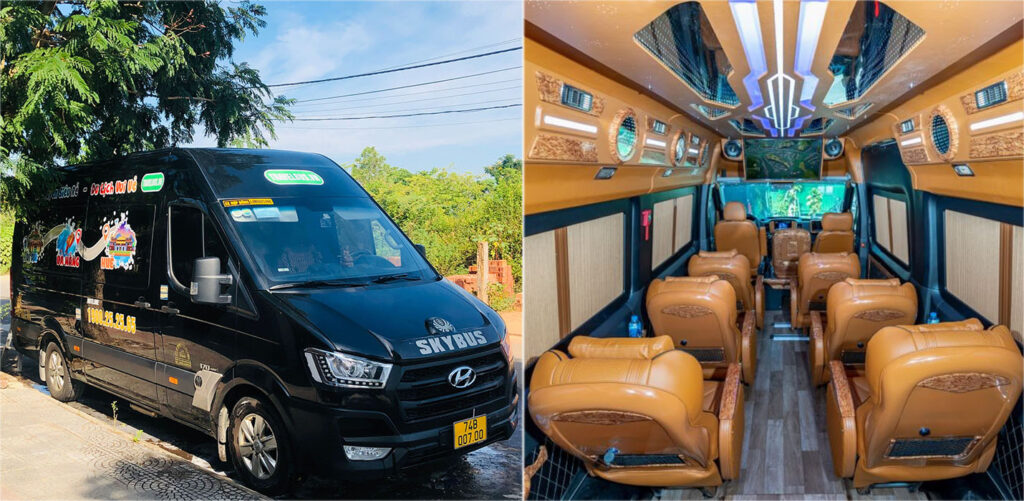 Time – 3 hours
Price – $13
Comfort – 4/5
Even though we'd probably pick to travel by train nine times out of 10 on this route, the minivans also remain popular. The main reason is that they start their journey in Hoi An itself. You only need to make it to Ton Duc Thang Street on the northwest side of the old town and then hop aboard. You'll be cruising up the highway Hue bound in no time, skirting around the edge of Da Nang city first and then getting close to the coast on the pretty QL49B roadway, no stops required.
The minivan connection from Hoi An to Hue is a quick option for those short on time – it only takes three hours from start to finish.
The upshot? Travel times on the minivans are cut to a mere three hours. Leave on the earliest departure of the day – at 7.55am – and you can make it to the riverside cafes of Hue in time for breakfast. Alternatively, spend a whole day exploring the incense-smoking temples of central Hoi An and then leave late – you'll still make it to Hue for some street food in the markets and to watch the sunset over the surrounding karst mountains.
There's not much compromise on comfort when it comes to minivans. These small cars can only seat up to nine people at once. That translates into plenty of legroom per passenger and no shortage of luggage space for those bringing hefty bags in tow. Chairs also recline fully, you get dedicated air conditioning, and all seating – apart from the very back row – has its own window for watching central Vietnam roll by as you travel. Overall, it's an efficient way to move from A to B.
Hoi An to Hue by Bus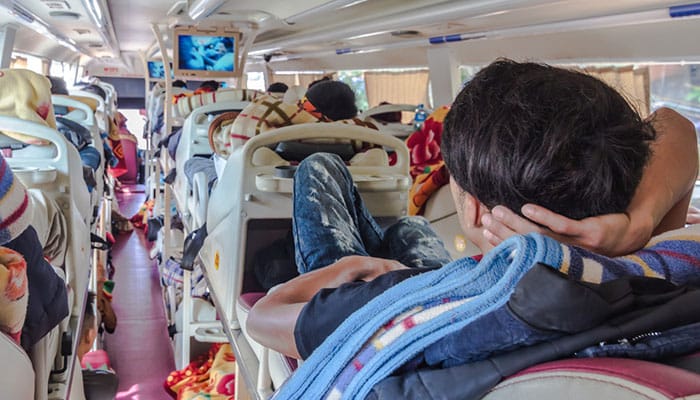 Time – 3-4 hours
Price – $12
Comfort – 3/5
You can pick from a whopping 26 separate bus services each day when traveling from Hoi An to Hue – we said it was a popular route, eh? They begin just after sunrise, at 6.10am, and don't stop until 4pm, usually taking a little over three hours in total. At a mere $12 per ticket, they can back up that packed schedule and swift travel time with very reasonable rates, which is probably why so many backpackers and budget travelers still choose to go this way.
The classic bus connection from Hoi to Hue is still going strong, to the tune of 26 individual departures each day.
What we really like about the bigger buses is the fact that different companies leave from different parts of Hoi An. Some go from private stations on the fringes of the old town. Others go from suburban stops further away from the tourist attractions. The point is, there should be at least one that's easy to get to from where you're staying, perhaps even within walking distance. The large buses also arrive at different stops in Hue, so be sure to check you're booking a service that takes you near to your hotel on the other side when you search on 12GoAsia.
Because this trip is only a couple of hours, not some colossal romp all the way from North Vietnam to South Vietnam, you shouldn't have to worry so much about the comfort level on the buses. Just don't expect the same level of comfort that you get on the trains, in a private taxi, or even in the minivans. These so-called "VIP" coaches are often dated and have scuffed seats and whatnot.
Hoi An to Hue by Taxi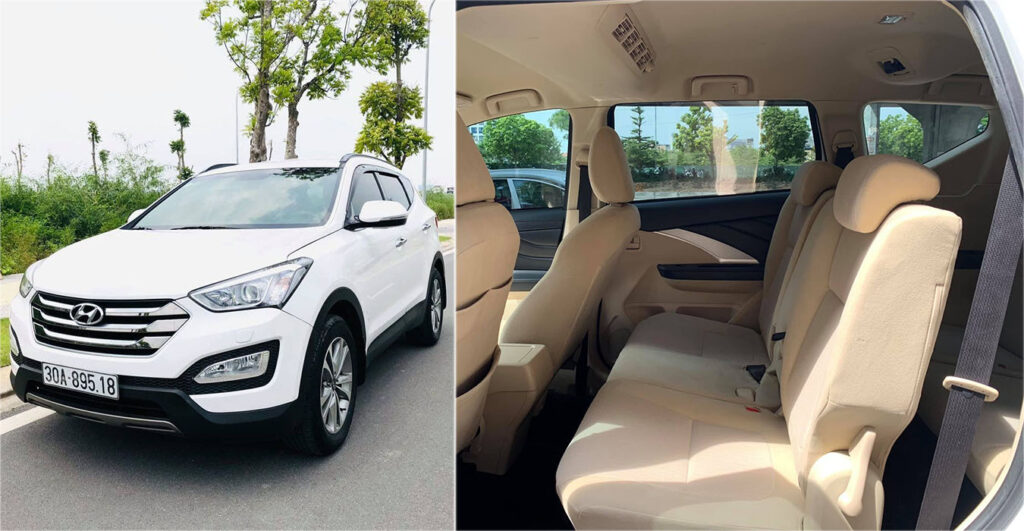 Time – 3 hours
Price – $69+
Comfort – 5/5
Taking a taxi from Hoi An to Hue won't shorten your travel time – the two cities still remain over 60 miles apart from each other, no matter how you hit the road. What it will do is up the comfort level you travel in. This is surely the most luxurious way to complete the trip, offering private seating in a private car, personalized service, air conditioning to set as you please, and dedicated boot space for your luggage.
These days, taxis between Hoi An and Hue can be pre-booked online in a few clicks using 12GoAsia.
Also, don't overlook the fact that booking a taxi means you'll be able to organize a departure time that's to your schedule, plus a pick-up at any location you like in Hoi An. That latter feature is especially tempting because many of the best hotels in Hoi An aren't in the center, but tucked between the emerald green rice paddies on the outskirts, or even stringing up and down golden An Bang Beach on the shoreline.
Taxis take the same highway running north and then northwest as the buses. They'll usually try to skirt the big city of Da Nang to avoid the traffic there, before cruising up the sides of gorgeous Lang Co Beach. Remember that, with a taxi, it's possible to negotiate stops at any point along the way. Doing that might add some to the cost of the trip, but does mean you'll get to see all the draws that lie along this dogleg of the Vietnamese coast between Hoi An and Hue. Expect to pay upwards of $69 in total for the whole ride.
---
Hoi An is a photogenic city of narrow alleys, boat-bobbing rivers, and characterful noodle kitchens strewn with Chinese lanterns. Just up the coast a little, the big city of Hue offers glimpses of centuries-old dynastic palaces, temple complexes, and sobering tales of the American War.
Hoi An and Hue are obvious stops to add to a Vietnam travel itinerary, made even more obvious by the fact that you can move between them on cheap buses, comfy minivans, and even the old-school Vietnamese trains.
---
How useful was this post?
Click on a star to rate it!
Average rating / 5. Vote count: