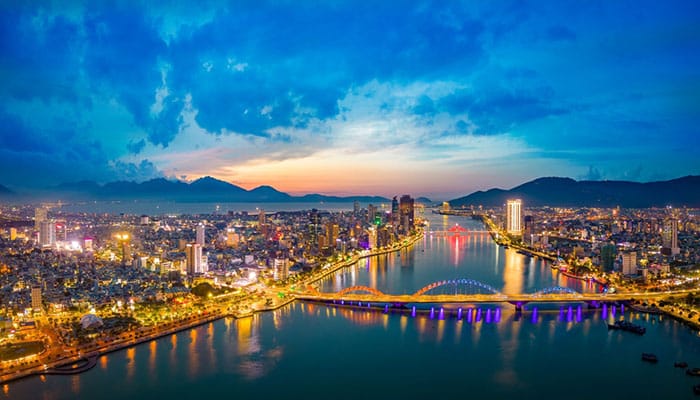 Hue and Da Nang are two of the biggest cities and also the main traveler draws along the central Vietnamese coast. You can while away your days wandering the ancient palaces of the Nguyen dynasty in one, then scoot down to hit the beaches and hike the Marble Mountains in the other. It's a breeze to get between them.
There are national train services, buses, minivans, and private taxis on the menu, helping you complete the trip in as little as 1h20. This guide runs through the lot and offers info on how you can book before you even set foot in the land of banh mi baguettes and pho broth. Let's go…
Hue to Da Nang by Train
Time – 2.5-3 hours
Price – $7+
Comfort – 4/5
If in doubt, take the train – that's our advice anywhere in Vietnam! It's even more pertinent on this quick route between Hue and Da Nang. The reason? There are four convenient departures every day on the locomotives, starting with one at 8.30am, followed by two more morning services at 9.25am and 10.50am, and one evening connection at 8.16pm. They all take around 2.5-3 hours and cost between $7 and $12 per person.
All the trains are run by Vietnam Railways, the state-owned railway authority. They're made up of modern carriages with a variety of sleeper and seated carriages. Leave the former for travelers on long-distance romps from Hanoi to Ho Chi Minh. The latter is cheaper and perfectly suited to quick day trips like the one south from Hue to Da Nang, offering all the basics – comfy chairs, tables, and air conditioning throughout.
Vietnam Railways run four daily connections from Hue to Da Nang on relatively modern trains that offer occasional views of the country's tropical central coast.
The journey here is scenic but not overly so. You'll begin by cruising alongside the main highway south of Hue. Then the railway line departs from the road to skirt the side of the Vung An Cu lagoon before weaving its way between the rising coastal hills that cap off the peninsula north of Da Nang Bay. As such, the last part of the trip can offer some nice glimpses of Da Nang's shimmering white beaches with the peak of Ban Co gazing over from the east. A seat on the left-hand side of the train is best for catching all that.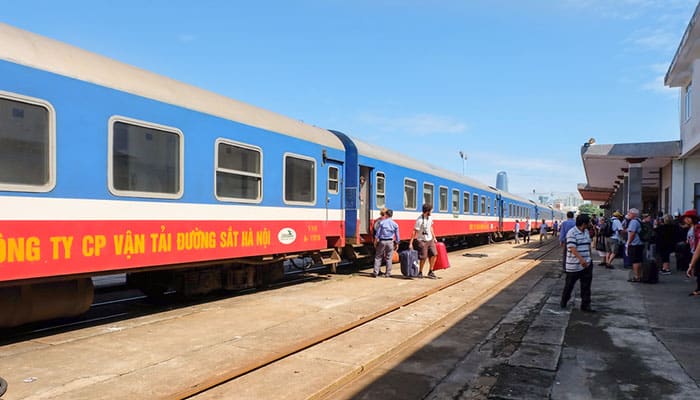 All trains begin their trip at the Hue Railway Station that's on the south side of the Perfume River in Hue. They end at the big and imposing Da Nang Railway Station that's a few blocks shy of the main downtown area in Da Nang. Expect to pay another $2-3 to get to the heart of the city from the platforms, or $15-20 for a taxi ride south to Hoi An.
Hue to Da Nang by Minivan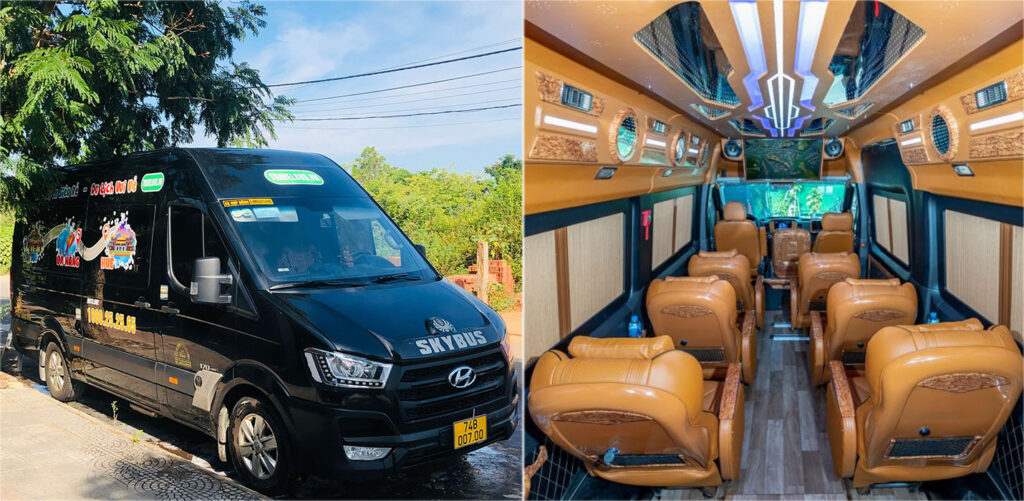 Time – 2 hours+
Price – $10
Comfort – 4/5
Vans – or limo vans, as they're known locally – would be our first backup travel option on this route. If the train departure times don't match your schedule or you simply prefer the road over the rail, then these offer a similarly comfortable ride and a ticket to Da Nang in just two hours. They leave around 10 times per day and can be picked up at various spots in central Hue for convenience. The earliest go at just before 8am. The latest leave at about 4pm.
A two-hour trip in a comfy minivan for just $10 makes these a good deal for getting between Hue and Da Nang. 
There's just one company currently running regular minivan services. Cue Viet Nam Travel Bus. They command an enviable rating of five out of five stars for punctuality and comfort. We can see why. All their vehicles are limited to just nine passengers. Seats recline almost like lay-flat beds. You get bags and bags of legroom, dedicated space for luggage, and ride in modern Hyundai cars. It's almost as good as being in your private taxi for a fraction of the price.
Talking of the price, these vans sell for a standard $10 per person, each way. They can all be booked in a few clicks using 12GoAsia. Just double-check that you're getting the right one…some vans take you to the main bus station in Da Nang while others go to the head office in Thanh Luong, which would be a better arrival point if you're aiming to get to Hoi An a little further down the line.
Hue to Da Nang by Bus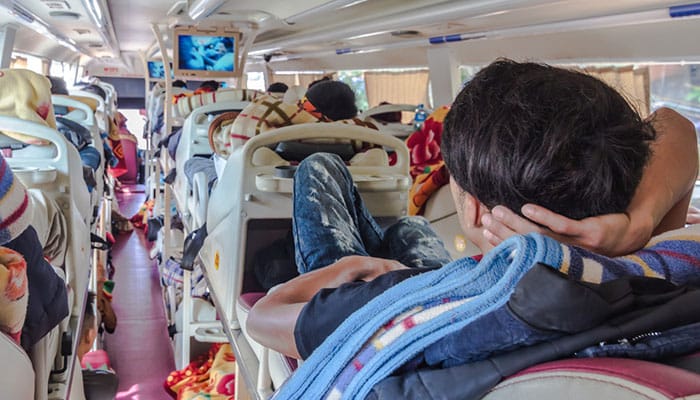 Time – 3-4 hours
Price – $10-12
Comfort – 3/5
The most dedicated backpackers out there can rest assured that there are still big coaches to take them from Hue to Da Nang. They don't offer the same comfort level as the trains and minivans and they take nearly an hour longer in most cases. However, they are a fun way to travel if you like to do things as the locals do. Plus, there are over 20 departures per day, which means you should always be able to find a service that matches your personal schedule.
The buses here are large 40-seater coaches, and they take up to four hours to go from Hue to Da Nang.
You've got a few companies to choose from. The aforementioned Viet Nam Travel Bus runs these larger coaches as well as the smaller limo vans. On top of that, there's the Cua Ong Limousine, which leaves from a very convenient station in the very center of Hue. Techbus VN JSC offers perhaps the best arrival point in Da Nang for those looking to stay along sparkling Bien Thanh Binh beach. All buses are large, with a capacity for up to 40 people and reclining seats usually in rows of four split into sets of two.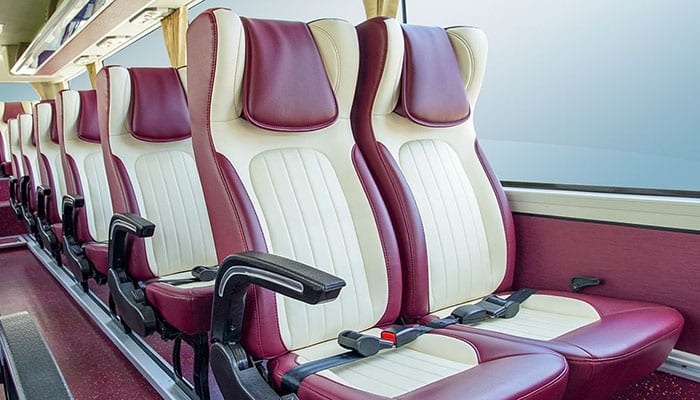 With so many choices, the best way to go about sorting the coaches is to search on 12GoAsia. That lets you weigh up all the bus companies and various arrival and departure points for any given date of travel. You can even click to pre-book. Expect to pay $10 per person for most buses, rising to $12 per person for trips at busy travel times (morning and mid-afternoon).
Hue to Da Nang by Taxi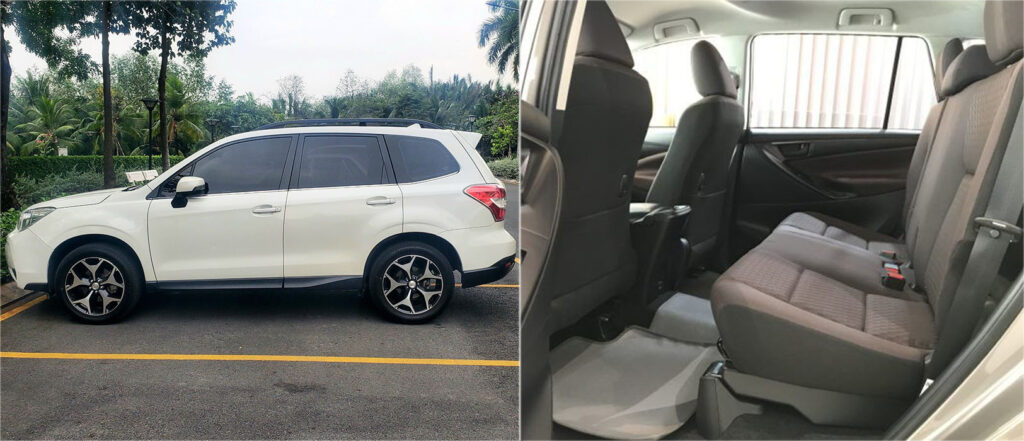 Time – 1.5 hours
Price – From $48
Comfort – 5/5
If you're traveling in a group of four, there's a good chance that you can make a taxi almost as cheap as minivans or buses. That's because the total price is around the $50 mark. But that's for the entire car, so divide the cost between your crew to pay only $12.50 per head. That's pretty darn cheap and brings a whole load of other bonuses with it…
Groups of travelers might find that taxis only cost a few dollars more than the buses and trains, but they're the quickest and comfiest way to get to Da Nang.
First, taxis offer the height of comfort if you're going to make this trip by road. You won't have to hang around for other guests before the engine starts purring, you get the whole vehicle to yourself with a dedicated boot space for your bags, and the driver can set the air conditioning to how you like it. Secondly – and most importantly – you can organize a taxi to collect you from outside your hotel in Hue and drop you right to your hotel in Da Nang; no irritating transfers to and from the stations needed here, folks.
Because there's no lingering at the station for other guests and because taxis are smaller cars, they tend to complete the trip much quicker than any other mode of transport listed here. You're usually looking at 1.5 hours on the road, and rarely more than two hours even if traffic is bad. It's also possible to negotiate a price that includes stops at attractions along the way, perhaps at one of the many gold-sand beaches that run south of Hue or amid the lush coastal peninsula north of Da Nang.
---
Hue to Da Nang is a quick 50-mile trip between two of the most famous cities in central Vietnam. The first is about wandering the centuries-old palaces of the Nguyen emperors. The latter is about hitting beige-sand beaches and feeling the modern buzz of the country between hip cafes and beer bars.
This guide runs through the four main ways to make the trip, including the trains (our favorite), the buses (the classic way to go), and private taxis (the luxury way to do it).
---
How useful was this post?
Click on a star to rate it!
Average rating / 5. Vote count: