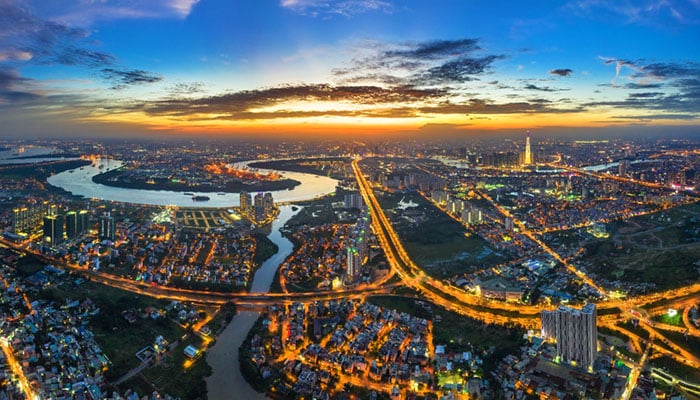 The capital of Cambodia and the biggest city in Vietnam are separated by 121 miles, one national border, and a single highway. Hopping from one to the other has long been an obvious onward step after finishing your trip through the home of amazing Angkor Wat and the sobering Killing Fields.
This guide will run through all the ways you can go about it, from flights to day buses. Some are speedier, others cheaper. All will whisk you into one of Southeast Asia's most electrifying metropolises, between bustling wet markets and the sleepless strips of Pham Ngu Lao Street.
Phnom Penh to Ho Chi Minh by Plane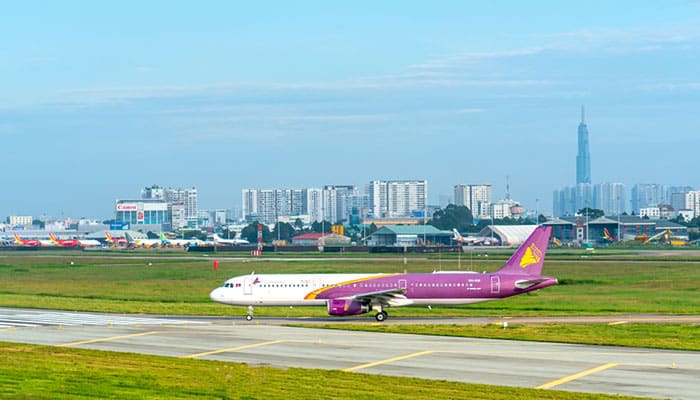 Time – 1 hour (flight time only)
Price – $110+
Comfort – 5/5
The only way to avoid a long overground bus trip to Ho Chi Minh is to fork out for a plane ride. That might be too much of an ask for the most dedicated budget backpackers out there because airfare is often over the $110 mark on this route, which is nearly four times what the buses (see below) will set you back. However, it does mean conquering the 120 miles that separate the towns in just an hour's flight time. You'll be in Vietnam before you can organize your Angkor Wat snow globe collection. Easy.
Keeping things simple is the fact that there are only two airlines in the running here. One of the daily links from the capital to the big city is run by Vietnam's own Vietnam Airlines. The other three are operated by Cambodia's flag carrier, Cambodia Angkor Air. What's really nice is that both offers checked bags as standard on even short-haul international routes, so there's no need to crank up the cost to bring your Aloha shirts in tow.
Flying cuts out the stress of moving from Cambodia's capital to Vietnam's big southern city, taking just an hour and helping you skip hectic land border crossings.
All flights take off at the Phnom Penh International Airport (PNH). That's located on the western side of Cambodia's first city. It usually takes 50 minutes to get there in a taxi that should cost around $10 from the center. You'll land at the Tan Son Nhat International Airport (SGN), a huge air hub that's tucked into the sprawling suburbs of northern Ho Chi Minh. Expect to spend 40-45 minutes reaching the main tourist areas from the arrivals hall. All that adds up to a total travel time of about four hours, including transfers, waits at departure, and the flight itself.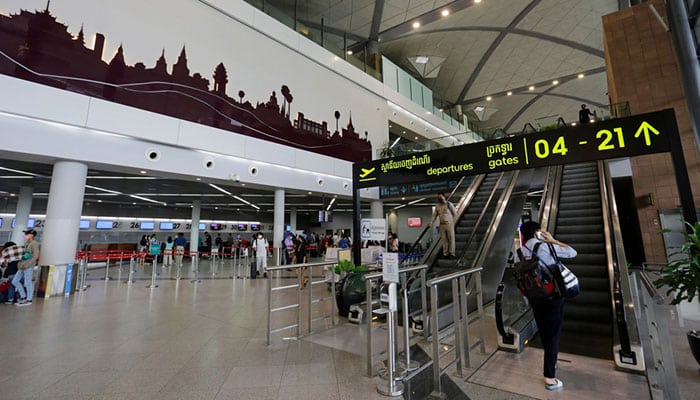 Naturally, you'll still need to pass through immigration when you land in Vietnam. However, one of the bonuses of flying is that it tends to be way less hassle than the immigration offices at the land crossing. You'll be able to get visas on arrival at the airport both night and day; no need to plan your trip to match border opening times and whatnot. What's more, all flights with all airlines can now be booked online using 12GoAsia.
Phnom Penh to Ho Chi Minh by Bus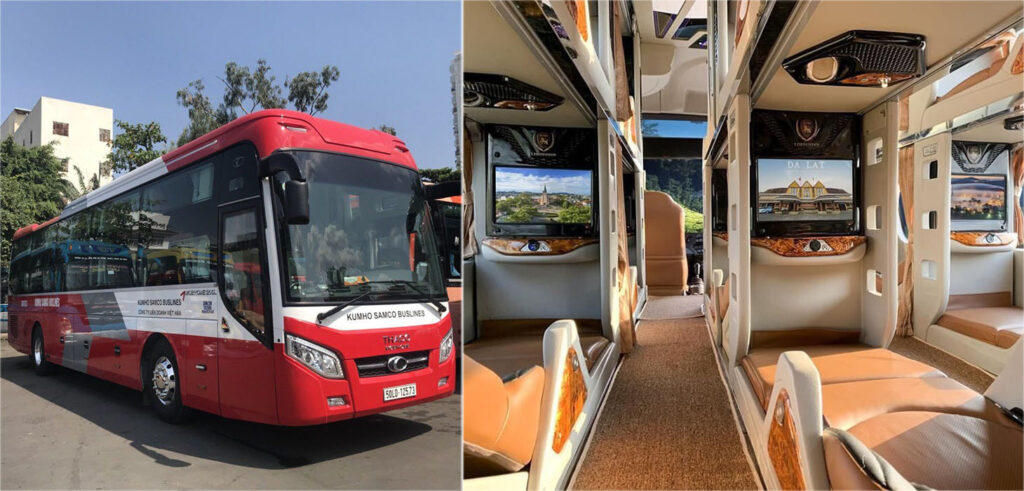 Time – 7 hours
Price – From $27
Comfort – 3/5
Going overland? Buses are surely the pick of the bunch. In fact, in the absence of any direct international railway lines between Cambodia and Vietnam, they're just about your only pick. For that reason, there are a healthy 13 or so departures each day on this route. The bulk of them leaves Phnom Penh before 11am, planning to roll into HCMC as the sun starts to set over the Mekong Delta. Without delays, the trip should take seven hours from start to finish.
But you don't actually spend the full seven hours on the road. Nope, you'll need at least an hour to complete the border crossing at Krong Bavet-Moc Bai. That's one of the three main international border crossings between these two nations and the busiest of the trio to boot. It's also why we 100% recommend taking the earlier buses out of Phnom Penh. Since the border is only officially open from 8am to 8pm, there have been horror stories of delayed coaches getting stuck until the next morning. Don't let that be you.
Day buses are basically the only overland option on the route between Phnom Penh and Ho Chi Minh, not least of all because they have permission to drive across the border checkpoint and carry on.
Another note of caution: It's still not possible to get Vietnamese visas on arrival at this checkpoint, so everyone must have the correct documents lined up before boarding the bus. Otherwise, you'll be refused entry, and the bus certainly isn't waiting – seriously, we've seen it happen! On the upside, buses are the only commercial mode of transportation that have permission to drive straight from country to country here. That means you don't have to unload your luggage and heave it onto another vehicle on the Vietnam side to carry on with your trip.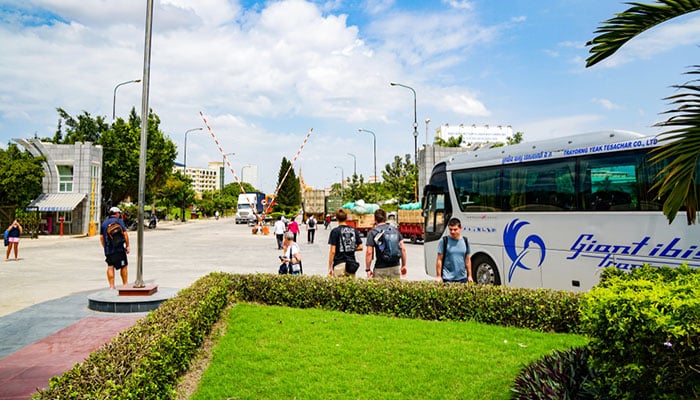 The route is more lush and green on the Cambodian side and more built up once you cross into Vietnam. It basically follows the main QL22 highway the whole way, for the full 141 miles. You can make the trip on a handful of different bus companies. The highest-rated being Giant Ibis and Kumho Samco. Both have multi-seater coaches with lots of legroom and recline, not to mention air conditioning throughout. Be sure to check where they start from in Phnom Penh and where they finish up in HCMC when you book yours via 12GoAsia. Some go from the downtowns of each city, others to more out-of-town stops.
---
Given the choice, we'd always fly from Phnom Penh to Ho Chi Minh City, provided our budget allowed. For one, it's a journey of just four hours compared to over seven on the road. Secondly, there's no need to go through busy land borders; simply hit airport immigration just as you would when you normally touchdown in a new destination.
Whichever mode of transport you choose, you can look forward to exploring a megalopolis of epic proportions, complete with war museums, Asian markets, and vibrant nightlife streets filled with beer.
---
How useful was this post?
Click on a star to rate it!
Average rating / 5. Vote count: