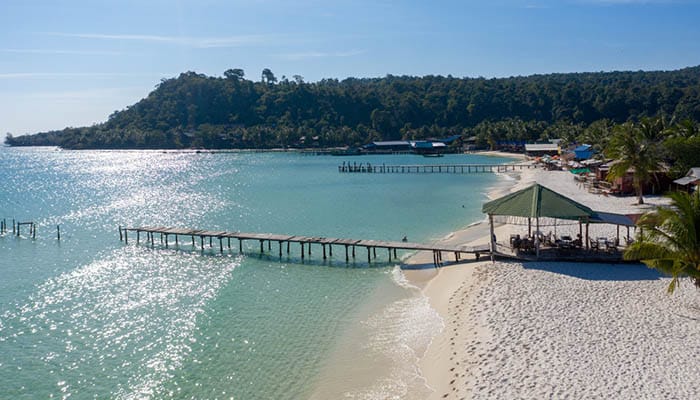 Koh Rong is an island of many faces. It flaunts sugar-white beaches and turquoise seas. Koh Rong also has rambunctious party strips and hedonistic party hostels. It's got laid-back yoga retreats on its less-trodden west coast, along with sprawling honeymoon hotels on its hidden northern shores.
Thousands flock to Koh Rong to get their hit of R&R out of Cambodia. Almost all of them will pass through the busy port town of Sihanoukville since that's where the boats depart to make the 17-mile trip across the Thai Gulf to the island's jetties and piers. Here's a closer look at all the various ways to make the journey…
Sihanoukville to Koh Rong by High-speed Ferry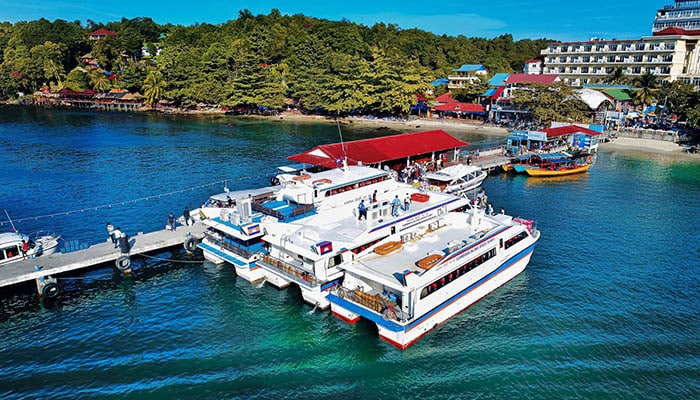 Time – 45 minutes
Price – $14 per person, each way
Comfort – 4/5
Throughout the last 10 years, high-speed ferry services have been gradually replacing all the slower boats on the route from the Cambodian mainland port to the isle of Koh Rong. That's a good thing for casual passengers sticking to a tighter budget because it means journey times are now the same as they are on the dedicated speedboats (around 45 minutes from the jetty to the jetty) though ticket prices remain steady at $14 each way.
There are a handful of companies to pick from here; all of them are roughly the same. That said, the highest-rated of the lot is Island Speed Ferry Cambodia. They run specially designed catamaran boats with indoor seating only. The cabins are laid out in three aisles, with rows set in two-three-two orientation. All have welcome features like big windows and air conditioning throughout. There are also outdoor deck spaces but they can't be used during the trip since they can get a bit wobbly!
High-speed ferries are now the main connection between Sihanoukville and the paradise island of Koh Rong.
There are three different sets of high-speed ferry departures out of Sihanoukville every day. The first departs at 9am to get you to the island side in time for breakfast in Koh Toch village. Others leave around midday, followed by final departures at 3pm for arrival in Koh Rong close to 4pm. The latter is often the busiest since they match up with the coming of long-haul buses from major Cambodian destinations such as Phnom Penh and Siem Reap.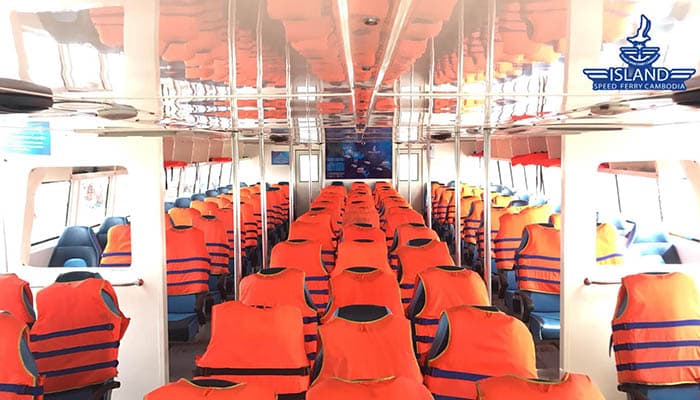 All these high-speed boats leave from the bustling pier at the northern end of Ou Chheuteal Beach, which is the central beach in Sihanoukville but far from its nicest. Arriving in Koh Rong, you'll step out at the Community Pier in Koh Toch, the main town. It is possible to buy tickets on the ground, but we don't recommend it. Reserving online before you even get to the Cambodian coast means you can secure a fair price of around just $14 each and won't have to worry about boats suddenly filling up.
Sihanoukville to Koh Rong by Speedboat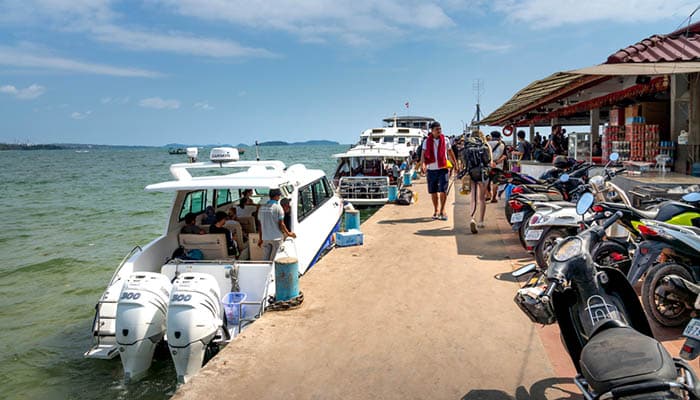 Time – 45 minutes
Price – $15+
Comfort – 3/5
The speedboat isn't all that different from the high-speed ferry from Sihanoukville to Koh Rong. Both take roughly 45 minutes to complete the trip. Both leave from the main jetty and port area between Ou Chheuteal Beach and Sokha Beach.
There are two reasons you might prefer the speedboat over the high-speed ferry. For one, there's more of a varied mix of departure times spread throughout the day, including later departures that leave after 5pm. Secondly, some speedboats connect to hidden beaches and smaller fishing towns around Koh Rong, not only to the main port in Koh Toch village.
Speedboats depart from Sihanoukville more often than the fast ferries, but they can be bumpy in rough seas, so might not be for the landlubbers out there.
The main company names to know about when it comes to speedboats are Speed Ferry Cambodia and Buva Sea Cambodia. They each use vessels that are smaller than the catamaran ferries, typically capable of holding around 20-30 passengers, all tightly packed into a half-covered single deck. That's actually the downside here since the speedboats are noticeably less comfortable than other transfer options and are much more susceptible to cancellations in rough seas.
On the flip side, as we've already mentioned, speedboats might be able to take you straight to one of the harder-to-reach areas of Koh Rong. Some connect directly from Sihanoukville to Royal Beach and Sok San Beach on the western shoreline (perfect if you're chasing epic sunsets). Others can take you to Long Set Beach or up to Pagoda Beach along the east coast (great for escaping the crowds). Use 12GoAsia to compare the arrival and departure locations of each service, and even to book your speedboat tickets online before you travel.
Sihanoukville to Koh Rong by Local Boat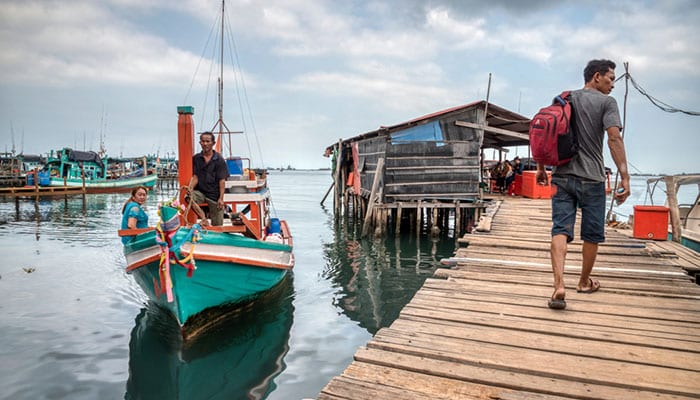 Time – 2 hours
Price – $5
Comfort – 2/5
Calling all adventure seekers – there's no more immersive experience on the route from the Cambodian mainland to white-sanded Koh Rong than what's offered by the local boat. Known as the village boat or the parcel boat, this is essentially a cargo vessel that brings mail, foodstuffs, and wares over to the island. It runs every day at about 2pm. And when we say about 2pm, we really do mean about, since this slow connection is very often late arriving and leaving to and from the port on the Sihanoukville side.
For a ride on a converted fishing boat to a local village, choose the slow cargo boat that goes from Pier 52.
Talking of the port, it goes from a totally different jetty than the commercial boat connections. You'll need to leave behind the beachfront on the south side of the town and take a taxi 20 minutes north to Pier 52. It's a much more local affair, without any of the ticket touts and tour companies. You're looking for a long, rickety, timber-built pier and a boat that's little more than a converted fishing skiff. Don't expect air conditioning or modern comforts here. Do expect to be crammed between cases of beer and stacks of mail!
The trip on the local boat can be a long one. Sometimes, when the Thai Gulf is calm, it can be 1.5 hours. Other times, it's over three hours and tough going. You'll arrive at Daem Thkov Village on the far eastern side of Koh Rong. That's perfect if you wanted to dodge the 18-30s party places altogether and hit idyllic Coconut Beach straight away. Oh, and there's one more bonus to this mode of transport: It only costs $5 per person.
Sihanoukville to Koh Rong by Tour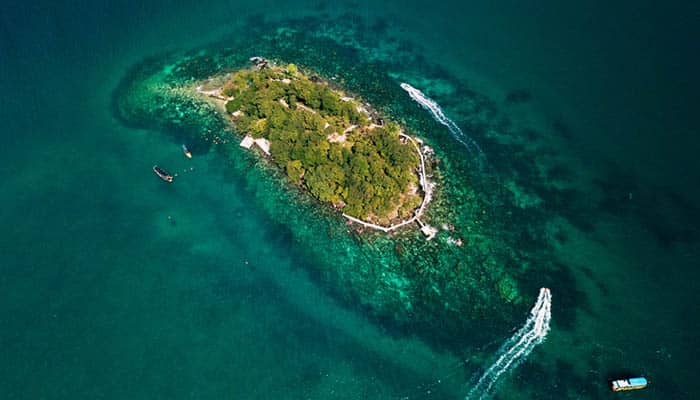 Time – Half a day or all day
Price – $25+
Comfort – 4/5
You're likely to see plenty of advertisements for day trips across to Koh Rong when you first set foot in Sihanoukville. They usually involve 6-12 hours of touring the Thai Gulf around the Cambodian port, including a stop off at several of the most lauded beaches on the island, from Coconut Beach on the east shore to Sok San Beach on the west shore. It's also possible to get packages that include snorkeling equipment and even stops at smaller Koh Rong Samloem (another seriously gorgeous island), along with some that offer free lunch or breakfast.
Just remember that a planned tour to Koh Rong isn't really for getting over to the island and staying there. They're all about whizzing through the highlights of the region and then taking you back to port. That's great news if you're based in Sihanoukville itself but not so good if you were hoping to while away some days swinging in a hammock and exploring Rong's various beaches at a slower pace. Expect to pay upwards of $25 per person for a tour.
---
Koh Rong is Cambodia's paradise island. At just nine miles from top to bottom and less than four miles wide at its narrowest point, it's hardly big but manages to pack a punch with the hedonistic bar scene of Koh Toch village and the talcum-white powders of Coconut Beach and Long Set Beach. 
The port town of Sihanoukville handles basically all of the ferry and boat links over to Koh Rong, so expect to pass through en route to the soft sands and azure seas. There are a few different transport options, from speedy ferries to slow local cargo boats.
---
How useful was this post?
Click on a star to rate it!
Average rating / 5. Vote count: