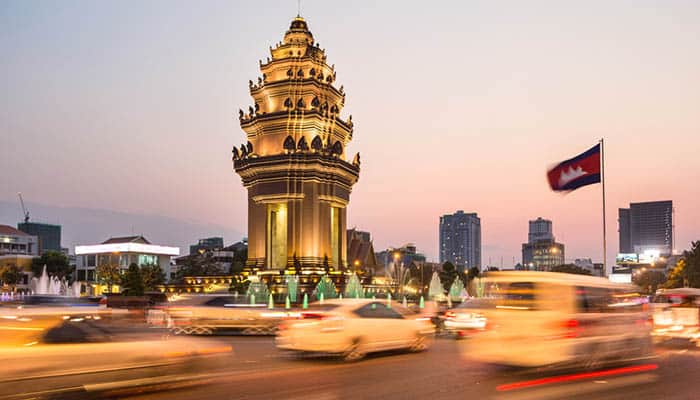 Siem Reap to Phnom Penh is a journey that a lot of travelers look to make in Cambodia. It links up two of the country's must-see draws.
You'll start with a romp around the UNESCO-tagged Buddhist and Hindu temple complexes of Angkor Wat, one of the wonders of the ancient world. From there, you'll cross the heart of the nation going south, past Tonle Sap Lake following the bends of the Tonle Sap River, straight into the sprawling capital city for haggling sessions in the night bazaars and sobering history lessons in the Killing Fields.
In all, the trip is 144 miles and can be done on fast flights, slower coaches, or comfy private taxis. Let's take a look…
Fly from Siem Reap – soar through the Cambodian skies in style!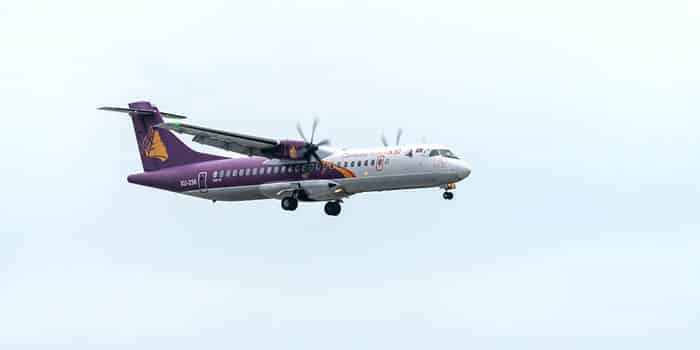 Time – 50 minutes (flight time only)
Price – $115+
Comfort – 5/5
Money rich but time poor? The planes are the option to go for when it comes to getting from Siem Reap to Phnom Penh. They'll whisk you right across the heart of Cambodia from temples to the capital in just 50 minutes, dodging the need for long-haul bus links or arduous road connections. Add on the 1.5 hours' time you'll need at the check-in terminal and the 20 minutes or so transfers from the airports on either side and you're looking at total journey times in the region of three hours, which is half what most overland routes require.
If time is tight and you don't want to spend six or more hours driving through central Cambodia, there are two 50-minute flights from Siem Reap to the capital each day.
The downside here is the cost. Airfare on this popular commuter, business, and leisure flight is usually well over the $100 per person mark, and typically closer to $125 per person, each way. Thankfully, the carrier that runs the route – Cambodia Angkor Air, the national flag carrier of Cambodia – doesn't charge any extra for checked luggage, so there's no need to go hunting for another $50 if you're packing hefty bags.
There are two flights between Siem Reap and Phnom Penh daily most days of the week. Both go late in the evening; the first at 7pm and the second at 9.15pm. They jet out of Siem Reap International Airport (REP). That's located just over six miles to the northwest of the town itself. Expect to pay $10 for a taxi straight to the departure hall. Arrivals are at Phnom Penh International Airport (PNH), from where it takes 60 minutes to get to the capital city center in a taxi that should cost around $12.
Catch the Scenic Route on a Bus Ride to Phnom Penh
Time – 6-7 hours
Price – $12-14 per person
Comfort – 3/5
Although the twice-daily flights from Siem Reap to Phnom Penh are the quickest way to complete this popular route, most people still opt to go the conventional method and hop on a bus. There are a few reasons for that, but mainly it comes down to price. A seat on one of the large VIP coaches between the home of Angkor Wat and the sprawling Cambodian capital will set you back a mere $12-14, which can be ten times less than what you'd pay to take to the skies.
But that's not the only bonus. You'll also get a whole load of extra departure options strung throughout the day, with services leaving the temple city almost every hour starting at 6.30am. And there are night buses to boot. They'll whizz out of Siem Reap around 11pm and arrive in the capital bright and early just before sunrise, helping you save even more on the cost of accommodation for the evening as they go.
The big buses remain a reliable and – above all – cheap way to trade Angkor Wat's great stupas for the buzz of Phnom Penh.
Giant Ibis remains the most famous long-distance bus operator running services between these two must-see Cambodian destinations. They offer air-conditioned coaches with reclining seats and big windows for watching the countryside roll by as you travel. They aren't the only choice, though. You could also plump for connections with Mey Hong Bus or MBus, which have slightly older vehicles but they have superior night-bus options complete with lay-flat beds.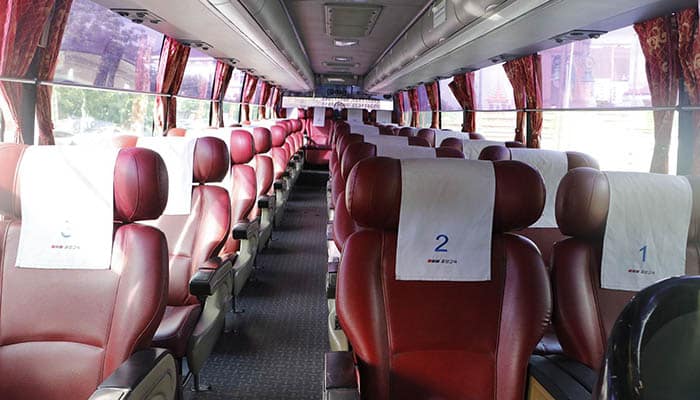 It's normal for the overland bus link to Phnom Penh to take in the region of 6.5 hours. That can change if there's lots of traffic on the way into the capital, or if the weather is particularly bad. All services leave from the Siem Reap Bus Stop on the eastern side of town and get into the capital at different places, though many will terminate on the bustling road just north of the Phnom Penh Night Market.
Siem Reap to Phnom Penh on a Minivan Adventure!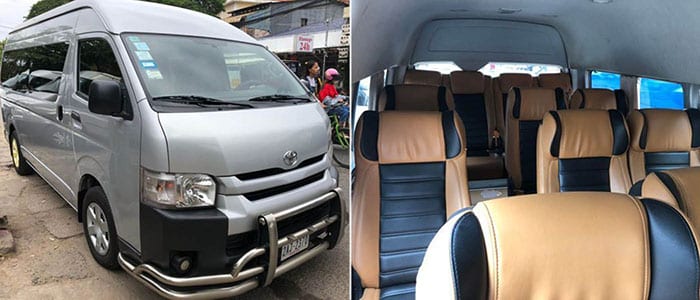 Time – 6 hours
Price – $14-16
Comfort – 4/5
There are now something like 20 individual minivan departures from Siem Reap to the Cambodian capital every 24 hours. They've become a lot more popular in recent years, as they offer a slightly more comfortable alternative to the larger buses but with only a dollar or two's hike in rates.
The trip time is also a whisker faster in these smaller vehicles – most take around six hours flat before they roll into the bazaars and bustling streets of Phnom Penh.
A minivan will only cost a dollar or two more than the bigger buses but is a touch quicker and slightly more comfortable.
Leading minivan operators include Seila Angkor Express and Cambolink 21 Express. They've got 12- or 14-seater cars with climate control and sun-shaded windows, making for a pleasant ride from start to finish. You'll see ticket kiosks touting bookings on these all over town, but it's probably easier to reserve online using 12GoAsia. That will let you compare all the various leaving times and pick a company with great user ratings. Bear in mind that you might need to book two seats on the minivan if you're bringing multiple bags with you – there are no dedicated hold storage areas here as you get on the larger coaches.
Minivans take the exact same road as taxis and big buses. That means you'll go south on Highway 6 until you link up with the courses of the Mekong River just before hitting the outskirts of Phnom Penh itself. There's typically a stop-off at a service station with a local restaurant and coffee shop midway through the journey. Arrivals will take you straight into the city center, usually to stations just off France Street, about 15 minutes walking to the night bazaar and Old Market.
Taxi Time! Sit Back and Enjoy the Ride to Phnom Penh in Luxury.

Time – 5.5-6 hours
Price – $88+
Comfort – 5/5
There's a lot to be said about the taxi option on the road between Siem Reap and Phnom Penh. At first glance, you might think that in excess of $88 is a crazy price for something that takes almost double the length of the direct flight. But remember that you can divide that up between everyone you're traveling with to share the cost, making it closer to $10 per person if you manage to secure the larger six- or eight-seater vehicles. Also bear in mind that a taxi offers front-row seats over all the wonderful Cambodian countryside that rolls between these two cities, including sightings of hidden temples and glimpses of the great Mekong River!
Taxis can offer both comfort and adventure on the way between Siem Reap and Phnom Penh.
In fact, it should be possible to negotiate a taxi ride that includes some pitstops along the way. That could be a journey through the floating villages of Tonle Sap Lake, a walk through the local Damdek Market, or a detour up to the haunting and half-ruined temple structures of Prasat Beng Mealea (the off-the-beaten-track alternative to Angkor Wat). Just be sure to ask your driver about those before you set off and agree on a price for the whole thing.
Of course, the other benefit of going in a taxi is all that comfort you'll get. These are private cars that are for you and your travel buddies alone. There's guaranteed to be air conditioning and you'll be able to take breaks whenever you request. Plus, you can book taxis to collect you right at your hotel door in Siem Reap and drop you off at your hotel door in Phnom Penh, with no transfers required. Nice.
---
Phnom Penh is the obvious next stop on a Cambodian travel itinerary after shortening the bucket list with a jaunt through the great temples of Angkor Wat. One of the major national capitals of Southeast Asia, it's a city with gold-glimmering palaces and Buddhist shrines, but also sobering historical monuments like the S-21 Genocide Museum and the Killing Fields.
Because so many people make this trip each year, there's a good number of transport options on the menu. Minivans and buses are probably the cheapest, but there's plenty to be said for getting your own taxi, along with flights that can help you do the journey in under three hours.
---
How useful was this post?
Click on a star to rate it!
Average rating / 5. Vote count: