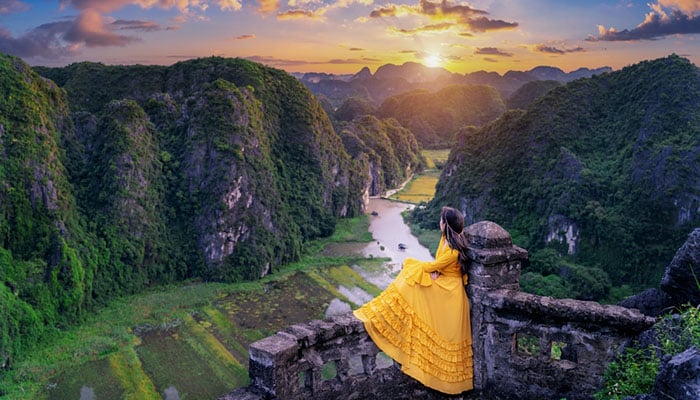 Get ready to be wowed by the shark-fin mountains of Ninh Binh. Dashing through the Red River Delta in a patchwork of rugged karst cliffs and low-lying wetlands, they form what's unquestionably one of the most jaw-dropping natural landscapes in the country. And that's not it – the 10th-century ancient capital of Vietnam is also wedged somewhere in the middle of it all, so history buffs have lots to get through.
The city of Ninh Binh itself is the gateway. It's usually accessed via Hanoi, which is only 50 miles to the north as the crow flies. This guide will reveal how you can get in from the Vietnamese capital, using the buses or the characterful local trains. Let's go…
Hanoi to Ninh Binh by Train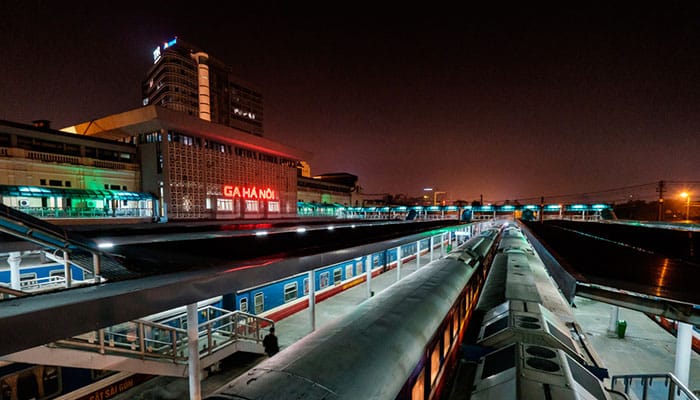 Time – 2h18
Price – From $8
Comfort – 4/5
We've got a lot of love for the Vietnamese trains. They're a classic and comfy way to travel through the country. Suitable both for long-distance and short connections like this one from Hanoi to Ninh Binh. They also have a good rep for being on time and don't cost all that much. Take this 50-mile trip on the railways south of the big city. It'll only set you back a mere $8 per person, and a max of $13 if you plump for the sleek 1st Class Sleeper cabins.
Train travel is a bit of an adventure in Vietnam, taking longer than buses but offering great views and people-watching as you go.
Sleepers certainly aren't required, though. These trains leave from the huge Hanoi Railway Station on the western edge of the Old Quarter (the main tourist quarter) of Hanoi and take about 140 minutes to transport you to Ninh Binh. One important thing: Trains always take you to the very middle of the modern town of Ninh Binh, not to the karst mountains and cave resorts that you probably came to see. The upshot? Expect to pay another $10 or so for a taxi out to the countryside once you arrive.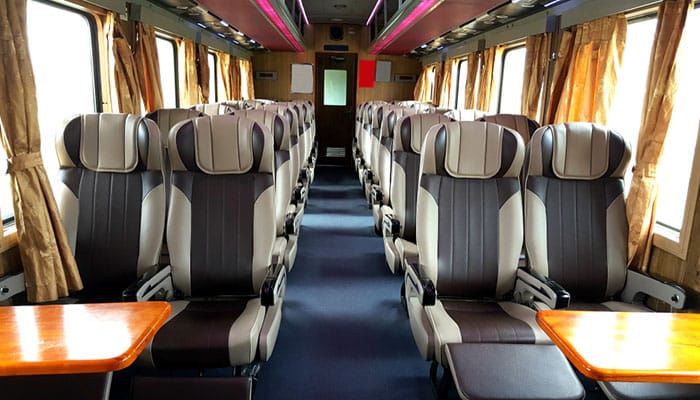 All the train services are run by the state-owned Vietnam Railways. They are on relatively pleasant locomotives, each boasting air conditioning and steward service. You'll likely be traveling in the seated carriages, which come with a mix of table and double seats to suit different groups of travelers. The views will help you pass the time more than anything – watch as the central mountains of North Vietnam begin to peak on the horizon and the city suburbs get overtaken by rice paddies that roll to the distance. To enjoy those, be sure to travel on one of the two daylight trains. They leave at 6.10am and 3.30pm.
Hanoi to Ninh Binh by Bus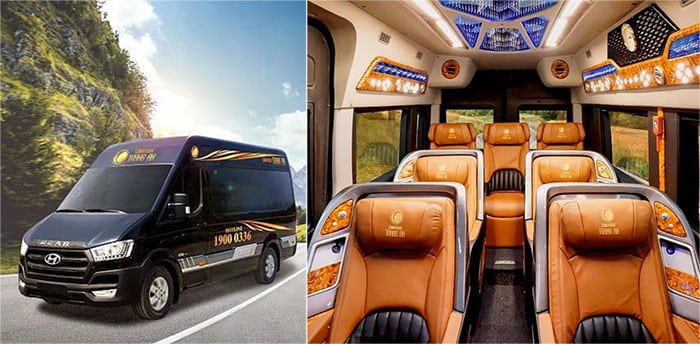 Time – 1.5-3 hours
Price – $11+
Comfort – 3/5
You won't be short on buses hopping from Hanoi to the high peaks and fascinating historical ruins of Ninh Binh. Most days there's something in the region of 170 separate bus departures. At peak times, like the early morning and mid-afternoon, you can find an option to leave the Vietnamese capital every 10-20 minutes. There are fewer in the small hours and later in the night, but buses depart as early as 4am and as late as 9.30pm. Basically, there's going to be one to suit your schedule.
One thing to know is that different buses and bus companies leave from varying places around the city. You'll need to consider that because picking somewhere that's within easy reach of your hotel will make boarding a cinch. What's more, departure points have a big impact on the time you'll spend traveling since buses that leave from the southern side of Hanoi have less traffic to deal with. They take just 1.5 hours, almost half the time as some other options.
There's an abundance of bus options for getting you from Hanoi to Ninh Binh, sometimes leaving the capital as frequently as every 20 minutes.
A lot of the buses finish up the journey in the small town of Tam Coc. It's a little to the west of Ninh Binh itself, but the prime place to arrive if you're looking for visions of jungle-tufted karst mountains and staying in the eco-lodges of the river valleys like most travelers are. Other bus operators give travelers a range of drop-off choices, including the city center of Ninh Binh and the Mua Cave.
There are a couple of operators that stand out from the crowd here. Techbus VN, Grouptour, and Truly Hagiang have garnered more than four out of five stars for their overall service. They use modern nine- or 12-seater minivans that are pretty darn comfortable if you ask us, packing plenty of legroom, efficient climate control, and roomy recline seats done out in faux leather. All buses – all 170 or so – can now be booked online before you even arrive in Hanoi using 12GoAsia.
Hanoi to Ninh Binh by Taxi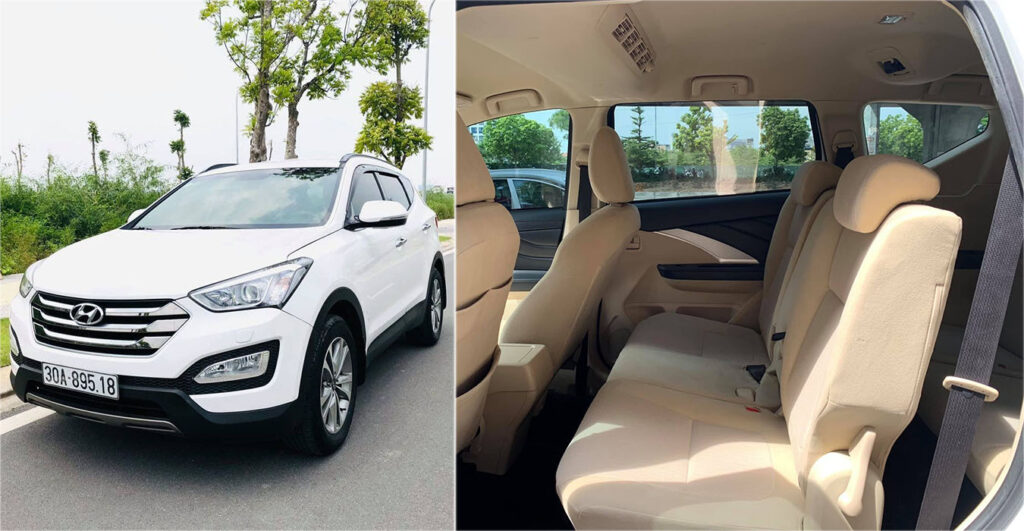 Time – 1.5-2.5 hours
Price – From $55
Comfort – 5/5
If you've got stacks of Vietnamese dong to spare and want to travel in real comfort, then you could always consider taking a taxi to Ninh Binh. There are a couple of reasons why it's a pretty darn good option on this route. First off, the trip should be short enough to ensure fares aren't astronomical. Second, it is handy to have control of exactly where you get dropped off because many of the best hotels in Ninh Binh are nestled close to the nature reserves some 15-20 minutes outside of the main town. Thirdly, taxis are the most luxurious way to travel.
Get to the door of your hotel in the countryside of Ninh Binh in comfort – hire a taxi to take you to your destination from a place of your choosing in Hanoi.
Taxis will take the most direct possible route out of Hanoi to try to shave down the overall journey time. That means you'll usually complete this trip in 1.5 hours, but it really depends on what part of the capital you opt to leave from and when you opt to go – trips during the morning rush hour out of further-afield northern Hanoi, for example, might be closer to 2.5 or three hours on the road.
The views are okay from the main highway that goes south but the real juicy part of the journey is the last 20 minutes as you approach the lush massifs of Ninh Binh itself. Unless that is, you organize with your taxi driver to add stops at points of interest along the road. A couple is lying on the way from Hanoi, including the Huong Pagoda and the meanders of the Red River itself. Just bear in mind doing that could increase the price considerably.
---
Ninh Binh is one of the great natural wonders of Vietnam. A sea of needle-like karst mountains divvied up by pockets of daffodil-yellow maize fields and emerald rice paddies. It's home to epic cycling paths and rafting riverways, along with the 10th-century capital of the country.
Getting to Ninh Binh from Hanoi is as easy as devouring a plate of spring rolls. There are over 170 affordable buses, cheap trains, and even private taxi hires ready and waiting.
---
How useful was this post?
Click on a star to rate it!
Average rating / 5. Vote count: