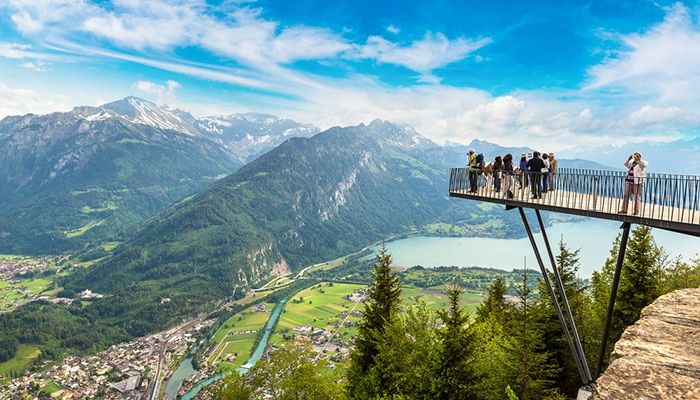 Charge the camera, prep the walking poles, and wax down those hiking boots – Interlaken is Switzerland at its most adventurous. Straddling a narrow isthmus between opal-hued Lake Brienz and turquoise Lake Thun, it's the gateway to the wonderful Bernese Oberland, where trekking paths weave around glaciers and the mighty summits of the Eiger and the Dreispitz keep watch.
It's just under 75 miles on the wiggling Swizz roads to this gorgeous corner of the Alps from Zurich. That can be covered by car or rail, on some seriously stunning journeys that offer vistas of meadows and valleys and quaint hill towns along the way. Ready to get going? Good…
Zurich to Interlaken by train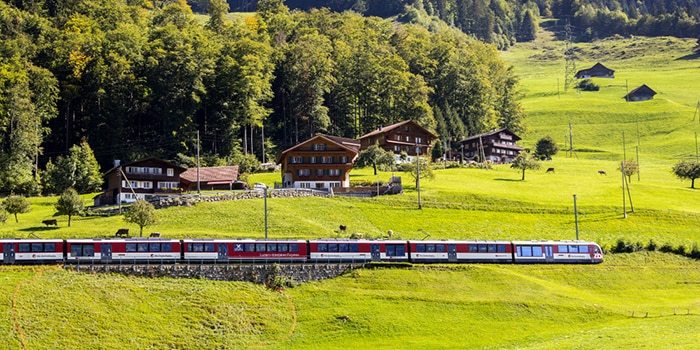 Time – 1h50+
Price – $25+
Comfort – 5/5
There are basically two ways you can go from Zurich to Interlaken on the Swiss railways. The first – and the quickest – takes you via the nation's capital in Bern. There, it's a quick hop onto another train to go southwards to Thun and then Interlaken itself. Coming in at about an hour longer at 2h50 in total is the route that goes via Lucerne. Both connections are done on the InterRegio or InterCity trains, which have spacious 2nd Class and 1st Class options with table seating and large windows (good news on this journey!).
Most travelers will go for the link through Bern, despite it often being a tad pricier – at about $35 per person. That's because it's faster overall and leaves more frequently from Zurich HB. The first leg of the ride will be in the IC train bound for Brig, taking around an hour. After changing, it's a 55-minute connection onwards to Interlaken Ost. If you're wondering why you'd ever opt for the longer route going into Lucerne, it's really all down to the views…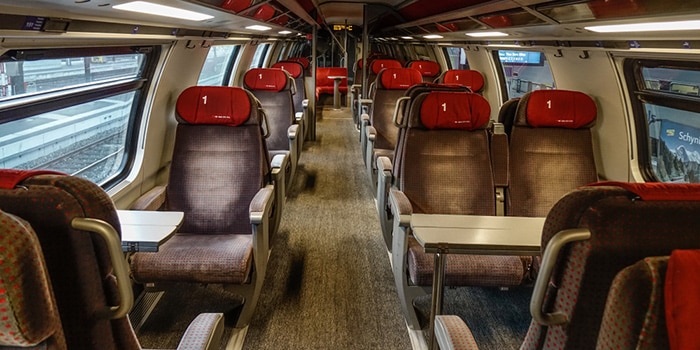 Pick between a fast connection via Bern or a scenic route through Lucerne and the heart of the Swiss Alps.
While the faster itinerary still boasts some pretty fine window watching, especially as you pass southwards into the Aare valley south of Bern, it largely sticks to the northern flatlands of Switzerland. Going via Lucerne puts you on a more direct path to the Oberland. That means you'll quickly be immersed in the mountains, and get to see the jagged Uri Alps, the glimmering Sarnersee lake, the snow-mantled tops of the Urner Alps, the idyllic town of Brienz – the list goes on.
It's always important to book your seats on Swiss trains as soon as you've settled on your dates of travel. Why? The railways here are some of the most expensive in Europe, but you can mitigate the cost by grabbing Supersaver fares via 12Go.co. They are usually only available either 60 or 30 days prior to the departure day, and can knock off a whopping 70% from the cost of a standard ticket. The upshot is this whole trip could be bagged for around $25 per person.
Zurich to Interlaken by bus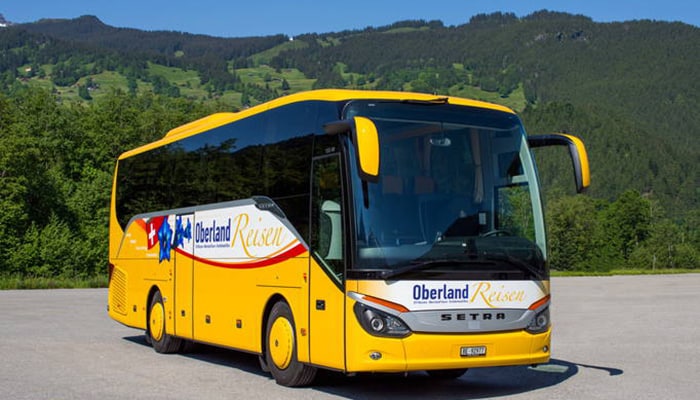 Time – 2h10
Price – $56 per person
Comfort – 3/5
There are no public bus connections on offer to whisk you to the gleaming Alps of central Switzerland from Zurich. However, there is a single private bus company that offers at least three services to Interlaken each day. They go from right outside Zurich Airport, take a little over two hours from start to finish, and have to be booked in advance – in fact, the bus will only run if there are at least 15 bookings per departure. Just look for the operator FLY-BUS/Oberland Reisen when searching on 12Go.co.
These are pretty nice options for folk who are jetting into Zurich Airport and don't want to wait around before getting en route to the mountains. The three potential scheduled services are well-timed to match up with incoming flights throughout the day. There's one at 8.05am, one at 12.35pm, and another in the late afternoon at 4.35pm. All these buses are bound for the famous ski town of Grindelwald, which sits higher up in the Bernese Oberland. You'll simply need to hop off when you pass through Interlaken.
Zurich to Interlaken by car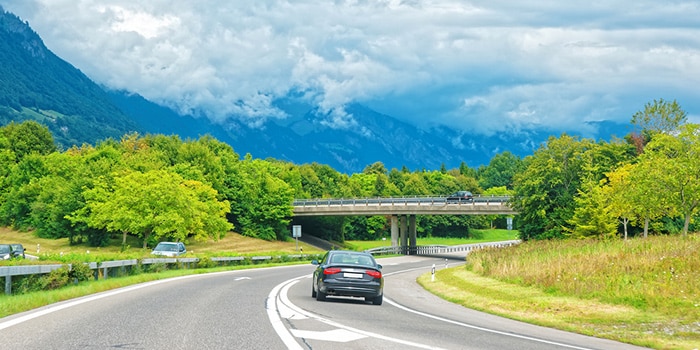 Time – 1.5 hours
Price – Around $95+ for a day's rental
Comfort – 4/5
Travelers who don't like the idea of being tied down to a single bus or train schedule might prefer to rent their own wheels for the ride from Zurich to Interlaken. Thankfully, providers like RentalCars.com can offer packages on hire vehicles from both downtown Zurich or the airport, helping you get on the highways easily, no matter if you're waking in a hotel or hopping off a flight. What's more, Swiss roads are generally of very high quality, and the route the A4, A14, and A8 take to Interlaken is a pure pleasure to drive – especially on a sunny day.
Yep, this is known as one of the most stunning roads in the whole of the Alps. It takes you via charming Lucerne with its covered bridges and shuttered chalets, beneath soaring Mount Pilatus, by the green fields and forests of lovely Sarnen, and along the whole length of beautiful Lake Brienz. There are ample opportunities to stop, but also temptations to hike and bike and swim. That all means it might be a good idea to make a trip out of it and add in a couple of overnighters.
Zurich to Interlaken by organised tour

Time – All day
Price – $100+
Comfort – 4/5
Less hassle, oodles of time of relax and enjoy the views, a guaranteed pickup at your hotel in central Zurich – there are lots of bonuses to organised tours to Interlaken. Of course, that's provided you're willing to fork out the $100 or so price tag they usually come with! Things typically begin with a coach or minivan transfer all the way through the Canton of Zug and then Lucerne. That takes about 1.5 hours in total, not counting the photo stops you're likely to make by all the lovely lakes en route.
But the trip to Interlaken is just the beginning, because classic itineraries also include some shopping time in the boutiques of the centre, and, more often than not, a jaunt into the stunning Jungfrau region to the south. Some packages might see you hop on the mountain railway up to Grindelwald to catch cable cars overlooking the Eiger. Others might take you down into Lauterbrunnen, for visions of misty rainfalls and some of the most iconic peaks in the Alps.
---
Getting to Interlaken from Zurich is easy thanks to the regular connections offered by Swiss Federal Railways. But you can also hop on a transfer bus or do the drive yourself, weaving through rock-topped mountains and azure alpine waters to find the town nestled on the lakeside.
---
Zurich to Interlaken FAQ
How useful was this post?
Click on a star to rate it!
Average rating / 5. Vote count: