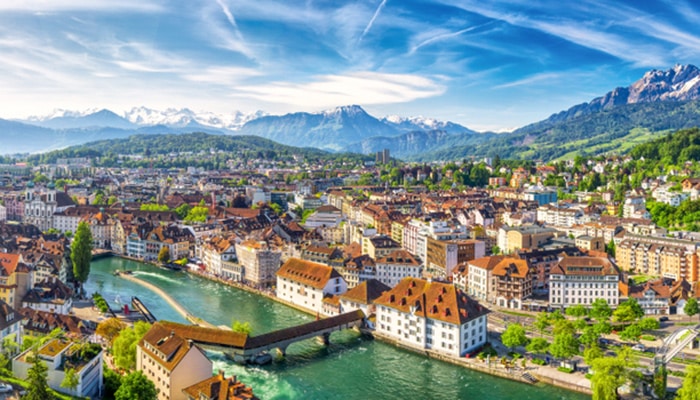 Banks and businesspeople have turned Zurich into one of the wealthiest cities in the world. Today, folk flock in for board meetings, but also to see the wonderful Old Town and its Grossmunster church, or the glistening lake and bergs of the Alps beyond.
To continue that adventure, an obvious next stop on the itinerary would be Lucerne. It's tucked under the high summits of mounts Pilatus and Rigi just 38km in a straight line to the south-west. Of course, the trip there will be longer, on account of the wiggling highland roads and steep-sided valleys that lie in the way. Still, the reward is worth it: An enchanting conglomeration of Swiss chalets and shuttered houses, romantic bridges and flower-blooming squares. Tempted? Let's get you there…
Zurich to Lucerne by train
Time – 45-60 minutes
Price – From $27
Comfort – 5/5
Swiss Federal Railways run super-regular trains from the big banking centre of Zurich to the chocolate-box town of Lucerne. In fact, they leave the large Zurich HB Main Station, which you'll find on Bahnhofplatz in the heart of the city, around three times per hour on average. Services start early – like really early (it's possible to go from town to town on the train at eight minutes past midnight if you have to!) – and go on until very late (the last option is scheduled for 11.35pm).
Trip times vary but are never over an hour. The fastest connections could see you stepping through the grand 19th-century gateway out of Lucerne railway station in just 45 minutes. Those will be the direct IC trains that don't involve any changes en route. Some slower options will have a change, in the charming town of Zug midway between the two destinations. (We'd only recommend going for those if you fancied dropping in for a taste of the famous local cherry cake or a coffee on the pretty central square.)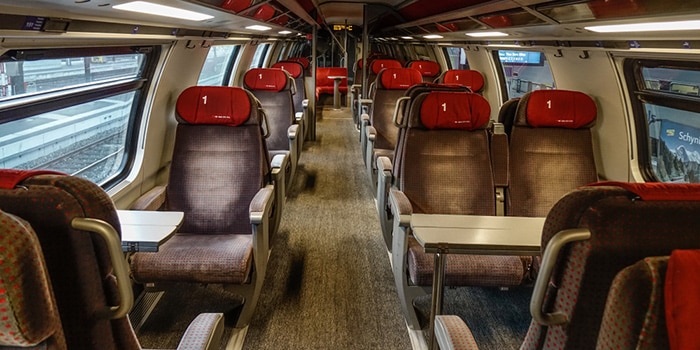 Trains from Zurich to Lucerne won't disappoint with the views and the comfort level, but we'd recommend booking in advance for saver fares.
Just as you might expect, the train journey is scenic to boot. It might not be as famous as the Glacier Express, but it's got a lot going for it. The first step is a picturesque lakeside trundle down the side of the Zurichsee. Watch out for the Albis hills rising on one side as you do that, because they are the first hint of the Alps transitioning from the lowlands of the north. As you cross into the Canton of Zug, things become more quintessentially Swiss, with meadows and pastures and even snow-capped mountains framing the horizon.
The cheapest prices on all Swiss Federal Railways lines are with the Supersaver fares. They're typically only available in advance of the ride, so you'll need to get a-searching on 12Go.co before you even get to Zurich. To give an idea of what you can expect to pay, the base cost of a seat on the direct link down to Lucerne is $27 per person. The good news is that Swiss trains are comfy and modern, with double-decker carriages that have great views from the top floor even being used on this route.
Zurich to Lucerne by car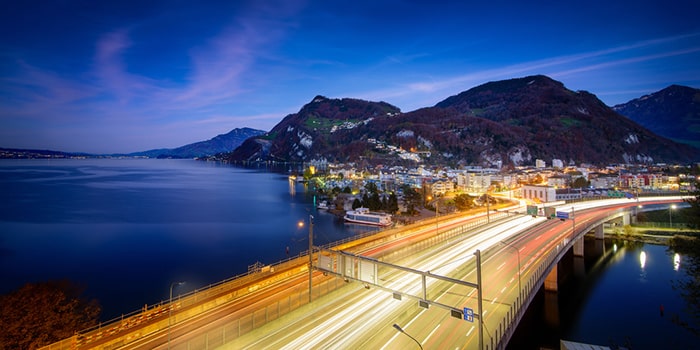 Time – Around 40 minutes
Price – Around $100
Comfort – 4/5
It's possible to organise a car hire from RentalCars.com that will cost just $100 or so for a full day's drive. You'll also get to collect your wheels from any point in Zurich, though the most popular and convenient is often right at the arrival hall in the airport. From there, you simply need to drive west on the A1 motorway, change to the A3 and then the A4 going south, before switching to the A14 that takes you all the way to Lucerne. In total, it's a trip that can be done and dusted in as little as 40-50 minutes.
If you have a little extra time to spare, and some wiggle room in the travel budget, you might want to extend your journey and add in a few stops on the way to Lucerne. The half-timbered taverns and lakeside setting of lovely Zug is certainly worthy of a night. Alternatively, there's hiking over moorlands and under ice-capped summits to be had in the UNESCO Biosphäre Entlebuch, sat a little to the west of Lucerne.
Zurich to Lucerne by organised tour

Time – Usually all day
Price – From around $100 per person
Comfort – 4/5
So, you're pining for an adventure through the foothills and valleys of the gorgeous the Schwyz and Uri Alps – the ranges that enfold Lucerne to the south and east – and a taste of Swiss culture while you're at it? All that and more can be offered by organised day trips or multi-day tours, which combine a trip to Lucerne with history and hiking in this gorgeous corner of Europe. Just be sure to shop around to find the itinerary that most takes your fancy. Some are all about seeing the quaint alpine towns of Zug and Lucerne itself. Others are about cable car rides to snow-mantled peaks.
The price of a tour varies from season to season, but you can almost always get a full package for around the $100 mark per person. That will typically include transportation to Lucerne in a private or shared coach or minivan, along with a pickup at your hotel or the airport. Bear in mind that tours are almost always roundtrip, so they're better if you're looking to hit Lucerne, see the sights, and then make it back to Zurich in time for a fondue dinner.
Zurich to Lucerne by taxi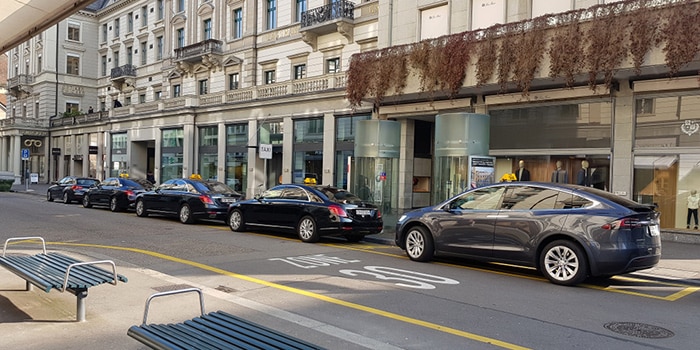 Time – 40 minutes
Price – $300+
Comfort – 5/5
Taxis from Zurich to Lucerne aren't cheap – this is Switzerland, remember? The cost of the ride from one town to the other usually tots up to over $300, and it will certainly be more if you're looking to travel in the summer hiking season, with skis, or late at night. Still, the obvious bonus is that you'll be able to be collected from wherever you like and dropped off anywhere you like. That's great news for folk flying straight into Zurich Airport, or anyone looking to get to one of the lovely alpine lodges that dot the valley around Lucerne itself.
The route follows precisely the same roadways as if you were travelling by car (see above). That means a beeline down the A4 motorway past Mettmenstetten, into the beautiful Canton of Zug, and then south-west straight to Lucerne itself. On sunny days, the views can encompass the shark-fin outline of the Rooterberg and the distant Alps proper that rise to the south.
---
Putting the city of Zurich in the back mirror to head south-west to Lucerne is the first step into the lovely Swiss Alps. It's about trading chic eateries and big banks for outlines of ice-topped mountains and emerald pastures overlooked by church steeples.
---
Zurich to Lucerne FAQ
What is the cheapest way to get from Zurich to Lucerne?
Trains offer good bang for your buck when it's time to head into the mountains and away from Zurich's bustling town centre. So long as you book tickets in advance using a trusted provider like 12Go.co, you could be looking at paying just $27 for a seat.
What is the fastest way to get from Zurich to Lucerne?
Driving is probably the quickest option of all. Of course, it makes no difference if you hire from RentalCars.com or book a private taxi through 12Go.co… You're still looking at about 40-50 minutes on the road before the gabled roofs and covered bridges of postcard-perfect Lucerne swing into view.
What is the best way to go from Zurich to Lucerne?
Most people take the train. They run all night and leave up to three times per hour, so you shouldn't have to wait around too long before getting on the way to Lucerne. In addition to that, they can be good deals, with tickets that sell in advance costing around the $27 mark.
How much is the train from Zurich to Lucerne?
Basic fares that are bought at least 60 days in advance (the so-called Supersavers) usually cost $27 per person on the trip from Zurich to Lucerne. They can offer a whopping 70% off the price of the full ticket, so we'd always recommend booking early if you already know the dates you want to travel.
How long is the train ride from Zurich to Lucerne?
Going from Zurich to Lucerne is a short meander past Lake Zurich and across the edge of the Schwyz Alps. In all, it takes between 45 minutes and one hour, with the slower trips on trains that include a stopover in the town of Zug.
Is the train from Zurich to Lucerne scenic?
It sure is. First, you'll be treated to vistas of the sky-blue waters of Lake Zurich – the railways run alongside it all the way to Horgen. After that, the carriages turn eastwards and into the Albis hills, through to the Zugersee, where the Wildspitz mountain keeps watch. Past that, the line straightens through dairy farms and pastures on the way to Lucerne, which finally comes into view with lurching Mount Pilatus high overhead.
Is there a direct train from Zurich to Lucerne?
Yes. There are multiple direct trains every hour from Zurich to Lucerne. They are actually among the comfiest and cheapest modes of transport on this route, so be sure to check their schedules and prices ahead of time using 12Go.co if you're planning a jaunt into the Swiss Alps this year.
How useful was this post?
Click on a star to rate it!
Average rating / 5. Vote count: