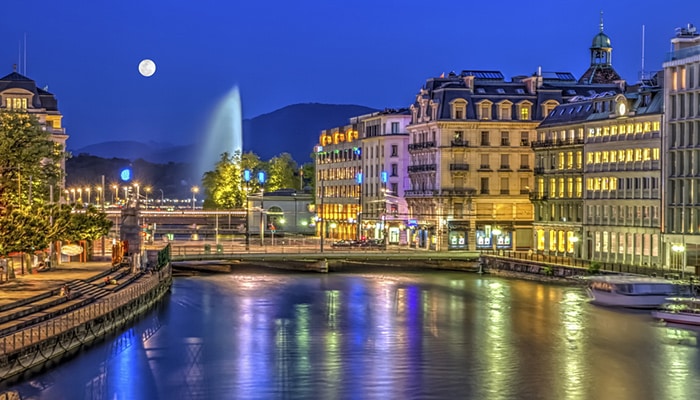 So, you're looking to get to Geneva from Zurich? It's easy to see why. Glistening lake waters, the outline of the Alps and even Mont Blanc, the amazing exhibits of CERN, and a charming old town all await in this bustling city of western Switzerland. Thankfully, the journey in from the banking hub of Zurich is relatively easy to plan.
You'll be covering over 140 miles in distance, but can complete the whole trip in under three hours total. To learn how, read on – this guide has information on the roads, the trains, and even the planes that can help you make the hop from one Swiss town to the other.
Zurich to Geneva by train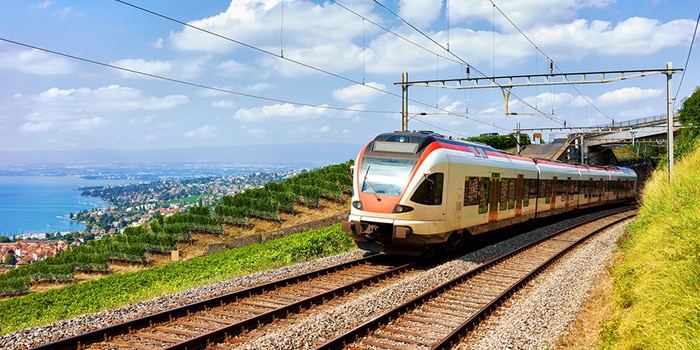 Time – 2h44+
Price – $45+
Comfort – 5/5
Catching the train from city to city couldn't be easier in Switzerland. Thanks to regular IC (InterCity) connections that run roughly every 30 minutes from Zurich HBF from 6am onwards, you can rest assured there will be a link all the way across the breadth of the country to Geneva to suit your travel schedule. Even better news: These services go direct, which means there's no need to hop out at intermediary stations along the way. Simply settle in and enjoy the ride.
And talking of the ride…it's a meandering route that skirts the northern edge of the Swiss Alps, traveling roughly south-west on one of the main railway tracks in the country for around 170 miles. It's got some great views, but isn't even close to the most dramatic line in the country, mainly because there's no need to delve into the Bernese Oberland or the snow-capped high Alps proper. Still, we'd recommend trying for a seat on the left-hand side of the carriage, which have the better panoramas.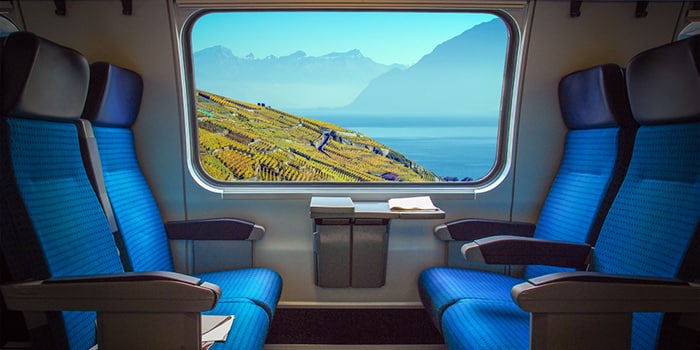 The direct train link is a convenient and efficient choice for making the cross-country jaunt to Geneva in less than three hours.
The cost of the direct trains between Zurich and Geneva can change. That's worth knowing if you've already settled on your dates of travel, because it means you might be in line to score some of the discount Supersaver fares. They're on offer via 12Go.co some 30 or 60 days prior to departure and can see the price of seats on this route drop to just $45 per person.
For the true view hunters, there is one other tantalising train option. It involves catching a morning IC service from Zurich to Brig, then hopping on the world-famous Glacier Express westbound. You'll have to depart from Zurich HBF around 10am to make the connection work, but manage it and you're looking at a whole day of whizzing through the snow-covered Alps amid some glorious valleys and gorges. However, this will add around 81 CHF ($83) to the total cost of the trip, and mean taking over eight hours on the ride.
Zurich to Geneva by plane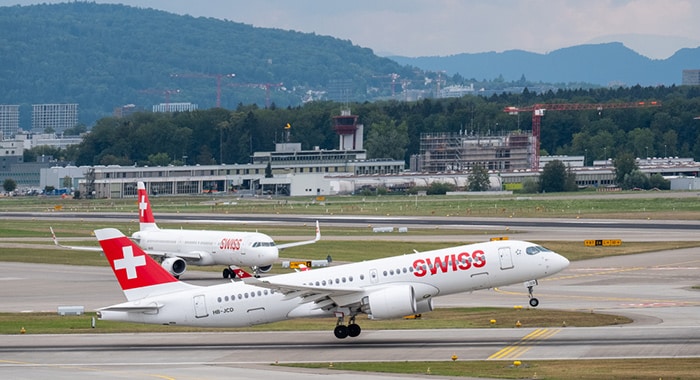 Time – 50 minutes (flight only)
Price – $125+
Comfort – 4/5
Swiss International Air Lines offer lots of links between what are two of the country's most prominent aviation hubs: Zurich Airport and Geneva Airport. They are on small city-hopper planes with two-two or three-three seat orientations, taking just 50 minutes to cross the edge of the Alps from one runway to the other. The route is intended to serve both cross-country travelers and international fliers looking to connect through Switzerland's airports, which means departures are spread throughout the day, starting at 7.30am and finishing at 10.35pm.
Flights run by Swiss Air Lines run between Zurich and Geneva multiple times per day.
The most noticeable downside to choosing to fly is the extra pressure it will inevitably put on the travel budget. These short-haul hops can be pricy. In fact, base fares booked even 90 days in advance can sit at $125, which doesn't include checked baggage or seat selection (an upgrade to Economy Classic is required for those sorts of frills, costing $40 or so per person). That said, it's always worth scanning 12Go.co for flights with Swiss in case of flash sales or hidden deals.
The total travel time you're looking at in the air is about 3.5 or 4.5 hours. That includes the 15 minutes it takes to get to the terminals in Zurich by direct train, and the 20-minute bus into Geneva's downtown core once you've arrived, not to mention check-in, security, and queues in the departure hall. The upshot? Flying isn't actually as fast as the IC trains if you're aiming to go from city centre to city centre.
Zurich to Geneva by car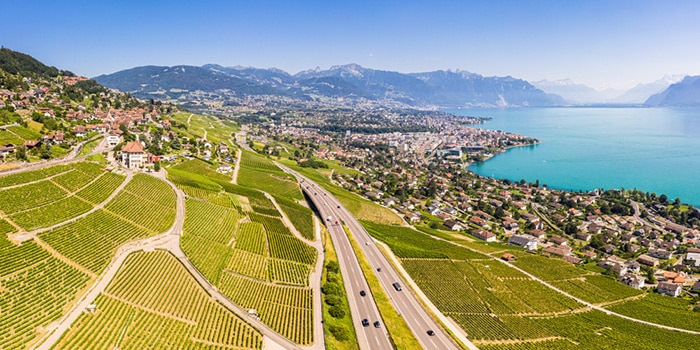 Time – 3 hours (if you drive straight from Zurich to Geneva)
Price – $210+ (for a three-day car rental)
Comfort – 4/5
There's plenty to tempt the most intrepid traveler to rent a car in Switzerland and do the drive down to Geneva themselves. First off, the roads in this corner of Europe are top quality. Good surfaces, excellent signage, and safe driving generally makes it a pleasant place to put down the handbrake and get a-rolling. More than that, there are some seriously eye-wateringly wonderful drives to make, and you'll have the freedom to explore and see whatever you like between the two towns if you take this option.
Without access to your own car, you're looking at paying upwards of $200 for a three-day rental from RentalCars.com, which doesn't include the extra fee that comes with driving in just one direction. Still, that's not too bad when you consider all the gorgeous things that could be part of the trip. The obvious choices will be mountain-shrouded Grindelwald and the Jungfrau region, with its waterfalls and carved summits. But you also might like the stunning paradise of Brienz Lake, or the remote pre-Alp vistas of the Regional Park Gruyère Pays-d'Enhaut. We'll let you decide.
---
So, the choice is between whizzing eastwards along the edge of the Swiss Alps from Zurich to Geneva in just a few hours, or turning that trip into something of an adventure, by adding stops amid the Jungfrau and rides on the jaw-dropping Glacier Express as you go. Not a bad decision to have to make, eh?
---
Zurich to Geneva FAQ
What is the cheapest way to get from Zurich to Geneva?
Because there are rarely public buses on offer when there's a direct train link on the menu in Switzerland, it's likely that the cheapest option for getting from Zurich to Geneva will be the railways. The key is booking early, when you can still score 70% or so discounts online via 12Go.co!
What is the fastest way to get from Zurich to Geneva?
The train is the zippiest mode of transport going. Quick Swiss IC services help you cross the whole breadth of the country in just 2h44 total. That's faster than it would be to fly once you've added on the time for transfers to the terminals and waits in the departure lounge at Zurich.
What is the best way to go from Zurich to Geneva?
We're big fans of the train. Swiss IC lines are comfy and quick, but also offer some stunning views of the foothills of the Alps. If that's the sort of thing that's tempting you, it's worth considering adding in a jaunt on the Glacier Express. That's a truly special experience but will crank up average travel times on the railway from just under three hours to just over eight!
How much is a train ticket from Zurich to Geneva?
It's always worth booking the train ticket from Zurich to Geneva on 12Go.co as far in advance as you can. That's because the Swiss rail network offers so-called Supersaver fares that can see prices drop by up to 70%, hence how it's possible to get from one city to the other for just $45 apiece. Later than that, you could pay an awful lot more.
How long is the train ride from Zurich to Geneva?
It's not long. Actually, 2.75 hours is all it takes to trade the banks of Zurich for the gleaming lake waters of Geneva these days. That's all down to the direct and quick IC trains that operate in Switzerland, which you can book online without hassle via 12Go.co.
Is the train from Zurich to Geneva scenic?
It sure is. Try to get yourself a seat on the left-hand side of the carriage. That way, you'll have broadside vistas of the Swiss Alps all the way from Zurich to Geneva, and you might even be able to spot the outline of Mont Blanc on a clear day. If you're really into the views, there's also a possibility to ride the iconic Glacier Express here, though that's full day's outing, taking you to Chur and then onto Brig before heading for Geneva itself.
Is it better to fly from Zurich to Geneva or take the train?
The train usually wins that head to head. Reasons? It's quicker, but only when you add up the time it's going to take you to travel back and forth from the airports and check in bags. It's cheaper – at least it is most of the time. It's comfier, offering air-conditioned carriages and views of the Alps as you travel.
How useful was this post?
Click on a star to rate it!
Average rating / 5. Vote count: