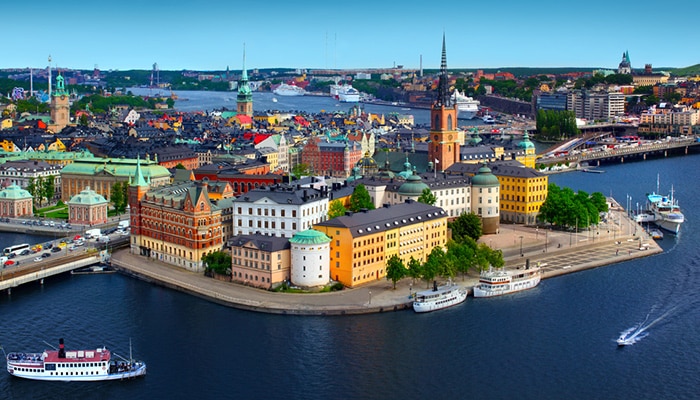 The capitals of Norway and Sweden sit almost directly in line with each other across the great Scandinavian Peninsula. One, Oslo, is nestled at the base of its own wild fjord, sporting glistening modern architecture and enthralling museums dedicated to the age of the Vikings. The other, Stockholm, is anchored on the fairy-tale Gamla Stan district, where cobbled alleys weave past coffeeshops, leading out to islands filled with meatball eateries and royal palaces.
If you can't decide which to visit, why not just do both? This guide has all the know-how you'll need to travel between them, with info on the cheapest, the fastest, and the comfiest modes of transport.
Oslo to Stockholm by high-speed train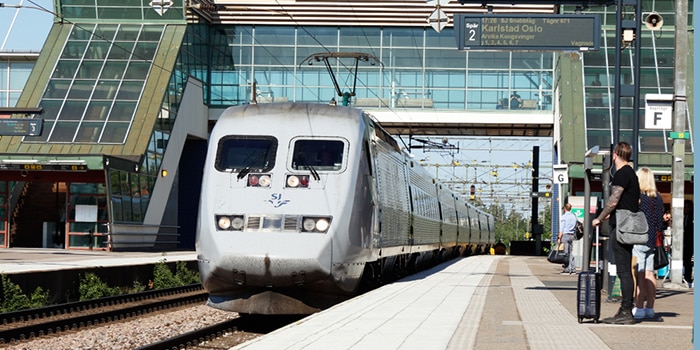 Time – Around 5 hours
Price – From 1800 PHP
Comfort – 5/5
SJ (Swedish rail) run as many as five separate daily services from Oslo to Stockholm. They make use of the quick and stylish X2 trains (also known as X2000 models). That means you'll hit speeds of up to 200 kph on the line, making it possible to complete the whole hop across the heart of Scandinavia in as little as 4h50. That said, most connections take around five hours or a tad over. All you have to do is focus on the routes that don't involve changes when you come to book on 12Go.co.
The X2 trains are the crème de la crème of the Swedish railway network. On the outside, they have a chic and edgy chrome and silver finish that makes them look like something out of a James Bond film. Inside, there are uber-comfy seats spread between 1st Class and 2nd Class carriages, all with plugs and WiFi as standard. There's also an excellent onboard catering car. Windows, meanwhile, are large to make the most of the excellent view…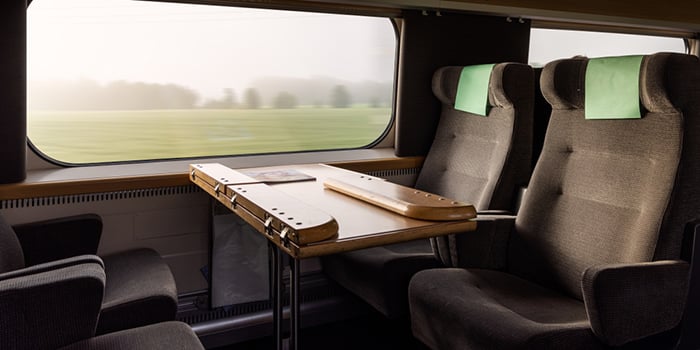 There are oodles of eye-wateringly wonderful views on offer out of the window from the train as you go from Oslo to Stockholm.
Yep, the scenery is wonderful. The first step takes you over the Norway-Sweden border before pushing on past the bucolic lake lands of Arvika (keep the eyes peeled for wild elk in the woodlands there!). Then comes the sprawling vista of Lake Vänern, where the most adventure-hungry travelers might want to break up their trip to explore the amazing city of Karlstad, surrounding castles, and all the remote islets on the water. Towards the end, you'll move through enchanting Örebro and skirt the edge of forested Mälaren Lake before arriving into Stockholm.
Given the comfort levels and the scenery, you might think that trains between Oslo and Stockholm would be heavy on the wallet. But you can get great deals on SJ's X2s, so long as you book at least 60 days prior to traveling (when fares can fall to something like 1600 PHP per person). Also bear in mind that there have been sporadic repairs and upgrades happening on the line continuously since 2016, so it's normal to see the high-speed services replaced by slower IC trains.
Oslo to Stockholm by plane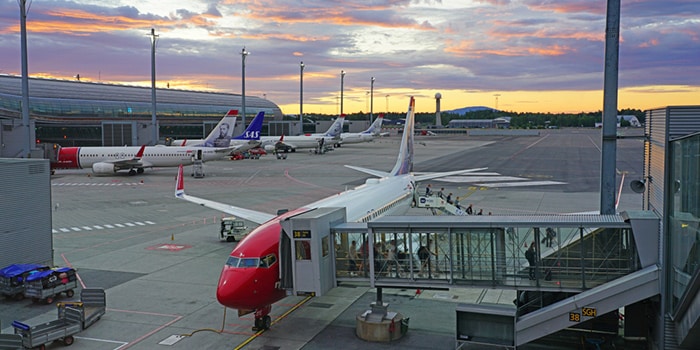 Time – 55 minutes (flight only)
Price – 2400+ PHP
Comfort – 4/5
Airlines are the main competitors to the swish SJ X2000 trains on the route from Oslo to Stockholm. There are two main carriers that offer regular direct connections from town to town: SAS and Norwegian. The first is the joint flag carrier of all the Scandinavian nations, while the latter is a more budget-orientated flier. There can be up to 22 departures per day out of Oslo, each taking between 55 minutes and an hour to complete the whole ride in the air.
Flying is fast, taking you from Oslo to Stockholm after just 60 minutes in the air.
Of course, total journey times will be far longer than that if you're planning to go from city centre to city centre. The time it takes to reach Oslo Airport (OSL), check your bags and go through security also needs to be added into the mix, as does the transfer into the heart of Stockholm on the far side. Thanks to a convenient urban train link costing around 80 NOK (410 PHP), you can get to the terminals in Norway in around 25 minutes. A high-speed train also waits to take passengers into Stockholm after landing at big Arlanda Airport – that takes around 20 minutes. The upshot? Journeys will rarely be more than four hours in total.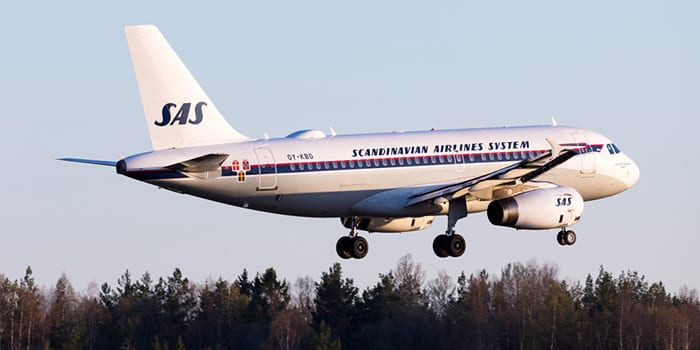 Pricing for the planes is similar to the trains in that rates increase as you near that departure date. A good deal on a direct flight between these cities is around the 2400 PHP mark. To be in with a shout of scoring those prices, we'd recommend heading to 12Go.co and buying tickets at least 60 days in advance. Also bear in mind that you might need to pay a surcharge to add on checked baggage here.
Oslo to Stockholm by bus

Time – 7 hours+
Price – From 1300 PHP
Comfort – 3/5
It's no secret that the Scandinavian nations aren't the cheapest on the planet. So, to save extra krona for your fika coffee breaks in Stockholm, it might be a good idea to cut the cost of the trip into town. Cue the bus. With prices starting at a wallet-friendly 1300 PHP for those who book in advance using 12Go.co, there's hardly a more affordable way to travel between the capitals than this. Thankfully, European operator Flixbus now has up to four direct links per day, taking around just 7-7.5 hours to get you from A to B.
So, what's the catch? Well…the bus probably won't be quite as comfortable as the trains, and it's never going to give flying a run for its money when it comes to speed. Still, you will find good recline on the seats and onboard plugs and WiFi as standard in the Flixbus fleet. What's more, some departures let you travel through the night, letting you save even more on the cost of a hotel. The buses collect passengers at the interchange on Schweigaards Gate in Oslo and drop off at the bustling Stockholm Cityterminalen in the heart of modern Stockholm.
---
The hop from Oslo to Stockholm is one that will take you right across the heart of Scandinavia. You can choose to do it by land, to see the rolling forests and wild lakes that separate the two great capitals. Or, you can hit the skies and get stuck into sightseeing in the enthralling Gamla Stan old town as soon as possible. Your choice.
---
Oslo to Stockholm FAQ
What is the cheapest way to get from Oslo to Stockholm?
Take the bus to save cash on the road from Oslo to Stockholm. With prices that can be as low as 1300 PHP per person, it's surely the mode of transport that will leave more in the wallet for visiting the ABBA museum and whatnot. But remember: The best deals are always on offer in advance, so get searching for tickets as soon as you can using 12Go.co to keep costs low.
What is the fastest way to get from Oslo to Stockholm?
There's no quicker way to trade the cutting-edge architecture of Oslo for the bohemian bars of Stockholm than by flying. From wheels up to landing, you're looking at less than one hour in the air, which means trips of about four hours in total. The best deals with flights are usually on offer on 12Go.co around 60-90 days before departure.
What is the best way to go from Oslo to Stockholm?
For us, it has to be the train. It might take around five hours, but it's an amazing adventure through the wild midriff of the Scandinavian Peninsula. Glimpses of huge lakes and endless forests are on offer, and you could even break up the trip to see Lake Vänern and centuries-old castles as you go.
Is there a direct train from Oslo to Stockholm?
Yes. SJ (the national Swedish rail company) offers direct connections on their fancy X2000 locomotives. They are comfy and quick, and do a little tilting on the line to hit speeds of 200 kph. What's more, the views are nothing short of incredible, encompassing meadows, lake districts and ancient forests aplenty.
How much is a train ticket from Oslo to Stockholm?
The cost of the train from Oslo to Stockholm varies. It starts cheap and increases as you approach the day of travel. Early-bird rates are usually in the region of 1800 PHP, which you can score by searching on 12Go.co for tickets around 60 days before you want to go.
Is the train from Oslo to Stockholm scenic?
Oh yes! It's a breathtaking journey through the wild landscapes that lie at the heart of northern Europe. Lakes whiz by the window, including Lake Vänern (one of the largest on the continent). You'll see rolling pine and spruce forests where elk herds trample. And there are quaint Swedish villages and towns to boot. It's definitely a trip to savour.
Is it better to fly from Oslo to Stockholm or take the train?
Both have their pros. For example, flying is faster. It can see you touch ground in Sweden only 55 minutes after leaving behind Oslo Airport. On the flip side, the trains are comfier and more scenic, offering a glimpse of the stunning countryside and rural backcountry that separates the North Sea from the Baltic Sea.
How useful was this post?
Click on a star to rate it!
Average rating / 5. Vote count: